THIS POST MAY CONTAIN AFFILIATE LINKS. PLEASE READ OUR DISCLOSURE FOR MORE INFO.
Last night we rang in the new year by going to bed promptly at 12:01 am. We'd been up and alone for a while -David working on videos and me reading. Huh, just like we do on the boat – same activities, different location!
We are kicking off the new year in a fantastic way; spending time with both of our families and seeing a few last friends before our flight back to Auckland. Our schedule has just worked out perfectly to see most of our friends and family. And imagine our surprise to learn that our friends Ryan and Tasha from S/V Cheeky Monkey are driving across the US and are making a pit stop in Dallas. Their trip across includes hosting Meet & Greets in a few select locations, and they kindly invited us to co-host the Dallas event.
If you live in Dallas and would like to meet us and the crew of Cheeky Monkey, come on down to Goodfriends Beer Garden on January 4th, from 7 pm to 10 pm.
2017 looks to be an amazing year for us, but it's going to be tough to beat 2016. It's hard to choose from the thousands of photos we took, but here are just some of our favorites: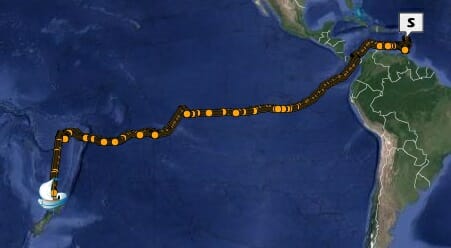 Social Share