THIS POST MAY CONTAIN AFFILIATE LINKS. PLEASE READ OUR DISCLOSURE FOR MORE INFO.
Most boats cruising the South Pacific Islands come down to New Zealand to hide out from cyclone season. With easy access to the international airport in Auckland and plenty of marine services, it's no wonder most cruisers haul out in Whangarei.
Prep to Haul Out
Our fun to suck ratio gradually worsened as we got closer to our flight back to the states. Getting Starry Horizons ready for two months of storage is hard work!
The fun we've had includes dinner with our friends Kyle and Shelley aboard Blowin Bubbles, and attending the meet & greet hosted by the Whangarei marine group – all of the marinas and marine service providers in the area. We were able to meet new cruisers and catch up with friends like Cetacea and Lionheart. We also met Tom, the crew member on Water Music, a fast custom cat, and had him over for dinner. Water Music is on the hard in Norsand too.
But the work side…oh the work! David's changed the oil on both engines, taken off the enclosure, changed filters, and buttoned up the boat. This included cleaning a ton, flushing the engines, and putting biocide in our diesel tank.
I took the opportunity to take everything out of its place, cleaning things and their places, and putting everything back. This is great for us to clean house too. We have a donate/sell pile that has gotten pretty large. I've actually already sold a few items. Our food stores have been cleaned out, bagging everything we are keeping but giving most food away. To prevent mold and bugs, I've wiped things down with bleach and vinegar, as well as placing DampRid and bug traps throughout the boat.
This was also a good time to really take a good look at Starry Horizons after 2 years of cruising. Our girl looks pretty good! She's got a few cosmetic scratches, dents, and whatnot, but I think she looks really good! People still walk on and admire our "new" boat, so I think we are taking pretty good care of her.
Fortunately, compared to the tropics, NZ is drier and cooler. We will have a friend air Starry Horizons out every so often while she's on the hard, plus the marina will keep an eye on her. We will be back to check on her in 5 weeks.
Haul Out in Whangarei at Norsand
The haul itself went very well. It was the first time since her launch she's been taken out via a trailer. At the factory, the trailer has a custom cradle to hold Helias, with the cradle fitting into the corners of the bridge deck. At Norsand, the trailer was a flatbed with small hydraulics.
The crew tied Starry Horizons via 6 lines into the slipway, and they drove the trailer in between her hulls. David, the slip manager at Norsand, got in a tender and slipped underneath her bridgedeck to place the blocks. He put 6 flat blocks under Starry Horizons, with each pair of blocks located directly under the bulkheads, to support the boat. The tide was dropping and the trailer lifted up just a bit to raise SH, and then pulled us out of the water. The crew parked Starry Horizons over the drains on the ramp for a power wash.
You'll notice in the pictures that our minikeels have turned white. That is not supposed to happen. When we hauled out in Nanny Cay, we did not power washed Starry Horizons. We had the hull cleaned and new bottom paint applied on top of the old stuff. We believe that the factory did not properly prep (maybe they didn't sand?) before they applied primer and bottom paint. Anyway, we plan on a DIY bottom job here in NZ, so that's not too big of a concern.
Leaving for Two Months
We took off for a month back home, and then 5-weeks driving around New Zealand.
Watch the Video: Heading to Whangarei for a Haul Out
Pin it!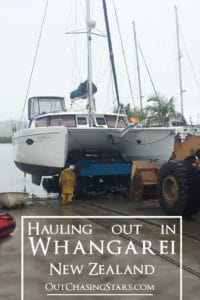 Social Share