We sat in Fare, using the Internet and noon rolled around, the previously established ETD. David and I decided to hang out for one more day, although we didn't buy anymore internet.
It's a good thing we did! Several buddy boats came in; Margansie and Blowin Bubbles. We invited them over for drinks, and Margansie told us about the Hieva occurring that night. After dinner, we tied LD at the Huahine Yaht Club and walked with Margansie an another boat, Carola, to an arena where the festival was held. Outside, there were snack booths, foosball tables, and music. Tickets were only 500F ($5). The show started around 8. In line, we ran into the crew of Balikcil, Elif and Mustafa, from Turkey. We have seen them and said hello many times since the Galapagos, but we finally got to introduce ourselves and shake hands!
There were about a dozen sets and 40 singer/dancers. The same dancers returned over and over again, which must have been physically grueling.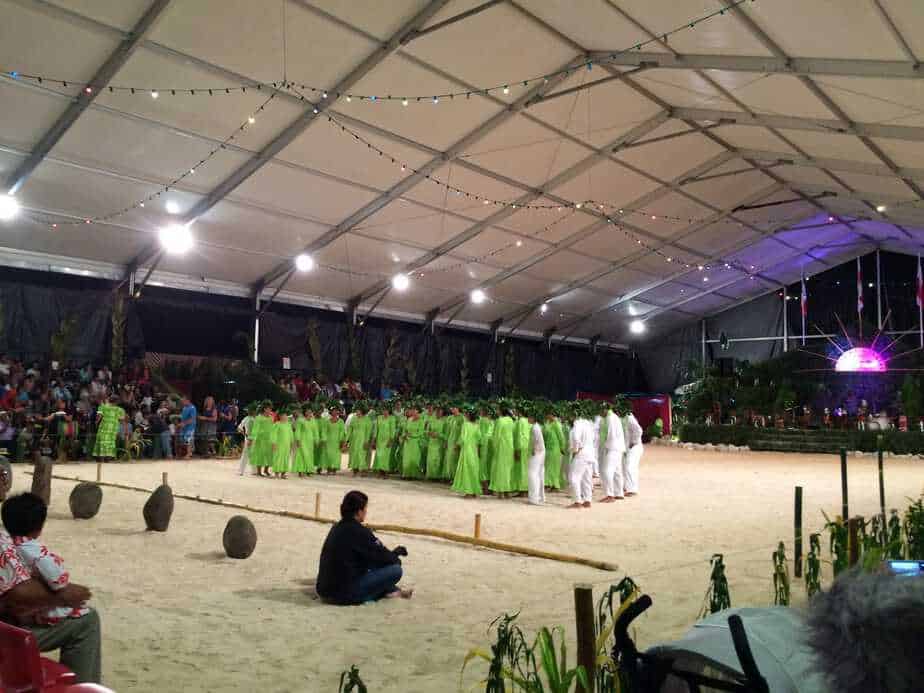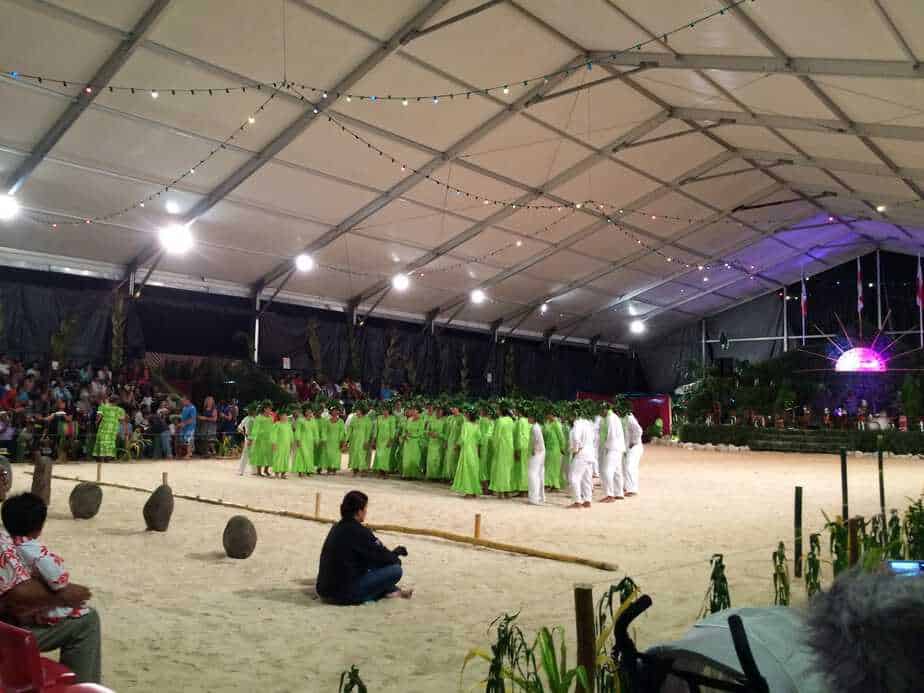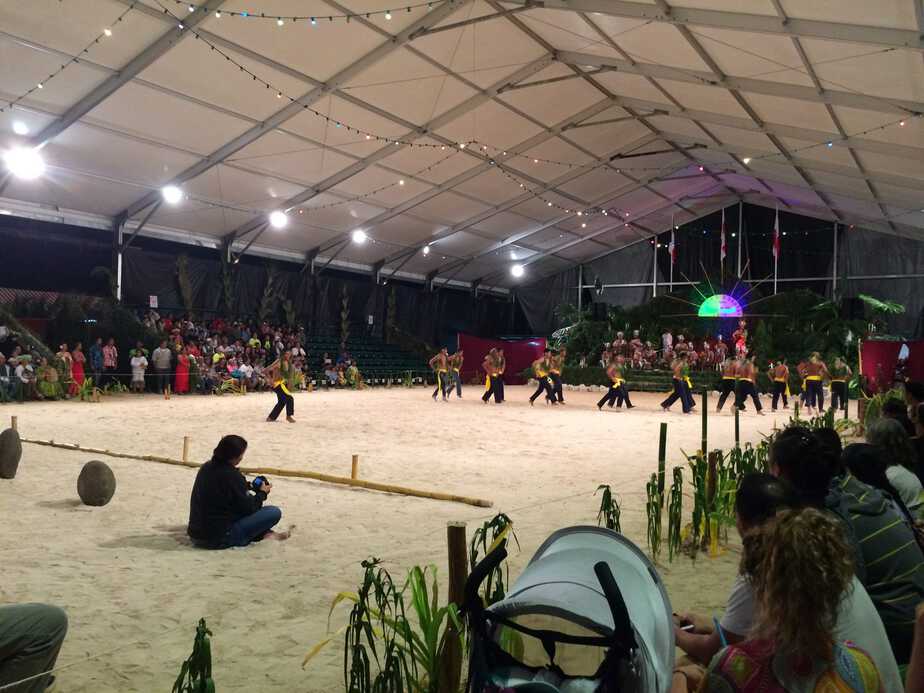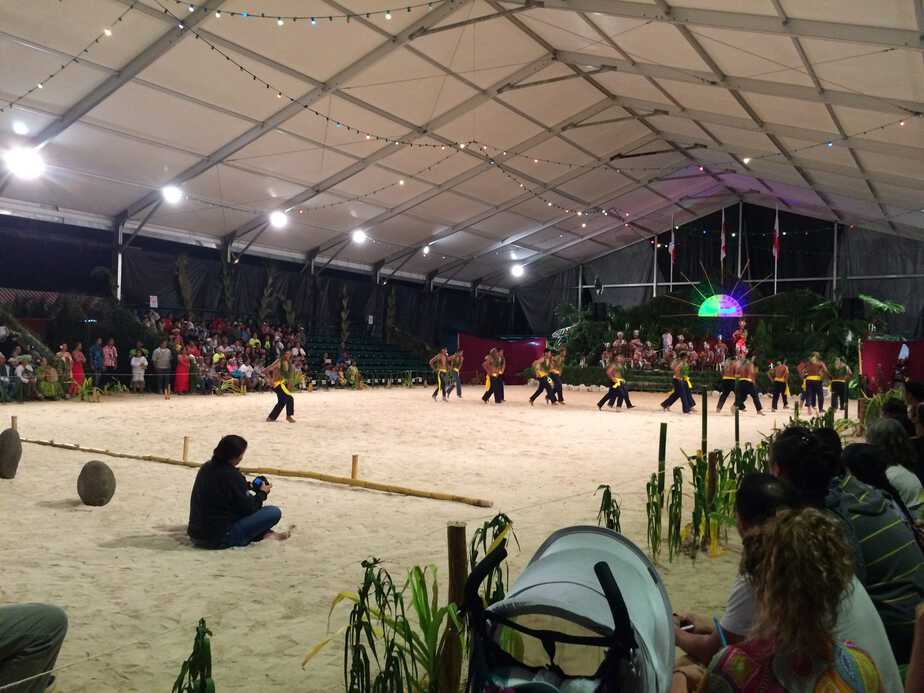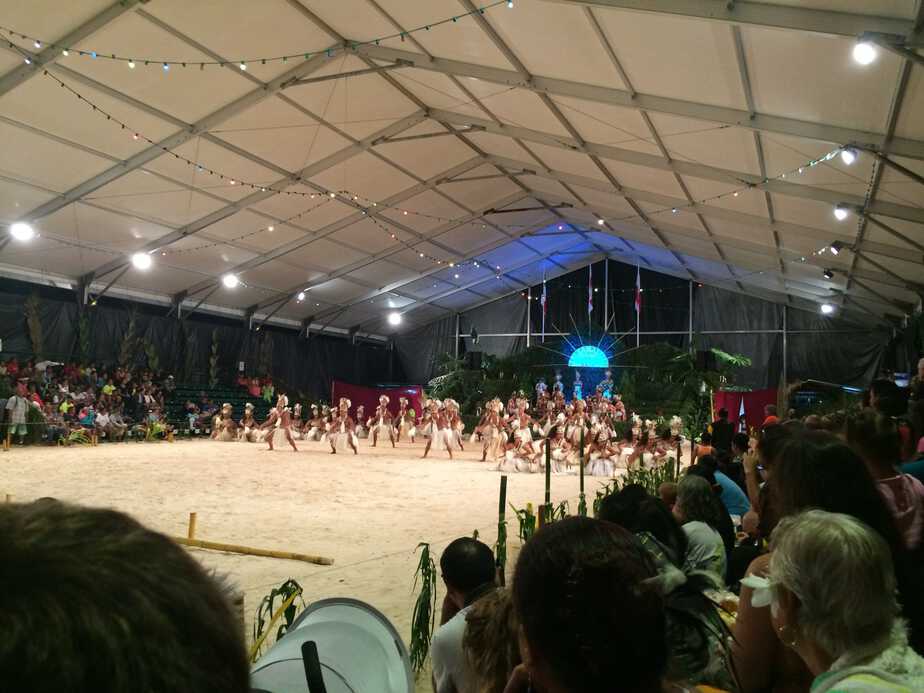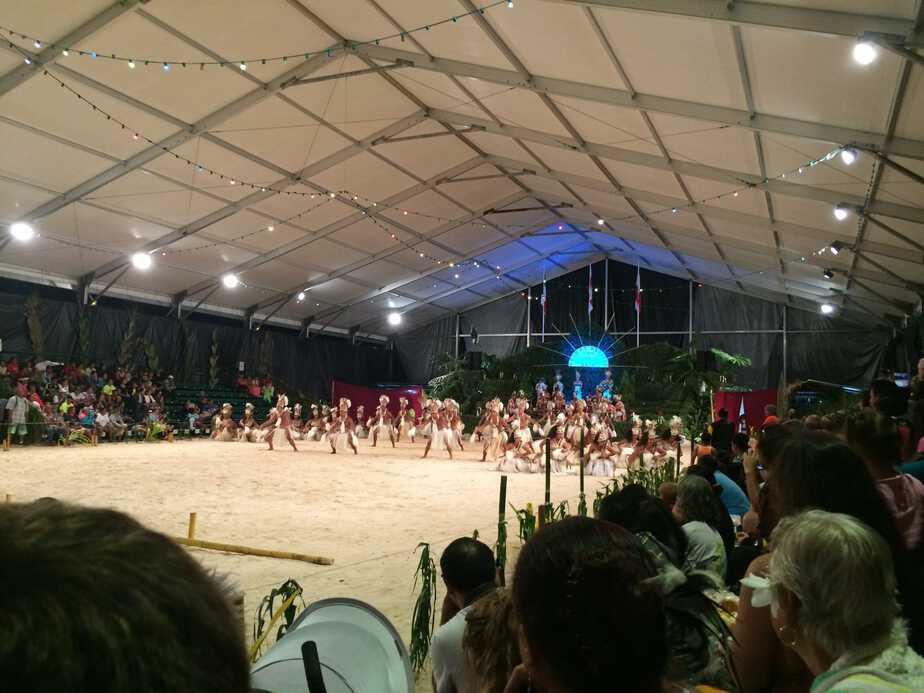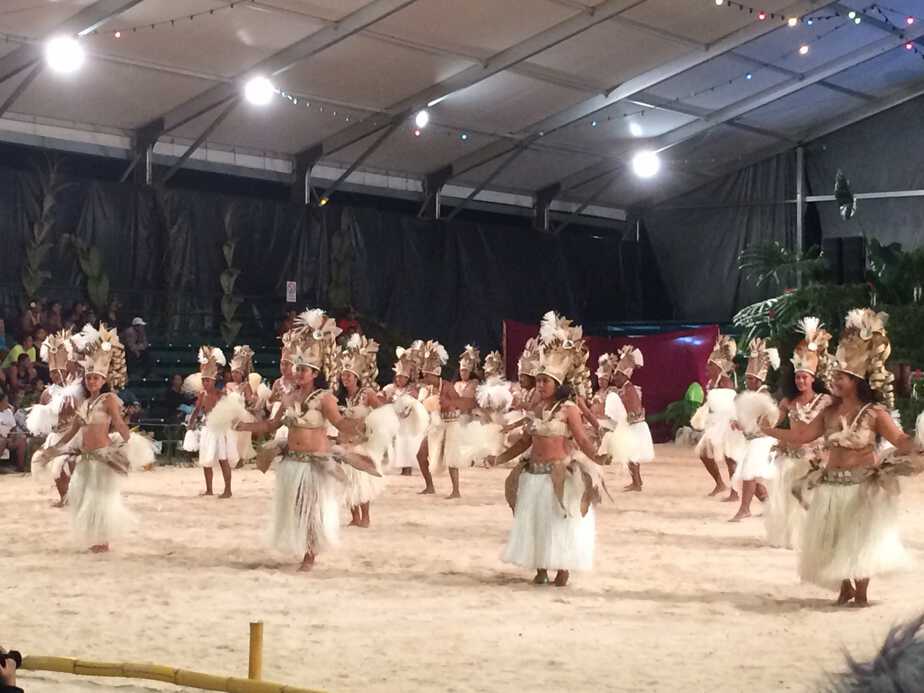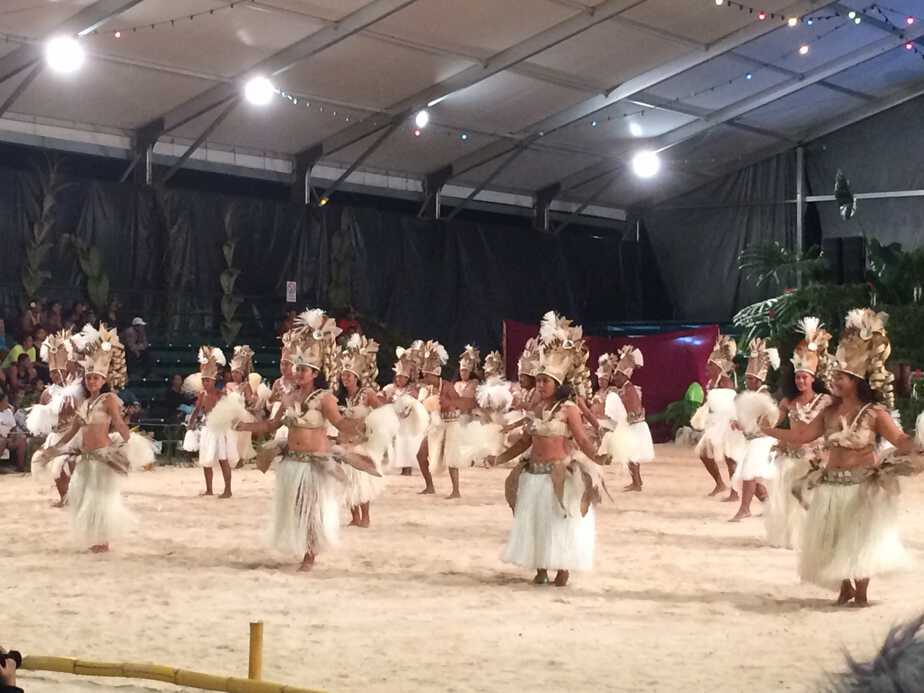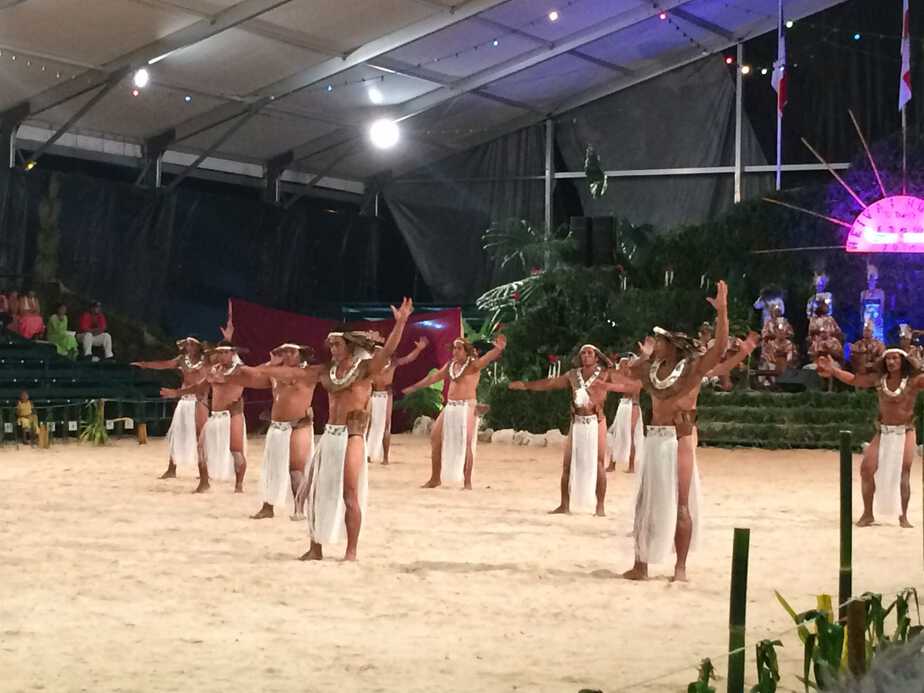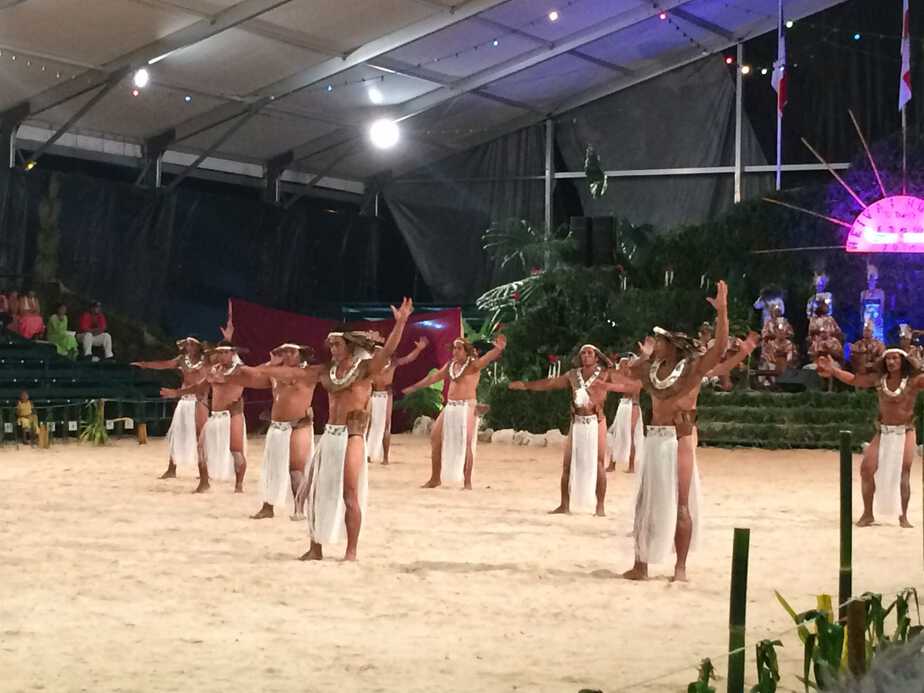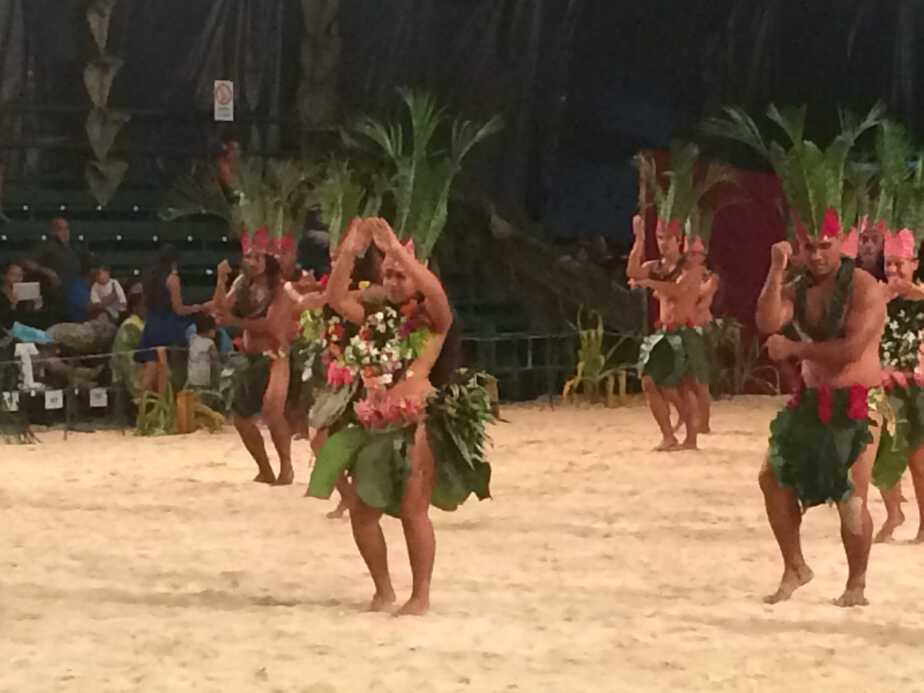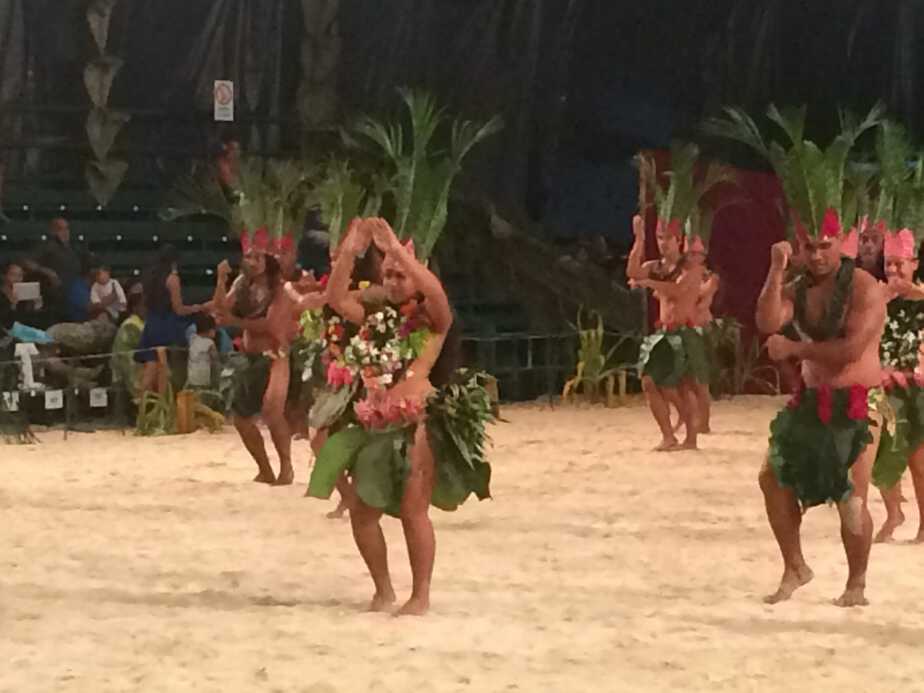 Most of the dancers were younger. The costumes were stunning and elaborate. It was interesting to compare the show to the ones we'd seen in Moorea at the Bali Hai hotel. This show was more authentic, with less "cheesy" bits and sexual innuendo. The basic dancing was the same, as we recognized a lot of the moves.
Learn more about the history of Tahitian dancing.
Sunday morning we finally upped anchor and headed to Raiatea. The short (20 nm) sail was beautiful; winds on the beam and small sea state.
Our first stop in Raiatea was Opua Bay, where we anchored to visit Marae Taputapuātea, one of the best preserved archeological sites in French Polynesia.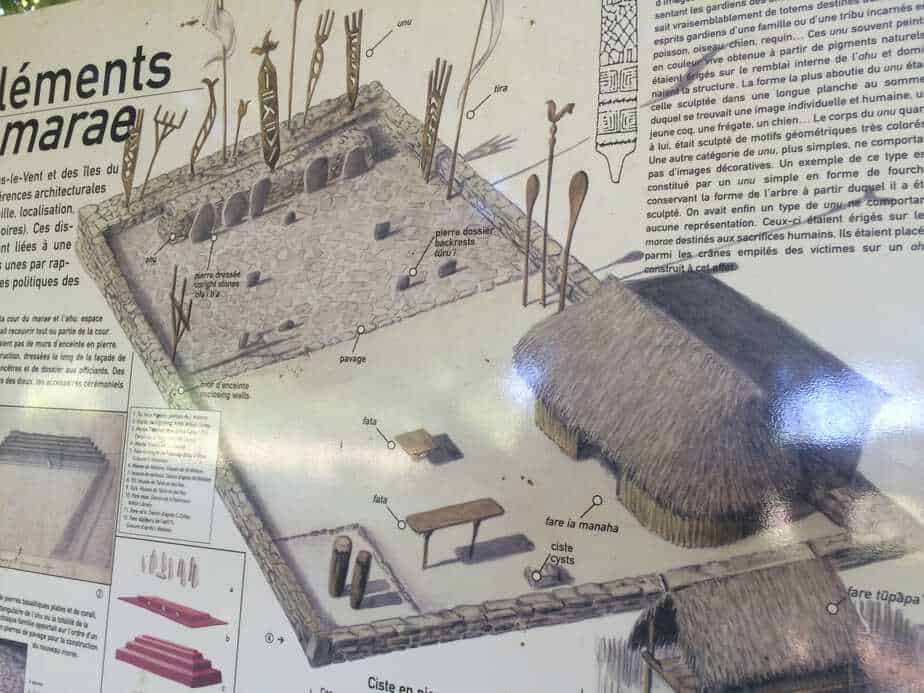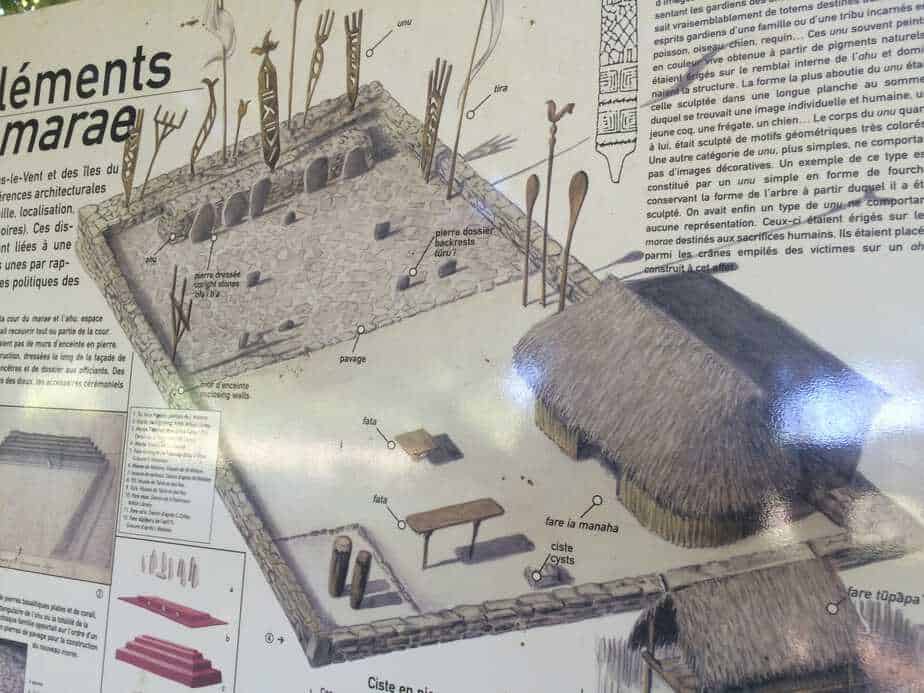 That night we were serenaded by loud shoreside Polynesian music.
Next stop was Fa'aroa Bay, which is fed by a navigable river. We were met by James in a small orange kayak, who escorted us to a mooring ball. James' family owns a plantation along the river, and he provides tours of the river. We set up to meet him at 3 pm, and set out in LD. James paddled alongside us as we navigated up the river as he told us about the local region and the fruit that grew around the river.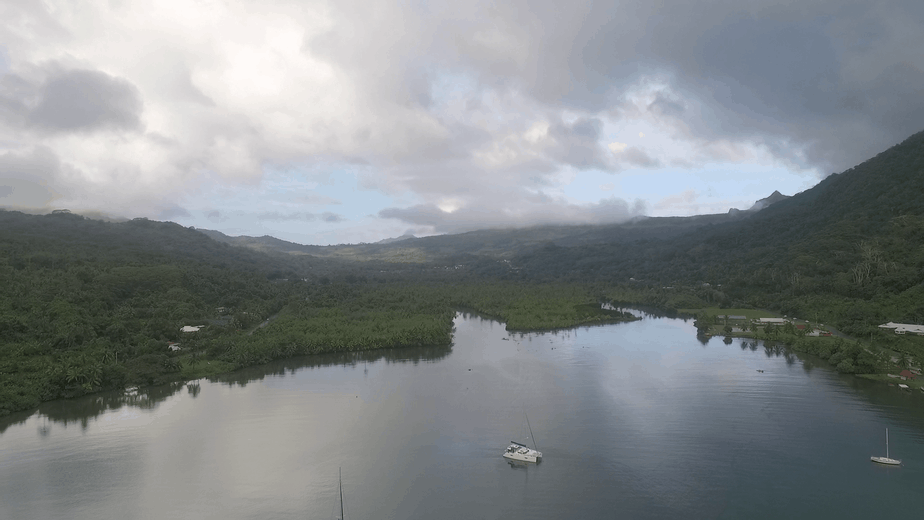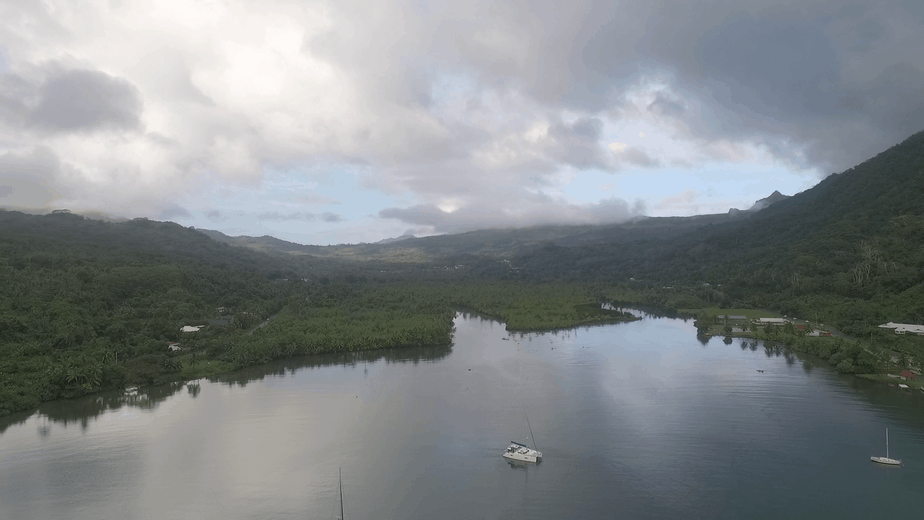 We kept LD in idle, either forward or neutral, the whole trip, which took about an hour each way. On the way back, James stopped and cut down a stall of bananas for us. His family's plantation was closed already (5pm) but he grabbed a long pole with a hook on it and brought down two coconuts for us.
James didn't charge anything for the tour but we tipped him 1500F ($15). We didn't get to tour the plantation, but we probably enjoyed the river more. James and other cruisers have told us that there are fruit and vanilla beans for sale for very cheap. I really wanted the bananas, as I haven't seen good bananas in a while.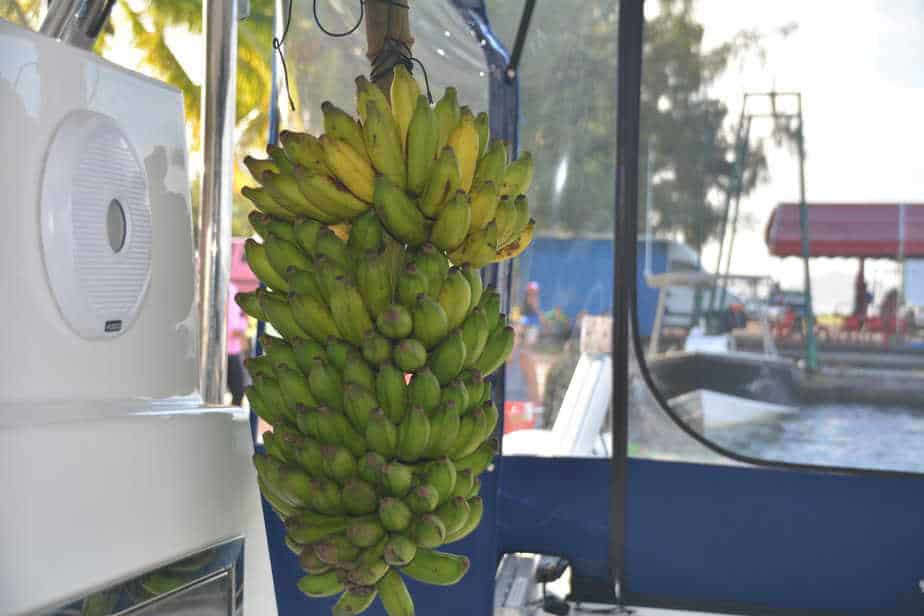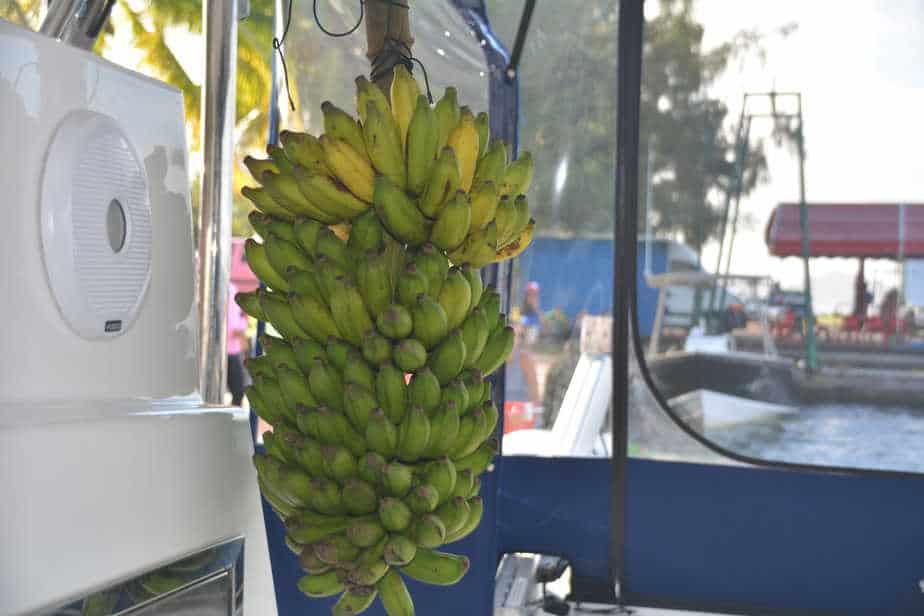 The wind was coming from the west, so we were incredibly protected in our little bay. Several other boats were in the bay, including Moonshadow (who we've seen and heard but never met), Balikcil, and several charter boats. That's right, we are back in the land of charters, with Dream Yaccht Charters and Moorings based in Uturoa. In addition, we were once again entertained by the sweet Polynesian music blasting through the bay. James said it was a Hieva.
Tuesday the wind really picked up and changed direction to come directly up the bay. We decided to stay another night. Most of the other boats left, except for two that seemed to be permanent fixtures. David was able to record some audio for our videos and I got the kayak out and went up the river again. James was having a slow day so he kayaked about halfway with me.
That evening we were only kept company by one charter boat. The next morning we dropped the mooring and moved to the town of Uturoa. After much circling and testing we ended up tying to the city quay, which is free. The guides cautioned us about theft, so we made sure to move anything inside and off the decks. The dock itself was nice, with a Shell station right dockside and a good grocery store across the street.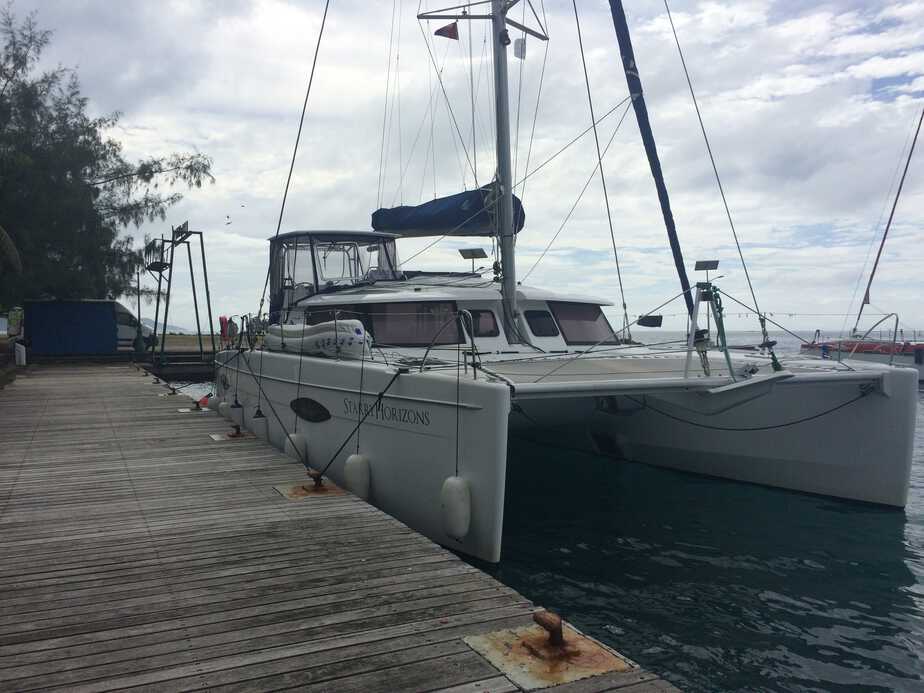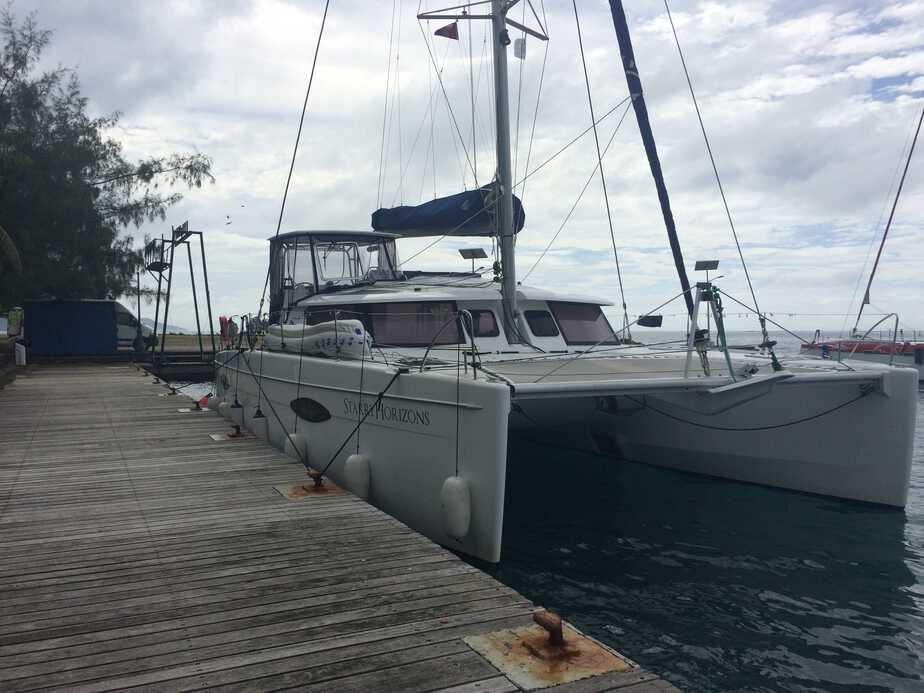 The ViniSpot wifi is available (the wifi we have paid for and has a SUPER SPECIAL SECRET) so we spent the day interneting!
Thursday we woke up to downpours. A good day to read and catch up on the world. Early, around 8:30, we were surrounded at the dock by small fishing boats and guys in full wetsuits and spear guns. It looked official – a guy had a megaphone!
Around 10:30 the clouds started to part and the sun came out so I went for a run. The afternoon was spent grocery shopping (me) and running to chandleries (David). Throughout the day we watched a tent get set up, and sure enough, around 4:30 the fishing boats started to filter in. Starry Horizons had a front row view to watch the party of a spear fishing tournament, topped off with a full rainbow.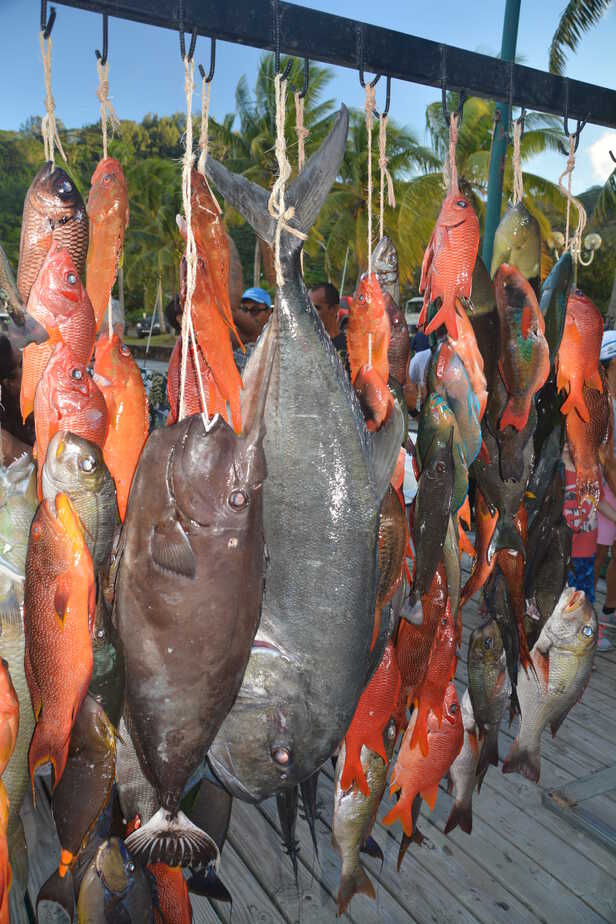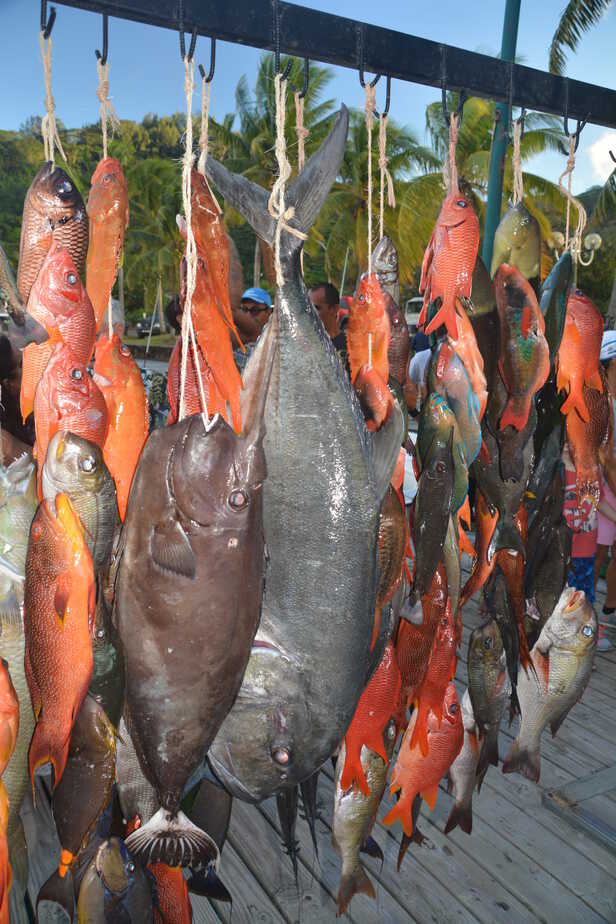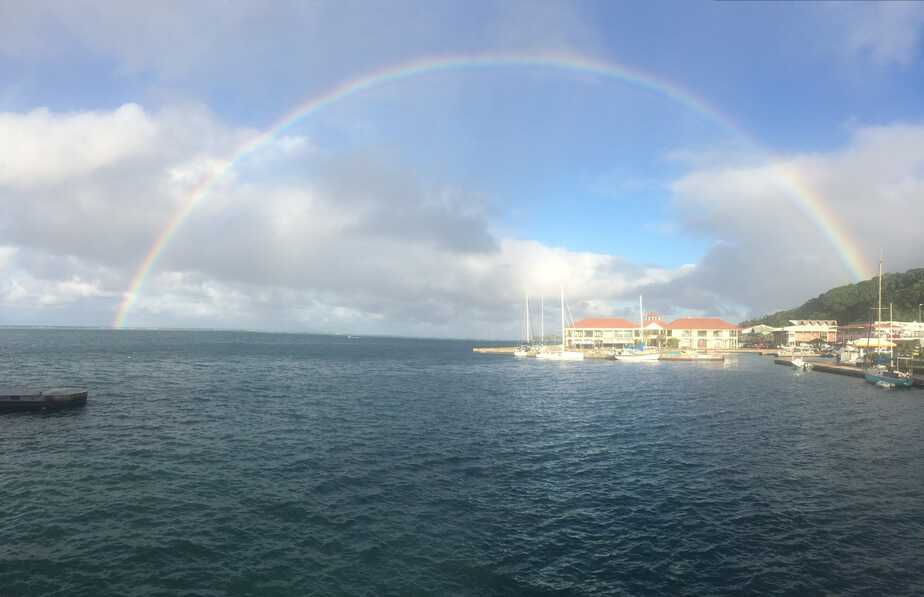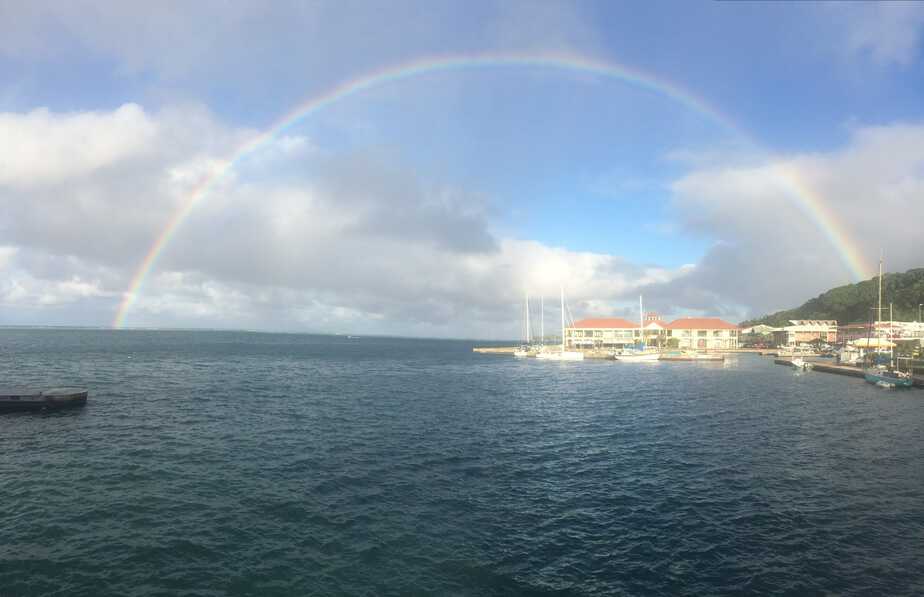 Friday morning I went for a hike by myself up to Mount Taipioi. The hike was about 45 minutes of very strenuous walking. I can't even say hiking, it was a walk, but man was it challenging. And so worth it. Thankfully it was a clear day, and I could see down the entire east coast of Raiatea, to Huahine Island on the southeast, and then I could see the north shore of Raiatea, including the island of Taha'a, and beyond to the northwest to Bora Bora. Unfortunately the sun was right on the other side of where Starry Horizons was docked, making a big glare over the water, so you'll just have to trust me that the view was better than the pictures turned out!
Today (hopefully – the winds are pretty strong pushing us into the dock right now) we will leave for Taha'a. Our plan is to cruise through the rest of Polynesia until the last minute – our clear out is July 28th. Then, we plan to sail to Beveridge Reef, a small atoll that is usually entirely underwater; Niue, a small island nation associated with New Zealand; Tonga; and Fiji. If needed, we could stop in the Cook Islands.
Watch the Video: Cruising Ta'haa and Raiatea
Social Share