THIS POST MAY CONTAIN AFFILIATE LINKS. PLEASE READ OUR DISCLOSURE FOR MORE INFO.
It's hard to believe our time in the Caribbean is over, but it is! We arrived in the BVIs on November 10th, 2015, and we left Grenada on February 17th. That's 99 days cruising the Caribbean! And before you say it – yes, we know our trip in the Caribbean was far too short and we skipped way too many islands. We did so for two reasons:
2016 will be a full season in the South Pacific, and 2017 in Southeast Asia (see our full plan for more details)
We plan on ending our circumnavigation in the Caribbean/US, so if we have the desire and money to keep going, we will cruise another season. If we don't then we will forever have the Caribbean as our vacation playground when we go back to land life in the states.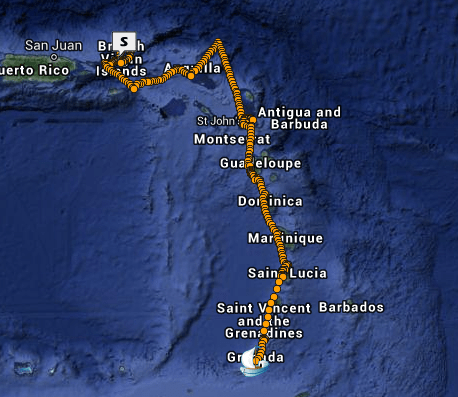 Stats
Countries visited:
8
BVIs, USVIs, St Martin, Antigua, Guadeloupe (Mainland and The Saints), Dominica (Part 1 and Part 2), St Lucia (Rodney Bay and South), and Grenada.
Guests visiting:
10
Lisa, Bob, & Phil (Antigua); Bill, Christie, Carolyn, Jim, Lois (Antigua & Guadeloupe); Sarah (Antigua, Guadeloupe and Dominica); Madeline (St Lucia)
Click here for a spreadsheet with some technical information about our sailing in the Caribbean.
Highlights of 3 Months Cruising the Caribbean
Favorite Country:
Amy: BVIs; I think it's a perfect mix. You can find quiet and peaceful anchorages like Brewer's Bay or Peter Island, or rowdier places like Anegada or Jost Van Dyke. The anchoring is easy, the water clear, and great things to see like the Rhone and Baths.
David: Guadeloupe; good anchorages (Deshaies, Pigeon Island, Anse a la Barque, and the Saintes) and good hiking.
Top 3 Anchorages:
Amy: Peter Island (BVIs), Brewer's Bay (BVIs), Christmas Cove (USVI)
David: Marigot Bay (St Lucia), Marigot Bay (St Martin), Peter Island (BVIs)
Favorite Snorkel/Dive:
Amy: Christmas Cove, because I got up close and personal with an octopus and we also saw a nurse shark.
David: Our dive at the Painted Walls (BVIs) with Noam and Dalit was pretty spectacular.
Favorite Meal:
Amy: Pizza Pi in Christmas Cove.
David: Steak night at Big Chef, Rodney Bay St Lucia!
Favorite Hike:
Unanimous: The lookout at the Saints.
Favorite Sail:
Unanimous: From Carriacou to Grenada Marine, it was a spirited sail, but not too rough. We sat at the helm the whole time and just enjoyed the day. And it was our only downwind sail!
Best Customs Office:
David: Jost Van Dyke, BVIs
The place we are most excited to revisit someday:
Unanimous: The Grenadines
Guides for Cruising the Caribbean
Out Chasing Stars is a participant in the Amazon Services LLC Associates Program, an affiliate advertising program designed to provide a means for sites to earn advertising fees by advertising and linking to amazon.com
I hope you enjoyed reading about our time in the Caribbean, and we can't wait to keep sharing the rest of the world with you!
Social Share