THIS POST MAY CONTAIN AFFILIATE LINKS. PLEASE READ OUR DISCLOSURE FOR MORE INFO.
Before I tell you about our passage, I'd just like to point out a big celebration – we passed 10,000 nm on Starry Horizons! It's been almost one year since she was launched, and we can't believe we've covered so much ground in so little time, hitting seven countries!
After 5 days at sea, we arrived safe and sound in Bermuda, but it was not without hardships!
Weather Routing
We used Commander's Weather to do our route planning, and they had given us coordinates for our entry into the Gulf Stream, our exit, and instructions for each leg. Our first 24 hours we took the miles down quickly, averaging 6.8 knots, and kept west of the line from Georgetown to our GS entry. The next 24 hours were calm enough we had to motor as we passed Cape Cod. One highlight – I saw a whale breach twice! I got out the camera but didn't catch him breaching. It's hard to see in the video, but after the breach he was slapping his fin on the water. It was pretty awesome! Winds picked up overnight, and combined with the motoring earlier we averaged 7 knots.
Gulf Stream
Friday we hit the Gulf Stream. Unfortunately the wind clocked around to come on our nose, so we had to point as high as possible into the wind, but still sail as fast as possible. We had storms (including lightning) behind us. We did miss our exit point by a bit, but managed to average 6.8 knots and keep the storms behind us. Saturday was calm again, with some light rain showers, but no squalls. We did the math and realized that we were moving so quickly we would arrive in Bermuda during the dark, so we dropped our main sail and strictly used our genoa. We averaged 5.375 knots from Saturday 7 am – Sunday 7 am.
Sunday morning we caught a fish! It was a small blackfin tuna, yielding just over a pound of meat. It's in the freezer, being saved for our guests in Bermuda. Sunday remained calm, and we mostly motored until….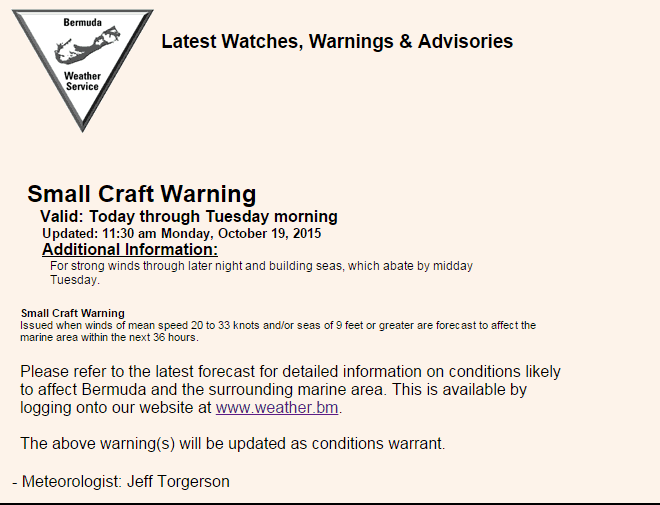 Monday morning David woke me around 6 am (after ending my shift at 2 am). There was a small craft warning for Bermuda. In extremely high winds (40+ knots) our screecher was coming unfurled, which is a VERY dangerous situation. It basically means that our biggest head sail was starting to unravel out of control and catch the wind. We were able to furl up our genoa (we had a deep reef in it), get the engines going, get into the wind and get the screecher down. While there was no "OH SHIT" moment, it was definitely not a situation we want to relive again, with some serious problem solving and a bit of miscommunication.
Once we got that under control, it was still rough times ahead. The wind and waves were pretty rough, making it a bouncy ride. Fortunately, once you get into the Town Cut headed to St George's Harbour, the waves calm down A LOT and the wind lessens. It was still very windy to get to the customs dock. In another break for us, the Bermuda Yachts Services let us use their dock to tie up for customs, allowing us to dock with the wind pushing us off the dock, and with the help of the crew from the catamaran in front of us, we got tied up and cleared in.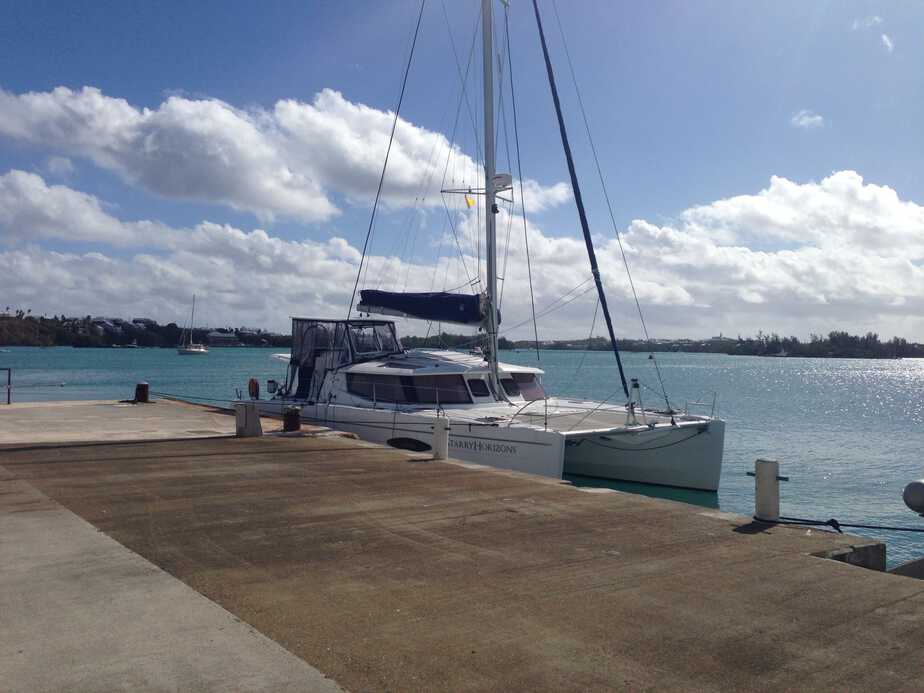 On clearing in – I submitted a notification using SailClear, which is supposed to expedite paperwork for customs. They didn't have any record of the notification. No big deal though, we just provided them with our info and filled out paperwork again! $35 per person to clear in, and we can stay for up to 90 days…although we told them we will be out by the 21 day mark.
Now we are anchored in Convict Bay. The small craft warning is still in effect. In fact, as we set our anchor, the boat behind us started dragging and moved to a mooring. There are only a few boats here, so there's decent room, and despite the strong winds Mac Daddy, our Mantus anchor, is holding strong.
We've got a week here in Bermuda to ourselves, and then next week we have four of our amazing friends joining us! We are very excited to be in warm weather and get some snorkeling and outdoor fun under our belts. After our friends leave we will be looking for our weather window….for the BVIs!
Social Share