THIS POST MAY CONTAIN AFFILIATE LINKS. PLEASE READ OUR DISCLOSURE FOR MORE INFO.
Edit: It's been over 3 years since Starry Horizons was launched. Check out our 6,000 nm review and 20,000 nm review for our thoughts on all this work after 3 years of cruising.
Out Chasing Stars is a participant in the Amazon Services LLC Associates Program, an affiliate advertising program designed to provide a means for sites to earn advertising fees by advertising and linking to amazon.com
Well, I had great intentions of trying to get these posts put together while we were still in Palmetto, but we pretty much were working 12-14 hour days the last few weeks we were there trying to wrap up projects. Fortunately, we are now settled for a few days in the Bahamas (and have access to wifi!) so I feel the time has come to start putting pen to paper (as the expression goes) and give some more detail on the projects that we've been working on. I'm planning this as a 4 part series.
This post will be the first one and will provide details about half of the "small" projects that we've done. The second post will contain the rest of the small projects, the third will be about our custom helm hardtop and enclosure and the final post will detail out our solar set up.
For anyone who is interested in prior work we've done on Starry Horizons, you can check out write ups from our time in La Rochelle and Miami here:
La Rochelle: Boat Projects – Phase I
Now, on with the show:
Winches
We elected to go for the bowsprit and gennaker rigging package from the FP factory. This added a dedicated winch on the port aft side of the boat, but didn't add a corresponding winch on the starboard side. Instead, there was a pad eye on the toe-rail with a block to take the headsail sheet back up to winches at the helm. We disliked this set up as it led to too many lines crossing over the deck at high angles and made for a significant tripping hazard.
To solve this problem, we got creative. The factory setup consists of three winches at the helm (one Harken 46 electric winch and two Harken 50 winches) and a Harken 46 winch for the port aft winch. This was a bit of overkill as we never needed all 3 winches at once and only one line (mainsheet) was led directly to the port winch. We took the 2 Harken 50 winches and moved them aft, took the aft Harken 46 winch and moved it to the helm and added a small Harken #8 winch as a snubber winch to redirect the mainsheet.
This setup has worked very well in our sea trials and we lucked out because the bolt pattern of the Harken 50 and Harken 46 winches are the same, which means they swapped out easily. We did have to do some fiberglass repair to cover up the exposed bolt holes where the snubber winch was installed. One thing that we have discovered is that the Harken 46 winch doesn't appear to get the port genoa sheet up off the gelcoat quite as high as the Harken 50 does, so there has been some rubbing into the gelcoat. We're planning on getting another Spinlock sheet stopper which will raise the line up and also let us take it off the winch.
The biggest issue with this set up is that the headliner in the owner's cabin wasn't designed for easy access to bolts for the winch. The port aft cabin has a removable panel and a drop down so the headliner isn't right up against the fiberglass, but there is no such panel on the starboard side and the headliner is right up against the fiberglass. In order to get access to the bolts for the winch, we cut 5 small holes in the headliner and had a little cover made to hide everything. I've heard of other Helia owners who reworked the entire starboard cabin headliner set up, but this was a much cheaper method and didn't have too much of an aesthetic drawback.
Shroud Pad Eyes
When coming across the Atlantic we used an outboard jib lead (I called it a barberhauler in previous posts, but I have since been corrected) to great effect whenever we sailed deeper than about 90 degrees. I attached a block to our midship cleat, tied an additional line to the genoa clew, ran it through this block and one further aft and then back up to the helm. The only drawback to this setup was that when we would reef the genoa, the additional line would rub against the shroud. So we'd have to re-rig the setup to run inside the shroud.
In order to fix this, we had a pad eye custom made that we attached to the pin in the shroud turnbuckle. This will allow us to mount the block a bit further forward and should prevent us from having to re-rig the extra line when we want to reef the genoa.
Convert Electric Heads to Freshwater
This was a project that I tackled on my own and I'm proud to say I completed the project with only about 4 trips to West Marine and no sewage leaks in the boat! Using saltwater to flush the heads can result in lots of unpleasantness, including calcium deposits building up in the pipes, leading to total blockage as well as pretty nasty smells. Our biggest issue was not a sewage smell, but a sulfury, rotten egg smell that built up as the tiny organisms that live in saltwater died in our intake hoses and decomposed.
To combat this, you can regularly do vinegar flushes (helps with the deposits, but not really with the sulfur smell unless you clean out the intake hoses) or you can convert the heads to flush using freshwater, which eliminates the calcium deposits and the sulfur smell.
The actual conversion was pretty simple. In order to prevent any blackwater from backflushing into our freshwater system, I installed a Jabsco solenoid (part # 37038-1012). This required tapping into our pressurized freshwater hoses, taking the 12v power from the head saltwater pump and running it to the solenoid instead, and running a new hose from the solenoid to the head. I made a video of this process for our Life Aboard video series.
Turned Starboard Forward Hatch/Re-bedding Hatches
The large hatch over the head in the owner's cabin opened facing backwards, presumably to take advantage of the Venturi Effect and suck bad smelling air out of the head. However, with the conversion of our head to a freshwater flush, we've eliminated lots of the bad odors. Instead, what was more important to us was to increase airflow in our cabin. The hatch over our berth is hidden behind the helm and is also inside our new enclosure, so it won't be a great source of air. There is a smaller hatch amidship, but turning the hatch over the head to face forward has provided a lot more airflow at anchor.
We also had to re-bed two hatches due to leaks. The factory uses silicone to bed the hatches and in the Florida heat, it doesn't maintain a good seal. We used Sikaflex 295 UV white and it seems to have fixed the issues.
Bad Boy Wifi Extender
It should be fairly apparent that we like our internet and seeing wifi on our laptops/digital devices but being unable to connect due to poor signal is cause for justifiable rage in my opinion. So we elected to install a Bit Storm Bad Boy Xtreme MJ wifi extender. A custom bracket was made to hold the antenna and installed at the aft end of our hardtop. The cables were run through the boat up behind the tv and connected to a router, which is used to create our own internal wifi hotspot.
The Wifi Extender solved our problems while at Regatta Pointe Marina, but so far the only wifi we've found while out cruising has been at West Bay on New Providence Island, which is fairly well developed. I've heard it can be difficult to find usable wifi these days, so we'll see what the future holds.
Ion Dissipators
Edit: We lost one of the ion dissipators a few months after installing, and then took the second one down. We do not have any particular lightening protection on our boat now.
I'll admit it, lightning scares the bejesus out me. The thought of being struck and losing all electrical systems on the boat is not a pleasant one. We have protocols in place if we sail through a lightning storm in order to protect some essential electronics in our oven (a natural faraday cage) but it would be far better not to get hit in the first place.
To that end, we had two ion dissipators custom made and installed at the top of our mast. These are supposed to discharge the charge build-up on our boat and, in theory, make us less attractive to a lightning strike. I did a lot of research on this and this is one of the most divisive topics on the sailing internet (other than cats vs monos of course) but in the end decided that I'd like to take a "better safe than sorry" approach.
Splendide Washer/Dryer
Let's be honest, there's just something about clean clothes, especially bedsheets, that are warm and fresh out of the dryer that makes life better. We plan on cruising to some pretty remote places where an easily accessible laundromat won't be found, and I'm not a huge fan of washing my skivvies in the sink. So a washing machine it is.
Amy did the research and found a Splendide 2100xc for a good deal so we ordered it. And while this unit does fit in the designated spot in the owner's head, it just barely fits. In order to get it into position, I had to do the following:
Remove sliding door from track to widen opening
Remove door into head
Remove frame around door into head
Remove frame around washer/dryer location
And it still cleared by about 1/4″ on each side!
Everything I've heard is that ventless dryers don't work all that well, so we elected to go with a vented model. To run the vent hose, we cut a large hole into the generator locker to run the hose, and added a lint collection container (complete with nylon stocking) to prevent lint from flying everywhere in the generator locker.
Battery Upgrades
I've put this as the overall category, but there were 3 things we did that I qualify as battery upgrades.
Increased House Bank Battery Capacity

From the factory, the boat came with 600AH (4 x 150AH batteries) of battery capacity. We added two 6V, 400AH batteries in the port engine compartment. These batteries are wired in series to up the voltage to 12V, and then wired in parallel to the rest of the system to increase the total capacity to 1,000 AH. This, combined with our solar generation capacity, should be more than enough for our electrical needs.

Added Dedicated Starboard Engine Start Battery

Previously, the starboard engine was started using the house battery bank. Given how much capacity we had, and our solar panels to keep up a good charge, this likely would have been fine, but we added a dedicated battery to start the starboard engine, just in case we ever run into problems with the house battery bank.

Connected Generator Start Battery Into System

The only way the generator start battery received a charge was when the generator was running. Since we may go quite a while without running the generator, I wanted to make sure the battery had a way to stay topped off. We installed a combiner and connected the generator start battery into the rest of the battery system. That way, when the house bank is getting a charge, the genset start battery will as well.
Reverso Oil Change Pumps
Changing the oil in a boat is a no fun, dirty job. And because we have a cat, I have 3 large engines that require oil changes! I did one oil change on our genset while we were in France after the break-in period and it took a long time with the siphon system that I was using.
So, instead, we installed three Reverso oil change pumps, one in each engine compartment and one in the generator locker. These pumps are reversible, meaning we can start with sucking out the old oil, flip a switch and then pump new oil back into the engine. Pretty sweet!
Reverso Fuel Polisher
Our hope is that once we get out cruising, we'll rarely have the need to use our engines or generator, mostly just to get on/off anchor or make water and do laundry. That means we'll get a pretty long lifespan out of a tank of diesel. In order to keep the diesel in good clean order, we installed a Reverso Marine Fuel Polishing System (80 GPH) that will circulate fuel in the tank and help keep it clean.
Note that this won't do any good while the engines are running before we've had a chance to polish the fuel, so we also bought a Mr. Funnel fuel filter that has a 15GPM flow rate so we can try and make sure we're getting clean fuel into the tank to start with.
Remounted Courtesy Flag Cleats
The cleats used to tie off the lines for hoisting our courtesy flags were located along the forward part of the mast and at a height that could be reached when standing on deck. From a convenience factor, this made a lot of sense. However, we had lots of problems with our genoa sheets getting caught up in these cleats when we would tack. Getting the sheet out from under the cleat wasn't fun, and I was worried that the force of the genoa could rip out the cleats.
Our solution was to move the cleats up higher and further back on the mast. This will keep them out of harm's way and hopefully make tacking a much simpler chore!
Additional Bow Cleats
The forward most cleats installed by FP were actually aft of the pulpit seats and affiliated stanchions/hardware, yet these were the most logical places to run lines to a mooring ball. I was worried a lot about chafing as mooring lines rubbed up against the stainless legs to the seat. In addition, we wanted a way that we could pull the tack of our big headsails to windward in order to increase our efficiency downwind.
Adding additional cleats up on the forward edge of the bow will give solve the chafing problem and give us a free and clear run for mooring lines. I also will be able to add a soft shackle around the cleat (we specifically chose one with rounded edges) and attach the snap shackle for the continuous line furler. This will essentially pull the tack to windward and hopefully make us even more efficient when sailing downwind.
That's it for part 1! I should note that I am obligated to say that all the good ideas that we've done have been courtesy of our boat guru, Pat Reischmann, and all the bad ideas, I take full responsibility for.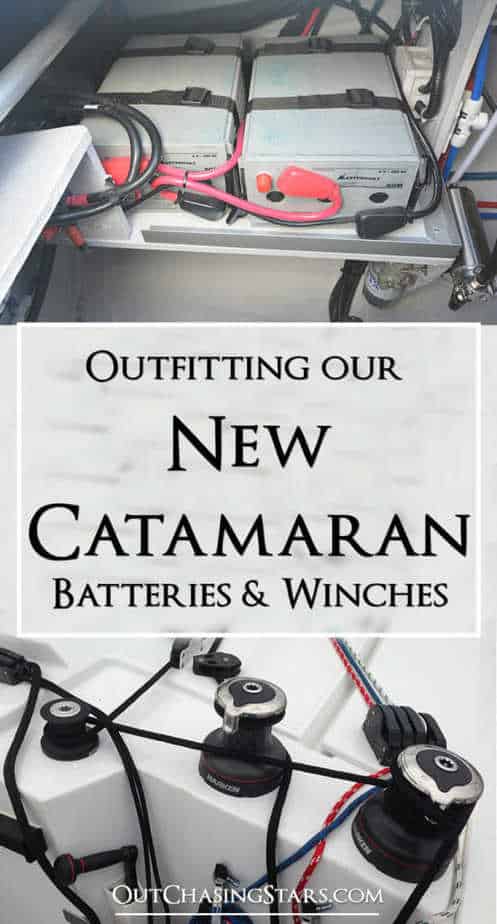 Social Share