THIS POST MAY CONTAIN AFFILIATE LINKS. PLEASE READ OUR DISCLOSURE FOR MORE INFO.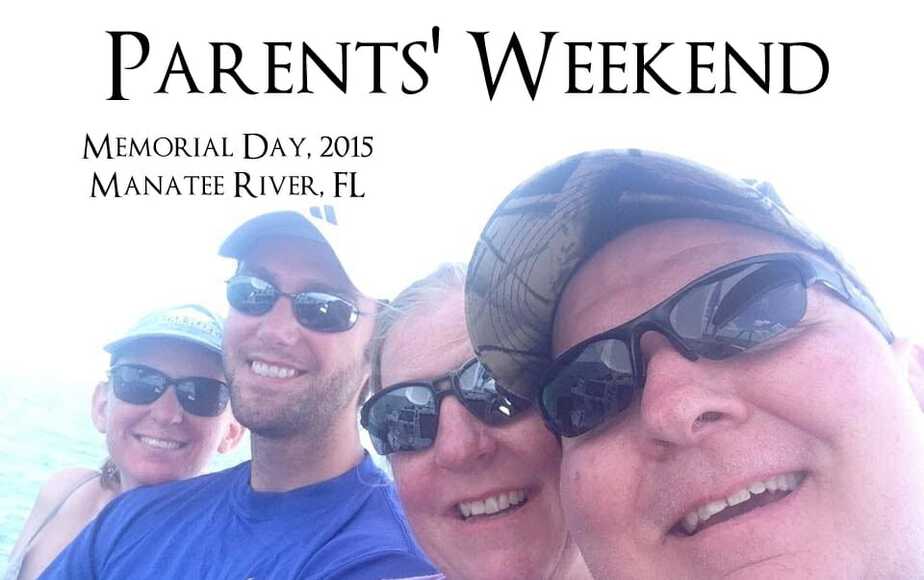 I have been looking forward to my parents' visit for months! I have always been close to my parents (except for that phase in high school….), but when we lived in Kemah, we were less than 10 minutes away from them and I got to see my parents at least once a week. Now, we will be lucky to see them a few times a year, but thankfully they have been incredibly supportive of the adventure we are embarking on, and I think they will be our most frequent visitor!
My parents arrived Saturday morning in Tampa, and we picked them up and drove back, stopping in St. Petersburg for lunch off a food truck at the farmer's market. Back in Palmetto, we went for a provisioning run, and then set off! David and I had done some research and scoped out an anchorage just down the Manatee River, off of Emerson Point Preserve and Snead Island. The anchorage was excellent; quiet, even for a holiday weekend, good holding, and protected from the east wind. Dinner was pork tenderloin on the grill.
Sunday morning we had a lazy morning – in fact, all of our mornings were lazy and slow to start. After everyone was settled after breakfast, we set out in the dingy for Emerson Point Preserve for some hiking. Armed with two camel backs and a bag of cherries for a snack, we dingyed up to a small beach just east of the pavilion. We pulled the dingy up to the beach and locked it, and then had to walk through the water to get to the trail (note to self: find better place to beach the dingy). First, we attempted to explore the small trails at the tip of Emerson Point, but the small beach trail was incredibly stinky – it smelled worse than the port a potties on site! It may have had something to do with some kind of algae or seaweed that had washed up on shore to rot.
We abandoned that trail and headed out on the road, east bound to find the other trails (note to self: next time beach the dingy closer to the trails you really want to go on). Along the road, we did pass many mangrove trees, spotted lots of birds and fiddler crabs, and also got to enjoy the view of an osprey nest station, with an adult osprey and (possibly) the head of a youngin'.
Finally we got to the trails and took a quick walk around a lake and had our cherry snack. Unfortunately before too long, David's blood sugar got a little low so we turned back (note to self: pack snacks if we hike past lunch time). While not an ideal hiking trip, we enjoyed the exercise and the company!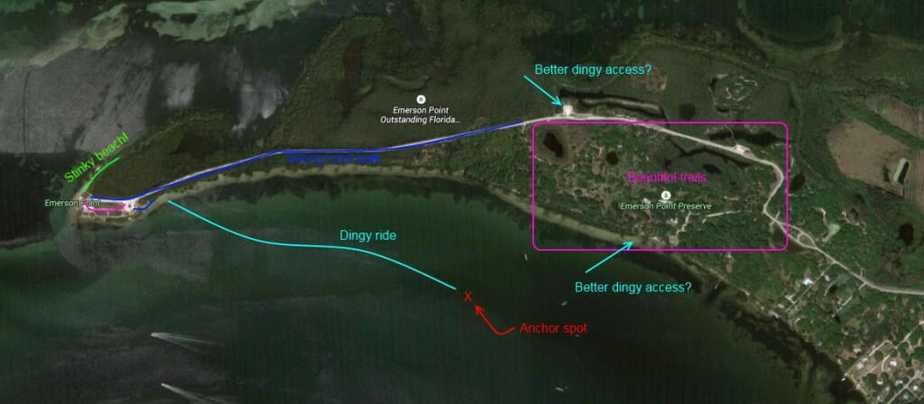 Back on the boat, we had lunch and some quiet time, relaxing and reading around the cockpit. Soon, storms started to roll through, with winds gusting up to 40+ knots! We had our awning up, which fortunately made it through the gusts with no damage, and our awesome Mantus anchor, who we named Mac Daddy this weekend, held through the gusts as well. After the wind settled, but the rain kept up, we picked up a marathon game of Uno…which lasted over 2 hours, and ended in David winning.
After Uno, David took a nap in the main salon and my parents and I headed up to the helm seat and lounge deck to enjoy the breeze and view. Bob took a turn at the grill for steaks and we dined in the cockpit again. Post dinner was out on the lounge deck, watching the sunset and the stars come out.
Monday morning, we had stronger winds – good enough to get out and go for a sail! We pointed out towards Tampa Bay, and tested out our re-cut screecher. With the wind on the beam at 13 knots and the screecher rolled out, we easily glided along at 8 knots. Success! We swapped the screecher for the genoa (ease of use for maneuverability) to cross under the Sunshine Skyway Bridge (a whopping 174-foot clearance!) and sailed along the east side of St Petersburg. After the turn around, we pointed towards Anna Maria Island, until we had a straight shot back up the Manatee River, and upwind, back to our anchorage.
In the afternoon, storms rolled through again, but in between we went for quick dips in the water – sadly, low visibility – and relaxed in the cockpit. We had the awning up again, and it proved to be the best seat in the house, with good shade and unencumbered breeze. David grilled one of my Grove Ladder Farm chickens for dinner, and afterwards we sat at the helm and watched the storms approach. When the lightening got to be too much, we headed down below, turned off all the lights, and watched the show! The rain came in strong, eliminating our view of the horizon and nearby island, leaving us with a few nearby lights in the gray blur that became our view. The lightening flashes were amazing. The downside: we discovered two leaks. One leak is where our solar panel wires come into our main salon (very problematic) and the second is one of the hatches in our main cabin, which we need to re-bed.
Tuesday morning we headed back to the marina, spent some time relaxing, and had lunch at Blu Mangrove Grill.
It was a great first weekend of fun on the boat. We anchored all three nights, our first time really anchoring for funsies. We learned a few lessons too:
-Having guests on board makes it EXTRA important to be neurotic about dumping trash before bringing groceries on board. We filled up a trash bag over the 3 days, because I didn't dump the trash before we left the dock.
-Guests should be prepared to be self sufficient so we can all have some quiet time during the heat of the day and in between physical activities.
-We need to be prepared to use more water and electricity than we thought having guests onboard. My parents wanted to run the air conditioner (and thus generator) at night, so we did.
-It gets stuffy in our cockpit when it rains and we put the enclosure down.
-My homemade fudgesicles were really popular (except with mom, who doesn't like fudgesicles) so I need more popsicle sticks to make a variety for when we have guests aboard.
-It would be easy for our eating habits to spiral out of control when guests visit. We typically don't buy junk food or snack too much, but when our guests arrive they are on vacation! We need to work on self control to not binge on our guests' junk food. Ditto with booze.
In other news, our thoughts were with friends and family honoring fallen ones for Memorial Day, as well as with so many people we know dealing with the massive flooding in Houston right now. Stay safe, y'all!
Social Share