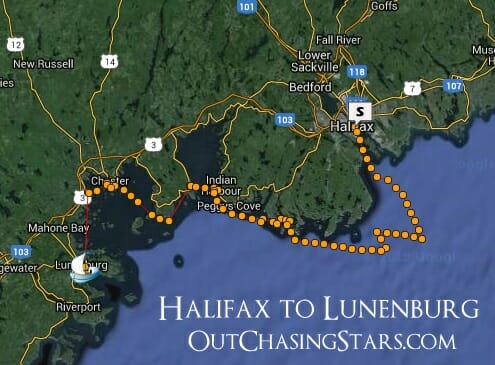 We arrived in Halifax on August 27th, and after a few quick errands we were cleaned up and ready for our first guests! Pete and Debbie, the owners of Maple Cookie, have been in touch with us for a while now, and we were so glad to finally get to meet them in person. We were docked at Bishop's Landing again, and the clouds parted, the sun came out and the air warmed up! We got to grill and enjoy good company chatting about Helias! Pete and Debbie were wonderful company, and so very hospitable to us – they lent us a car! We were also very excited to learn they'd brought their drone with them, so they filmed us at the dock. Watch out for that footage in our Canada video.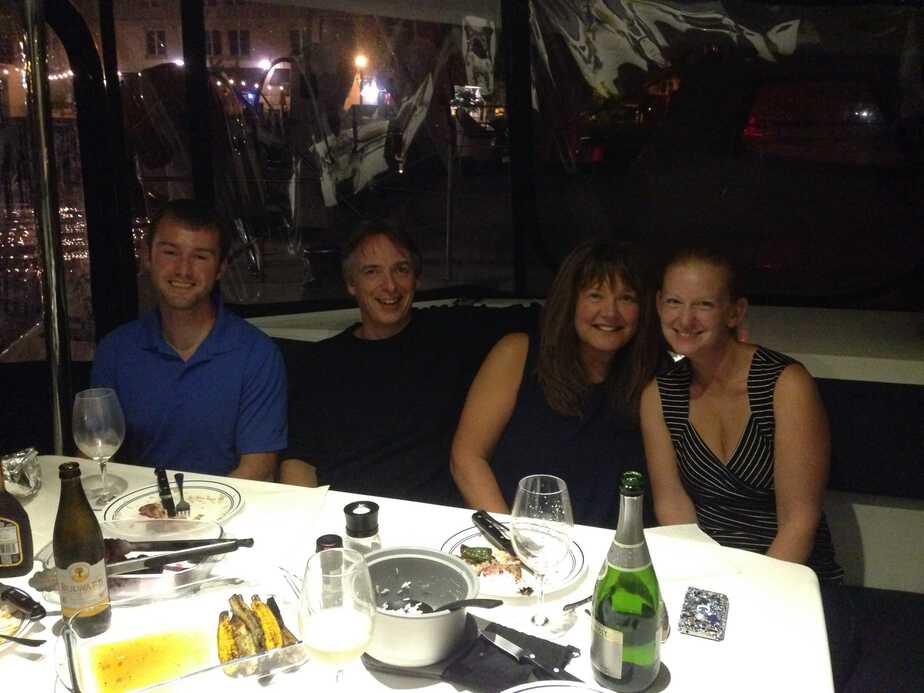 As we were eating, another catamaran pulled into Bishop's Landing – Music, a Catana 47′. We had seen Music from a distance at the RNSYS, and we hollered over to say hello and introduce ourselves to Greg. We offered to raft up, and they accepted, tying up to Starry Horizons while the gentlemen relaxed on their boat. After Pete and Debbie left, we met several of the guys, and gave some tours of our boat to those interested, plus Greg reciprocated with a tour of Music.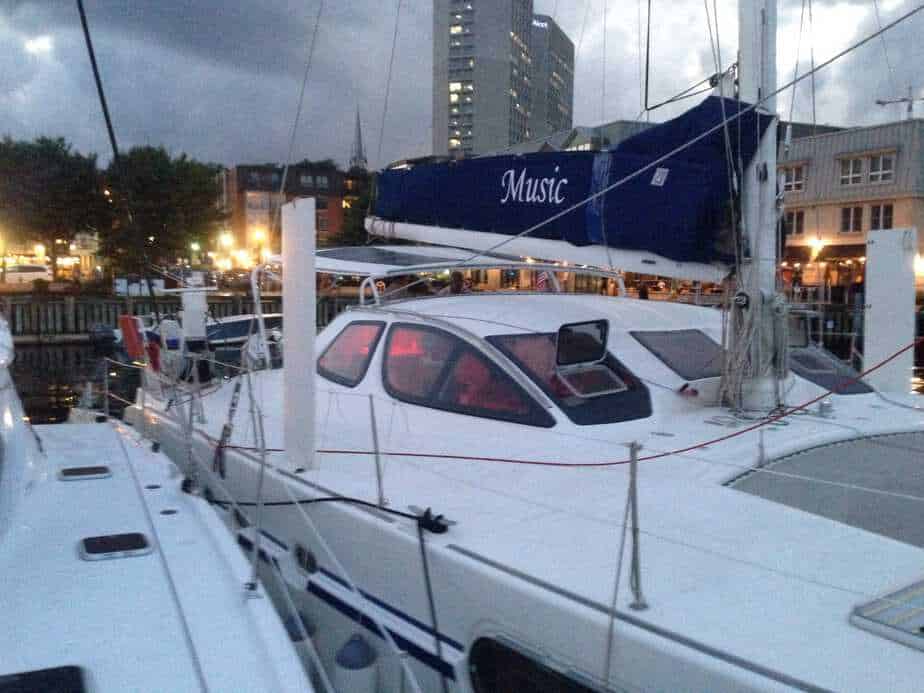 While cleaning up, I met our neighbors down the dock – Brent, on his powerboat, with friends aboard – most of whom I did not get to meet. However, I did get to met Andy, who is an American from Minnesota, living in Halifax above the restaurant next door. Brent and Andy both came by for a tour and we chatted about life on board.
The next day we got uber productive and ran errands, including picking up Sara from the airport and paying $8CAD (!!!) to fill up our propane tank. Sara is a college friend of mine and was a bridesmaid in our wedding. She came to spend five nights with us for some light Nova Scotia cruising. We went out in Halifax, taking her to have some local brews, poutine, and beavertails. We spent the rest of the evening sitting on Starry Horizons' lounge deck, watching the activity of a Friday night in Halifax.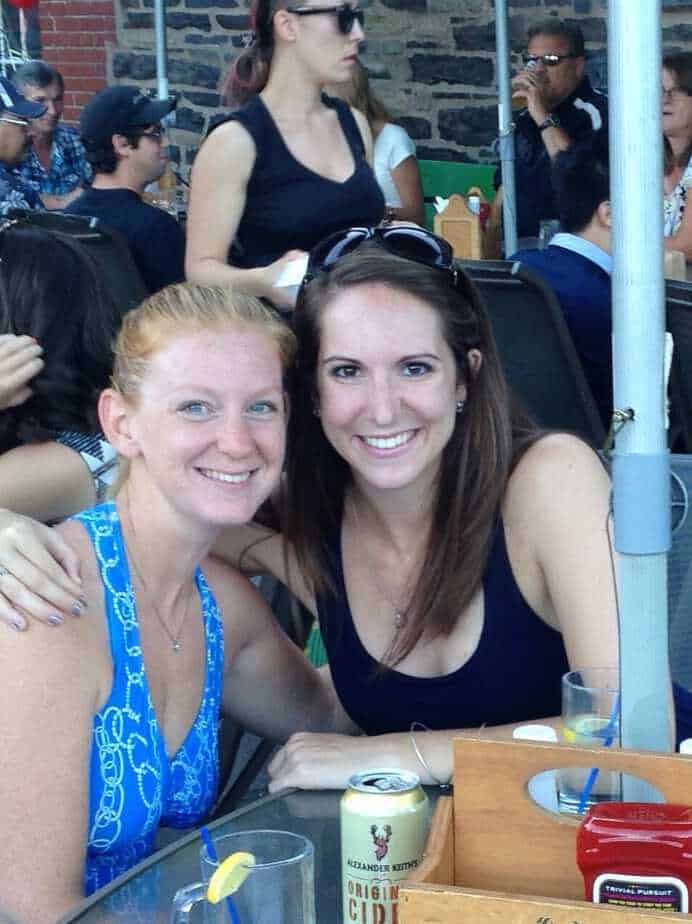 Saturday morning we finished up errands and gave the car back to Pete and Debbie. They brought their drone again, and after we left the dock and raised our sails, Pete filmed us sailing off. We are so thrilled with the video!
Our first stop we were aiming for was Rogue's Roost, with a back up of Prospect. I emailed our friend Jessica on Rogue, who we met last time we were in Halifax and who lives in Prospect. Turns out, they were headed that way too! We decided to anchor in Cub Basin instead of trying to make the very narrow passage into Rogue's Roost, and Rogue joined us for the evening. Rogue's crew consists of Jessica, her husband Craig, and their 4 month old lab mix puppy Miller. We took our dinghy over and offered to give Miller a ride to shore for his potty break. In exchange, we got playtime in Rogue's cockpit with Miller while chatting with Jessica and Craig.
The next morning Sara and I kayaked around our lovely anchorage, finding blueberries and a fisher!
We had Craig and Jessica over for lunch, and then we went our separate ways. We headed west, with the destination of Indian Harbor in mind, but when we got there we decided it was too small for us. Instead, we crossed the mouth of St Margaret's Bay, and settled into Northwest Cove. That evening after dinner, we took an evening "sip-n-stroll" in Little Dipper, touring Southwest and Northwest Bay. The bays are lined with houses, and most of them have adorable little fishing cabins on their waterfront. There is also a mini castle!
Monday, August 31st, we left for Chester. Most of Chester's proper anchorage areas are full of moorings. We found space to anchor in the Back Bay, but the mud was very soft, so we could not get our anchor to properly hold under force. It held just fine for us to have lunch and then Sara and I headed out in Little Dipper to scope out the town. We tied up at the Chester Yacht Club and walked around, checking out the shops and cafes. Chester is very small. We decided we had seen enough of it for now and would try to find a better place to anchor. After looking around a bit, we turned and sailed west to anchor just north of Oak Island (with exciting history!). We ended up being perfectly sheltered, almost all to ourselves, with free wifi thanks to the nearby resort! You really can't ask for much else.
The next morning we up anchored and headed to Lunenburg. We was a lovely sail, and we spent some time wing on wing. We saw harbour porpoises (very tiny cute little things!) and seals, and as we were approaching Lunenburg we passed Bluenose II going the opposite direction with sails out, although she was reefed and only doing 3 knots! We anchored just east of all the moorings, with easy access to the Zwicker & Co dinghy dock. Lunenburg is the second biggest city we've been to in Nova Scotia, with a population of around 2,300. We had important first plans – a tour of the Ironworks Distillery. We ended up being the only ones on the tour, and it was really interesting. They are a small batch distillery, and have won a plethora of awards for their products. The tour included the fermenting room, the aging room, the still, and a tasting. We were also given gifts of Ironworks shot glasses. Our tour guide was knowledgeable about the whole process and answered all of our questions.
Sara could not decide on one place for dinner so we went to three! We had appetizers at Grand Banker, dinner at Rumrunner, and dessert at Salt Shaker Deli. All were very good, but the desserts were, of course, our favorites.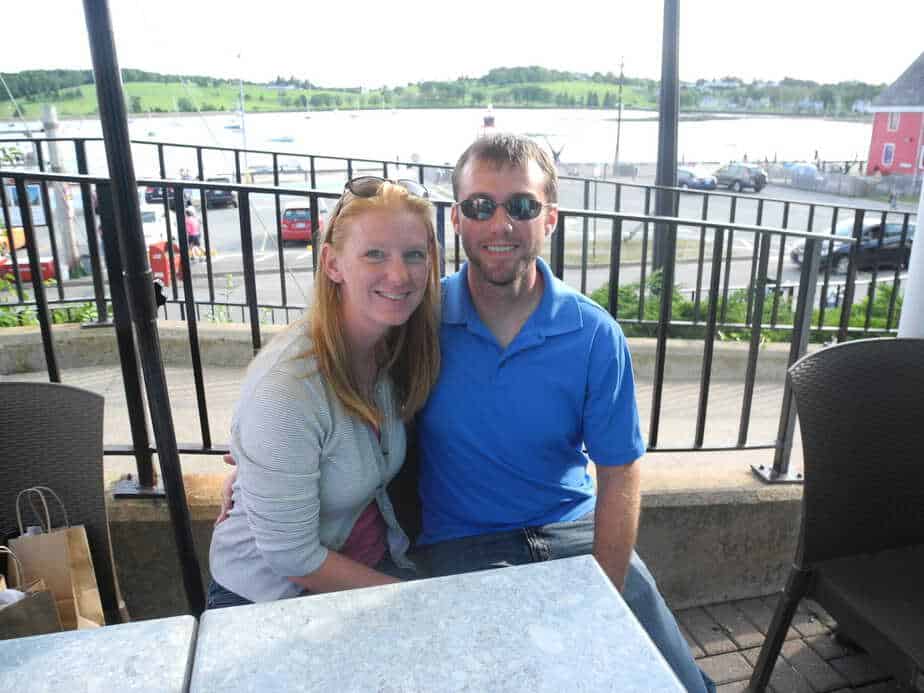 As we went back to Starry Horizons, I heard my name being called from a boat next door. It was Tina of Sailing Life 4 2. Tina and I had connected through Women Who Sail, and while we were in the Bras d'Or Lakes at the same time, we were never in the same place. We popped over to Mur Dina and chatted with Tina and Steve, and their cat Jigger.
The next morning we went ashore to check out the Fisheries Museum of the Atlantic. We didn't make it through as much as we had hoped – it was a big museum! We did see the aquarium exhibit, including the blue lobster and the touch tank. We also went aboard the Theresa E Connor and Cape Sable fishing vessels. For lunch, we made sure Sara got a lobster roll at Savvy Sailor, and then ice cream in freshly made waffle cones at Sweet Treasurers Confectionery.
Then it was time to say goodbye to Sara. Tina and Steve very generously lent us their car so I could drive Sara to the Halifax airport – otherwise the only option would be rent a car or taxi – about $130 CAD! Sara was a wonderful guest aboard. She taught us two new games – Rummy and Contact. She enjoyed time lounging in the sun, and she was so excited about everything! She's looking forward to joining us again – Panama '16! As we were leaving the dock, Jamie Morrison came over and introduced himself. He said he has been reading our blog! It's always exciting to meet someone in person. Jamie does fantastic marine photography.
To thank Tina and Steve for their hospitality we had them over for dinner to grill and watch the "Hump Cup" – the local Wednesday night "race", where everyone is certainly a winner.
Today, Tina and I went to the Lunenburg Farmer's Market, where I picked up some veggies and wine. Now, David and I are getting wrapped up and ready to leave Canada! Although we would like to stay longer and explore more of the South Shore, we have a weather window to get over to Portland, ME, so our time in Canada has come to an end.
This past week in Nova Scotia has been the best. Thank you so much to everyone who is mentioned in this post. The Bras d'Or lakes were beautiful but very quiet. The past week has been surrounded by friends!
Social Share