We have had a great time in Amsterdam! We got all the major touristy things accomplished while giving ourselves an off day too.
Full day #2 in Amsterdam (October 22nd) started with the Van Gogh museum. It took us longer to get out the door than anticipated, we took multiple wrong turns, and we got distracted by a street market. We finally made it to the Van Gogh Museum at about 11:30. The museum was very nice, (obviously) a lot of Van Goghs, but also works by his contemporaries and a section about his family and the development of the museum.

Afterwards, we headed to a nice pancake place for lunch. These Dutch pancakes were just a bit thicker than crepes and instead of folded, they were simply topped with their goodies. Mine had cheese and bacon, David's was ham and cheese.

Blue Boat Canal Tour
Afterw,ards we hopped on the Blue Boat Canal tour which was a great way to see the whole town and learn all kinds of goodies (like the fun factoids I presented to our Facebook fans).
From there we walked back to or apartment through a park and enjoyed some take out Indian food from the Tandori place down the street and watched some Dutch tv!
Full day number 3 (October 23rd), we stopped first at the Houseboat Museum (which is actually in a houseboat). This houseboat was an old shipping boat, which had crew quarters, but had since been converted. Next, we were prepared for the long line at the Anne Frank House since we had noticed it while passing by yesterday. The house was well done, but sad and slow moving. David and I topped that off with a conversation about racism issues we see in the states (and elsewhere).
Next up we went to the Amsterdam Tulip Museum. Unfortunatel,y this is not the time of year to see tulips, so we had to settle for the museum. It was a cute, small museum with history about tulips and the tulip trade and crash.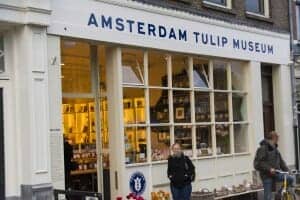 We spent some time walking around some shopping areas on our way to Centrum (center district of Amsterdam), had dinner at a Chinese place and then cocktails (er, David had hot cocoa, I had cocktails) until it was late enough to check out the red light district.
Honestly, not too much to be said about the red light district. I was expecting it to be like bourbon street – loud music, lots of drunks, and half naked women dancing around. But it was quieter than that. No loud music, just women in bikinis standing in windows. The streets are filled with signs for sex shops and live sex shows, but I think the crowd was much tamer than I expected.
We have enjoyed Amsterdam, and are on to Il de Ré!
Social Share