THIS POST MAY CONTAIN AFFILIATE LINKS. PLEASE READ OUR DISCLOSURE FOR MORE INFO.
This post serves as an update to our original post, Communication on a Boat. A lot has changed since the three years that we took off, and as we've learned, our communications plan has changed with the times.
Out Chasing Stars is a participant in the Amazon Services LLC Associates Program, an affiliate advertising program designed to provide a means for sites to earn advertising fees by advertising and linking to amazon.com
Budget
The connectivity/internet was not broken down in the budgeting blog post (Year 1 and Year 2). Here's our info:
Iridium Go through Roadpost: $137/month = $1,644/year
Domain Registration through Namecheap = $65/year
Website hosting through Dreamhost: $120/year
InReach: $28/month = $336/year
Email through Google: $100/year
Iridium Go email through Ocens: $200/year
Misc internet (wifi and cellular): $481 for year 1, $913 for year 2
We expect our misc internet costs will continue to increase as we are making a bigger effort to stay connected.
Total yearly: $2,946 – 3,378
Iridium Go
We upgraded from a Satellite phone to an Iridium Go. We now have unlimited data and texting, plus 200 voice minutes a month.
My biggest gripe about this system is that there's no way to check my minutes. For a very long time we just weren't using the minutes at all, but now I have a standing call with my mom every Saturday (her time). Keeping these phone calls to less than a half an hour eats up at most 120 minutes a month. However, the call quality is not great. The call will be dropped about 3-4 times in the half an hour and there is a terrible lag. There are many times that whatever local internet service we are using is not a fast enough or strong enough signal for a VoIP connection, and the Iridium Go is the better option.
We do have an external antennae for our Iridium Go. We originally had the antennae installed in Spain when we were having trouble connecting our original Satellite phone. The connection was still incredibly terrible, and our connection was getting dropped when we were checking our email and we were just devouring our minutes. When we switched to the Iridium Go we had unlimited data, so it became less expensive, but the dropped connection was still frustrating David. In New Zealand, David replaced the entire system – we upgraded to better cable, eliminated connectors and bought better quality connectors. Now, we have no dropped connections while checking our email.
Our offshore email is hosted by Ocens. We pay $200 a year for a custom email address. While onboard Julia, we helped Susan and Tom set up their Ocens OneMail account, which allows them to check their regular gmail through the sat phone for $100 a year per email address.
We received weather forecasts through our offshore email by SailDocs which we use to download GRIB files and then we view the files on a program called ZY Grib.
We don't use the texting feature very much. Depending on the provider, whoever I text may be charged for texting with a satellite number.
Garmin InReach
We originally picked the (formerly Delorme) Garmin InReach for it's tracking capability and we are VERY happy with it. We paired it with SpotWalla to embed a map of our trip on our website and our position can be updated up to every 10 minutes. We've also found that we can download the tracking information as a GPX file, and import it into a program like OpenCPN. This also tracks our total mileage. You may be thinking – wait, doesn't your Raymarine do that? Well, yes, technically it does, except that three times we have gotten a single GPS position in a totally random location – like England – and those tens of thousands of false miles cannot be taken off our mile log. So, we have our most accurate mileage reported by our InReach. And how badass is it that we have a map with our entire path on it?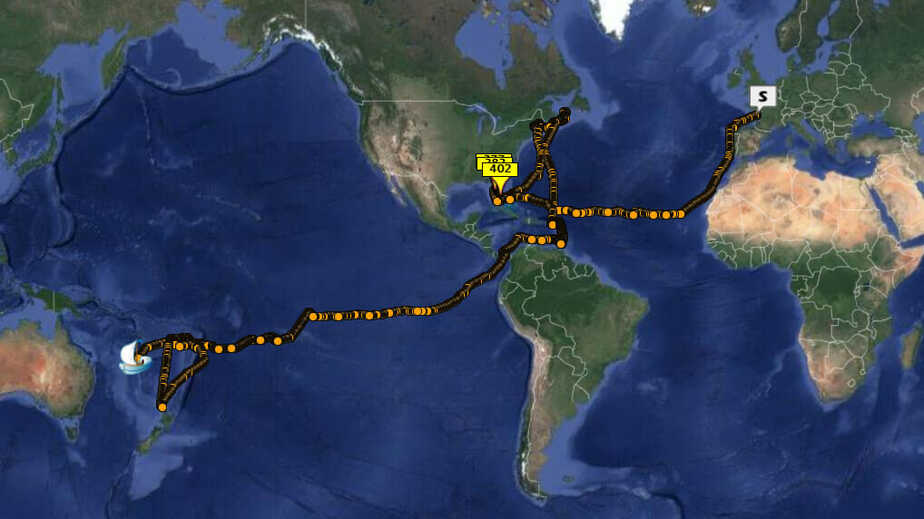 More and more though, the InReach is being thrown around as an alternative to an EPIRB. That's not our stance – we have an EPIRB and are keeping it. The InReach SOS function has a large number of benefits compared to the EPIRB. Here's how the InReach SOS works:
A signal based on the Iridium satellite network is sent to the International Emergency Response Coordination Center (IERCC) at GEOS.
Within minutes, the device receives a confirmation from the rescue services.
Here's the most important part: the InReach is a two-way communication device. That means that rescue services will be able to send you a message regarding your rescue operations and you will be able to send messages back. Image the increased effectiveness of your rescue when they know how many people are onboard, and the nature of the emergency. If there is a medical emergency onboard, rescue services can be ready to treat during the rescue operation.
GEOS is a private service.
For an example of a marine rescue: https://www.garmin.com/en-US/blog/marine/inreach-u-s-coast-guard-rescues-two-sailors-dog-hurricane-irma/
For Latitude 38's take on the InReach: http://www.latitude38.com/letters/201709.html#.WfVQ82iCxPY
VHF
The only VHF change we have made over the 3 years on Starry Horizons is that we have added a second handheld VHF to our gear. If I'm going out kayaking or paddleboarding, I bring a VHF with me, but if David were to ever need to rescue me, it would be best for him to have a handheld VHF too.
Wifi Extender
We are still very happy with our Bad Boy wifi extender, although we haven't used it much in the South Pacific.
Cellular Router
While in New Zealand we purchased an unlocked mobile wi-fi router. We can take any SIM card and broadcast a signal throughout the boat. We also purchased a cheap booster antenna to get a stronger signal.
This SIM card adapter has been handy to have so that we can use the same SIM card in either our router or our cell phones. It converts from a nano (for the iPhones) to micro or standard SIM (for the router). Also, we purchased a SIM card cutter, which we have used when nano SIMs aren't readily available (like Tonga). It fits into our cell phones a lot better than when the store employee takes a pair of scissors to the SIM card…
Another option is to get a device like a Tep Wireless to give you constant internet.
So that's all the gear we have to keep us in touch with the world! We think we're doing pretty good – we are posting to the blog twice a week (with pictures) and posting videos to YouTube every 10 days or so, and in the grand scheme of things, communications are a small part of our overall budget.
Social Share