PS. Today (October 7th in the states) is my birthday! Woot! We're celebrating with a snorkel and a party with some friend boats in Musket Cove.
Our first stop with my parents was Navadra Island. Navadra forms a L-shape with Vanua Levu, and is uninhabited. We visited last year and enjoyed the hike and snorkel, so we thought it would be a great place to visit with my family.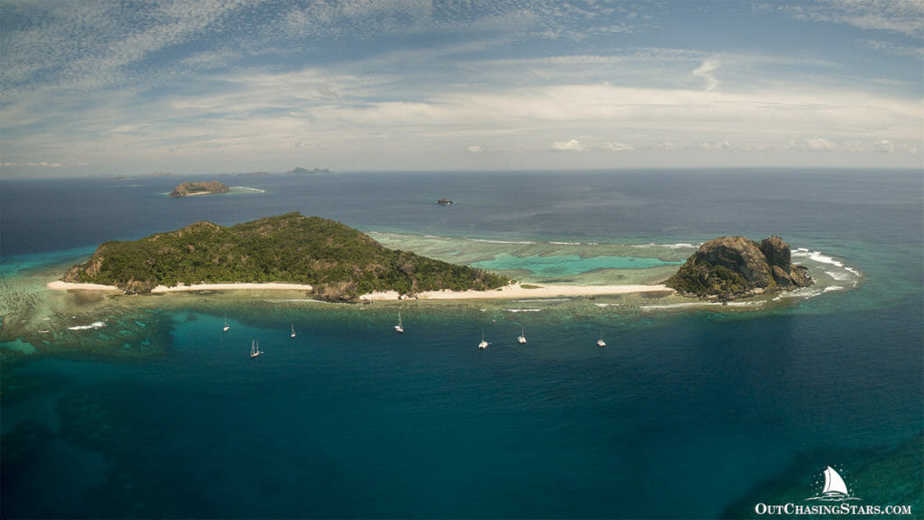 September 23rd, our first day, we went shore to walk the beach. Mom had a fantastic time picking up shells and poking hermit crabs. That night we built a bonfire on shore and watched the sunset while cooking some of the mahi mahi we caught. Friends from another boat joined us for a fireside hangout. HOWEVER, we had a bit of a situation getting back into the dinghy….the swell on the beach was rough, and getting in the dinghy was an adventure that involved swamping LD and someone hoisting me up by my ass. We're puttering back to SH, with a miniature lake in LD and Bob says "Hey….did someone put the drain plug back in?". Nope. Somewhere in the footie pool we had going on was the drain plug floating around. Thankfully it was a short enough trip back to SH that we didn't sink….we were just sinking.
The next day, cruising friends were celebrating a crew member's 30th birthday, and hosted a beach Olympics on shore. We had a blast, although team Harvey Can't Flood Us came in last place. The events were the frisbee throw, kettlebell toss, wheelbarrow race, sandcastle building, SUP carrying, hermit crab races, and a dizzy relay race. We had a blast and couldn't stop laughing most of the time.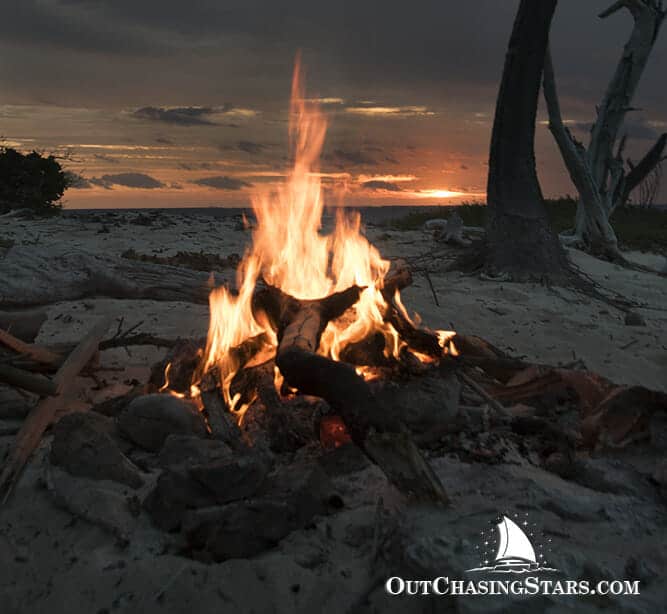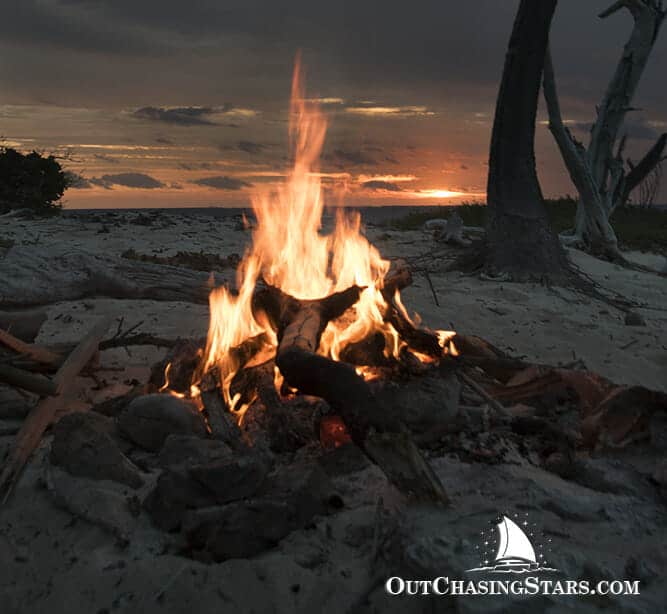 We went snorkeling here, which is one of my favorite places in Western Fiji. And it was a MASSIVE improvement over the last time my parents came to visit, in Antigua, and we could barely see our own feet. I also got out to use my new camera gear and shot the Milky Way one night.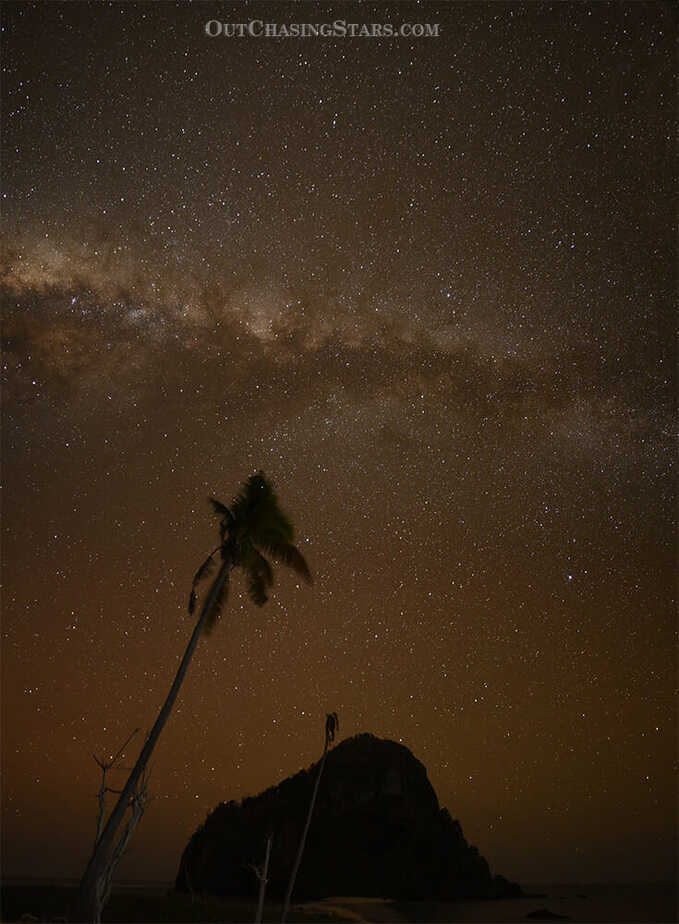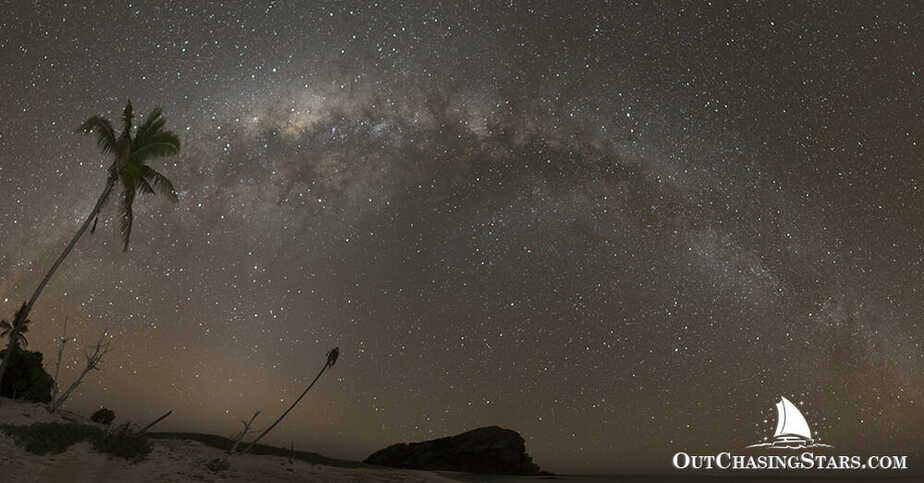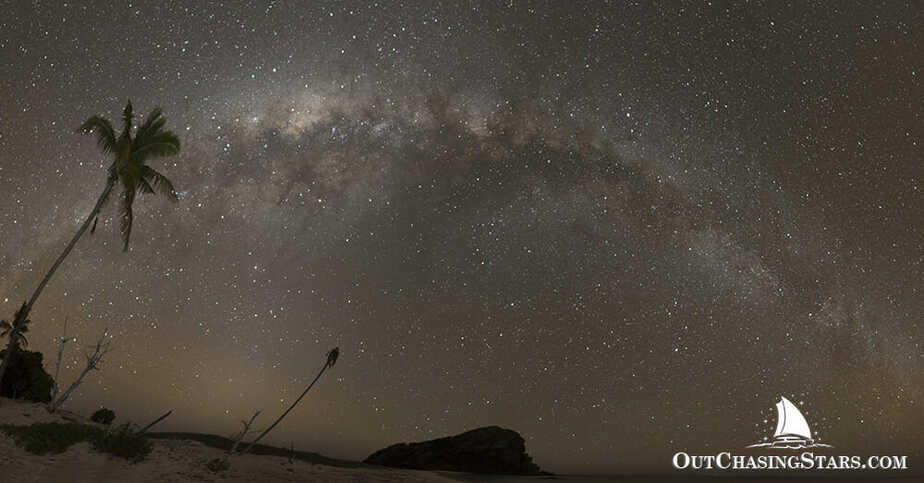 Our next stop was Manta Ray Resort, another place we stopped in last year. I was hoping to see manta rays swimming in the pass, but we JUST missed them! We snorkeled the pass two days in a row anyway, and we enjoyed it. The current rips through at high tide, so it was a drift snorkel. I held on to LD and zoomed over coral, sea anenomes, star fish, and schools of thousands of small fish swimming in the current. Each day we went through the pass four times. We also saw some black tip reef sharks on the west side of the pass.
We had a dinner ashore at the resort, where staff played music and we feasted on Fijian-inspired dishes.
One AMAZING story is that my stepdad Bob has a hard time with snorkel masks. The past two times he's visited us he's brought his own gear, and he still had issues while we snorkeled in Navadra. When we arrived at Manta Ray Resort, we thought we would ask if they had a full-face snorkel mask. Well, Manta Ray is not a dive shop – they have gear for their guests to use free of charge but we asked anyway. Immediately one of the staff members pulled out a full face mask and asked if we wanted to buy it for $20 FJD. YES! Bob used it and loved it! Note; Mom, Bob and Phil all snorkeled with pool noodles under their arms, so there's no free diving. I understand sometimes these full-face masks have issues.
While at Manta Ray Resort we celebrated Bob's 60th birthday! I made my first attempt at birthday cake onboard SH and we grilled steaks for dinner.
Our last stop was at Blue Lagoon, a new place for SH. We anchored off Nanuya Island, with the two resorts right in front of us – Nanuya Island Resort is a bit more upscale, and the Boathouse has some budget lodgings. Each has a restaurant, and Mom, Bob, Phil and I went ashore and sat at the Boathouse Restaurant for a cold drink. We popped into the Activities Center to see what's going on and the store to check out the offerings. We'd heard that produce was available, and discovered that you just have to order the day before and the goods come directly from the resort's farm. I ordered cilantro (coriander), bananas, carrots, and bok choy. The four of us hiked up the mountain to actually view the farm. Basically the farm was the back of the resort, with banana orchards and raised beds invading the bures at the back of the resort.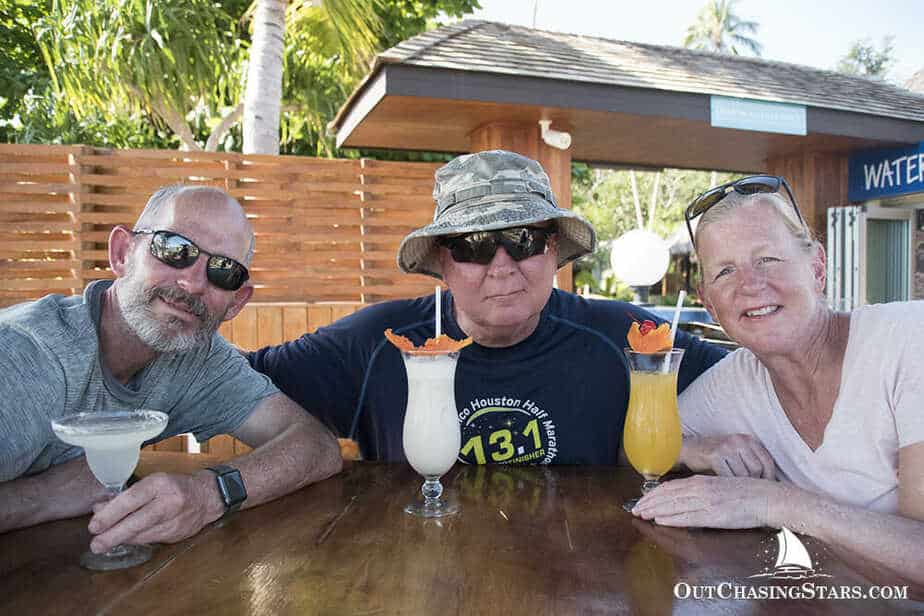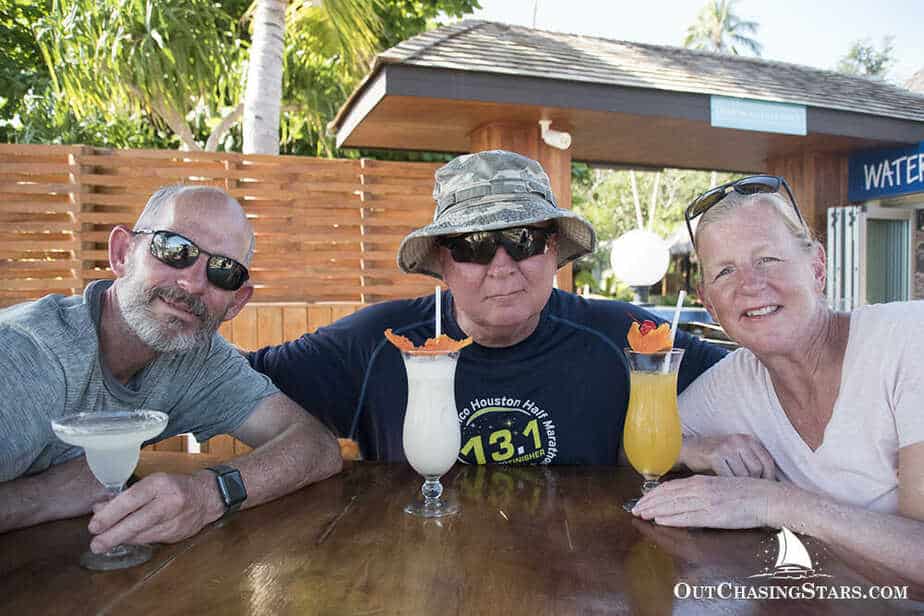 The next day all five of us took off on the hike to Lo's Tea House. It took us about 45 minutes, which beautiful vistas over the multicolored water and beaches.
Los was definitely a must-do. We'd heard about the chocolate cake, but rumor hadn't hit us about the DOUGHNUTS! I looked at the menu and ordered one each: doughnut, banana cake, and chocolate cake. Lena, the proprietor, cautioned me that we'd probably want more than just one doughnut and they take about 15 minutes to make. How many doughnuts are in a batch? Four. SOLD. And thank goodness. Don't get me wrong, both cakes were good but the doughnuts were AMAZING. They are Fijian style, with a crispy texture on the outside and a light and fluffy American-pancake style center. They were served with some kind of sauce. Worth the hike. Plus, there were various handicrafts that my parents bough for souviners, and check out the view from Lo's!
We had a wonderful dinner at Nanuya Resort (and a big one – everyone had leftovers to bring home).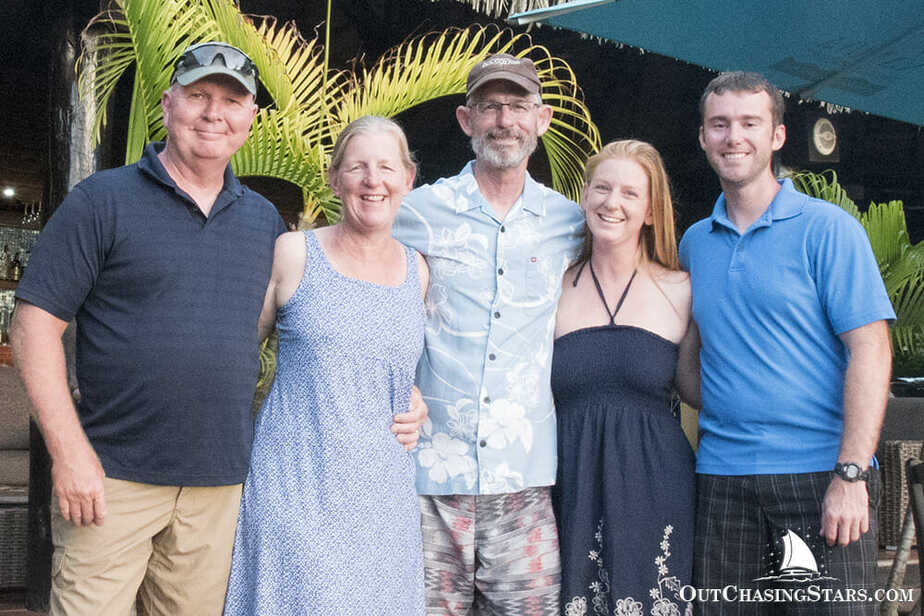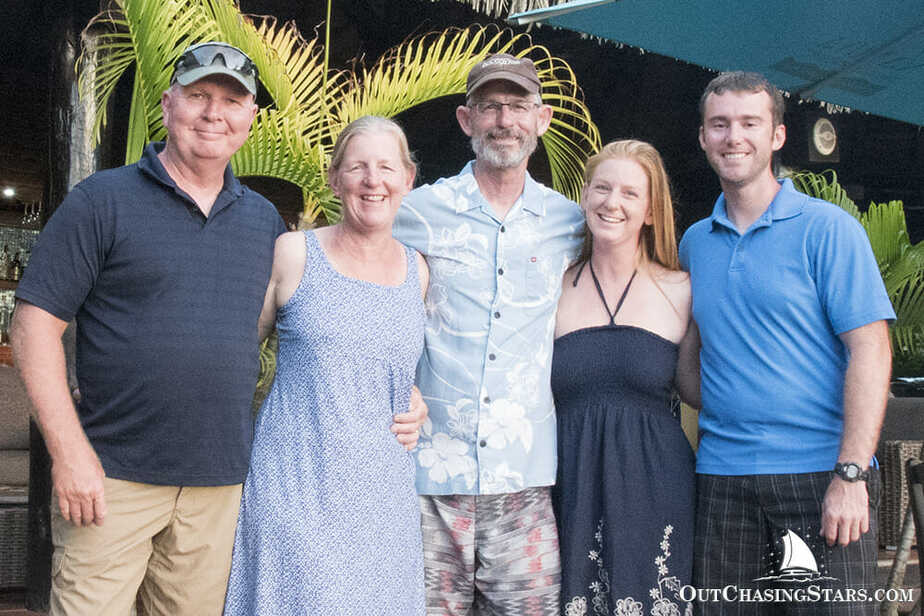 Finally, the last day arrived. Mom and I snorkeled in the morning and had a few fantastic spottings.
We had lunch at the Boathouse, and then said goodbye to my parents as they took off for the ferry. We had such an amazing time with them, and I can't wait for their next visit!
PS. We've started something called OCS Shorts on our facebook page. It's short videos that we can't wait to share until our full episode comes out. Like our Facebook page to keep up to date! Here's our most recent one:
Watch the Video: Birthdays and Beachcombers in Fiji
Social Share