THIS POST MAY CONTAIN AFFILIATE LINKS. PLEASE READ OUR DISCLOSURE FOR MORE INFO.
Aside from a 6-hour layover in San Francisco, David and I had never been, so we jumped on the opportunity to spend one day in San Francisco.
We stopped in San Francisco as part of our journey as paid crew to sail S/V Julia from Portland, OR, to Hilo, Hawaii. We spent a week in Oakland, CA at a marina.
Docking in Oakland
We docked at the Jack London Marina in Oakland Friday morning. The body of water we are on, the Oakland Harbor, is very industrial. We are at the most north-eastern dock of Jack London, which is a sectional marina that goes for almost 2 miles. Just next door is the Ferry Terminal (very convenient) and beyond that is the Port of Oakland, which is always busy loading and unloading container ships.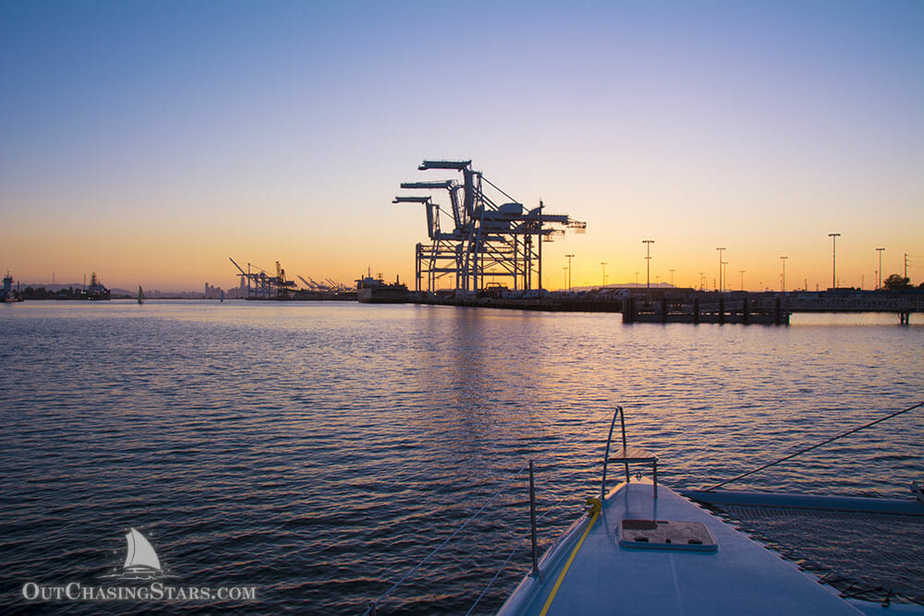 Jack London Square is the section of Oakland, and it is a well developed, high end area. There are many great restaurants and boutique shops. Across the Oakland Harbor is Alameda, and docked on that side of the river are the Commodore dinner cruise ships. I'm having flashbacks!
Most of the boats here are quiet, but there are about three or four with active people onboard. Two of the boats directly across from us are our age, and one of the guys even went to Plano East (David's high school) although they were 5 years apart.
Saturday morning was the once a month Jack of All Trades market, and the streets were lined with tents selling all kinds of products. Sunday was the weekly farmer's market, and man it's good to be in California in spring! I bought local asparagus, sugar snap peas, raspberries, strawberries, eggs, and more. Everything was delicious.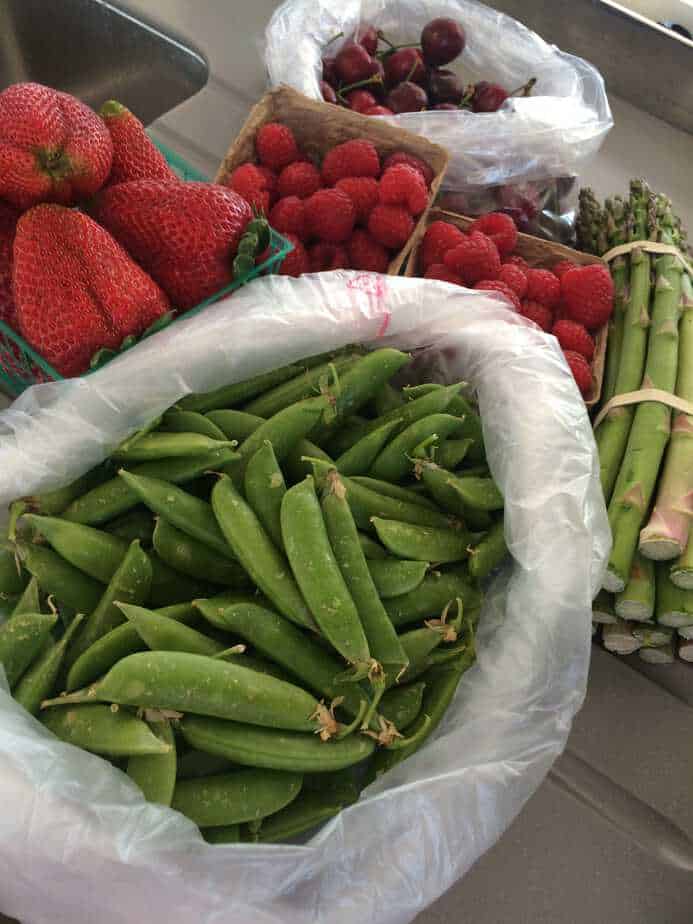 Breakfast with Seachelle
Sunday we woke up to head over to Seachelle, a Lagoon 400 a few dock clusters over and had breakfast with Michelle and Alex, who have been following our blog. Always fun to tour and chat with like people. We had a particularly fun time playing with their black lab Apollo, and talking about their spinnaker set up – they gibe their spinnaker! Considering we can't seem to sail without ripping ours, that's expert level.
Oakland Meetup
Next we met Sarah and Kevin who were brought to Julia by Don, Susan and Tom's broker. Sarah and Kevin have also been following our adventures online. They are shopping for catamarans and looking to take off someday with their now-four-month-old son, Dylan. Dylan could totally pass for my kid with his red hair and blue eyes!
That evening, we had a last-minute-notice happy hour met up. Michelle and Alex came, as did Sarah, Dylan and Kevin. We were also joined by Ron and Vivian, and Cyrille, Catherine, and their daughter (whose name I am blanking on). Everyone was super friendly and it was so nice to chat with them, and it's fun to see the people who come to meet us become friends with each other!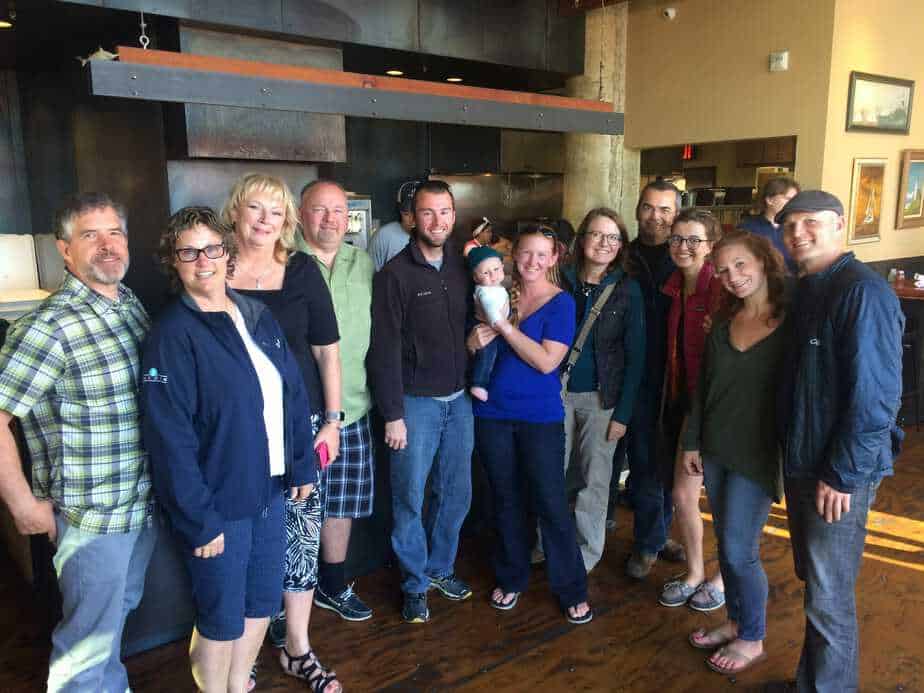 Projects on Julia
Lest it sounds like we are having too much fun, we have been super productive here. We finally got Julia's AIS to transmit, we got their Iridium Go set up, and their InReach (so Julia can now be tracked HERE). We've done lots of reorganizing and provisioning. In fact, we were so productive, David and I got to take a day off and spend one day in San Francisco proper!
One Day in San Fransisco
Coit Tower
We started (of course) by taking the ferry over to the SF Ferry Terminal. From there, we grabbed the trolley service down the Embarcado to Lombard, where we got up and walked to the Coit Tower. Even though the day hadn't been as clear as the previous few days, we did get a great view.
Pier 39
From Coit we walked down to Pier 39, for the sole reason of checking out the sea lions. Definitely the highlight of my day, the sea lions are loud with their barking, ungainly on land, graceful in the water, and just an altogether fabulous show. It was not quite the peak season for sea lions (which is August) but there were hundreds. I suppose it's probably not peak tourist season either, so we were able to get a pretty good view to watch them for a while.
Chinatown
From Pier 39 we walked to the start of the Cable Car and took the car up to Chinatown, where we popped into the oldest dim sum restaurant in the US – Hang An, founded in 1920. Dim sum is not a food you can find all that easily in the islands, so it's an excellent stop for us. We ordered five dishes and they were all great, but the pork meatballs were outstanding.
Castro
Next, we hopped a Muni bus to the Castro district, the heart of gay pride in San Francisco. We did a short, self-guided walking tour, seeing the landmarks and grabbing a cookie at Hot Cookie (known for their phallic shaped cookies, but they only came in one flavor), a chai tea at Philz Coffee House (unicorn themed) and a drink at Twin Peaks.
Tenderloin District
From Castro we ran an errand (Best Buy – I broke my Nikon DSLR camera battery charger). Then it was dinner time, and we took the bus to the Tenderloin district and walked for a few blocks to find Pawkar Pakistani Restaurant for some Tikka Masala (and the best naan I think I've ever had). Finally, back to the waterfront to enjoy the sun setting over San Francisco and the bridges starting to light up.
San Francisco Public Transportation
It was incredibly easy to get around in SF. Tickets to the trolley and bus are interchangeable and although it says they are good for 90 minutes, all of ours were marked to expire almost five hours from when we bought them. There's the trolleys, bus, cable cars, subways, and ferries, so there are lots of choices.
More Than One Day in San Francisco
Planning for just one day in San Francisco was really challenging. I found this article by Time particularly helpful. There are a few things we would have liked to do that we missed:
Alcatraz tours (sold out)
Legion of Honor Art Museum with a Monet exhibit (closed on Mondays)
There are just so many amazing instagramable places in San Francisco! We were lucky to have room & board covered by our employers, but there are plenty of cheap things to do in San Francisco.
Julia gets Private Sailing Lessons
Back on Julia after our one day in San Francisco, we identified our weather window for Saturday. That gave us a few more days to get projects done and also gave us a few "lesson" days. One day David sat down and taught S&T how to download weather and plan routes. Thursday we all went out sailing in San Francisco Bay and practiced raising and lowering the main, and then receding. David and I even learned quite a bit – Julia does not have single line reefing and we were able to successfully reef downwind for the first time!
So today we are off! It'll take us about 2 weeks to reach Hilo, Hawaii. You can track us at JuliaSails.com!
Aloha!
Watch the Video: Julia Delivery Part 2: Exploring San Fransisco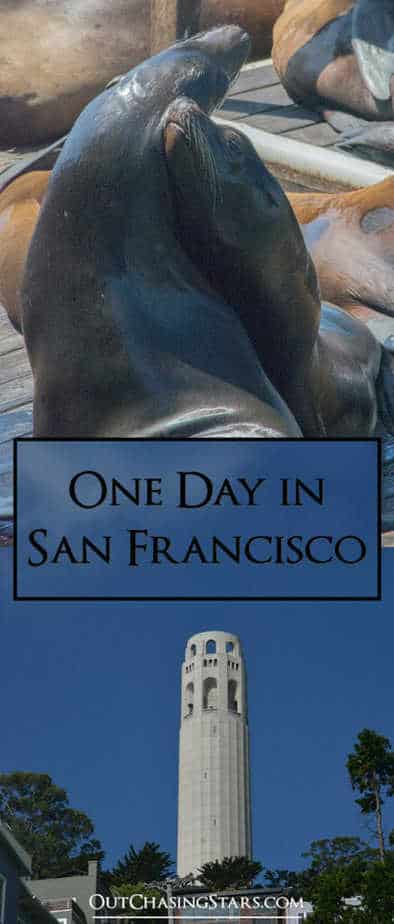 Social Share