THIS POST MAY CONTAIN AFFILIATE LINKS. PLEASE READ OUR DISCLOSURE FOR MORE INFO.
After spending some time in Seattle with David's grandmother and then at an Airbnb in Portland with David's parents, we arrived to Salpare Bay Marina Monday morning with David's parents and got a chance to show them around Julia before they took off to the airport. Tom and Susan were not onboard but they'd left us a note welcoming us and telling us to make ourselves at home.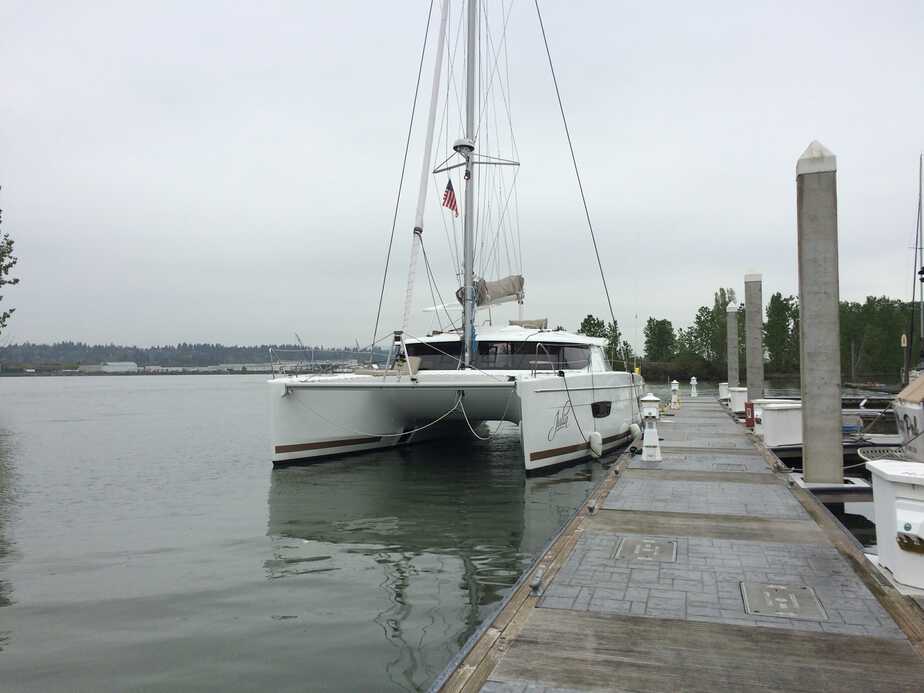 In fact, the first two days we barely saw T&S, as they were still wrapping up their land life. We poked around Julia and David and I checked out all the cool differences between our Helia and the Helia Evolution (see future blog post!). We also had a special visitor on the dock – what I think is a Stellar Sea Lion! They are pretty uncommon here in the marina, so people were amazed to hear about him.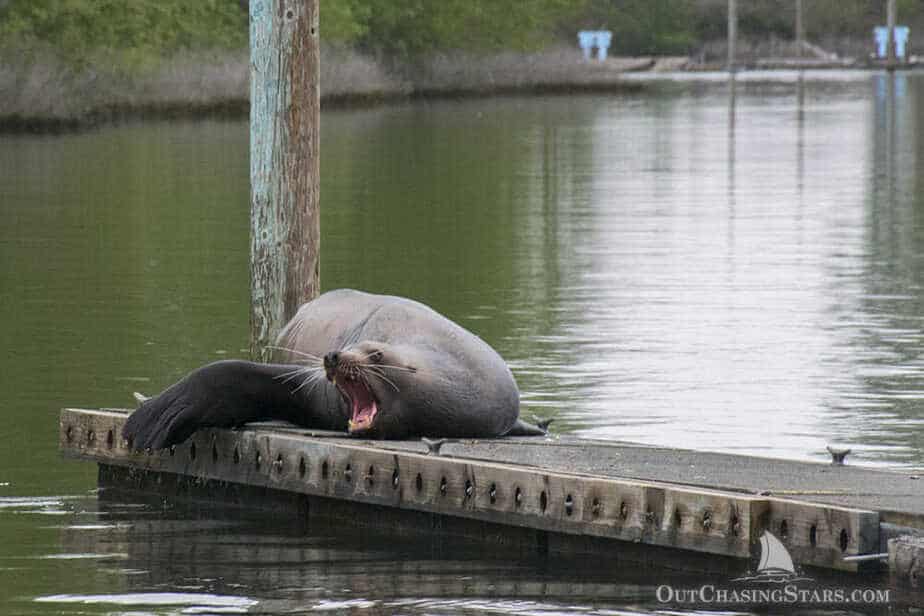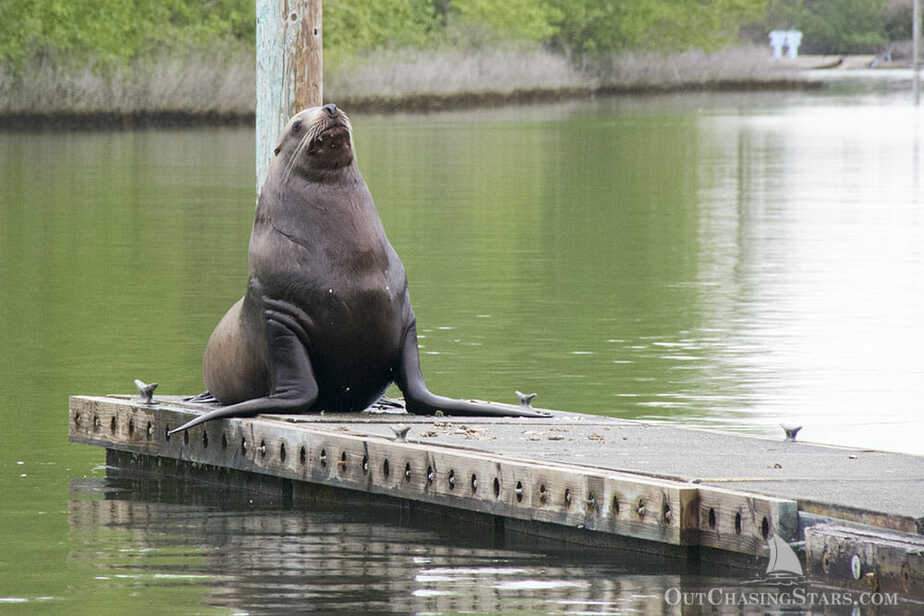 We thought S&T were well stocked and moved in, but then on Wednesday, the movers came! We had not expected to help out with moving onboard, but hey, we were there to help! We did as much as we felt comfortable doing. We also really enjoyed the marina – the view on a clear day was fantastic and the Harbormaster, Ariel, was really helpful. There's even a nice restaurant called 3 Sheets that S&T took us out to.
S&T readily admitted they had too much stuff, and they were AMAZINGLY receptive to our advice on what they should keep on the boat and what they should put in storage. It felt a bit weird to unpack the galley and put someone else's things aside. I sent back four boxes of stuff and S&T were totally receptive.
They've had Julia since August, but have been using the boat for entertaining and day sails more than cruising. It was interesting for us to see this moving on process. When we moved aboard Starry Horizons, we knew our space was limited to our small shipping box, four checked bags, and then one car load of stuff when we packed up our home. It was not a short drive in a car to bring stuff to Starry Horizons!
S&T listened intently when I talked about what was worth keeping and what wasn't. A lot of people are surprised to hear about mold; any clothes or even shoes that you don't wear on a regular basis will mold. Table linens are too much of a hassle to wash regularly. Cruisers bring their own beverages to sundowners, so one set of glasses is enough. Dinner plates replace serving platters and paper towels replace napkins. Stuff like that. S&T were so receptive to my advice which was a relief. David took on some projects to get Julia ready to move, helping out with some plumbing and rigging projects.
We had recommended to S&T that they engage Commander's weather to help route planning, and Commander's weather suggested a Friday morning departure from Portland.
Thursday night S&T finally spent their first night on Julia! I may not have mentioned this before, but they've paid extra for me to be chef and steward – I"m doing all our provisioning and meal planning. When they arrived, I had the cockpit set up for dinner with appetizers and wine ready to go. They also brought our fifth crew member on for us to finally meet – Jack, a chihuahua!
Friday morning we woke up at four am and departed Salpare. We had to get two bridges to open up, I-5 and a railroad. Then it was about 12 hours of motoring downriver. The current pushed us along and it rained a little bit.
The bar crossing was rough. Even though we were going through at the recommended time (flood tide), the waves were big and choppy, and the crossing lasted for hours!! We settled on grazing for food and lots of napping. David doesn't suffer from seasickness at all, so he was a trooper for the rest of us.
We all took our watches through the night. Tom was 6 pm – 9 pm, I was 9 pm to midnight, Susan was midnight to 3 am, and David was 3 am to 6 am. Then rinse and repeat.
David and I were looking at our charts and realized that crossing the Columbia bar is the furthest north we've ever sailed – further north than Baddeck or La Rochelle. And, therefore, the COLDEST! Thankfully Susan had heated blankets on our bed. I think I would have been miserable without the blankets.
It took about 38 hours for us to get to Coos Bay, Oregon. We actually weren't in Coos Bay really, we were in Charleston, just inside the bar. This bar crossing was much easier – it was calmer and a much shorter distance. Charleston is a tiny little town, with some local grocery stores and restaurants. Although it was a bit of a walk, it's doable. I walked for laundry and groceries and we went out to dinner at The Portside. Susan and I both went into Coos Bay proper for bigger errands.
Then our window opened up Tuesday to get down to the San Francisco Bay so we took off midday. You can read David's blog post and get an idea of what the conditions were like. Friday morning David woke me at about 6 am. We had just a few miles to go before the Golden Gate Bridge! Everyone was up on deck, and the current was strong – 4 knots! We were navigating right down the middle, with surprisingly no traffic.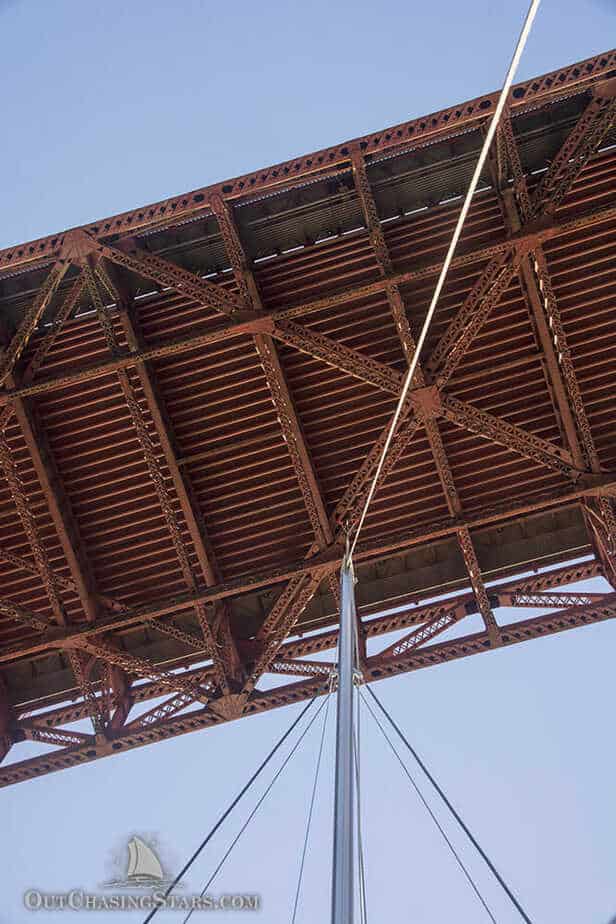 What a thrill to go under the bridge! Motoring past the San Francisco waterfront, Alcatraz, and Treasure Island we tucked into Oakland and the Jack London Square Marina. Next blog post, we make lots of friends in the SF bay area and we get to explore San Francisco for a day!
Watch the Video: Sailing S/V Julia Across the Pacific: Part 1
Social Share