We got a very brief window in Christchurch after our Waitangi Day celebration; we had 24 hours!
We met Viki and her son Seth from Astrolabe Sailing, who had offered to show us around Christchurch and talk cruising. We are so glad we took Viki up on her offer! Christchurch went through a massive earthquake in 2010, and the city is still rebuilding. The city is constantly under construction, often to the point where Viki didn't know where to go either! At least she had the basics down.
We pulled over often to quickly check out some notable spots in the city.
The Dance-o-mat, where you can plug in your device, pay $2, and it'll play your music for you (and the rest of Christchurch) to dance to, anything from classical ballet to two-step.
Super Street Arcade, where you can stand on the giant game console and save Christchurch from invading aliens.
The ChristChurch Cathedral, which was heavily damaged in the earthquake, and is in post-quake limbo. An art installation has been put in of a living wall.
Cardboard Cathedral, the replacement for the ChristChurch Cathedral.
We also passed by the Hagley Park, Avon River, Canterbury Museum, and the Christchurch Botanic Gardens.
After our quick tour, we headed to Dux Central. I had forgotten this at the time – Viki picked the place – but David and I met the owner of the Dux restaurants (there are two) back in Taha'a. He's a sailor, who has a catamaran with some friends and keeps it in Raiatea. I had reached out to him when we arrived, but he's out of town so we couldn't catch up.
The next morning we decided to explore further and, learning from the day before, we walked to the bus stop and took the bus into the city from our Airbnb. We got off at Hagley Park, which was swarmed with college-age kids (that would be high school level back home) who were taking advantage of the park being across the street from their school. We walked along the Avon River, where they have Punting on the Avon, to the Canterbury Museum.
The museum was holding an exhibit on Air New Zealand's 75 Years of flight. We toured the exhibit, which featured uniforms from the flight crew, AV displays of the safety videos and commercials, and mock-ups of the interiors of planes. There was a touchscreen, 360 degree tour of the cockpit of a Dreamliner, as well as a video from the cockpit of pilots landing in Auckland. We sat in mock-up cabins for a Solent Mark IV flying boat and a DC-8. We decorated our own planes digitally (which were later emailed to us!). However, the big hit was towards the end. We sat in a futuristic cabin and put on virtual reality headsets to see what Air New Zealand envisioned for the future of travel. Best of all, this museum is FREE!
Want to make our paper airplanes? Check out David's Starry Horizons Air and Amy's Out Chasing Stars planes! If you build it, be sure to share a picture with us!
For lunch we headed over to the Re:start mall, a temporary outdoor mall made of shipping containers, with food vendors, clothing stores, and souvenir shops. We had some awesome pizza at Base Woodfired Pizza!
Next we walked back to the Botanical Gardens to explore. My favorite spot was the dahlia and rose garden. Fun with macro photography….
Overall, the thought Christchurch is a really awesome city….quirky and fun. Plus, it was cheap! $16 for lunch, $8 for the bus, and free entry to everything else we did. The only problem? Those pesky earthquakes.
Off to wine country we go!
P.S. Fun fact, did you know New Zealand has an official Wizard?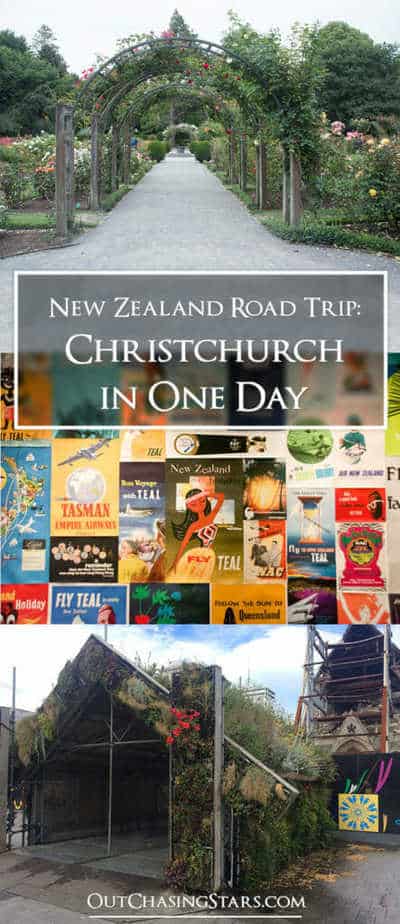 Social Share