THIS POST MAY CONTAIN AFFILIATE LINKS. PLEASE READ OUR DISCLOSURE FOR MORE INFO.
We (and every other blogger/vlogger/participant in online forums) see a ton of questions about cruising costs. Answers can vary so widely, but we thought we would at least share some basics of what our first year of cruising looked like financially.
Tracking
I've been a big fan of Mint for many, many years (longer than I've known David actually). Mint works incredibly well to help us track our spending. Plus, it really helped us track our savings prior to cruising and help us save for our trip!
While we can use our credit card a lot, often it makes more sense to use cash. David and I each keep track of our cash expenses in our phones or by keeping receipts. Typically, before we leave a country, I go through and reconcile our notes with Mint. A cool thing Mint does is take our cash spending and deduct it from the ATM withdrawals. If we track correctly, when we leave a country, we will have no more of their foreign currency left, and the ATM withdrawal category will be $0.
The locations
Location plays a big part in every single category. For this first year, July 1 2015 – June 30 2016, we started in the Bahamas, sailing to Canada, Maine, Bermuda, spent three months in the Caribbean, went through the Panama Canal, and then sailing through French Polynesia. June 30, 2016 found us in the Leeward Islands of French Polynesia.
Cruising Costs
Repair and Maintenance – $16,500
We are surprised with how high this number is for a new boat, but not surprised that it is the biggest category for our cruising costs. About $4k is the bottom job in the BVIs, which we will have to do every year. The other major expenses were fixing our spinnaker in Canada, fixing the leaking minikeel in Nanny Cay, and our prop that fell off in the USVI. Half the money ($8,250) is smaller charges of less than $400.
Vessel insurance – $10,000
When we left France we were using Pantaneus for our vessel insurance, at $4,800 a year. However, that covered the Atlantic only, so we had to change our policy to cover the Panama Canal and Pacific. Pantaneus was going to cost $14,000 instead, so we shopped around and switch to Jackline at $8,400 a year.
Customs – $4,000
There is no charge for clearing into some countries, like French Polynesia. We paid $5 in Dominica, $52 in St Lucia, $40 in Grenada, $47 in St Martin. The Galapagos was $1,355. This category also includes our canal transit at $1,970. These two stops really increased our overall cruising costs for our first year.
Docking – $3,500
Mooring in the Caribbean are typically $25-30 a night. Moorings in Tonga are $6 a night. Dockage in Maine and Bahamas was $200 a night. Most of the Caribbean was $75 a night for a slip. Tahiti was $71 a night. Shelter Bay marina in Panama was $78 a night. Halifax $68.
In one year we spent 51 nights in a mooring (14% – including two times we left the boat to fly back to the states), 31 nights at dock (8% – 14 of those in Shelter Bay, Panama) and 7 nights on the hard (2%) for a grand total of 89 nights (24%) paying for our location.
This is higher than we thought it would be. Our biggest error in planning this expense out was we didn't think about where we would be storing the boat when we left it. It's easy to think that when we are onboard, most of the time we will be at anchor. When we are gone though, we want to feel secure with where we leave Starry Horizons. Thus, docking expenses becomes a higher part of our cruising costs.
Diesel, Petrol and Propane – $3,700
We are not one of those boats that refuses to turn on the engine. While we prefer to sail the entire way, we turn our engines on in order to arrive during daylight or when the wind dies and our autopilot can not longer steer. We also run our generator at least every 5 days to run our watermaker. With our 125 gallon tank, plus our 50 gallon fuel bladder and 4 jerry cans (20 gallons), we've topped up/filled up 11 times in that year, with our most expensive being close to $500 in the Bahamas.
Communications – $2,000
This covers our expenses for our satellite phone, our InReach tracker, and running our website and email for Out Chasing Stars. For a more in-depth look at communications expenses, check out our blog post Communications.
Total Cruising Costs & Boat Expenses: $39,700
Looking to the 2nd Year
We are halfway through our 2nd year as cruisers, and we've already taken a look at our expenses for 2016. Our Repair & Maintenance has gone down significantly, but that is most likely because we haven't paid for a bottom job yet, and we've been tabling non-essential projects (like our chain counter, dinghy wheels, locker reorganization, etc) until New Zealand. We made the mistake of splurging way too much on restaurants our first year, and so far we have cut that spending in half. Go us!
We hope this helps you get an idea of what you would spend if you decide to follow in our footsteps. Feel free to ask questions and I'll try to answer the best I can!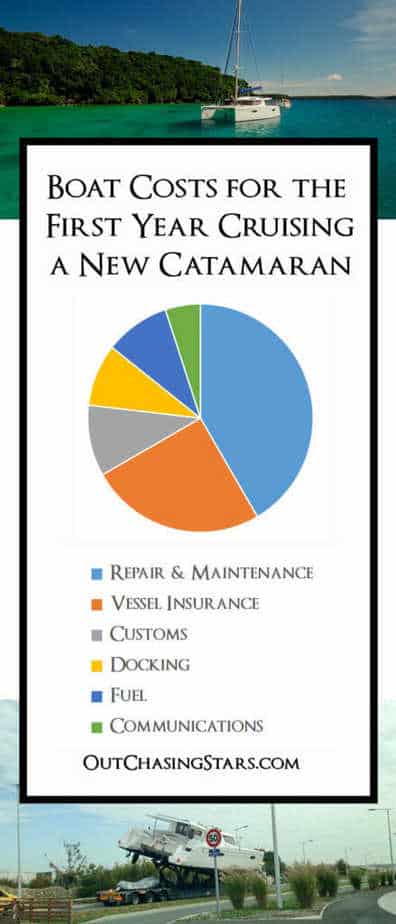 Social Share