THIS POST MAY CONTAIN AFFILIATE LINKS. PLEASE READ OUR DISCLOSURE FOR MORE INFO.
We pulled into the Q dock in Opua, New Zealand Saturday morning at 8 am, 167 hours (one week minus one hour) from when we left Fiji.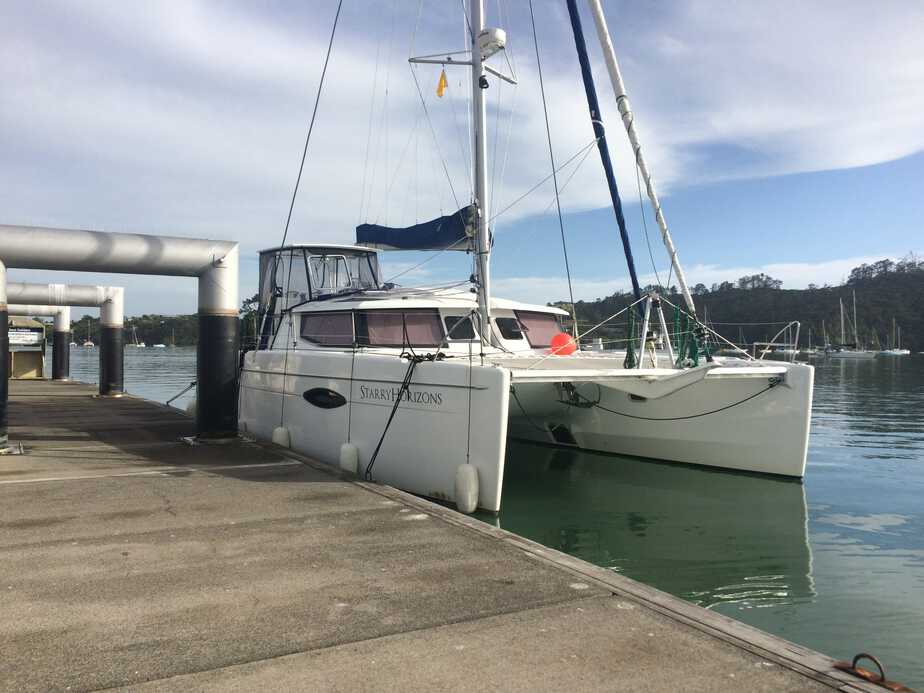 After our last post we saw all kinds of conditions – winds directly behind us, dead winds, and on the nose. We definitely couldn't keep up the 8.66 knots, but that was ok! We also braced for a system that was rolling over north NZ Friday night but it didn't bring us much wind.
When David woke me up we have about 20 minutes before the Q dock, so I made a quick breakfast using the last of our bacon and eggs.
Opua is TINY – not what I was expecting since this is THE clear-in port for cruisers. The town is literally a school, a general store, and then a rather large marina with many marine stores. Paihia is 6 km away and slightly bigger. Russel is a ferry ride away from Paihia, and a bit bigger than that, or, you can drive for a half hour and wind up in Kerikeri, a fairly decent sized town. The marina here is really big – 300 slips – and parts of it are still under construction for their most recent growth.
The Q (quarantine) dock is fenced off from the rest of the marina, but easily accessible them rough the channel. When we arrived there were several boats already there, waiting for customs to start up for the day. We had brownies and beverages lined up to offer the officials (always good to have ready!)
We were visited by four officials. The first one was customs, who gave us paperwork to fill out and stamped our passports. Next was Immigrations and Biosecurity. They took our paperwork from customs and inspected the boat. They went through all our foodstuffs with me, and took all meats and fresh produce – even packaged Fijian meats (thankfully I only had two servings of chicken and mince beef). They also took all our honey, which I knew was going to happen. I was low on produce, so they took the garlic, bean sprouts, and a lone lime.
What they didn't take: any nut products (nut butters, almonds, cashews, peanuts); seeds (chia and alfalfa); dairy products (uht milk and butter).
The guys also inspected our tent and camping gear, and our bikes. They asked for a full history of what countries we had been to on the boat – all 22 of them!
After those two guys left, we were told we could leave, so we made arrangement to move to the marina for a slip. A few minutes later though, a woman came through with a dog to sniff around. I feel like it was not required, since we were told we could move, but of course when asked we didn't say no. The dog was super friendly, giving me kisses and sniffing out the brownies and bacon.
We moved to the northern most slip at the marina, the last one available for a cat. Once we got the boat settled, we took off for the marina office, which turned out to be WAY down the other end. It just happens to be the day for a cruiser's festival and the end of the All Points Rally, with people selling items off their boat and the local stores having booths set up. Everyone was out and we quickly ran into friends. Here's who all we know on Opua:
Margansie
Lionheart
Blowin bubbles
Carthago
Ritme
Privateer
Balvenie
Hansen
Gypsy Heart
Enough
Blue Summit
La Vagabond
My Dream
Quixotic
Blue Summit
Quite the party, right? We've booked our slip till Thursday, and are getting settled in to marina life. Fortunately this is the cheapest marina we've ever been in – $45 NZD a night, roughly $33USD. It's quite chilly here, but beautiful. It reminds us a lot of our time in Nova Scotia. There's a net and lots of activities, plus all these friends to catch up with. It would be easy to just stay here, but we've got to be mindful of the time – our flight is December 10th, so just under two weeks to get Starry Horizons tucked in for cyclone season.
Watch the Video: Sailing to New Zealand: Our Roughest Passage Yet
Social Share