THIS POST MAY CONTAIN AFFILIATE LINKS. PLEASE READ OUR DISCLOSURE FOR MORE INFO.
We motored the four hours from Navadra back to Viti Levu, originally aiming to go back to Denarau, but instead decided to come to Vuda Point Marina (VUN-da).
Vuda Point is a small, circular marina. It's popular with cruisers because it's well protected and you can handle Fijian formalities here, but it is pretty far from everything else like provisions.
We anchored just outside the channel, next to our friends Ritme (Jordy) and Enchanter (Lisa and Reynard). A quick pop into the marina itself and we found Nauti Nauti (Allen and Patricia) and we were disappointed to hear that we'd just missed Carthago. In fact, many of our friends have left Fiji already. The time has really flown for us, and now we've been in Fiji longer then any foreign country except Canada and French Polynesia. Even Three Sixty Blue, who cleared in with us, left Fiji almost two weeks ago. And yet I wish we had more time, there's a lot to see here!
Boat Projects
I've neglected to mention a few negative items in the blog lately, not that they are all that major. I broke my pinkie toe a few weeks ago, and if you've ever broken a toe you know there's really nothing to do about it. Except complain. I outlasted my sunscreen on a snorkel and burned my bum. Don't worry, David has been enjoying the aloe application.
What David has not been enjoying is fixing our head – the bowl wasn't filling with water or was filling SUPER slowly. We thought a clog at first but turns out the toilet wasn't getting enough power because an alligator clip had come loose. It took more time then we would care to admit to find the problem. And lastly, while cleaning our hull, David found a deep gash in the fiberglass next to the rudder post. That was VERY worrying, but after discussion, we think it'll be fine to make it to NZ. We are going to apply some user water epoxy, just in case.
Provisioning
For errands, I met up with Jordy one morning and hitchhiked to the closest grocery store (not the greatest store ever). The next morning I took the bus into Lautoka, the nearest city, to find a western-style store (New World), the open-air market, and a butcher shop (Fiji Meats). There is also a small grocery store in the marina, which carries small amounts of many things.
This morning was a market in the marina, I think they called it a farmer's and handicraft market. David and I went to grab breakfast (David had an egg and bacon roll while I had a mango mini loaf, both delicious). There were only a few vendors selling produce, but several selling baked goods and art. I bought some produce; mangoes, a papaya, long beans, spinach, and cucumbers. I also bought two treats – a homemade marshmallow and a giant meringue!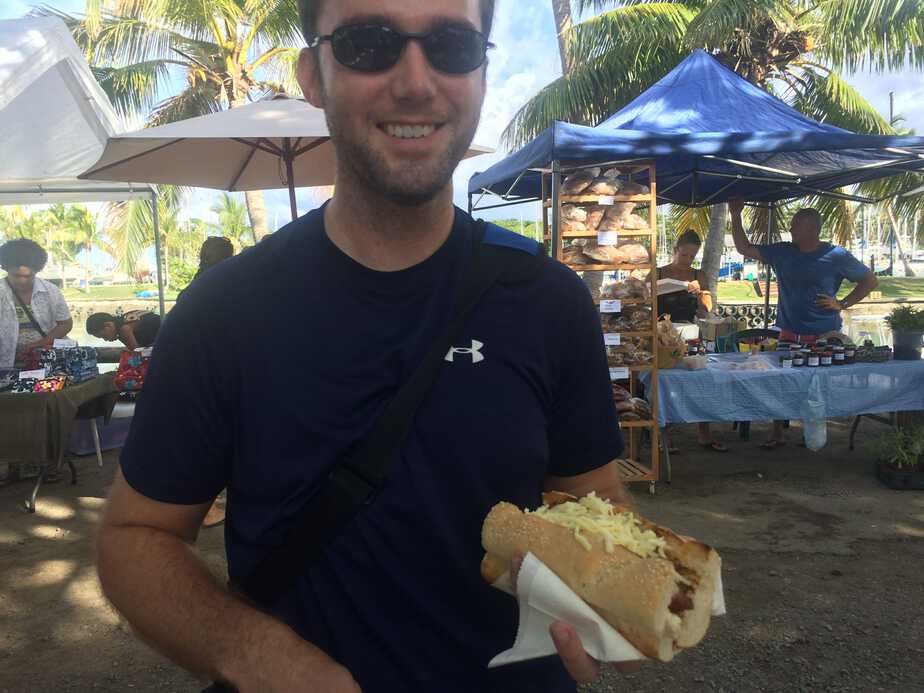 Battloing Boredom
Now, this may surprise you, but I am going a bit stir crazy here. There's no snorkeling nearby, and we are on a huge bay. There's not really cruisers out here, it's a bit of a long dinghy ride into the marina, and not many tourist things there. So, I'm a little tired of reading, baking, and cleaning. I think I need some new hobbies!
We are still waiting for a weather window to head to NZ. It feels like we are being rushed, simply because almost everyone is south already. In reality, we have 4 weeks until our flight. We are going to check the weather Monday and if not leave for NZ, then head to one of the smaller islands.
Watch the Video: Rogue Goats and Leaving Fiji
Social Share