THIS POST MAY CONTAIN AFFILIATE LINKS. PLEASE READ OUR DISCLOSURE FOR MORE INFO.
What a perfect sail to Fiji! We made it in a little over 3 days for 453 miles. When we left Tonga we put our screecher and main up on a broad reach. 24 hours later we switched to the 2 headsails wing-n-wing. 36 hours after that, the wind died and we finished with a very calm motor into Savusavu at 11 am. The AWS never got over 15 knots so no reefing required.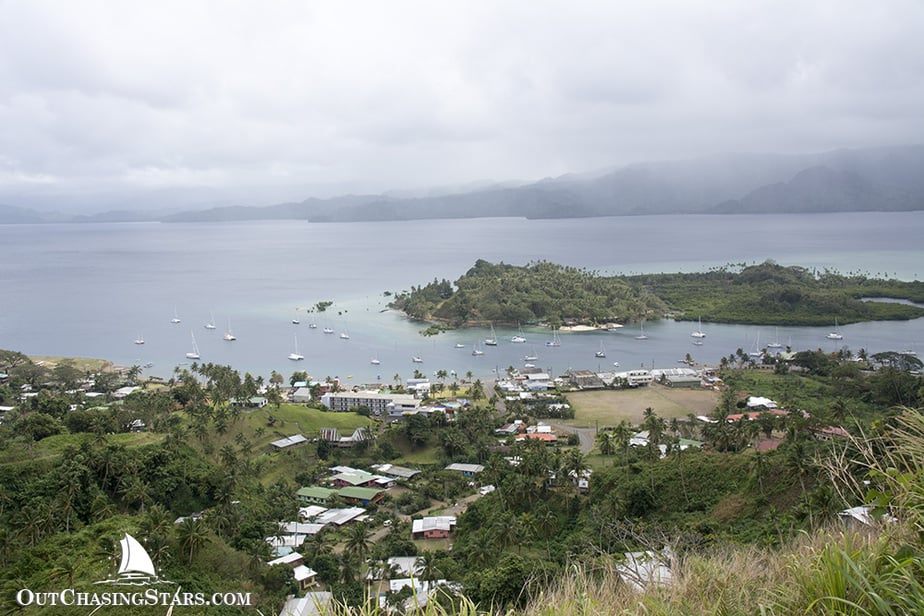 Early on our last morning, we spotted our friends Mark and Anne on Three Sixty Blue. We first met them in Vaka Eitu, and saw them a few times around Tonga but haven't spent much time with them. That was about to change!
Waitui Marina
We picked up a mooring ball at Waitui Marina because they will help you sort out customs. Moorings here are very cheap.
The other option is Copra Shed Marina, which has mooring balls and a small dock.
Formalities for Fiji in Savusavu
Around 12:30 the health official was brought to our boat via the marina tender and did his stuff. That included spraying Starry Horizons with a mosquito spray and paperwork, costing us $250 FJ ($125 US, yikes!). After lunch the tender brought the rest of the officials – all ladies – customs, immigration, and biosecurity. After they were done, we were good to go ashore, although far from done with paperwork.
We picked up Mark and Anne and went ashore with the same goals: ATM, pay fees, SIM cards, and scope out the town.
After the officials leave your boat you have to do several things. There is an invoice from customs and an invoice from health, so once you get some cash you have to go pay them. Paying customs was easy, but the health bill was more challenging. We saved that for Wednesday morning when we walked the 3 km to the hospital.
Waitui Marina will apply for a cruising permit for you, and once that's ready you have to pick it up, take it to customs, who will make your final clearance documents for you to sign. The right person it's always there, so sometimes you leave your paperwork to come back later. It was a lot of shuffle and nearly two full days to get all this done.
Provisioning in Savusavu
Savusavu is a small town of 3,300 (almost half the size of Neiafu) but with many services, stunning landscape, and a lot going on. There's even a fancy new grocery store called New World! Provisioning here is really excellent. The New World carries American-style products. Sally's is a smaller boutique-type store that is more expensive but carries a lot of things that I haven't seen in a very long time (cream cheese! sour cream! frozen cranberries!).
Next to Waitui Marina is Fiji Meats. The lady there is super nice and all the products (except lamb) are Fijian raised and are cuts I'm familiar with; I bought ribeyes, pork chops, chicken breasts, bacon, lunch meats, mince, etc. For that matter, New World carries Fijian products too, like milk and butter, a far cry from Tonga where nothing was Tongan made.
Speak the Language
We've learned two Fijian words: Bula (welcome or hello) and Vinaka (thank you). Everyone speaks English. As I ran the main road Wednesday morning, everyone I passed gave me either a "Bula!" or a "Good morning!"
Internet Service
We are very happy with the internet here. We bought a SIM card and paid $36 FJ ($18 US) for 3.5GB -in Tonga it was $18 US for 2GB. And the speed here in Fiji is much faster!
Dining Out at Surf & Turf
Wednesday night we had dinner with Anne and Mark at a place called Surf & Turf. I had a lamb shank and everyone else had curry. Restaurants here are very cheap. Surf & Turf is probably the most expensive place here, and very nice, but the meal for David and I was only $75FJ ($37US) and it was really good!
Diving Namena Reef
Every Thursday the local dive shop does a special trip to Namena Reef, so the four of us booked a two tank dive. A taxi took us to Koro Sun Resort, where we hopped on the nicest dive boat I've ever seen and powered an hour to the reef. We did two dives: Grand Canyon (a wall dive) and Chimneys (two pinnacles). Fiji is known as the soft coral capital of the world, and we can see why. Both dives were full of small creatures and beautiful coral. Grand Canyon also included a large school of fish and gray reef sharks. One of my favorite things is the Feather Stars. One of our guides noticed me admiring them and picked on up to show me more about it. It's amazing to watch them move their arms about!
Buddy Boating with Three-Sixty Blue
After spending 3 days with Mark and Anne ashore it was time to check out each others' boats. Thursday night Mark and Anne came over to Starry Horizons for sundowners.
Friday was my 32nd birthday! Since we'd just done a big dive we kept the day low key – chores and errands, until the afternoon when we went over to Three Sixty Blue for a tour and a drink. Three Sixty Blue is a Dolphin 46′, the first I've been on, and it's a beautiful boat. I like the layout very much – the main salon is spacious!
That night I made a special dinner; a rack of lamb I've been saving from Tahiti, local white sweet potatoes, fresh tomatoes, a glass of my favorite wine, and gooey rich brownies for dessert.
Sailing to Viti Levu
We'd been keeping an eye on the weather and our calendars. Our friend Kyle flies into Nadi on the 14th, and we want to pick him up somewhere on Viti Levu. There is a nasty weather system headed this way, and we want to be tucked away somewhere sheltered by the time the system rolls through.
Saturday we did a few last things to get ready to move and took off around 5 pm for an overnight sail to the Suva area. The sail was upwind – 40° for the first 10 hours or so, making it rough. David was an absolute sweetheart and just told me to go to bed and he'd just stay up on watch. It was tough to fall asleep but once I did I slept until 6 am, whereupon we had made a turn to run closer to the beam. Before David went to bed, we crossed our halfway around the world mark!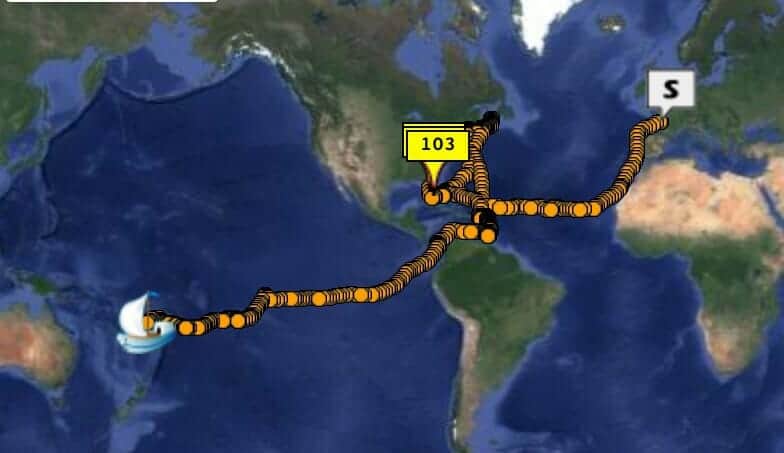 We picked our way into the pass towards Suva and parked Starry Horizons in a small bay off of the Novotel hotel. It's very sheltered and out of town, perfect for a few nasty days just chilling on the boat.
Pin it!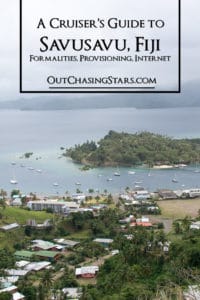 Watch the Video: Passage from Tonga to Fiji
Watch the Video: We Made it Halfway Around the World!
Social Share