We don't have a boat full of toys, like some people do (Let It Be!) but we do have an inflatable tandem kayak onboard that we bought in Florida back in March (an anniversary gift to each other!). We christened the kayak Aquila (an eagle constellation). She is a Sea Eagle SE370. We bought the kayak "used" but still in the box and all of its packaging….so technically new.
Unpacking from the box, we moved everything into the carry bag that comes with the kayak. It fits the boat, seats, foot pump, and paddles with everything folded up. It even has a handy strap to carry the bag.
The instructions were easy to follow and the kayak was easy to pump up. It's a good sized kayak, outfitted for 650 lbs (or three people). It barely fits in our cockpit, and takes up the whole trampoline when you put it out on the bow.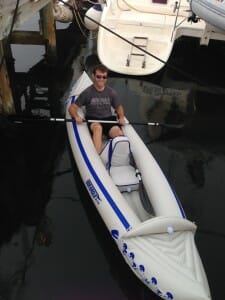 David and I immediately took it for a test spin in the marina in Florida. Since then, I have taken the kayak out solo quite a bit. Having a kayak onboard is pretty amazing. There are times with you are in areas that are too shallow and rocky to bring your dinghy, or you want to quiet peacefulness of not running an engine. Also, it has helped a lot when we were in cold areas like Nova Scotia. I had no interest in swimming there! It's great exercise too! We also really like that it stows easily, which prevents us from having to worry about theft or UV damage by keeping it on deck.
We have found our inflatable kayak to be extremely stable. I only had issues getting in one time – and I didn't fall in the water but ended up with my hands on SH, my feet in Aquila, and my ass in the water. Bless those core muscles for holding it all together and thanks to David for laughing at me. I've also been amazed (and terrified) when David loads up his tool kit into the kayak and goes between our hulls to work on things. Little Dipper just doesn't fit under there!
After use, I bring Aquila up to the trampoline and rinse her out with fresh water. I let her dry and flip her a few times. There is also a handy drain on the stern to get out the water from inside the kayak.
One year on, and we are pretty pleased with our purchase!
PS. I have no relationship with Sea Eagle, I just thought I'd share about our kayak!
Social Share