Clearing out of English Harbour on the 30th took longer than anticipated, and then we stopped to get fuel, so it was 11 am by the time we left. As we were leaving English Harbour, we spotted another Helia coming in – Let it Be! We aren't sure when we will see them again because they are going to stay a few more weeks in Antigua. We caught them on the radio, said hellos, swapped tips for docking at Nelson's, and said our goodbyes. MG managed to capture this picture of us though!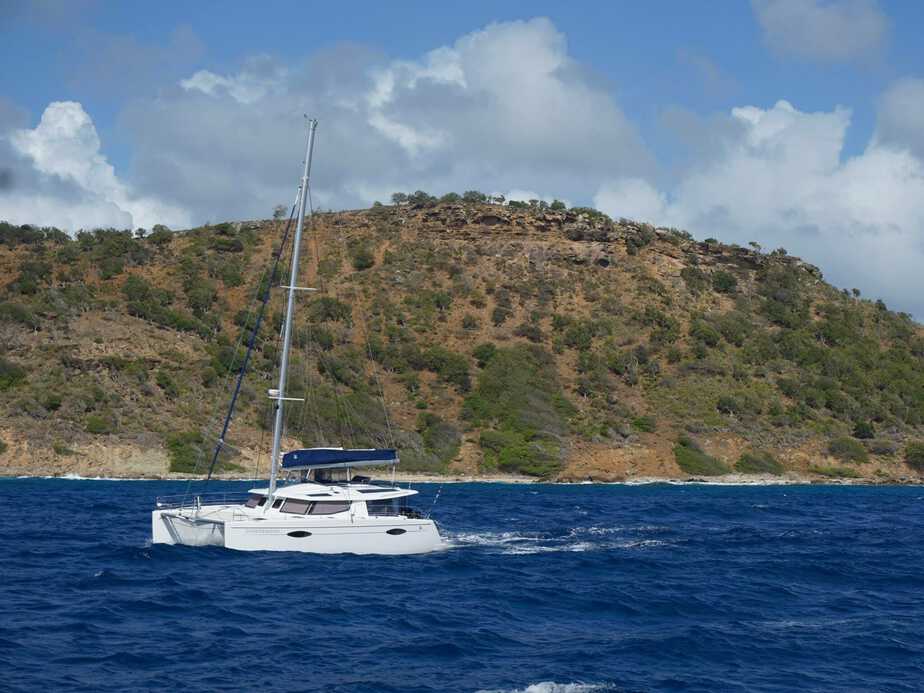 Our sail down to Guadeloupe was very quick. We got our sails up, with two reefs in the main and one in the Genoa. 20+ knots of wind and we sailed at 60° awa, meant we probably averaged around 8 knots.
We had my cousins Bill & Chistie and their daughters Sarah and Carolyn aboard. Bill and Christie had a little nausea, while Carolyn actually joined the Starry Horizons hall of fame (for up-chucking). Sarah, thankfully, didn't get seasick, which is especially good because she is sailing to Dominica with us. We saw a lot of flying fish, and even saw what we think was a pilot whale.
We were less than 2 miles from our destination in Deshaies when we tarted to hear an unusual clunking noise from the port transom. David stuck our GoPro under the water to film and see what was going on. We'd snagged a trap float in our rudder. While the float was no longer attached to the trap, it was caught on our rudder and banging along. We tried a few things to stop the boat, deciding the most effective thing was to just put the sails down and turn the starboard engine on, just in case. David jumped in and got most of the line out, and then I turned the rudder to both sides to make sure we still had full movement.
We motored the last few minutes into Deshaies and had our anchor set by 5. Even with stopping to fix the rudder, we covered about 45 miles in 6 hours (7.5 knots average).
David went ashore to clear in and when he came back the 6 of us went to shore to check out the town. It was dark by then, but there was a lot to see in the restaurants and shops. We picked up a few grocery items from the supperette and poked our heads in to corner stores and practiced our French Ps and Qs.
We came back to Starry Horizons and had chicken kebabs for dinner with red peppers and pineapple. Yum!
Aunt Lois and Uncle Jim flew from Antigua to Guadeloupe, and stayed at the Habitation Grande-Anse, just 3 miles north. Bill rented a car to make it easier for us all to see each other.
On New Years Eve morning Bill went to pick up Jim and Lois, I took Christie, Carolyn and Sarah out snorkeling on the north side of the bay. The sponges and sea fans were nice, and our guests enjoyed it. When we got back to Starry Horizons, David took Little Dipper to pick up Jim, Lois and Bill. We had lunch onboard with all 8 of us, grilled eggplant, steak haché, and rice. We also watched a catamaran come in, one that David recognized from St Martin and English Harbour, Blue Summit.
Afterwards we headed to the Jardin Botanique de Deshaies. Three of us walked from the river up to the gardens, about 1.5 km of a very steep incline. The rest drove. On the way up, we bumped into the crew of Blue Summit looking for the customs office. It was nice to finally meet them. They are headed quickly to St Lucia to meet up with the ARC, but they sound like their plans are similar to our, so I'm sure our paths will cross again.
The botanical gardens were wonderful, very large, so it was a good walk. We feed the Lorikeets, which was probably the highlight, as they climb all over you!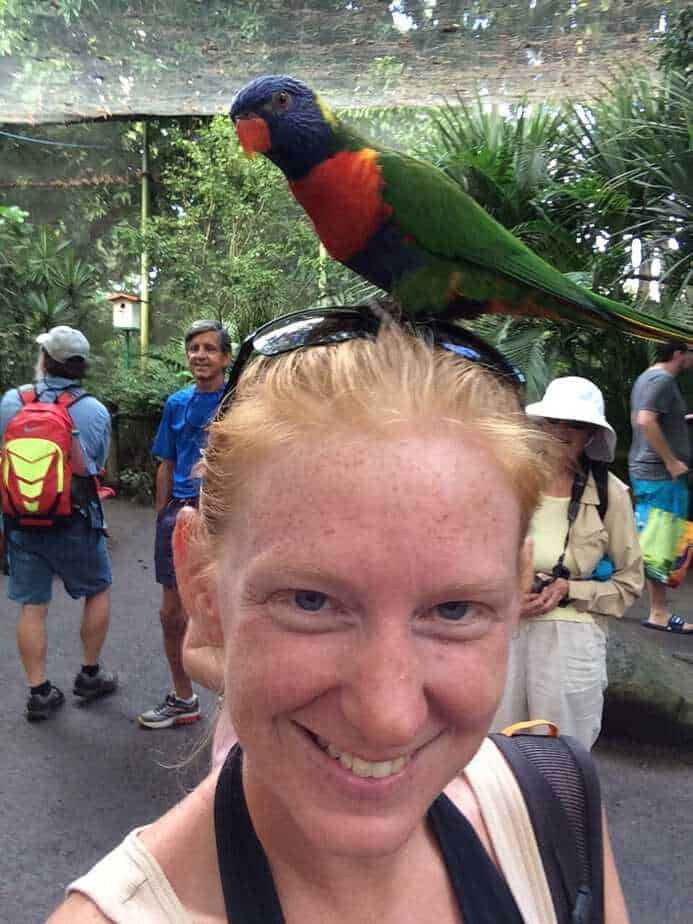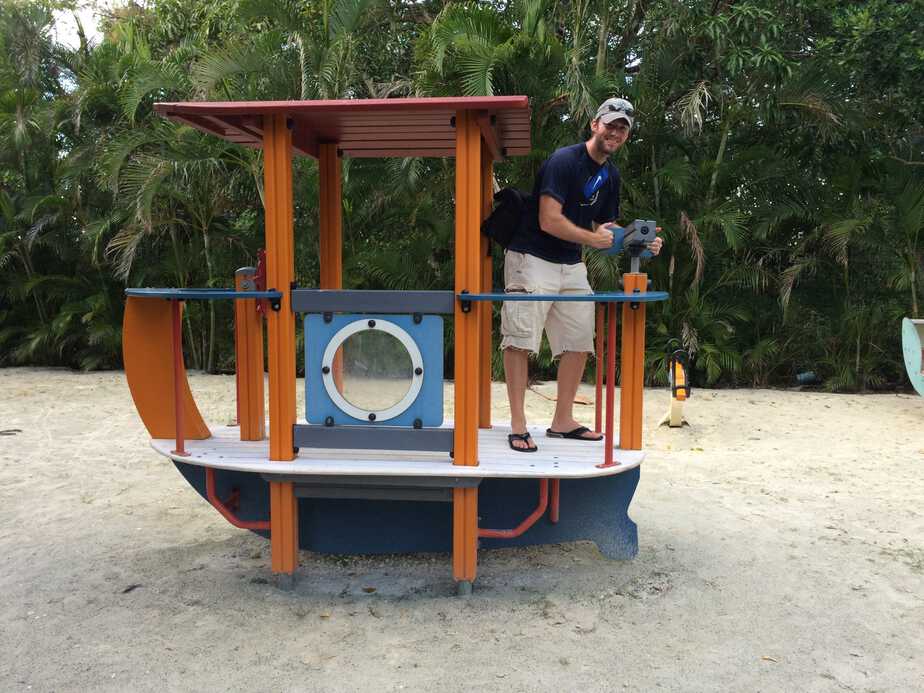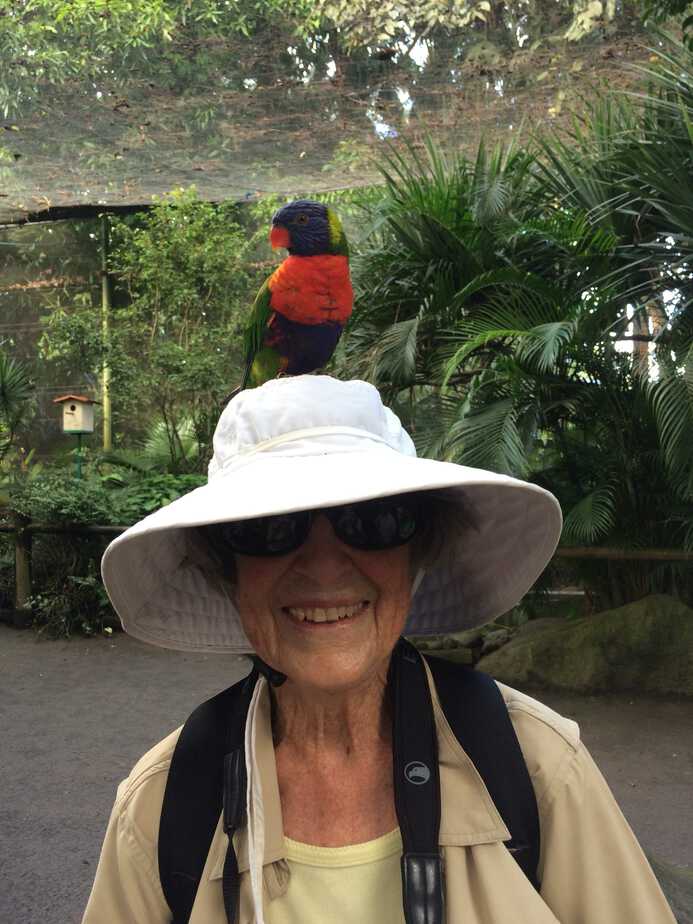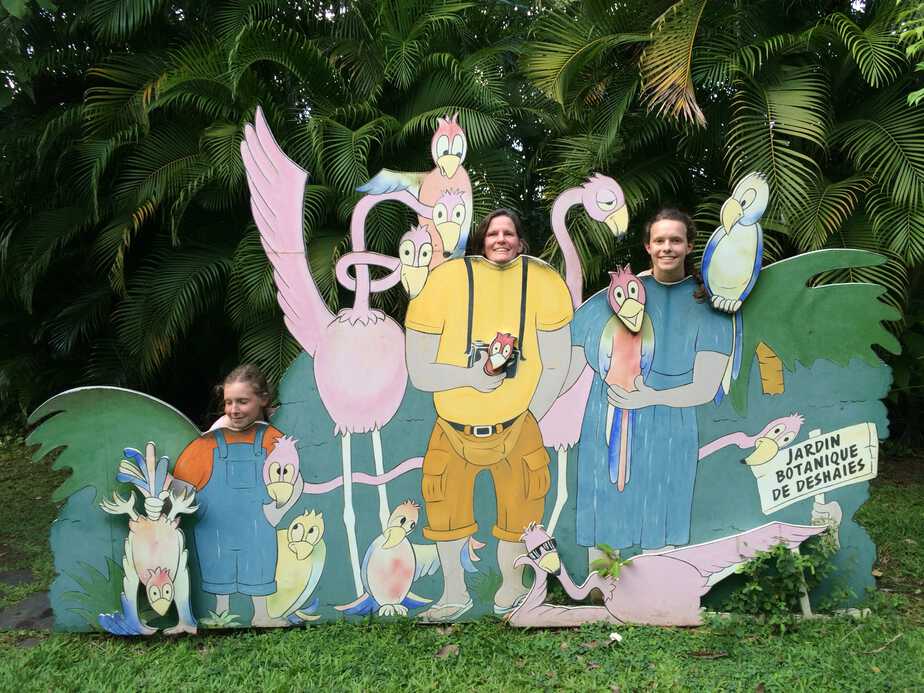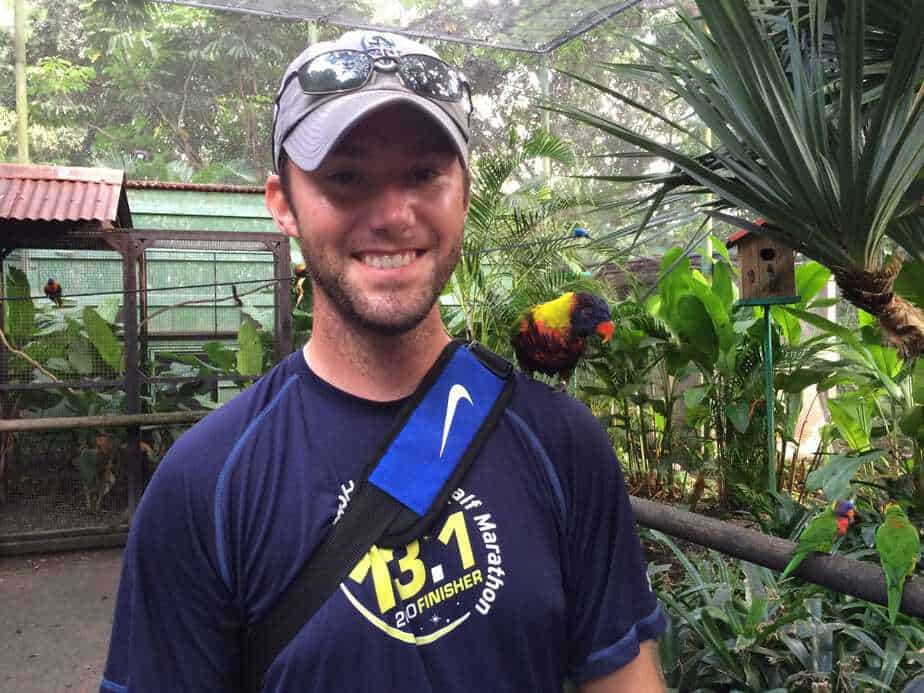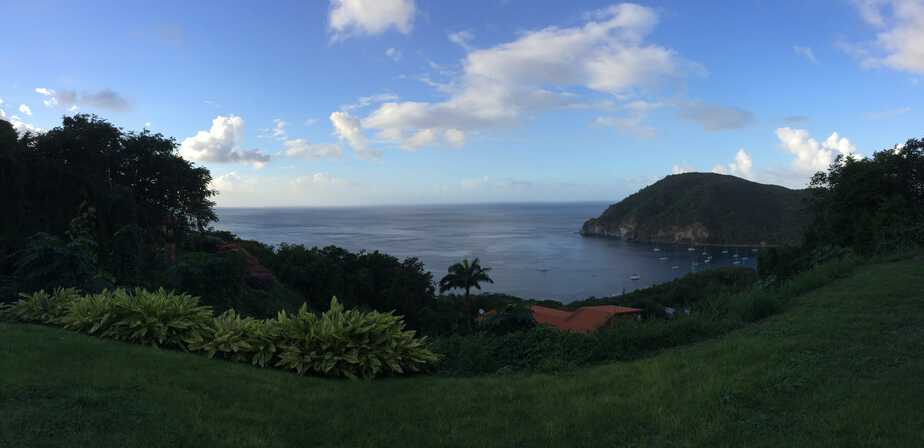 We arrived back in the city center looking for an early dinner. We had some difficulty because it was an awkward time of night – most places weren't open until later. The other difficulty was with it being New Years Eve, a lot of places had full reservations. We ended up having drinks and appetizers at L'Mer outside and then coming back to Starry Horizons for a simple dinner of pan fried chicken with sautéed garlic and onions, gnocchi, and courquettes (zucchini).
Sone of us were determined to make it to midnight. We played uno, stargazed, and talked. David wusses out at 11:30, but the rest of us cheered the new with sparklers on the bow before hitting the sack.
New Years Day we woke up and after some debate, decided to hike the Deshaies River. This hike is discussed in our guidebook and is something our friends on Let it Be did. To start, you find the river that crosses the main road (easy). From there, walk up the left side along the road until the road ends (easy). Then, you start to make your way in the river or river banks, scrambling over the boulders and rocks (not so easy). It is definitely a vigorous hike. There are a few sections where the bank has a worn path along one side. We all slipped occasionally, got wet shoes, and got hot and sweaty.
After about two hours we got to the parking lot. From there, we passed over the log, and kept following the river for another 20 minutes. When we came to the fork we took the left, and kept going until we reached the "waterfall". Now I think in the wet season there's more water so there is an actual fall, but for us it was more of a beautiful rock formation. Us girls all got into the water to rinse and cool off.
We walked/climbed/mountain goated back to the parking lot, from which we took the roads back down into town. By then it was 2:30 and we needed some food and water. Uncle Jim and Aunt Lois were having lunch at L'Mer, so we stopped in too for some lunch and ice cream sundaes, both of which were very good.
Bill and Christie drove Jim and Lois back to their hotel while David, Carolyn, Sarah and I headed back to Starry Horizons. David went to nap while the girls and I went for a swim. When Bill and Christie were back in Deshaies, I picked them up at the dinghy dock and the three of us went for another swim and we all watched the sunset. Dinner was late, a simple cucumber and tomato salad, pasta and smoked fish.
On the 2nd, Bill picked Jim and Lois up in the car and drive down to the Coisteau National Marine Park, while the rest of us sailed Starry Horizons down. It was a great sail, full main and genoa. We anchored off the beach on he mainland, and dinghied in to pick up Bill, Jim and Lois. We all had sandwiches on Starry Horizons and then Bill, Christie, Sarah, Carolyn and I went over to Pigeon Island for a snorkel.
Pigeon Island is a fairly big tourist attraction. There were a few dive and snorkel boats, but what is most impressive is that there are kayrentals on the mainland, so you can paddle about half a mile to the island. Pigeon island is actually two separate islands connected by a sand bar, deep enough to swim over. We tied Little Dipper up to a mooring (a yellow one – white ones are for commercial boats). We all went snorkeling, we checked out the other side of the sand bar, but thought the water was clearer on theside. The snorkeling was a little minimal, because the reef dropped off fairly quickly into deep water. But there were large schools of fish, especially black trigger fish.
Back to Starry Horizons we had showers and relaxed before a dinner with all eight of us – turkey roast, grilled eggplant, and rice.
From there we had to say goodbye to most of the family. Only Sarah is staying with us for another week. Everyone else had an early flight back to the states the next morning, so they stayed in a hotel.
On the 3rd, Sarah and I got up to go snorkeling again. This time we swam north towards the shore, and the snorkeling was fantastic. It was all a consistent depth with coral a good distance below the surface. The water was clear. On the swim over we saw many sea turtles, and swimming around the coral we saw lobsters, trumpet fish, and spotted trunkfish.
That afternoon we packed up for our next stop, Anse a la Barque. We had a nice sail down, and anchored in 30′ of water. The cove is very small, with a lot of fishing boats. As the daylight faded I went for a quick snorkel and spotted 6 Lionfish. I need a snare and to learn how to safely prep them.
Monday the fourth we sailed down to Basse-Terre, but after an hour and a half of sailing we decided the "anchorage" (the shallow shelf outside the city) was too unprotected and rolly. Thankfully Anse a la Barque is not too far back, so we sailed and redeployed our anchor. On our way down, we passed a dismasted FP catamaran, limping along like a bird with a broken wing.
Sarah and I decided to at least get off the boat for a bit and venture out. We hiked up the road for a ways. It is a very quiet, run down residential area. We found bus stops though, which would help us the next day. We also found a star fruit tree and picked some fruit to take home. At night, we took the dive light I gave David for Christmas and strapped it to our dive ladder. After a little while, we had a large school of fish swimming beneath us.
Today, the 5th, we decided to take the bus to Basse-Terre. It was 7€ for the three of us from Anse a la Barque to Basse-Terre. From the bus stop, we walked through the main outdoor market and then took a right on a street lined with shops. We followed that street until we found the Fort Louis Delgrès.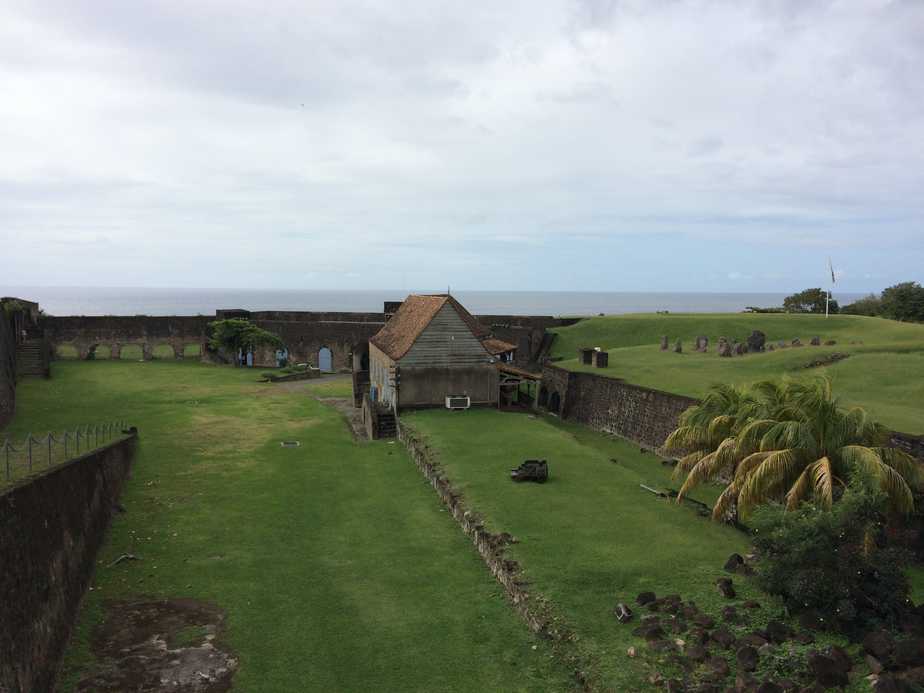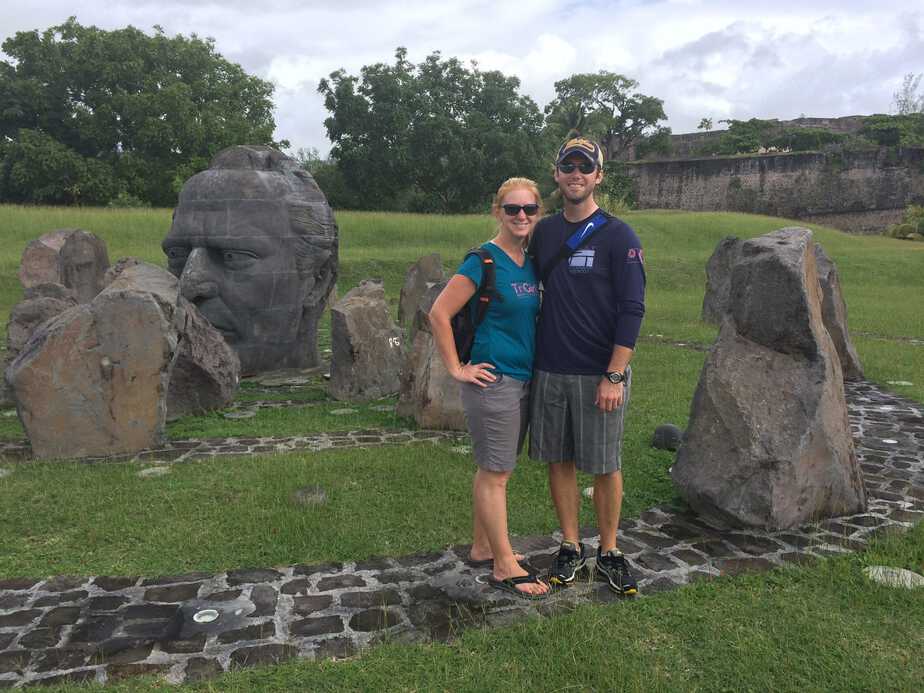 From the fort we walked along the sea side, continuing south to the marina. We found the chandlery, where we were able to buy a few things we needed, and then lunch with wifi! And here we are…
Our plans are to leave for the Saints tomorrow, spend a few days there and then sail to Dominica in time for Sarah to get her flight on Saturday.
Watch the Video: Guadeloupe, the Island of Beautiful Waters
Social Share