THIS POST MAY CONTAIN AFFILIATE LINKS. PLEASE READ OUR DISCLOSURE FOR MORE INFO.
When we were walking back from our hike with our guests on Tuesday, we spotted a carbon fiber mast gliding over the rooftops of St George's. Getting down to the dock we discovered the 62′ Tribe, the first Gunboat ever built.
We admired Tribe from our spot at anchor, until we noticed a couple carrying a Tribe-logo backpack on our caves tour and David struck up a conversation with Spike and Anna, the crew of Tribe. We gave them our card and they kindly offered us a chance to come check Tribe out the next morning. Unfortunately they ended up having to leave St George's earlier than planned, but they promised to keep in touch and invited us not only to check out Tribe, but to go for a sail.
Yesterday we took the bus over to Hamilton and arrived around noon. Spike and Anna were working with their electrician, Jeff, to get some of the new electronic equipment calibrated. That was the reason for the sail, they needed to get out and test the new B&G electronics.
They had also invited their dockmate, Pierre, a very interesting character who single hands a monohull that he designed, spending between his boat, a home in Boston, and in Paris.
We left the dock and headed out to the bay for our sail. As we made room to raise the sails we got another thrill – the Oracle America's Cup boat was out doing speed trials. We got to watch the sleek machine start foiling and zoom along! Amazing!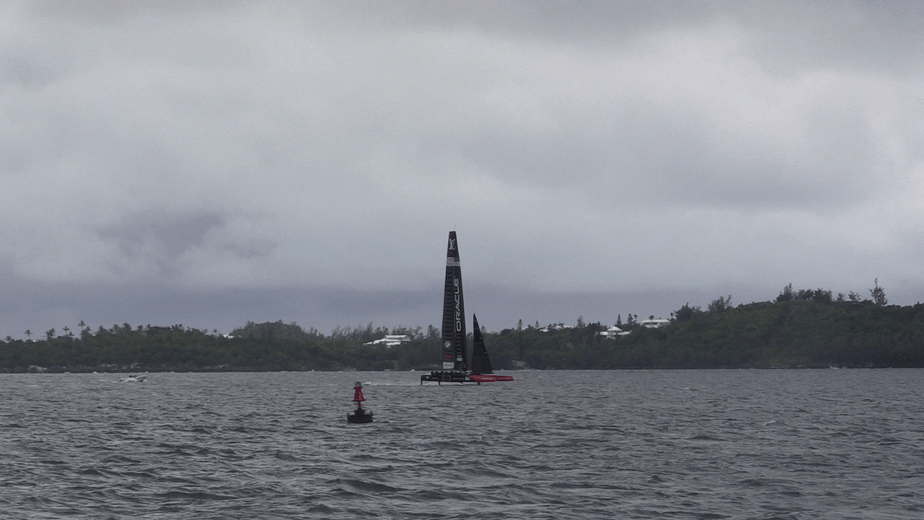 Speaking of zooming, we (uh, Spike and Anna) got Tribe's main sail and jib up and off we went. We sailed upwind, amazingly close to the wind actually, topping off around 13 knots of speed. Jeff and Spike worked with the instrumentation, although I don't think they got everything sorted just to their liking yet.
I was amazed how different Tribe is from sailing Starry Horizons. David got to put some effort into the pit, helping Spike with the main sheets. Of course, a Gunboat was out of our price range, but now I realized if we owned one there is no way we could do her justice. Starry Horizons was enough of a learning curve for us. As an example, Tribe's mast rotates. That's a whole crazy dimension to add to sailing.
We returned to the dock, and sat around Tribe's main salon and peppered them with questions and vise versa. We heard all about the work that has been put into Tribe's recent refit and renovations. Spike and Anna seem to have an amazing boss who they really enjoy working for. They've been on Tribe 4 years, which says a lot! Anna's parents took her cruising as a child, and we talked a lot about their future plans (like a wedding next year!).
We went out for dinner with Spike, Anna, and Jeff, the perfect cap off to a great day. We are so thrilled that our life allows us to meet amazing people like them!
Yesterday we posted that we weren't going to leave just yet because of a low pressure system forecasted to develop Sunday. That system is no longer in the forecast, so we spent the morning getting ready to go. We will see you in the BVIs!
Watch the Video: Bermuda Bound
Social Share