To pick my cousin Robert up, we needed to meet him somewhere on south Bimini, without adding in the complication of him having to hop on the ferry. Fortunately, since we arrived so early, we had some time to get settled in. The original plan was to meet him at Bimini Sands Marina & Resort on South Bimini. However, in making our entrance, we couldn't get the marina on the vhf radio to confirm that customs was available. A power boat that was ahead of us said the marina was pretty full, so we opted to head into Alicetown, the largest town in Bimini, to try to clear in there.
North and South Bimini are very close, so it was easy to change plans. Thanks to our cruising guide we knew that Bimini Big Game Marina had the customs office in it, so we hailed them and they had a spot for us, but no diesel. Since we had to motor so much on the passage, we were down to half a tank.
David went into sort out the customs and immigration. It's a flat $300 for a boat over 30 feet, no matter how long you stay, plus our fishing license. Image only staying for a few days – that's expensive. The customs office is open 9am to 7 pm every day, and it was very crowded for the 9 am rush.
While David got us taken care of, I found the marina wifi, and set about trying to activate our Bahamas SIM card, given to us by our Tumbleweed friends Chris and Sara. Using the wifi, I was able to "top up" and add money to our account, and then activate a data plan – 2GB for $30.
At this point, the marina deck hand came by and said we had overstayed our hour and we needed to pay $40 in dockage. What?? No one told us we had a time limit, so we told him we wanted to leave. He went back to the office and reported back that now we owe $50. David went to the office and managed to talk them into letting us go without charging us, thankfully!
We quickly left and headed around to South Bimini. I was able to FB message Robert and we reorganized to pick up ad Bimini Sands Beach Club, a smaller marina further south. Just off the marina is a anchorage called Nixon's Harbor. We anchored there, but the winds and current were so light we just bobbed. The bottom was mostly just sea grass, and we weren't very happy with how the anchor was holding, so we decided this would not be a permanent spot for us. However, the bottom was covered with sea urchin tests – shells – and conch shells.
David needed to do some work on the generator (clean the intake filter) and water maker (swap the pump). It was time to pick Robert up, and we decided I needed a crash course in running the dingy. We haven't used the dingy much at all since we've been in marinas so much. I managed getting to the marina just fine, and was able to climb up the fixed dock and find the bar! Robert was there!
After a drink, Robert and I dingyed back to the boat. We snorkeled while David wrapped up his projects and we picked up and moved over to the west side of North Bimini, just south of where the high speed ferry docks. Not a great view but good holding.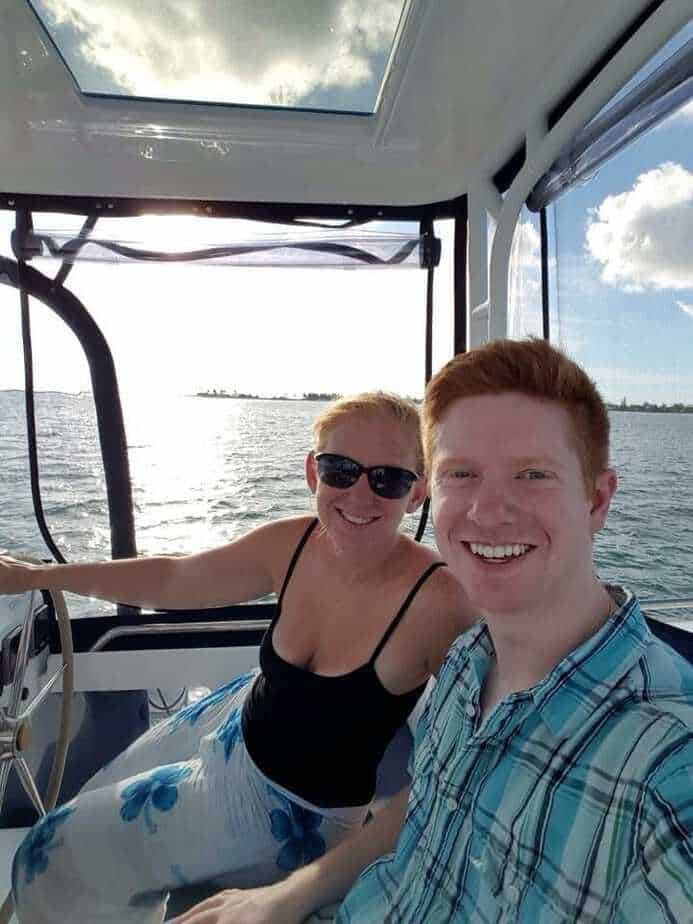 The next morning, Sunday, David finished the watermaker and we ran it to fill up our tank. We picked up our anchor and sailed north to the Bimini Roads. We anchored to the north of the road which worked out really well with good holding. By the time our water tank was full, it was lunch time. After lunch we hopped in the dingy with our snorkel gear and tied up there the mooring ball where we suspected the road was. Sure enough, we had the Bimini Road all to ourselves!
The road is a rock formation of unknown origin that consist of large, rectangular rocks laid out like a road. No one really knows how the road was formed, but it is generally thought to be a natural formation. It's been carbon dated to be over 3,500 years old. The road is in about 20 feet of water, so it's a bit difficult to get up close and personal with the fauna. We did see a wide variety of reef fish, sea fans, and even a cuttlefish.
We hopped back into the dingy (actually we very ungracefully pulled ourselves into the dingy since we don't have a ladder on it) and motored over to a mooring at the rock formation just north of the roads. The rocks form a reef, and there was much more to see here in terms of fish and coral. We saw more cuttlefish, a flounder, and a baracuda.
Back on the boat, we sat on the bow and played spot-the-sea-turtle. There were at least five, and the would poke their heads up for air and go back down. If we kept a close eye on them the water was so clear we could follow then as they swam. Robert had brought us polarized filters for our camera and batteries for our GoPro, so David had lots of toys to play with.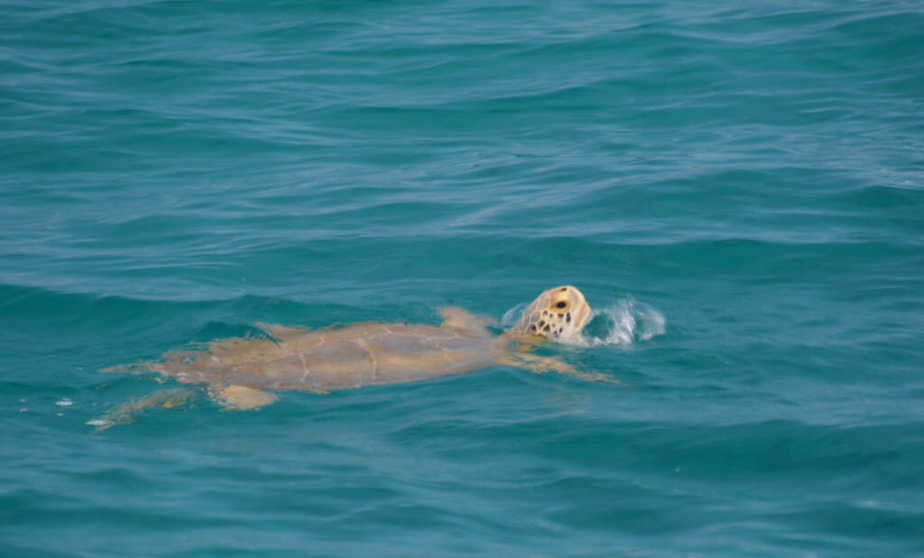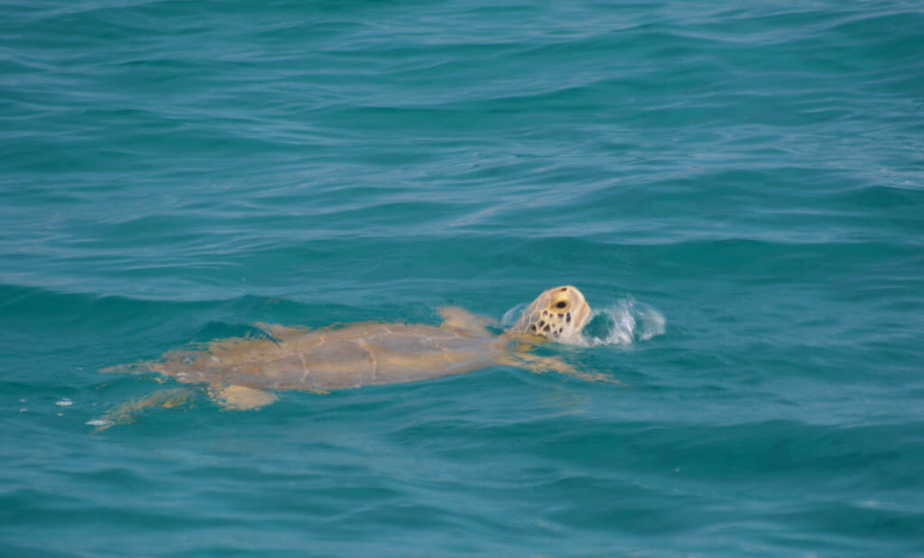 As it was getting late and we needed an anchorage for the night, we packed up and headed south to Gun Cay, where there was a recommended anchorage, Honeymoon Harbor. When we arrived it was pretty full, with about 15 boats. We decided to anchor just on the other side of the reef on the west side and see how things shaped up. One by one, boats left the harbor and before sunset there were three boats left, another cat and two trawlers traveling together. We upped anchor (with some difficulty, we were caught on a ledge) and reset our anchor in Honeymoon Harbor. The other cat was a Lagoon 44, and we counted 12 people aboard! We weren't sure if they were charter or not, but we were very judgmental about their anchor set up – they had a second anchor off their stern, with the boat rubbing on the chain!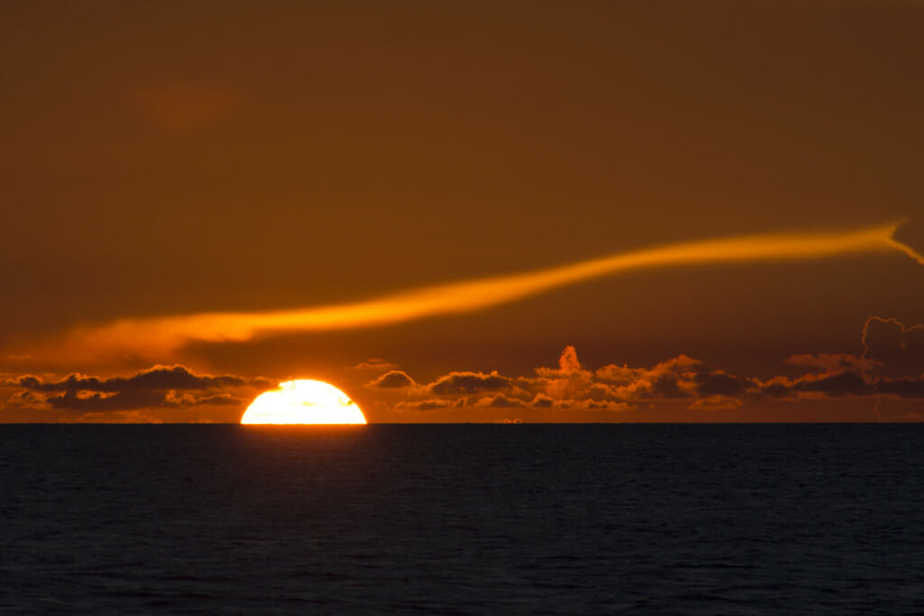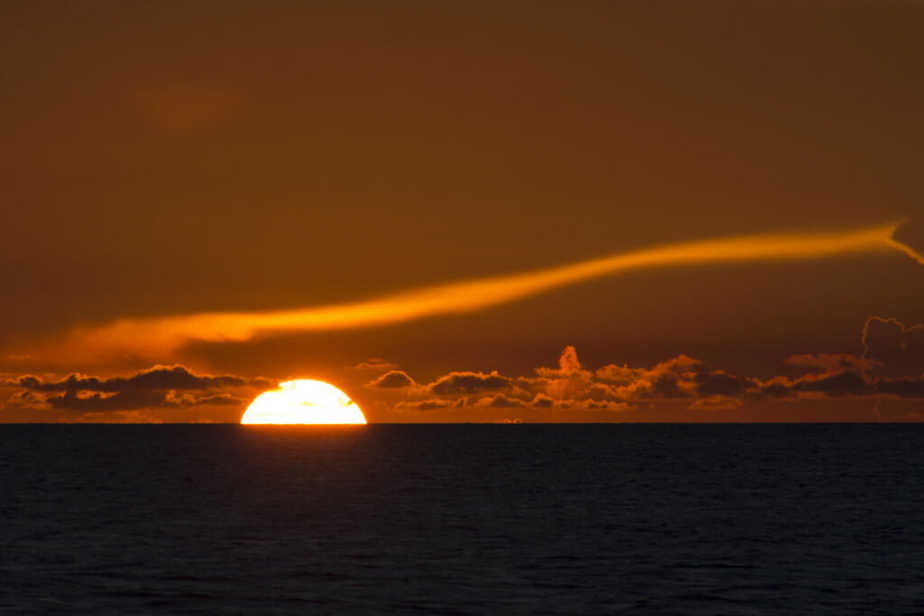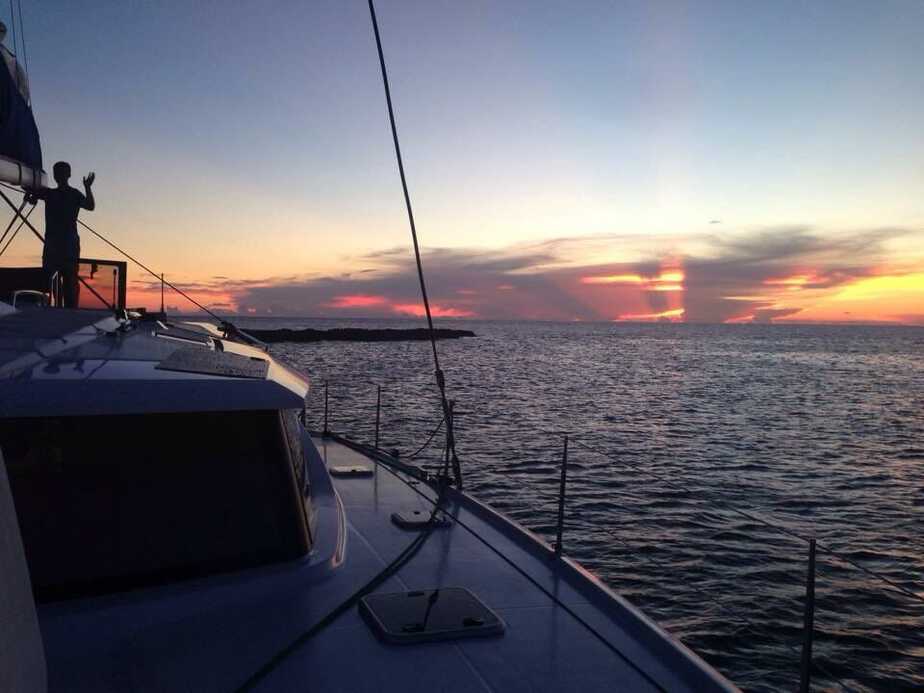 We watched a gorgeous sunset and then the cat left, sailing into the night. Robert and I enjoyed star gazing for a bit and then we all hit the sack.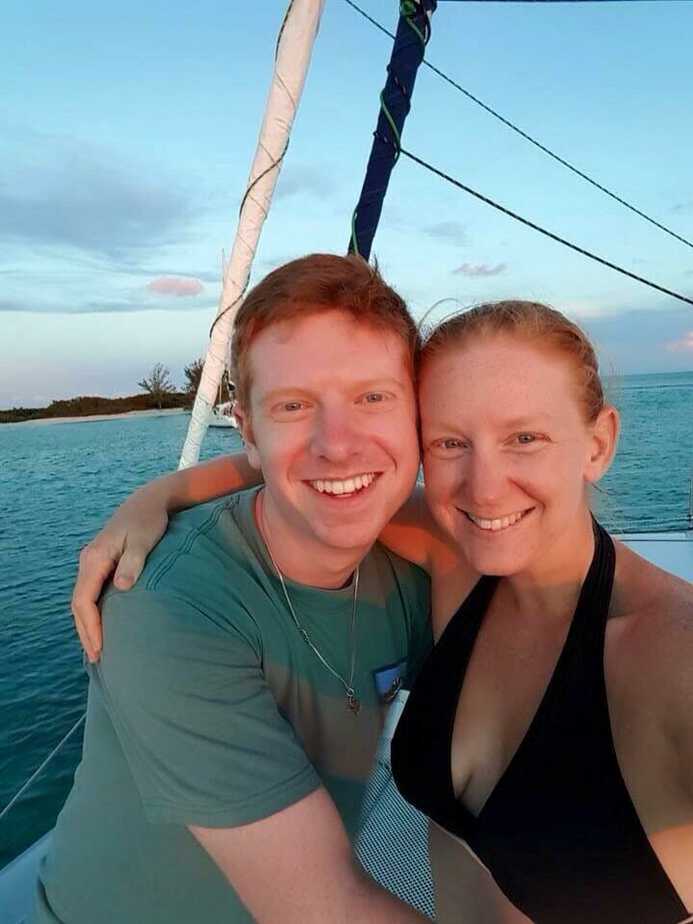 In the morning on Monday, I awoke to find us all alone in the harbor. We decided to take a lazy day and not move, so we sat in our cockpit and enjoyed our own books – until David spotted dolphins! We stood at the transom, waching them with the camera, until one by one we slipped into the water. They were six Atlantic Spotted Dolphins, 4 adults and two babies, who hadn't earned their spots yet. They circled us, getting within a few feet and giving us a show, nudging the babies and waving their flippers.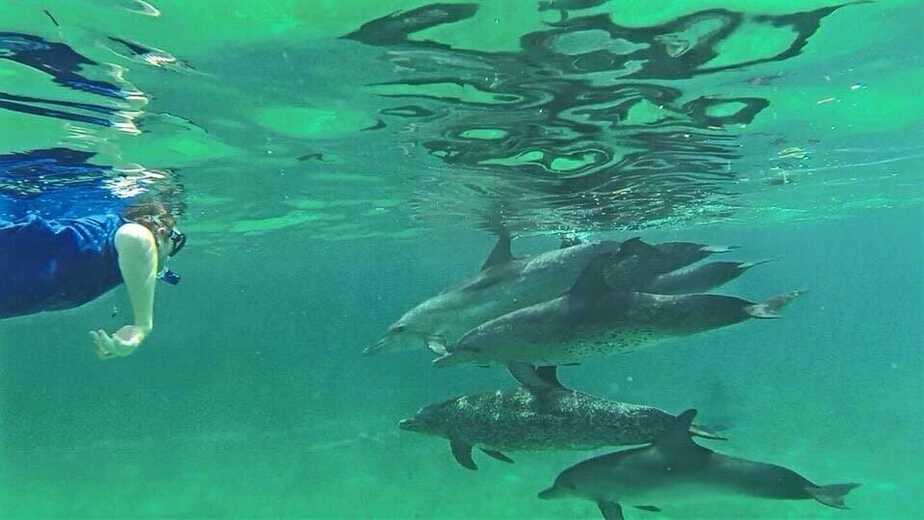 Robert spotted a Manta ray, and as our attention turned, the dolphins faded away – perhaps jealous? The manta had no interest in us, and passed by quickly.
In the early afternoon, while we were still the only boat here, Robert and I snorkeled in to the beach. I'd read that there were stingrays in the harbor "looking for handouts". Robert and I quickly learned the stingrays were the main attraction here! As we swam, large stingrays circled us, getting very close, and often sneaking up to us. On the beach, smaller ones are even more friendly, swimming over our feet and bumping into us. Fishing boats that come into Honeymoon Harbor "chum" the water in the depths for the larger stingrays, and people go ashore with fish scraps and hand feed the smaller ones we did neither, and were still quite the attraction for the stingrays. In fact, they really liked Robert!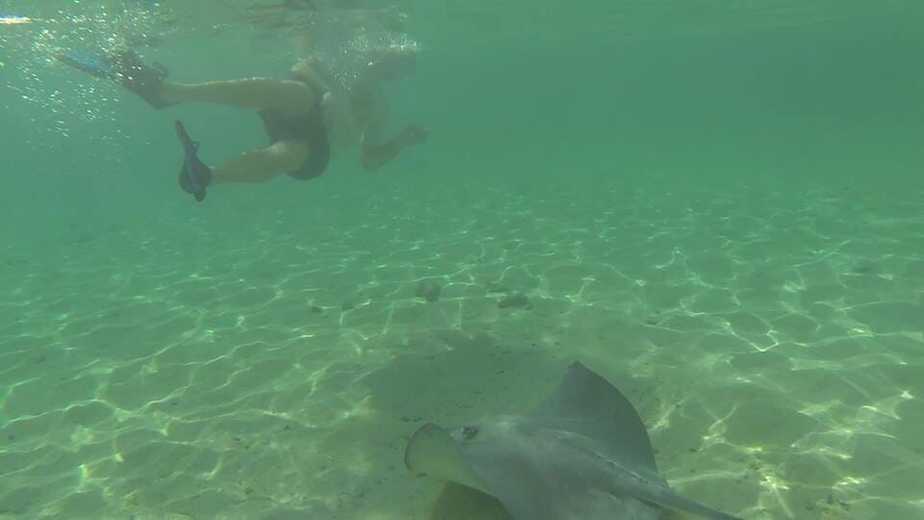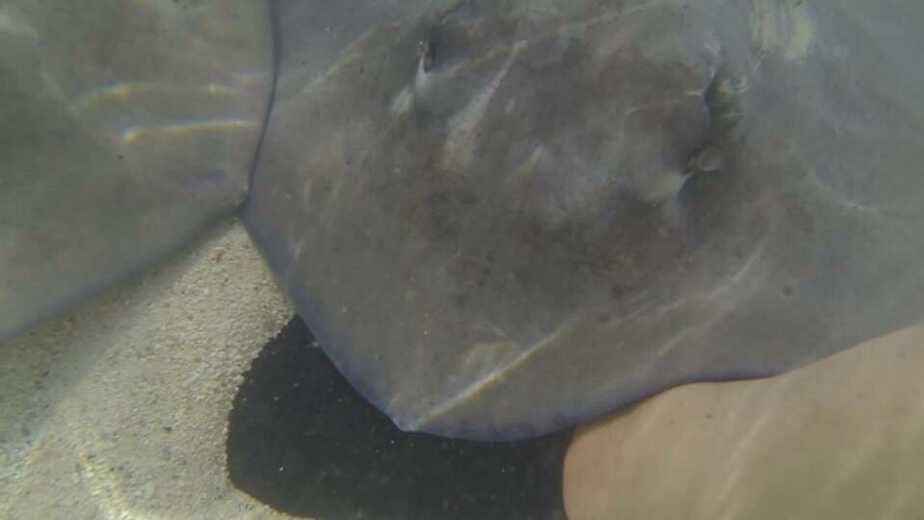 David and I took a separate trip out and walked on the beach. This time, several other boats had joined and were drawing the stingrays away from us but we did see a few. On our swim back we swam close to a fishing boat and they had all the stingrays around them – and even a small shark! I actually didn't see the shark, but David did.
As the boats left, we found ourselves sharing the harbor with one sailboat, enjoying the sunset! Today we plan on leaving to head to the Sapona wreck for a snorkeling adventure.
Watch the Video: Cruising the Bahamas
Social Share