THIS POST MAY CONTAIN AFFILIATE LINKS. PLEASE READ OUR DISCLOSURE FOR MORE INFO.
We made it! On January 20th we tied up to the dock in Miami Florida after 26 days at sea from Las Palmas, Canaries. We feel quite accomplished having sailed across the Atlantic Ocean for the first time.
Stats
Now that our feet have been on solid ground for a few days, it's time to take a closer look back at our Atlantic crossing.
Total Time: 635.5 hours or 26 1/2 days
Total Distance: 4,146nm
Overall SOG: 6.52 knots
Moving SOG: 6.74 knots

This takes out time we were hove-to to make water and anchored for the night in the Bahamas

Average Daily Mileage: 156.6
Average Daily Mileage (Moving): 161.7
Best Daily Run: 187 nm
Average True Winds Speed: 20-25 knots
Hours of Engine Use: 120.7 hrs (59.5 hrs – Port Engine; 61.2 hrs – Starboard Engine)

The majority of these hours came in the last week of our trip as we dealt with headwinds getting into the Bahamas.

Hours of Generator Use: 120.1 Hrs

The generator was our primary method of charging the batteries and we would run it between 6-8 hours each day

Estimated Fuel Used: 159 gal/602 liters

I will update this to actual fuel used once we top off the tanks in Miami

Squalls: Too many to count
Since we did a pretty decent job of keeping a running commentary on the blog while we were underway, I figured we'd use the remainder of this post to talk about some of the highlights.
But first, I need to thank our support crew: Pat, Nick, Capt. Andrew, Paul, Frank, and Jim. You guys were absolutely awesome! Thank you so much for all your help and guidance with everything from sail set-up to power management, to boat fixes, to weather updates, to routing and everything in between. We'd probably still be out bobbing in the Atlantic if you guys hadn't been so generous with your help and advice. Thanks for helping to get us all the way home from France!
Favorite Moment:
David: Cloudless night watches before the moon rose will stay with me forever. The view of an endless sky of stars and a clear Milky Way was something to treasure. The moment where I watched our VHG jump from 1-2 to 7-8 when we figured out how to set up the boat to sail wing on wing was also pretty awesome.
Amy: The whale! Now we know it was probably a minke whale. I love that he hung out with us for so long.
Least Favorite Moment:
David: Not one particular moment, but having the weather do two 360 degree rotations around us as we were trying to sail into the Bahamas really sucked.
Amy: Every time I could feel the bows rise up and out of the water and slam back down when we were into the waves. Also, the general slamming of the bridgedeck. We were not expecting to hear slamming every day.
Unexpected Experiences at Sea:
David: The random buoy that was a couple hundred miles off the coast of Africa has to win this category, although the big red balloon floating in the middle of the ocean comes a close second.
Amy: I knew that even though David would be the only person I would see, I wouldn't get to spend a lot of time with him. But I didn't think about sleeping alone all the time! 26 nights sleeping alone!
Biggest Problem Experienced:
David: We were extremely fortunate in that most of our problems were fairly minor. We experienced some chaffing in our mainsheet but caught it before the line broke and we had a big problem. We managed to break two blocks used in the mainsheet rigging, but I've since found out this is a rather common issue. So I'm going to go with our biggest problem was that I am a terrible fisherman.
Amy: Seasickness. But it wasn't too bad, so I am thankful for that.
Biggest "I Can't Believe I Just Did Something That Stupid" Moment:
David: I'll claim 2. First up, my complete mental lapse that caused us to return to Las Palmas when I forgot to open the stopper on our pull down line and we pulled the toggle out of the batten.
The second was on one of our watermaking days, the boat was going too fast while under bare poles going downwind, so I decided to trail a warp behind the boat, rather than pulling out our entire Jordan Series Drogue. To create the makeshift warp, I used one of our docklines and then tied on a section of chain that we had cut off in order to use with the JSD. Well, this was after one of our more difficult nights at sea and I was pretty tired. When I pulled the line back in, the chain had fallen off. There was no sign of chaffing so my knots must have failed. Fortunately, not a critical error, but I felt pretty foolish.
Amy: There were a few times when I wasn't paying enough attention to line feeding out of a wench and it got really crazy and we had to stop and fix it. And the fiasco with the blood in the chicken and the moldy bread all in one night.
Things We Found Incredibly Useful:
David: I was very glad that we had lots of extra sail ties (webbing straps), extra blocks, and extra line on the boat. We used the sail ties and blocks to rig up our barber hauler and preventer and the extra line came in quite handy when tying down the boom to replace broken blocks/chafed mainsheet and also to create a bridle that we used to try and fly our screecher.
The AIS system is a vital piece of equipment onboard and we were very glad to have radar to help track all the squalls that were around us for at least half the trip.
Amy: We used red electrical tape a lot to help dim lights and assist in keeping our night vision. We had SO much food on board, and we have a lot leftover. I made meals in advance and froze them. It was a lot nicer to eat a hot familiar meal than something from a tin! Also, our kindles were great! We read so much. And finally, the Star Walk App!
Things We Wish We'd Had Onboard Sailing Across the Atlantic:
David: I wish our additional headsails had fit better so we'd have been able to use them on the light wind days, but I think the biggest wish list items are things we're going to be installing while we're here in Florida: solar panels, helm bimini and cockpit enclosure.
Amy: I have a few smaller things I wish we'd had, like extra towels aboard. We used so many towels, and when out on passage, you can't open the hatches in the hulls very often to provide air circulation, and sometimes you can't dry things on the lines we hung in the cockpit because of waves splashing us. It meant that a lot of our towels started to smell…not so good.
I would have liked to have a pumice stone onboard for my feet, and more juice and fresh fruit. The apples lasted about 12 days and that's because I ate them all.
Overall Thoughts:
David: I think sailing across the Atlantic went as well as we could have possibly hoped for. Amy still professes to love me and I think we're both still excited about continuing our journey around the world. It is amazing to me how quickly we climbed the learning curve, as prior to leaving France the longest sail we had done together was about 8 hours and we had never completed an overnight sail, even though we had done lots of night sailing.
Some people thought we were a bit crazy to undertake such a passage with out significantly more "blue water" experience, but I believe that our overall ability, common sense and trust in each other more than compensated for our lack of "proper" experience. I'm incredibly proud of what we accomplished and look forward to adding more miles under Starry Horizons keels!
Amy: I think I would do it again, just not for a while! Fortunately, we don't have to ever go that long again if we don't want to. 21 days is what we expect to cross the Pacific, and that'll be in at least a year or two.
Watch the Video: Crossing the Atlantic Ocean
Blog posts:
Pin it!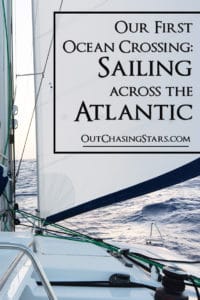 Social Share