THIS POST MAY CONTAIN AFFILIATE LINKS. PLEASE READ OUR DISCLOSURE FOR MORE INFO.
We have been living on board for a week now! Since Frank left, Monday and Tuesday were holidays. We took some time to continue unpacking and attempt to run some errands (mostly foiled by the holidays and store closings). On Tuesday, we went to the Antiques and Food Fair at the Parc Expo…of course we stuck to the food side, which was pretty neat. The vendors were all giving out samples, so we tried a wide variety of things, from foie gras stuffed figs, to seaweed tartare, to wines and jams. We bought a few things but mostly enjoyed looking & tasting.
Wednesday was a much busier day as Uchimata started their work. David has been spending his days watching the guys install and work around Starry Horizons. It seems to be going quickly. We have our new electronics installed and I think mostly connected. They started working on our watermaker and our fans today. We have a problem with our headsails, so David also got to go up the mast today!
I have been running errands during the day. Wednesday I went to a bicycle shop. We purchased two Schwinn Folding Bike
which were included in our shipment from Houston. Upon assembling, we realized we didn't get any necessary accessories, such as a tire pump, spare tires, locks, and lights. We had seen a bike shop called Cyclable over by the quay in La Rochelle, so I walked there. The gentleman who helped me spoke very good English, and I showed him a picture of our bikes and he helped me pick out what we needed. Yesterday, now that our bikes had good air in their tires, I biked to the City Centre to buy more cellular time for our phone and some groceries.
We have internet here on our boat. Minimes offers paid internet…. 1 euro for 1 day, 6 euros for a week, or 18 euros for a month. The speed can be pretty slow, but you can find the connection in a lot of places in La Rochelle (such as on the quay by the bike shop). You can only connect one device at a time, so it's good that David's phone has data, and we can move the internet between my phone, either iPads or laptops. The connection is definitely much better on a laptop, and we have had no problem streaming Netflix. On my cell phone, I can't even get a signal in the cabin.
For energy, as our boat is on American power, we are not plugged in to shore power. This means that we have to keep a close eye on our batteries. We also do not have solar panels (that is a Florida project). Every evening, after the work crew leaves, we run our generator for about an hour. This tops up our batteries and allows us to run the heater in the central air system. However, once we turn the heat off….whoosh! It's cold again. Having limited power also means that we don't leave our inverter on. The inverter is what converts the 12V battery power to our regular 110V outlets. So while we run the generator we also turn the inverter on and plug everything in to charge. Typically I would use my iPad and Kindle app, but it has become obvious that using my iPad is not a good choice. The iPad takes almost 4 times as long to come to a full charge as my iPhone, which essentially means in the hour or so that we have the inverter on, my iPhone will get up to full, but my iPad only to 25%. I need to switch to using my Kindle to read, as the iPad is the least efficient device.
Of course though, as soon as I switch to reading on my Kindle, someone who shall remain namless breaks my Kindle. It's ok. He made it up to me buy ordering me a brand spanking new Kindle Paperwhite
(to replace my 1st generation Kindle) which will arrive on Monday. Don't worry – he's still loved.
Running our generator also gives us hot water. The hot water tank retains heat so well that we will still get hot water 24 hours after running the generator. We do have to ration it though, as it is a small tank. It's just enough for 2 quick rinse-off showers (no hair washing) and washing dishes.
There are showers up at the Capitainerie. For 1 euro per 7 minutes, you get hot water. The shower stalls are small and there's only a small section to store stuff and keep it dry while you shower. I have been quick enough to get all my showering done in 1 euro. As it is so cold and windy outside, I only do the full shower on the relatively warmer days in the afternoon, so I don't have a completely miserable walk from the Capitainerie to our boat with wet hair. David showers at the Capitainerie every morning, but his hair is dry after a few passes with the towel!
I also did laundry on Wednesday. There is a small laundry mat in the strip center here, and it's 4 euros for the wash cycle, 50 cents for detergent, and 50 cents per 5 minutes on the dryer. The dryers at high heat are very hot!! I did 15 minutes for synthetics and 20 minutes for cottons and that was too much time.
There are not many people on the docks with us. The Aussies we met earlier are on a Lipari named Seabbattical MMXV, and are waiting for a weather window, although they have also had work being done every day. There are other live aboards on other boats, but no one else on the FP boats.
The Capitainerie is very helpful. There is a drinking water fountain, plus a vending machine of snacks, and a hot beverage vending machine, which is actually a pretty good deal for a decent cup of hot cocoa at 50 cents. The staff is friendly and speaks a decent amount of English. There is a computer to use, weather reports, a message board, and restrooms. They also sell some toiletries and gift type things. The Capitainerie also can provide you with small dock carts…you just leave your passport and they give you the key to the cart lock.
While we run the generator, I cook dinner. Our system here runs on Butane (butgaz), which will be switched to Propane once we are in the states. There is a knob in our cabinets to get the butane to flow to the stove or oven, and then an electric start to light the stove. In our shipment was Magma 10 Piece Cookware Set
, which have been very handy and take up very little space. So far I have made simple things like pasta with jarred bolognaise sauce, or turkey piccata. There is a Carrefour City, similar to the one we shopped at by the apartment, about a 15 minute walk away. In the strip center here, there is a smaller store, but it still has all the basics. I have had an interesting time trying to find some items that are very common in the States, but not common here. That's a whole other blog post, to tackle the challenges of grocery shopping and provisioning! Actually, tomorrow will be a very exciting day. Even though it is going to rain and be windy, David and I will still head to the City Centre for the big market day and I'm hoping to pick up some fun and different (for us) stuff tomorrow.
And lastly, we have been enjoying our boat! We get to watch the sailing school go by, with 30′ monohulls, wind surfers, lasers, and Hobies. It is probably 100 boats in all that come and go from the launch right in front of us. Last night, while it was cold out, we bundled up and enjoyed the sunset from the top lounge deck (the only place where our cushions are still out because of the work being done).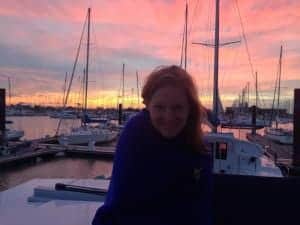 Social Share