THIS POST MAY CONTAIN AFFILIATE LINKS. PLEASE READ OUR DISCLOSURE FOR MORE INFO.
It should be well established by now that we're buying a sailboat. That means it needs sails. Should be pretty straightforward and easy to pick out right? Well, that would be a no. Our plan is to someday set out on a trade wind circumnavigation which means that we will mostly be sailing downwind passages. And while it would be quite nice, there is no one sail that a boat can use in all downwind situations. Our current catamaran only has a self tacking jib. This sail is small and doesn't allow for a lot of adjustment, especially when going downwind. We've chartered boats with larger genoa's and I've done racing on beach cats with asymmetric spinnakers, but those setups will be quite different than what we'd have on Starry Horizons. For my own sanity, let's take a look at (as far as I can tell) what are the major categories of downwind sails:
Jib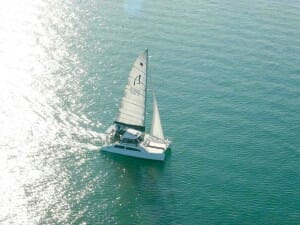 The Jib is a headsail where the clew (bottom corner of the sail not attached to any standing rigging) does not come aft of the mast. It can either be self tacking, like our current boat, or use jib sheets running aft which are worked when the boat changes tacks. These sails are typically on a furler, which means they can be reefed simply by rolling up the sail a bit.
Genoa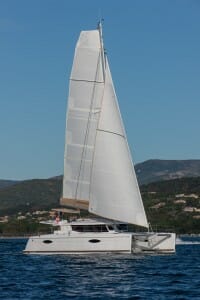 Also referred to as the "Genny", this sail is very similar to a Jib, except that the clew comes back aft of the mast and overlaps the mainsail. Genoa's are rated on a percentage, based on their area relative to the 100% foretriangle which is the area created by the forestay, the mast, and the deck. Starry Horizons will come with a Genoa from the factory, but given our cruising plans, we're looking to buy at least one additional sail that will be better downwind and in light air. This leads us to:
Spinnakers
Hold on to your hats ladies and gentlemen, cause this is where it gets complicated. In general these sails are used for points of sail all the way from reaching to dead downwind, with some categories even capable of being used on a tight reach. You may hear general terms such as a "kite" or "chute" being used in reference to spinnakers, and that's because they somewhat look like a parachute out in front of the boat. These sails are typically used in conjunction with a "sock" (aka snuffer) that makes deployment and retrieval relatively easy. Some asymmetrics can even be fitting with a furling system, top down or regular, that will allow it to be furled similar to our genoa.
So now that we've covered the basics, let's take a high level look down at the two main types of spinnakers, asymmetric and symmetric.
Asymmetric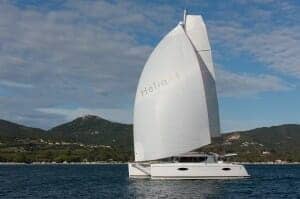 These sails seem to be the most confusing as each sail maker can use different terms for the same sail. Asymmetrics do seem to be separated by code from 0 – 6, which help classify them for racing purposes, but is helpful to differentiate among the sails. Thanks to Wikipedia, here is a bit more about the code classification:
Code 0 The code 0 asymmetric is a tight reaching sail, the most upwind capable of the asymmetrics. The luff is as straight as possible, and the sail is flatter than other spinnakers. Due to the flatness of the code 0, it is usually made with a wire luff for strength, and of a heavier, less stretchy fabric than normal for a spinnaker. Due to the tight luff and flat cut, the code 0 can be fitted for roller furling.
Code 1 The code 1 is a light air reaching sail, where the apparent wind angles at low speeds has a significant effect to create angles of less than 90 degrees.
Code 2 The code 2 is a medium air running sail, used for apparent wind angles over 90 degrees.
Code 3 The code 3 is a medium air reaching sail, used for apparent wind angles near 90 degrees.
Code 4 The code 4 is a heavy air running sail, used in the heaviest winds normally expected.
Code 5 The code 5 is a heavy air reaching sail, used in the heaviest winds normally expected.
Code 6 The code 6 is a storm sail, for running in storm conditions.
Codes 1, 3, and 5 are reaching sails, and codes 2, 4, and 6 are running sails; the Code 0 is a hybrid of genoa and spinnaker, designed to work like a genoa but classified under racing rules as a spinnaker. Clear yet? Wait, it gets better. North Sails has a line of sails called "gennakers" which are based off the Code 0 classification, while other manufacturers call their Code 0 sails "screechers" (for upwind use) or "reachers" (for downwind use). Yeah, my head hurts too…
We are outfitting Starry Horizons with a bowsprit so that we can easily rig an asymmetric spinnaker. Fountaine Pajot offers a gennaker as an option, and our dealer has advised us that if we're going to go with only one additional sail for our boat, that a Code 0 would be the way to go. It's enough to make my head spin. I think I've made enough sense of things to realize that getting some sort of Code 0 asymmetric spinnaker (whether it's called a gennaker or what have you) would be beneficial for our sailing plans. Having it fitted for roller furling would make life very easy and we could even have the sail made with a UV protection strip, allowing us to leave the sail up, just like our genoa.
Symmetric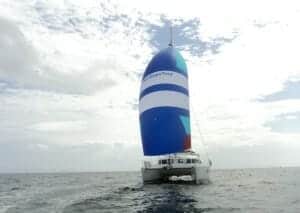 As you might guess from the name, these sails are symmetrical, and are typically stabilized using a spinnaker pole, which helps keep the sail on the proper side of the boat. The beams on catamarans are wide enough that we wouldn't need one. In general, these sails are a bit trickier to use when shorthanded as you have additional lines that must be set, and the sail doesn't seem all that forgiving, meaning it can dramatically open or close with gusts of wind, leading to nervous moments trying to handle the sail. These sails can't be furled and that fact combined with some of the other issues are leading me in another direction.
Parasailor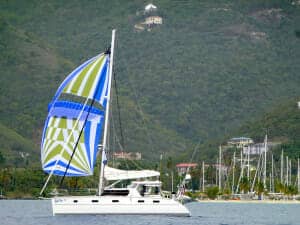 I'm throwing this one in here as it's own category because I'm not quite sure where else to put it. The parasailor was designed for short handed sailing crews, seems extremely forgiving and has self-trimming features that would allow you to leave the autopilot on. It definitely is interesting as a downwind sail, and could even be used to on dead downwind run. I've found several blogs of people who have them, and they all seem to have high praise for the sail. Pairing this with a Code 0 would give us a good variety of sails that could be used in all kinds of conditions. The Parasailor uses a sock, which means we wouldn't have to continually swap it out with the Code 0. All in all, it's a very intriguing option.
Whew!! Hopefully this clears up a bit of confusion about downwind/light air sails. Choosing the sails we want for Starry Horizons isn't something that needs to be done immediately, but given how many options there are to wade through, I'm glad we're beginning our research early. Now, I'm feeling the need to create another spreadsheet coming on…
Social Share