THIS POST MAY CONTAIN AFFILIATE LINKS. PLEASE READ OUR DISCLOSURE FOR MORE INFO.
I'll admit it, I'm a bit of a nerd. I like technology and while I'm not the most technologically advanced person in my family (here's looking at you o' brother of mine…) I think I come in at a solid second place. Therefore, the choice of electronics on our boat is a key concern of mine. I want a system that will integrate seamlessly across the boat, beyond just your regular instruments, to include our laptops, media server, iPads and any other device we can think to add. I know that this is a tall order and there will be pluses and minuses to any system we choose, but some will be better than others at accomplishing this goal.
Fountaine Pajot installs Garmin electronics as standard on their boats. The vast majority of my experience on boats has been using Raymarine electronics, and since the display Helia actually had Raymarine installed, I asked our dealer if it was possible to elect for a different system than Garmin. He assured me that it was, and thus my research began.
Update March 2019: We ordered Raymarine gear!
Garmin
Garmin earns good marks throughout the web for their ease of use. I have only limited experience using them, but the interface does appear pretty straightforward and user friendly. However… they come in dead last when it comes to integration with other systems. Fountaine Pajot uses the Garmin 5008 and 5012 chartplotters on the Helia, which do not offer wifi, nor do they offer any wired connectivity outside of the "Garmin Marine Network". We stopped by the Garmin booth at the boat show, and were told that in order to transfer data (such as weather overlays, or routing information) from a computer, you had to use an SD card to save the data on the computer, and then manually transfer it over to the plotter. Not exactly what we're looking for, and in this day and age of connectivity, it's pretty shockingly behind the times.
Raymarine
As mentioned, the vast majority of both the Admiral and my's experience with marine electronics has been on Raymarine equipment. That has created a familiarity which is a solid plus in Raymarine's corner. The e Series HybridTouch Displays offers a good mix of basic touch features, as well as buttons that can be used to operate the system as well. While you won't mistake it for an iPad anytime soon, it does seem to be moving in the right direction. They also have WiFi and Bluetooth connectivity, which can be used to connect to iPad's and iPhones using Raymarine's native apps or even the Navionics app. The WiFi means that we could connect our laptop into the system and use the Raymarine Voyage Planner software to create waypoints, routes and tracks on the laptop and then instantly send it to our multifunction display (MFD).
This is definitely more along the lines of what I'm looking for, but I have two reservations: 1) WiFi is great, but would seem more likely to fail at a critical moment than a wired connection to the computer and 2) the Voyage Planner software appears pretty basic, and doesn't have some of the advanced features available with other software packages.
Furuno
I was first turned on to Furuno when I read the great blog of s/v Field Trip and when the Admiral and I got the chance to randomly run into Mark and Sarah in St. Barts while we were on a charter, we got to see first hand how Mark had managed to integrate all electronics on his boat. The new TZ Touch line of MFDs looks really nice, but also really pricey. The NavNet 3D line of MFDs is what I have focused on as they have NMEA 0183 and 2000 capability, as well as Ethernet connectivity. In truth, I like the Ethernet connectivity a bit better than WiFi as I believe it would offer a more consistent connection and be less likely to fail. However, what really seems to set the Furuno system apart is it's MaxSea software.
Using the optional Routing Module, I could plug in weather forecast and current data and the software will calculate the optimal sailing route based on the polars of our boat. How cool is that!? Now, I certainly recognize that conditions actually out on the water may not play out exactly as forecasted, and its probable we won't end up sailing the exact route calculated, but these are the sort of technological features that get me excited.
I'm pretty set on swapping out the stock electronics for either a Furuno or Raymarine set up, and have to admit that I'm leaning towards Furuno. However, I'm still working with my dealer to get accurate engineering drawings of the helm and interior nav station to make sure everything will fit. In addition to the basic plotter and instruments, we've got other equipment to find a place for, such as our VHF, AIS, SSB, Sat Phone, Inverter Controls etc. And let's be honest, cost plays a definite factor as well. A Furuno system wouldn't be cheap, but right now, I think the additional features would be worth the cost.
Finalizing Raymarine
The biggest decision that Amy and I made in Miami was to stop pushing for Furuno electronics aboard Starry Horizons and instead move forward with installing Raymarine equipment on the boat. There were several reasons for this decision, but we wouldn't have made it had we not gotten an opportunity to chat with Raymarine at the show and get a chance to demo some of their newer options. Three of our boats at Star Fleet have Raymarine on board, so that gave me a comfortable base to start from, but I was impressed with some of the latest advances.
Raymarine Features
LightHouse II User Interface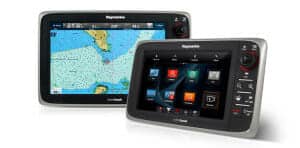 By going with Raymarine, we'll be able to install eSeries HybridTouch MFDs. These utilize a new user interface called LightHouse II and are a far cry from the old cSeries that we're used to using. The menu set ups are much more intuitive, allowing for significantly more options when it comes to setting up the home screen. Interacting with charts was fairly quick, and could be done by touch or using the rotary controller and keypad. Plus, Raymarine releases free updates that can be downloaded over the internet and uploaded to the MFD using a microSD card. That will come in quite handy when we're somewhere where we can download an update quickly, rather than waiting forever for a card to be shipped to us from the manufacturer.
GPX File Support
So this is perhaps not the sexiest reason ever, but it was something I was pretty excited about. I'm quite big into interconnectivity among our various systems, and one of the things I wanted to be able to do was plot out a route on a laptop, send it to our plotter and go. MaxSea integrated seamlessly with Furuno and was one of the reasons I was so interested in going that route. However, there is another chartplotter and navigation software package called OpenCPN that has been developed by active sailors and can be used for free. I have only a little experience playing around with it, and while it's not quite on the same level as MaxSea, it's an impressive program. And OpenCPN can save and load waypoints, tracks and layers using the GPX transfer format so we should be able to have a high level of interconnectivity with our Raymarine equipment, just like I wanted.
App Integration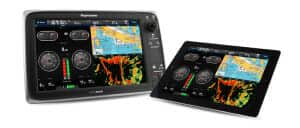 The eSeries MFDs have built-in WiFi, and while I will take some convincing that this will be a stable, reliable communication method, it does allow for some interesting possibilities. Raymarine has developed an app called RayControl that allows you to take your iPad and turn it into a full function MFD. You can remotely control and view all the functions of the MFD including charts, radar, sonar and even adjust menus. That is a pretty neat feature and essentially allow us to control our MFD from anywhere on the boat.
Raymarine has also worked with Navionics to integrate the Navionics Mobile App and allow for us to plan a trip on the Navionics App and then synchronize with the MFD wirelessly. I've downloaded the Navionics App to play around with it, and it's fairly straightforward and easy to use. It is not feature-laden enough to qualify as an independent plotter, but it will provide yet another backup for us, which I greatly appreciate.
Selecting Our Electronics
Chart Table in Main Salon
In the main salon we have our Vesper Marine AIS, our Fusion stereo, Standard Horizon VHF, Battery Management System, Phillipi monitoring system, external alarm amplifier, and a Raymarine autopilot control.
At The Helm
Our main chartplotter is a Raymarine e120 Multifunction Display. We have two I70 instrument displays, and an autopilot control. All that connects to our radar (up on the mast) and a Standard Horizon VHF.
Picking the navigation electronics for Starry Horizons wasn't an easy task, but now that it is done, I can start working on figuring out how the rest of our electronics will integrate. That means I can get back to the drawing board and rework my mock-up for our interior nav station. Fun times ahead for sure!
As I've said previously, I do rather enjoy technology, and part of the attraction of ordering a new boat is being able to get it set up exactly the way we want. To that end, I've been doing lots, and lots, and lots of research into some of the different set ups used by people who are doing extensive cruising, as we plan to. The interior nav station on the Helia 44 was one of the selling points of the boat over it's competitors and in order to plan out, I obtained the dimensions from Fountaine Pajot. Then I was able to create a mock up using a basic graphics program, and collected pictures of all the different electronics that I might want to have at the nav station. Once everything was sized proportionally, I could easily move things around to see how they fit.
Starting from the Top Left and moving clockwise the various components are:
Furuno NavNet3D 8″ MFD
Having a chart plotter inside will give us additional redundancy and the ability to keep an eye on things while we're inside on a passage. We can customize the display to include wind speed, direction, boat speed etc.
Vesper Watchmate Vision (AIS)
This AIS unit will integrate seamlessly with our Furuno system and will allow us to show AIS targets on our plotters. In addition, the separate screen allows additional redundancy and the unit offers WiFi, meaning we could sync it up to a Navigation app on our iPads, giving us yet another backup. Another selling point for me is that the Vision offers a quality anchor alarm, which can be set and has a significantly lower power draw than leaving on a chart plotter, and I think would be more reliable than depending upon an app on our phones.
Gauges
I haven't yet figured out exactly what these gauges are for. I didn't take a good look at them while we were in Annapolis, and all the other pictures I can find aren't all that clear. Regardless, it seems like every Helia that Fountaine Pajot is producing has the exact same instruments, so I've gone ahead and included a stand in here. If anyone can shed some light on exactly what these gauges are for, I would be ever so thankful. (My only current guess is that one of them is a fuel indicator)
Digital Multi Control Panel
Allows for the remote controlling and monitoring of our power equipment. I haven't heard great things about Fountaine Pajot's Eco Cruising Monitor, and it seems like an expensive option for what it offers. Since we'll have multiple ways of generating power, something to control this will be a must for us.
Standard Horizon GX2000 VHF
I have some experience using Standard Horizon VHFs and like what I've seen. The GX2000 is the non-AIS unit as I feel the Vesper AIS will more than adequately take care of our AIS needs.
Furuno NavPilot 771
This would be a second autopilot control in addition to one at the helm. I like being able to make adjustments of our course from inside if it's needed. And as our autopilot will be a rather important partner in this adventure of ours, having 2 controls in case one fails seems like an excellent idea to me.
Fusion Stereo
We like our tunes and the Fusion stereo is what comes standard with the Helia. We're going to see what we can do to hook it up to the hard drives on our media server with all of our music, or at the very least a dedicated iPod.
The lower right hand corner of the nav station I've left open for AC and DC plugs, as well as cables to hook our laptop into the systems on the boat and things like reading lights. There are still additional components that I'd like to add to the nav station, such as a Sat Phone or SSB + Pactor Modem since either system would allow us to get weather and email. We may elect to have both for additional backups, or go for one or the other. That argument seems to be a passionate one among cruisers and will be the subject of a later post once we decide exactly what we want to do.
For now, we'll start looking for our creative thinking caps and work on coming up with mock up version 2.0.
Version 2.0
With the big decision made to go ahead with Raymarine electronics on Starry Horizons, my previous mock up of our interior Nav Station was now out of date. So I set out to get the dimensions of the new electronics and came away with a pleasant surprise. In spite of the Raymarine screen being larger than the Furuno plotter (9″ vs 8″) that I'd looked at previously, the overall dimensions of the Raymarine unit were smaller, which I believe is going to allow for a more efficient use of the nav station space. After some playing around, here is my latest mock up:
From top left and moving clockwise:
Raymarine e95 MFD
Replacing the Furuno MFD from my last mock-up, the e95 is less wide overall, which will allow for more components to be fitted. The larger screen will also allow more options to customize the screen layout, so we can easily see vital information such as wind speed, wind direction, boat speed and depth.
Raymarine p70 Autopilot
A backup to an additional p70 that will be located up at the helm, this will allow us to make course adjustments from inside if needed.
Vesper Watchmate Vision (AIS)
I still really like this AIS unit from Vesper, and after briefly visiting with them at the Miami boat show, I came away even more impressed. The tracking and prioritization of AIS targets is by far it's best feature, but the anchor alarm will be quite handy as well, letting us sleep better at night knowing our boat won't drift off without us knowing. It's wifi feature won't be quite as vital now that our Raymarine system will include wifi as well, but it never hurts to have multiple backups.
Gauges
When I did my last mock up, I wasn't quite sure what these gauges were for. This time I know. For Helia's that don't have the EcoCruising Monitor, these gauges display Fuel, Water and Voltage levels, which I suppose is pretty handy information to know.
Digital Multi Control Panel
Generating enough power will be critical to ensuring all systems on Starry Horizons work, and that our enjoyment level remains high. This control panel will help us monitor batteries and other power generation so we can make sure we always have enough power.
Standard Horizon GX2000 VHF
I've stuck with the Standard Horizon VHF unit as they have worked well in my past experience, and the Raymarine VHF appears like it will be a bit too large to easily fit in with the rest of the equipment on this panel. This is one area where there may still be some flexibility depending on what Fountaine Pajot offers as part of the Raymarine equipment package.
Icom M802 (SSB)
Having an SSB on board is something we're quite interested in for the ability to listen in to various cruiser nets, as well as listen to weather reports. Paring with the Pactor Modem would allow for us to receive emails while on board as well. I've read that they're a bit tricky to install so this may be an item that waits until we're back in the US before obtaining.
Pactor PTC-III Modem
This modem combines with the SSB to allow for us to download email on the boat. The speeds aren't nearly at the level we're used to on land, but it is a tried and true method and would work well to get weather forecasts as well.
Fusion Stereo
Rather important to have music aboard. The Fusion stereo comes standard with the Helia and should work just fine for our purposes.
The one piece of equipment not shown here that we're also looking at would be a satellite phone. There is another panel to the right of this nav station on the boat where we could mount a cradle for the phone and so far that seems like the best solution. Apparently, there isn't a lot of room behind this additional panel to install deep components, but mounting something on the outside would work.
The next big question is what equipment will be installed at the factory vs what will be installed in France before we leave vs what will we install once we reach Florida. Depending on what ends up falling into each of those categories, we may have to re-do this panel a couple of times, which would make for all kinds of fun.
Social Share