Upon leaving the SE corner of Bora Bora, we headed north, choosing to take a different route than the way we came down. Travel on the east side of Bora Bora can be tricky. There is a marked channel which runs along the west of the water. We took that on the way down….and even made the mistake of taking one channel marker on the wrong side. Thankfully our depth sounder got no lower than 6 feet. On the way north, we took the east pass, which is unmarked, shallow, and sandy. Our depth sounder often read between 7-12 feet through this area. The tricky part is transversing east/west…you need to find a break in the reef.
We dropped anchor in 10 feet between the St Regis Resort and the Le Meridien Bora Bora. The water was again, very clear and the view of Bora Bora was spectacular. Thanks to a map K1w1 Beans shared with us, we knew where to find the big attraction – manta rays!
Just off Fitiiu point, next to the channel marker, there are several mooring balls, some no more than anchors with a plastic bottle floating. We tied LD up there around 8 am, and dove in. The coral was excellent, but to see the rays, you have to stay in the deeper parts – essentially swimming in the channel. The first sign of a manta ray is the white of their horn-shaped cephalic fins located on either side of their mouths. These fins curl and uncurl, and provide a scoop while they forage for food.
Monday we saw two manta rays and some eagle rays. The rays stay pretty deep, approximately 25 – 50 feet deep. The visibility isn't as clear as we've seen elsewhere – that might be what attracts the mantas. The current was strong, but once we found a ray, we could follow them for a few minutes and occasionally dive down to get a closer view.
At about 8:30 some dive/tour boats started to show up, so we packed it in and headed back to SH, and decided to stay one more day so we could go again in the morning. Tuesday morning we saw four rays, even seeing two at one time. We went a little earlier and the tour boats came a little later, so we had an excellent time.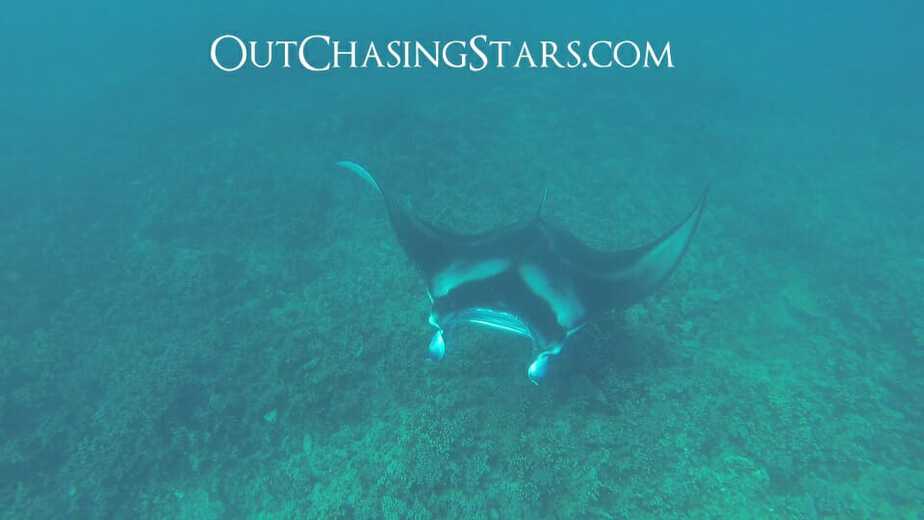 (In my research on Manta Rays, I found the wiki page very interesting, which also led me to the Manta Match project where they track almost 7,000 individual manta rays thanks to photographs provided by volunteers and you can ADOPT A MANTA RAY! I also found the Marine Megafauna Foundation to be informative.)
Packing up, we headed to the Mai Kai Yacht Club to pick up a mooring ball. If one wants to hang around town, there really aren't good places to anchor, so a mooring ball is a must. It's also quite social – every one is gathering here to clear out and wait for the weather to head west. I went to shore to take care of trash and do some grocery shopping. During my morning run Wednesday I spotted several locals with tables on the side of the road selling produce, so I bought papayas, pamplemousse, and bananas. I also filled up on gasoline for our dingy. That night, we had the crew of K1w1 Beans, Blowin Bubbles, Margansie and Miss Catana over for drinks.
Thursday I went over to Blowin Bubbles to listen to the morning SSB net. The SSB seems to be a much better way to keep in touch with other boats compared to via sat phone email. The SSB covers such a broad area, so boats can check in all over the South Pacific. It's something we are considering adding on once we get to New Zealand.
The rest of the morning was spent baking muffins (banana and ginger).
When K1w1 Beans took off Friday, they gave us a gift – they had two tanks left on the dive package they bought! That, in combination with the weather passage forecast, made it an easy decision to stay longer in Bora Bora.
Instead of staying at the yacht club at $10/night (which is actually pretty cheap) we moved back to the anchorage just to the south of the pass, joining our friends Margansie, who quickly invited us over for sundowners I had enough time to pop in for a snorkel and was glad I did! I saw five eagle rays!
The conditions here are unusual. There is a strong current here, and the wind is not constant, it gusts, sometimes quite strongly. What that mans for us is that we normally sit to the north of our anchor – with the current. But the winds gust from the northeast, and that blows us over our chain, and sometimes even up over our anchor, until the wind dies. Then the current pushes us again and we drift back north until we get our anchor chain jerked.
Saturday we kept chill on the boat, reading for me and David wrapped up a new video. We turned on our underwater lights, hoping to attract eagle rays, which didn't work, but we did attract many stingrays!
Sunday afternoon I went for another snorkel, and finally saw a crown of thorns. Crown of thorns are a type of sea star which eats coral. Normally it's not a problem, but the fish that eat crown of thorns are overfished, making the crown of thorns population rise, in turn destroying more coral. I also saw two white eels and another eagle ray.
Sunday night a friend of Margansie's, Ray on Lionheart, came into the anchorage and the three of them came over to watch the stingrays in our lights. While we sat in the transom chatting Simon accidentally knocked his reading glasses into the water. David was a sport and climbed in with the stingrays with his snorkel gear and the underwater dive light and retrieved the glasses!
Monday morning we were at Top Dive at 8 am for our two-tank dive. The first dive spot was outside the pass. We dive in about 15m of water, with awesome visibility. The big attraction here are -surprise! – sharks. In this spot, there are black tip reef sharks, which are usually about 4 feet big. But the big boys hang out here too – lemon sharks, named so due to their yellow coloring when they are born. The lemon sharks are 6-7 feet long, and must weigh 200 pounds (the girls anyway, the males are smaller). We saw about 6 lemon sharks. In addition to the sharks, we saw a sea turtle, watched him swim up to the surface, bob for a bit and then swim back down to 70 feet! Another attraction were the humpheads, or Napoleon Wrasses. We saw several females and a large male. And of course, the reef fish were numerous; tangs, triggerfish, butterfish fish, moorish idols, parrotfish, and even a puffer.
The second dive spot was back in the same place we snorkeled to see the manta rays. The visibility was pretty bad, worse than our snorkel (maybe the difference was the time of day), but we swam around and all of a sudden looked up to find two large mantas overhead. Still my favorite sight! Our dive leader picked up a cushion star to let us touch and hold, which was pretty cool. Diving this location gave us a better view of the coral, which was vastly different from the first dive site.
That evening I went over to chat with Elif and Mustafa on Balikcil. Our change in plans means we will probably be seeing a lot of them over the next two years, as they have the same plans.
Tuesday was flat calm. No wind, no current. We spent most of the day sitting right over our anchor. I was really excited to turn the underwater lights on again, hoping to see more stingrays. We didn't see any, but we stood in the coach roof and alternated between looking down in the water, which was like we were sitting on a plane of glass, and looking up at the clear sky with the Milky Way and shooting stars.
We are getting ready to depart Bora Bora tomorrow morning. We clear out this afternoon. Our exact destination is TBD – where will the wind take us?
Social Share