THIS POST MAY CONTAIN AFFILIATE LINKS. PLEASE READ OUR DISCLOSURE FOR MORE INFO.
We spent more time in Noumea than we expected and not in a good way. While Noumea was not our favorite place, it's modern enough that we could get a lot accomplished. It's completely worth it – the rest of New Caledonia is stunning cruising ground.
Anchoring in Noumea
The main area of Noumea for yachts is two bays; Moselle Bay and Orphilinat Bay. Moselle only has the Port Moselle Marina (monitors channel 67), while Orphilinat Bay has several smaller marinas, including Cercle Nautique Caledonien and Port du Sud. We anchored at the tip of the peninsula between the two, at the edge of Orphilinat Bay, with Cheeky Monkey and Sandy Cheeks. Even though Cheeky Monkey had reserved a slip at Port Moselle, there was no slip available.
After one night at the anchorage, we were approached by the Harbour Master who (very politely) told us we needed to move about 20 meters or so closer to chore for the cruise ship to get in to Moselle Bay. We heard that another cruiser anchored off the Port Moselle was in the way of the cruise ship but was not onboard, so the Harbour Master snapped their anchor chain and tied them up to a mooring!
The better option is to anchor close to the CNC marina and do your shopping at the shopping center there. It's a smaller Casino, but I was still able to find a lot of good stuff (even real maple syrup!) and the bakery next door has really good baguettes. Sandy Cheeks said the German tavern, Taverne Tannhauser, is quite good, with a $1200 burger special. To visit here, you can tie your dinghy up at the Shell station. The area is clean, smells good, and even the apartments have tons of plants on the terraces. It's lovely! We've been there three times so far, and ONCE I was asked to pay a $300 CFP fee to keep Little Dipper there for the day.
Clearing Formalities in New Caledonia
We took Little Dipper in to handle our official business. Port Moselle charges a minimum 3-day fee to tie your dinghy up, and for $1380 CFP ($108 CFP = 1 USD) you get a plaque to stick in your dinghy so they won't "tow you". Port Moselle takes care of your customs and helps you organize getting Biosecurity out to your boat, but you have to walk to the Immigration office, which is farther then it looks on the map. Biosecurity took our mung bean seeds, eggs, and some hot dogs (produced in the US). They are very strict about meat, so be prepared to come with fairly empty stores.
Turns out, there is a better option: friends used Herve from Seal Superyacht agents. They said it was cheaper AND they didn't have to walk to Immigrations.
Our first impressions of Noumea were not good. The Port Moselle Marina smelled VERY strongly of sewage. This part of the city is not particularly pretty or clean. Weird smells popped up, people smoked pot in the open, and it was rather dreary. Not a lot of eye contact or smiles from people we passed.
Provisioning
The best part of the Port Moselle area is the market. French people love their markets, and the variety we found was wonderful. Most produce was local, and on Friday there was even a strawberry vendor and an olive vendor. Fresh flowers and fruit were plentiful. There is a supermarche called Casino Johnston, which is pretty big and has everything!
Internet
Of course, the other bureaucratic matter is sorting out internet access. We went to the post office and bought a SIM card for $6,000 CFP, which comes with $3,000 credit for data. If you want data, you pay $400 CFP ($4 USD) per day and get 200 Mb high speed and unlimited data throttled. It's expensive and turns out there are cheaper options through the yacht agents too. Chloe, at Noumea Ocean Yacht Services rents out SIM cards for $7,000 a month (slower, but unlimited) or $120,000 a month (higher speed, still unlimited). (We have also heard of souvenir shops selling a one-week unlimited card for 994 CFP).
Meeting Impi
We got to meet another vlogger! David and Brent from Cat Impi have been emailing back and forth for a while, as Brent did a battery bank overhaul in Australia and we are going to be doing one too. Impi was docked at Port de Sud, and Brent and Ana very kindly invited us over to meet them.
Exploring Noumea
So what kept us in Noumea for so long? We talked about getting a slip in the marina to use their water to wash the boat and make shopping easier, but by the time a slip was available, we were done with our chores. David wanted to upload a video before we took off, so he spent two days working on episode 62 (Hawaii!). We had a night at Cheeky Monkey for dinner and then out on the town. We learned that getting taxis in Noumea late at night is really hard (we waited like two hours for cabs).
Getting Sick
We were getting all geared up to leave Noumea….and David got sick. Same thing I had in Vanuatu, but instead of 24 hours it was 3 days. After three days of not keeping food down and not sleeping well, David was beat.
During our stay in Noumea, Ryan (Cheeky Monkey) and Yonas (Sea Wolf) both suffered particularly bad infections. Eventually, Yonas had to be flown to Sydney for treatment. CM spent the entire time at the marina with Ryan recovering. Sandy Cheeks had left for about a week, and came back with a report of some of the nearby anchorages. Both CM and SC had a window to leave for Australia, so we had one final get together aboard SH and said goodbye to our friends! Hopefully we will see them both again in Australia.
American Sports in New Caledonia
By the time he was feeling up to going….the Astros were leading the World Series! We spent two more days in Noumea, walking to the Sportsbar at the Ramada (a half hour walk each way) to catch the games on the big screen. So what if they were in French? We got to watch the Astros in their World Series-winning glory!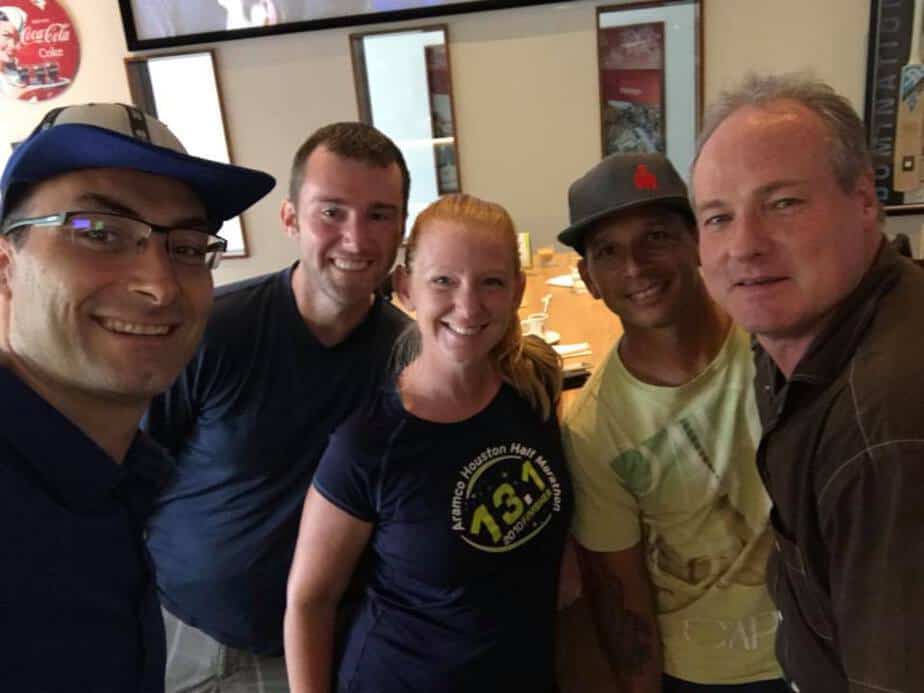 While watching the games we met the three other people watching the games there. These guys played baseball and softball with local leagues, and one of them was even the president of the Baseball Confederation of Oceania. We swapped information so they might appear in a future blog post!
As for us, we finally picked up on Friday and took off to explore New Caledonia.
Pin it!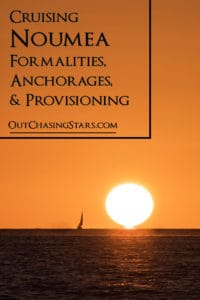 Social Share