Crossing the Panama Canal is one of the most amazing experiences of our trip. It is expensive to get your boat through, but getting to see the Canal up close and personal is a once-in-a-lifetime experience, and sure as heck beats sailing the long way around. You don't have to have a boat to have your own canal experience, all it takes is a bit of travel and some luck and you can transit the canal FOR FREE!
Plus, Panama is a fascinating country to visit. While we would have liked to stay longer and sail to places like Bocas Del Toro, San Blas Islands, and Las Perlas, it just wasn't in the card for us!
Note: prices are based on our experience in 2016 and are subject to change.
Planning the Transit for Your Boat
Shelter Bay Marina
Shelter Bay Marina is definitely the hub of yachties doing the canal transit. It's a convenient place to get work done, pick up crew, and make your plans. It's also got quite the cruising network. We attended happy hours, domino games, movie nights, and went on walks with the pleasure of other cruisers for company. Use caution though, as many boats get "stuck" in Shelter Bay.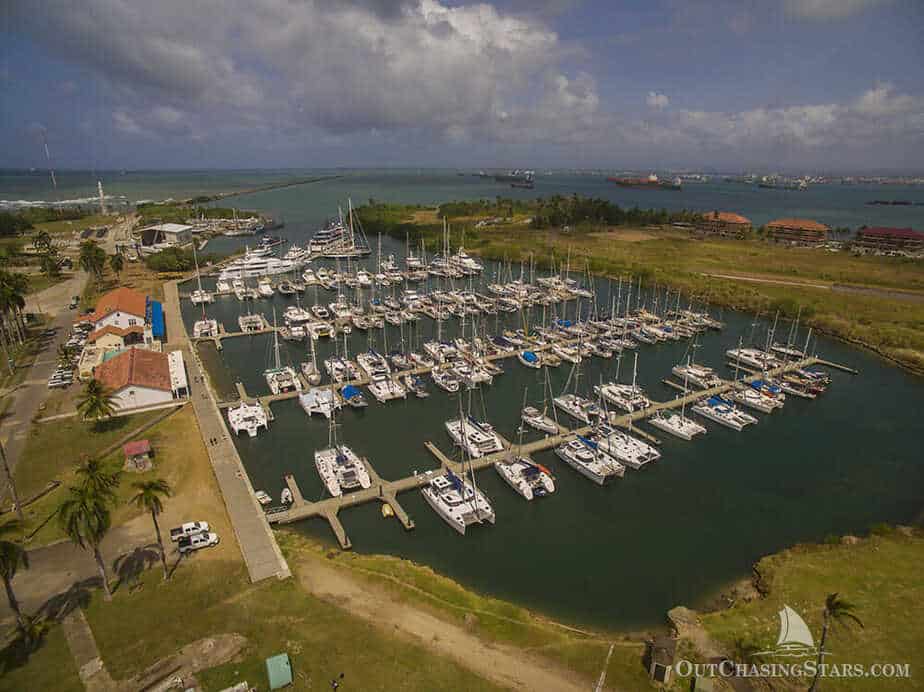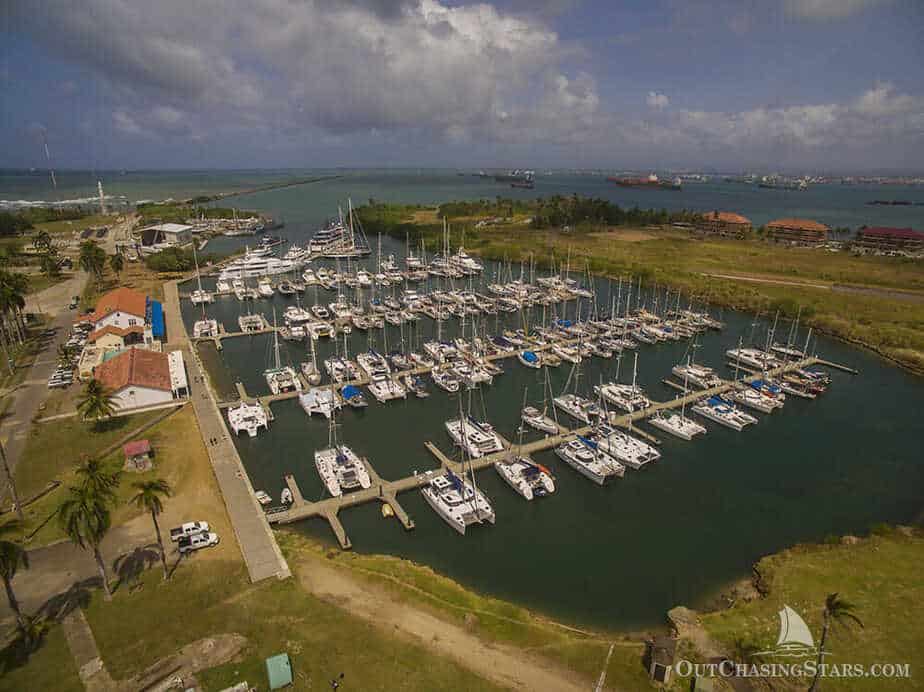 Agent
In Grenada we contacted several agents for Panama, and we decided on Roy Bravo. We kept in touch with Roy on our passage over to Panama, and he met us a few days after we arrived.
It is not required that you use an agent, but there are a lot of difficulties that the agent will help you with. For example, we didn't have to go into Colon to clear into the country, Roy took care of that for us. We also didn't have to post a bond, which saved us from spending I think $800, which we would get back in Panama City but might have to wait to receive it. Roy also saved us from a trip to the bank to post that bond. Also, Roy arranged our fumigation certificate, which is required to enter the Galapagos. Our friends on S/V Blanchette didn't use an agent, and it sounded a lot more complicated. Over all, we paid Roy $450 for the "Transit Agency Fee". The toll itself was $800, in addition to several other fees. It was great to work with Roy, we highly recommend him. You can reach him at roybravo67 at yahoo dot com.
We had hoped to meet with Roy, clear in, get measured, and then leave to spend some time in either the San Blas or the Chagres River. However, we decided to make a few trips to Panama City instead, so we kept the boat in Shelter Bay Marina. When we met with Roy, he walked us through the process, gave us advice, and scheduled the measurement.
Measurement
A few days later our admeasurer, Hiro, came. He went through all the paperwork with us for the canal, inspected the boat, and of course, measured. Starry Horizons came in at just over 45′, including the bow sprit. If you are over 50′ there is an additional fee.
There are four options for how a small boat can go through the canal:
Center solo: you are in the center of the canal behind/infront of a ship, and tied to the wall by four lines, one on each corner. This means you need four GOOD and ACTIVE linehandlers to manage your lines. This also means you might have to wait longer to transit, as you'd be going in a row all by yourself.
Against the wall: you are tied to the wall with two lines, with your fenders between you and the wall. In this case, you need two active linehandlers, but you would need your additional crew to manage fenders and the risk is greater of your boat being damaged against the wall.
Side tie: a boat (usually commercial) ties to the wall, and then one or two small boats stack up next to the tug. There's no active linehandling as your boat raises or lowers, the vessel tied to the wall handles it.
Rafted: two or three small boats tie up together in the center of the canal behind or in front of a ship. The two outside boats have two lines each going to the wall. This means you might need two active linehandlers, or none.
When you are filling out the paperwork with your admeasurer, they will ask you which options you are willing to do. We said all except for against the wall.
At this time of year, after your measurement the soonest you can transit is 3-4 days later. We opted to wait until the 9th so that all of our friends could make it for the transit. During the slow season you can transit the next day if you want.
Supplies and Crew
Each boat transiting the canal will have six persons onboard for the transit. There's the captain, the agent, and four linelandlers needed. If you are only double handed like us, you have a few options; have friends fly in to crew (for us, we easily found four friends to come, meaning we actually had an extra hand onboard), take on a linehandler for free (see below), or hire someone. You can hire a linehandler at $120 per person through your agent.
There is a really interesting article titled Shipwrecked on a Panama Canal Transit written by Carolyn Lambert. As always, don't come in at night or in a situation you are uncomfortable with relying on information from someone you don't trust 100%.
Fenders and lines are available through your agent as well. We went ahead and did this, as the thick, long nylon ropes are ideal for transiting and we didn't want to use our nice dock lines. The fenders provided are huge, as you will see in the photos. All the better to prevent damage. The rates were $120 for four lines and $120 for six large fenders. Some people use tires or rent through other means. Tires will leave big black marks on your boat though.
Going on Someone Else's Boat
Believe it or not, it's actually fairly easy to volunteer as crew on someone else's boat. Everyone needs to have four line handlers aboard, plus the captain and agent, so most boats need additional crew to go through the canal.
Most boats travel from east to west in general, and that stays true for the canal. Shelter Bay Marina has a few rooms for let, so you can fly into Panama City and travel down to Shelter Bay. We recommend taking an Uber – it's a long haul but fairly cheap. There is a train first thing in the morning to Colon, where you can then pick up a taxi to Shelter bay. Or, the cheapest route is to take a bus from Panama City to Colon and then a taxi to Shelter Bay.
Once you arrive in Shelter Bay, just as with any boat hitchiking, there are a few tips to find your boat. Walk the docks every day and talk to people. Post a flyer on the bulletin board. Attend events at the marina like the swap shops and happy hours. There is a cruisers net every morning and one of the sections is crew wanted or needed – there's almost always someone either looking to crew or looking for crew.
While we were in Shelter Bay we talked to several boats about crewing for them and eventually decided on our neighbors just down the dock, a boat named Blanchette. Dave and Stephanie are on a Leopard 44 with their two kids. A friend of theirs from back home in Canada, Taylar, was also flying in, rounding out our four deckhands.
We were very glad to transit with or friends first because it gave us a taste of what the transit would be like for us. And because our configuration ended up being different from Blanchette's, it was a slightly different experience.
Blanchette went through all the locks rafted up. That meant that two line handlers on each boat really had to be paying attention and properly paying out the lines.
While you are being a linehandler, you can expect to have a place to sleep during your one night on the transit, and you can expect to be feed over the two days.
Our Transit Through the Panama Canal
The day before our transit, Roy came by with our rented lines and fenders. We sent out a link to the webcams so that friends and family all over the world could watch our transit.
Our Crew
We had four friends fly in to join us for our transit. Hans, another Helia owner who we originally met in Miami flew in from Brazil. One of my best friends, Sara, flew in with her friends Trevor and David from New York. They were such troopers! Everyone was very easy going and self-entertaining. There was definitely a high excitement level on the boat, as everyone was just excited to be here and participating in such a momentous event.
Day 1
The day of the transit we departed Shelter Bay at 3:20 pm to head over to the Flatts Anchorage. While small boats can anchor here anytime, most chose not to due to safety concerns and lack of amenities. As soon as we anchored I started to get dinner ready. I cooked a chicken curry, and when our adviser, Carlos, arrived at 5:15, we all sat down to have dinner. Carlos has been an adviser for a long time, and he advised Honeymoon when they went through!
After dinner we waited for our large ship to come through the channel, and discussed our arrangements to get through. Our configuration and timing changed about 4 times! As soon as our ship passed we upped our anchor and headed to follow our buddy boat, Plane to Sea.
At the first lock, we spent quite a bit of time holding, waiting for the tanker to get settled. Then, one of the tugs for that boat tied up to the wall on their port side. Plane to Sea motored in and tied up to the tug, and then we tied up to Plane to Sea. There is a lot of discussion about who should go where. Generally, we have more maneuverability and horsepower than monohull sailboats, so that factors into the equation.
We were the last boat in, so as soon as we passed through the gates they started closing. We had to wait a little while for the water to start to rise, so we all just kind of hung out on deck. The best part about this configuration is that the tug does all the work adjusting their lines on the wall – once we were attached we didn't do a thing!
The Gatún locks are three locks, one after another. After the water went up, the ship in front started up and moved forward. Once they were secured in the next lock, we detached from Plane to Sea and moved backwards. Plane to Sea then detached from the tug, and moved back as well. It was a tight fit, but this allowed the tug to move forward and secure on the next lock, followed by Plane to Sea and then Starry Horizons.
After we went up three times, we detached for the last time and instead of moving back, we took off towards the anchorage. We anchored for the night just off of the small yacht club, where we were able to find wifi. After we anchored, Carlos was picked up by the pilot boat, and we all quickly went to sleep.
Day 2
On the 10th, we woke up at 7 am and got ready for our day with a big breakfast. Our adviser, Edgar, arrived at 8 am and immediately we took off. I made breakfast for him underway (sausage, eggs, and bread). It's a 28 mile motor to the next lock, so the rest of us settled in for the long haul by busting out the playing cards. When we transited with Blanchette, we saw several crocodiles, but unfortunately we didn't see any this time.
We arrived at the Pedro Miguel lock at about 11 am. It's just one lock, and we ended up waiting a long time for our buddy boats to catch up with us. Again, we had no idea what the arrangement was going to be until these boats arrived. For these next three locks, we ended up having a small cruise ship named Discovery against the wall. We tied up to them, and then another catamaran, a Lagoon 410 named Pavo Real, tied up to us. Once the ship was behind us, the water level dropped and then we detached and traveled the mile to the Mira Flores locks. These two locks have a visitors center and high quality web cam. At the visitor's center, people can watch the traffic coming and going through the canal.
If we were to do it again, it's a great idea to have your website or email address on the boat. That way, anyone on the visitor's center viewing area can send you pictures they take.
After dropping down twice, the gates opened up to the Pacific! It was a mile motor to Balboa Yacht Club, where Roy came out with the launch boat and picked up our fenders and lines. From there, we motored to the La Playita anchorage and settled down. We all took cold showers, toasted some sparkling wine, and got the drone out to take some pictures and video.
Flying A Drone in the Panama Canal
We asked Roy Bravo if we could fly our drone in the canal, and he said you have to get permission to fly it from your agent on the boat. Our first set of locks, Carlos said that we could fly the drone, but after a few minutes,security told us we had to bring it down. Edgar, our second agent, said we couldn't fly it in the lock but we could fly it in the Gatun Lakes.
Celebrate!
Yay! You made it! After our photo shoot we piled into the dinghy and went out on the town for a night in Panama City.
Mira Flores Visitor's Center in Panama City
On Friday all six of us took a taxi to the Mira Flores Visitor's Center. We walked through the small museum, watched the 10 minute, slightly-cheesy but informative video, and then watched the boats come and go through the locks. We actually had great timing – we saw our friends Lanny and Ginger on Swiftsure go through!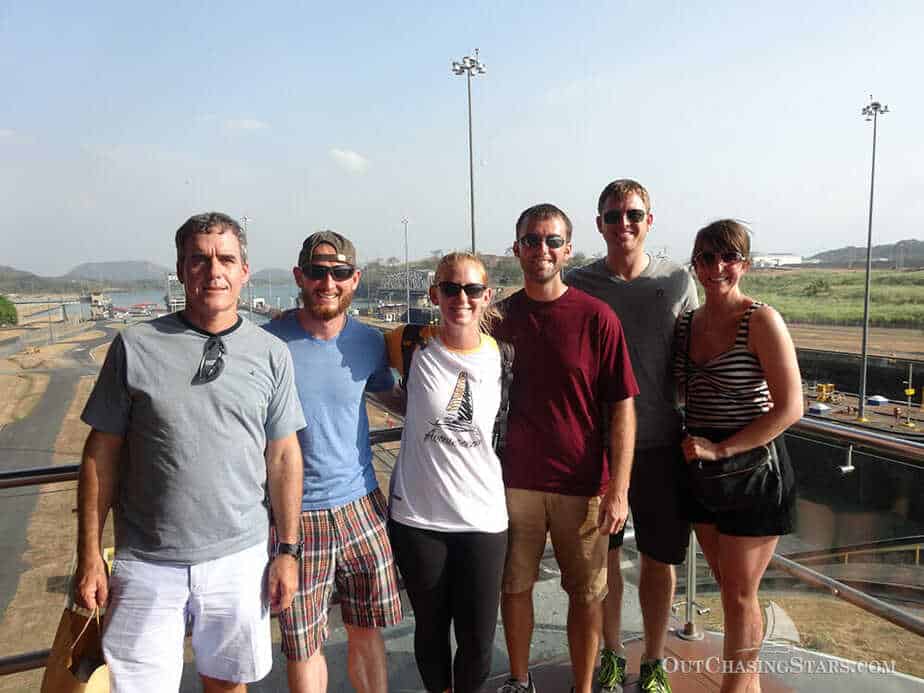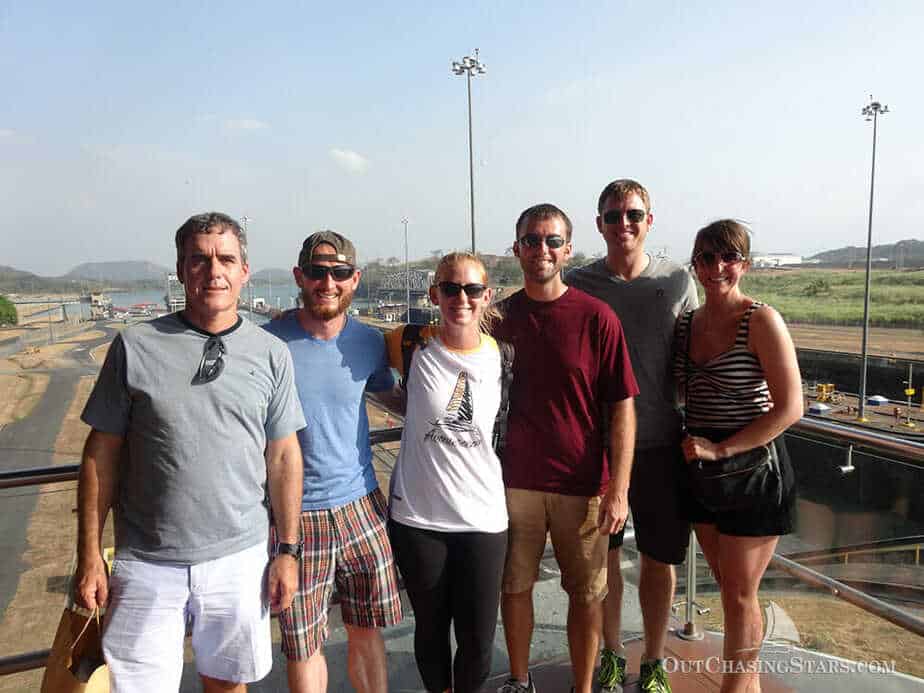 Watch the Video: Transitting the Panama Canal
Next Up
David and I are leaving the La Playita Anchorage to head towards Tabago Island, a short motor away. We need to clean the bottom of our hull and do other passage prep work. By the end of the week, we will be on our way to the Galapagos! We will spend less than 3 weeks there and then head towards French Polynesia.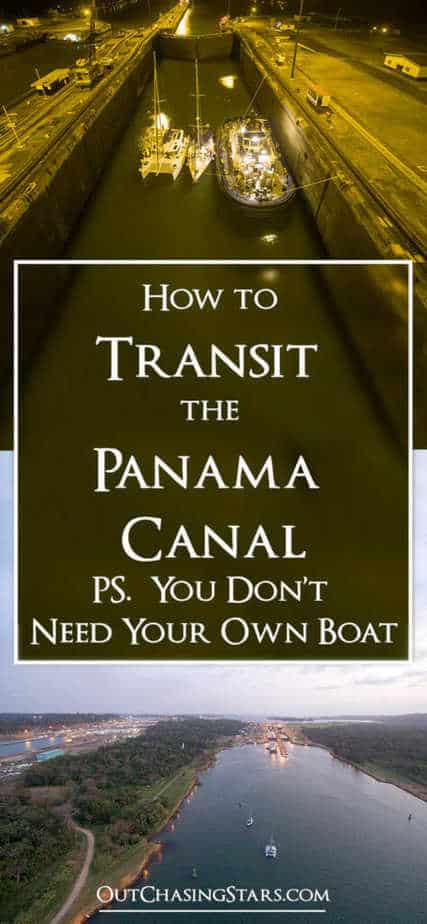 Social Share