We arrived in Saint Lucia at 3 pm on Saturday the 23rd, and David went off to clear in. Unfortunately this time we had to pay a larger fee for clearing in on the weekend – $100 EC.
We anchored in the bay, on the south side of the channel, near the Bay Gardens resort. Unfortunately, the water was very cloudy, so bad that we couldn't check the anchor. It became apparent to us that we also had a large rock interfering with our chain – bad enough to give us a sharp tug with an audible noise every once and a while. We decided Sunday morning to move over to the north side of the channel, off Gros Inlet. It ended up not being a great place either – loud music is placed Thursday through Sunday. Like, music loud enough it's as if we are playing music. No wonder boats are crowded into the very north side of the bay by the park.
There are two main dinghy docks we used; one is the marina dock and the other is the dock right at Tapas restaurant. At the Tapas dock, there's always some guys hanging out there. I think they "help" you tie up in exchange for tips. But they weren't pushy. Most of the time we didn't need help, but sometimes the dock is really crowded and they'll help you by pushing the other dinghys around. The dock is a short walk to the Bay Walk mall.
One really awesome thing about Rodney Bay is the cruising community. There is a net on channel 68, at 8:30 am Monday through Saturday. It's very well organized. The format was:
Weather
Security and safety
Arrivals and departures
Social events
Treasures of the bilge
Open forum
While it was a fairly quite net, there were people contributing a little bit, and we learned a lot about social events and local concerns of the cruisers – like safety and the noise.
Rodney Bay seems to be restaurant central. We were advised that Big Chef has the best steaks you can find in the Carib. We dressed up and headed over for a date night on Monday night. We started with drinks at Tapas – owned by the same people – were I had a delicious mango mojito. As we were sipping our drinks and using the Internet, we were approached by a gentleman who needed a ride to his boat on the mooring. Never one to turn down a deposit into the boat karma bank, we agreed, and thus we met Patrick, who generously bought us another round before David took him to his boat.
Dinner at Big Chef was fantastic – David had a filet with Roquefort and I had a ribeye. Even if you wanted to cook them at home, these nice cuts of beef are hard (if not impossible) to find in stores here.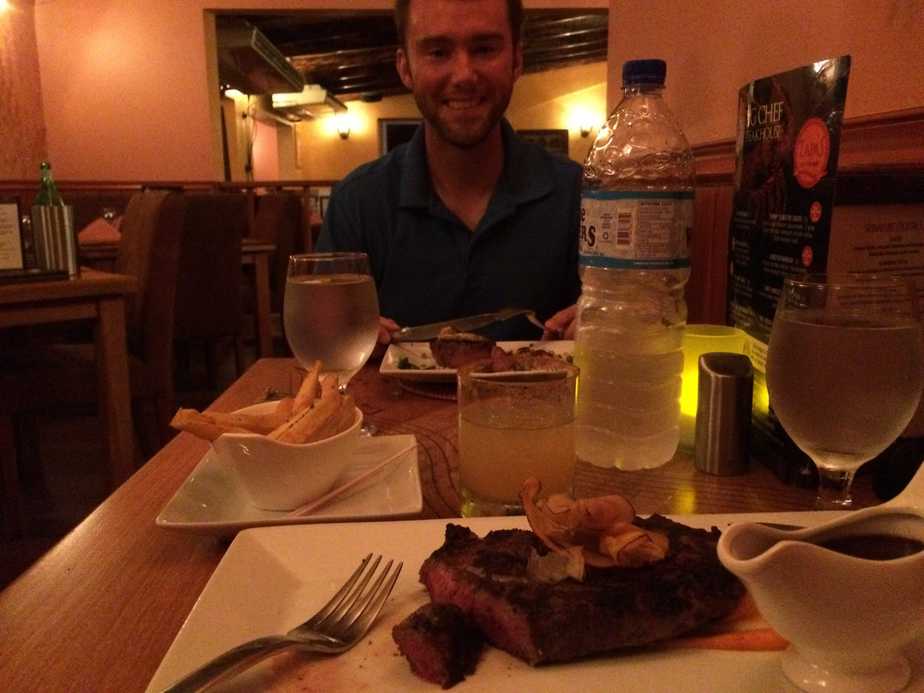 Tuesday morning I ran to the grocery store for one more big provisioning run. I also bought some fruit from Gregory, who comes by in his little boat every morning.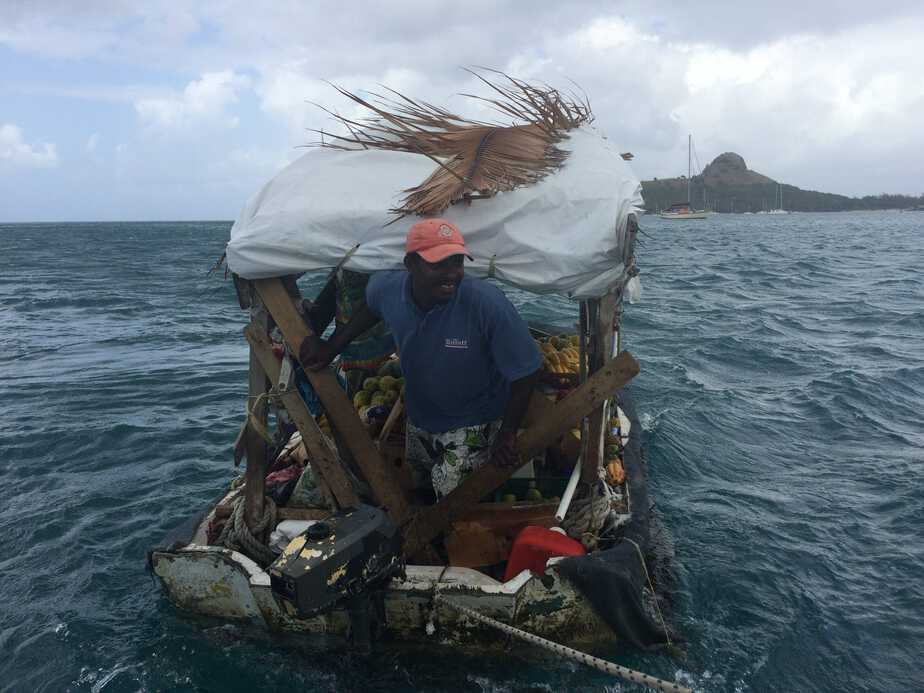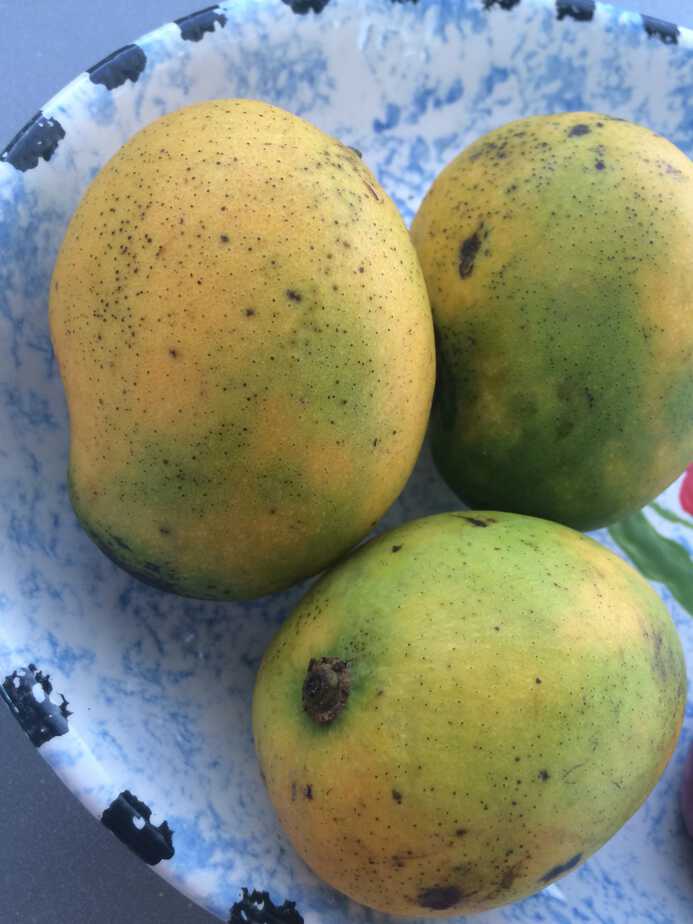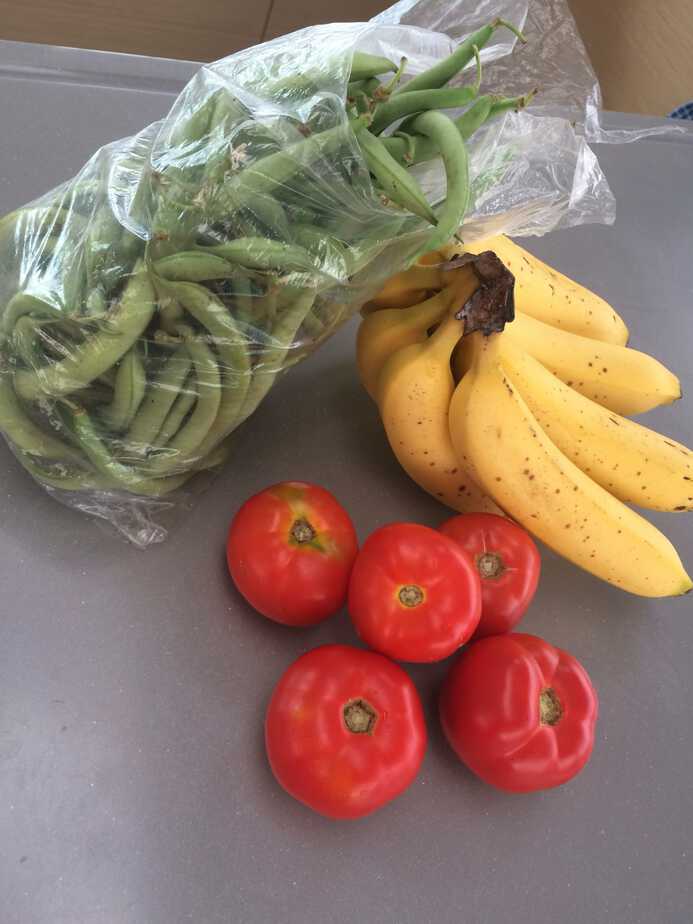 In the afternoon, I met my friend Madeline, who came in from the airport to the marina to come stay with us for 8 days. Madeline has been one of my best friends since kindergarten. She's been a whirl wind traveler for the past few weeks, and she flew to us from Dubai (via an overnight in Miami). Understandably, she was tired, so we had an early dinner and went to bed. Madeline also brought us quite a few things for the boat and personal items – including a DRONE!!
Madeline slept well….and until 10 am! We headed in and David dropped us for the ladies' luncheon. It was awesome! There were twenty five woman, most of them cruisers. We had drinks at the Bay Gardens Resort Bar, and then ate at Hi-Tide. While we didn't get to meet everyone, we met a few other ladies from the Kemah area, and talked to a lot of women who have been cruising for a long time. After lunch arrived, we did all take turns standing up and introducing ourselves.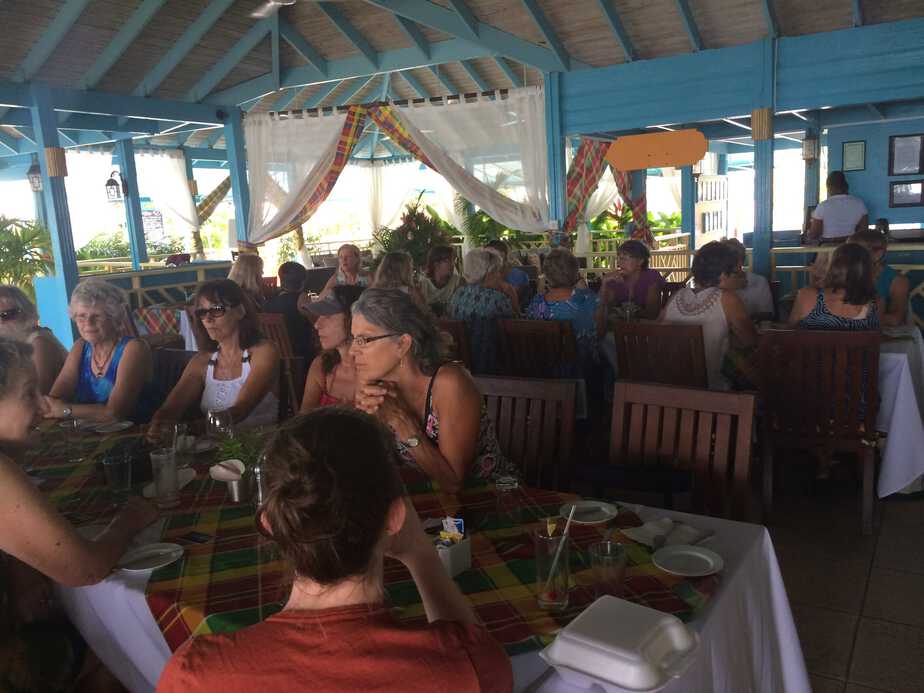 After lunch we were welcome to use the pool area – hot tub included. About a dozen ladies stayed to swim and chat. We went back and forth – hot tub until we sweated, then back to the cold pool. It was a nice break from saltwater swimming!
David picked us up at 4 pm to head back to the boat. We got rained on, and settled back into comfort on Starry Horizons.
We had planned on leaving Rodney Bay Thursday afternoon, but in the morning we discovered we had a problem with one of the pumps for our water maker. David made a trip to Island Water World, and while he made a small fix Madeline and I went to snorkel at the Pigeon Island Park. We were able to tie the dinghy up to the dock and we didn't have to pay to snorkel. The snorkeling was better than I thought it would be. The water where Starry Horizons was anchored was very cloudy, but on the very north side of the bay it was clear. We saw one moray, and a ton of small fish! Incredibly large schools of small silver fish flowed over the seabed and coral, weaving and spinning around us.
We had plans to meet one of Madeline's friends who lives in St Lucia, Sara, for lunch. We ran a quick errand in the marina (trash for $5 EC) and on our way, we were stopped by a couple, Eduardo and Raquel, and Renato from Ipanema. Eduardo and Raquel have been following our blog and watching our videos! They are considering a Helia and had chartered Ipanema for vacation. Always exciting to meet people who've been keeping up with us! And check out Ipanema's website, they are on an excellent adventure themselves.
We met Sara at Spice Of India, and it was delicious!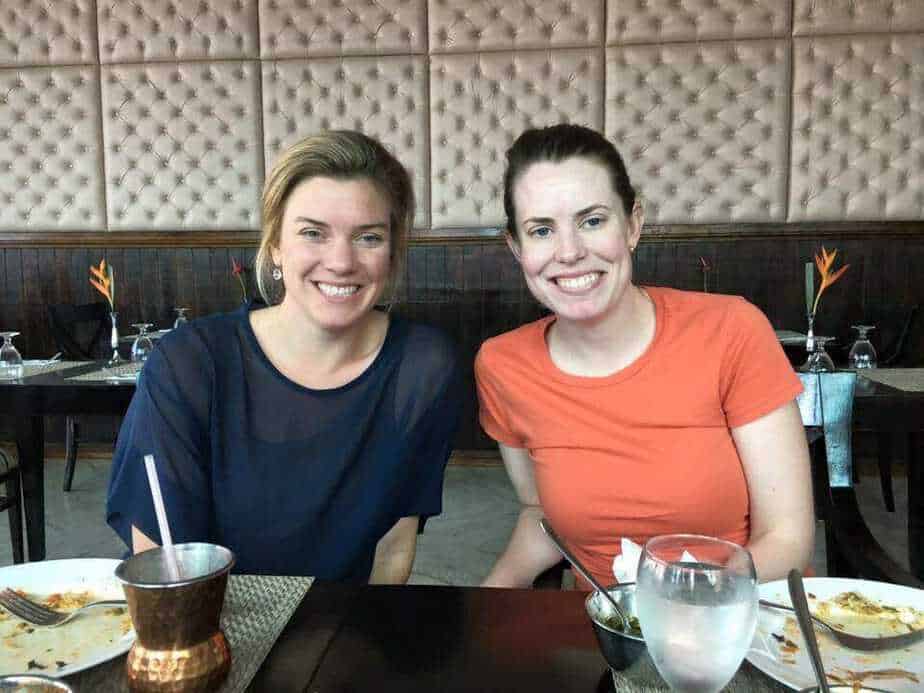 Back to the boat we were still working on a solution to the water maker so David and I made a trip back to the marina for wifi and shopping.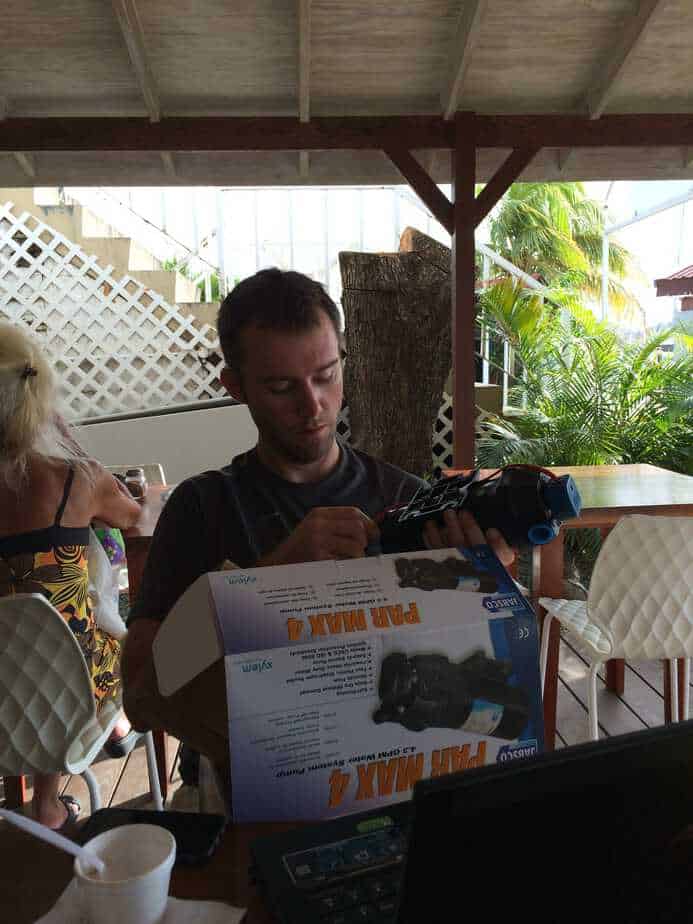 Once David had the parts we needed and it was clear we weren't going anywhere that night, Madeline and I settled in with dark & stormies to enjoy the sunset and the view while David worked on he water maker. Don't worry, he was rewarded with a beer when his work was done.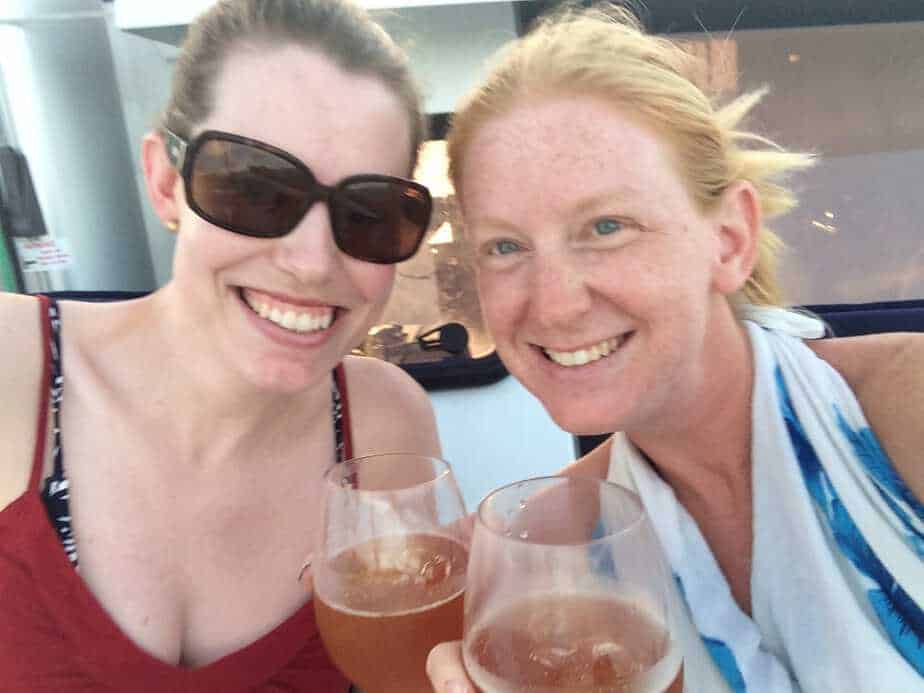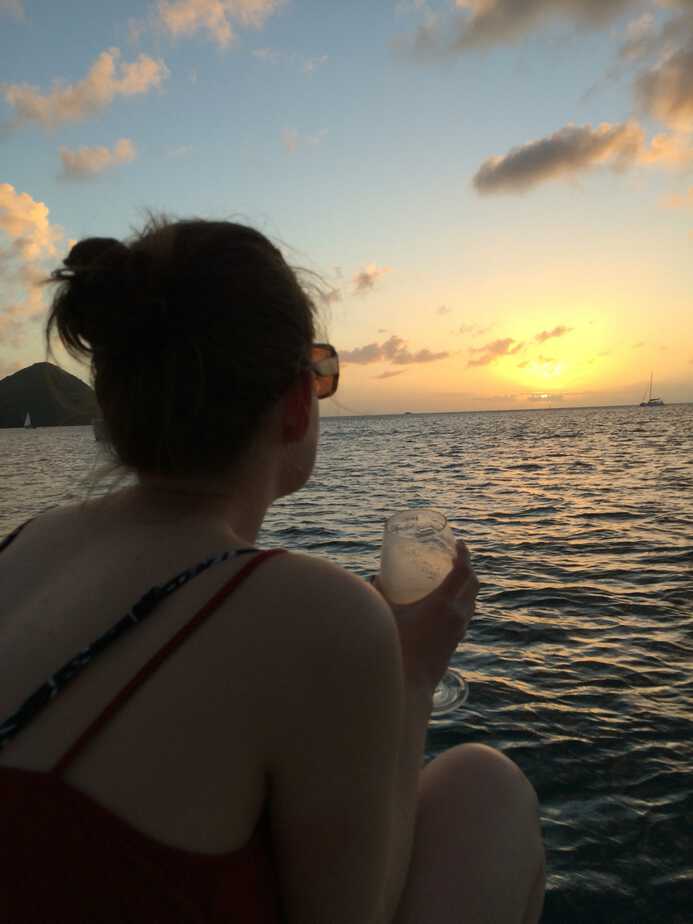 Friday we upped anchor and left for a sail down to Marigot Bay – 8 miles. We left just after a Gunboat – Flow. While we hadn't really gotten to know the crew, we admired the view of Flow – and caught up to her! Of course, that was only possible because she was motoring.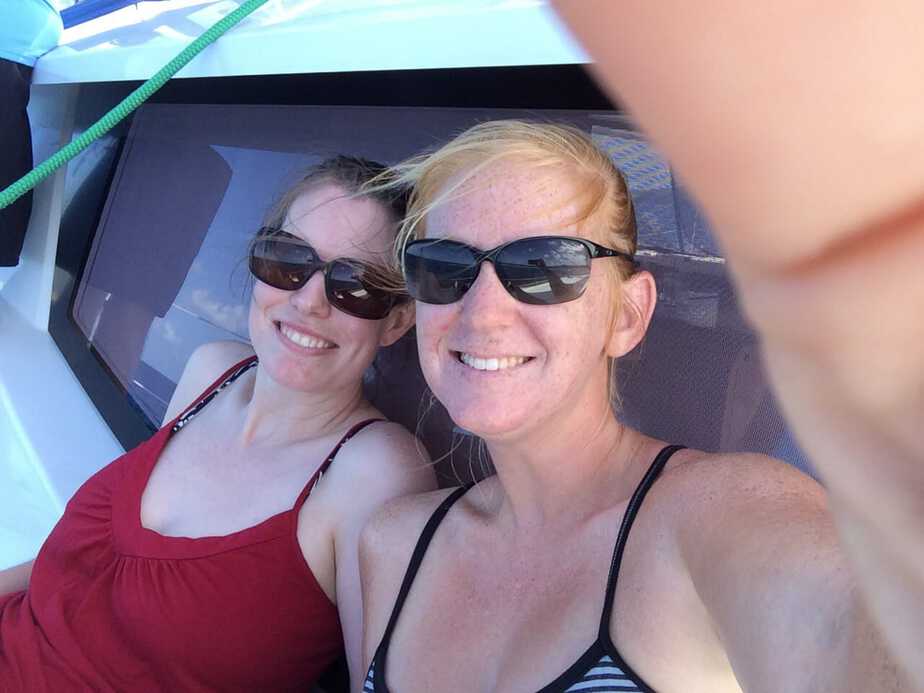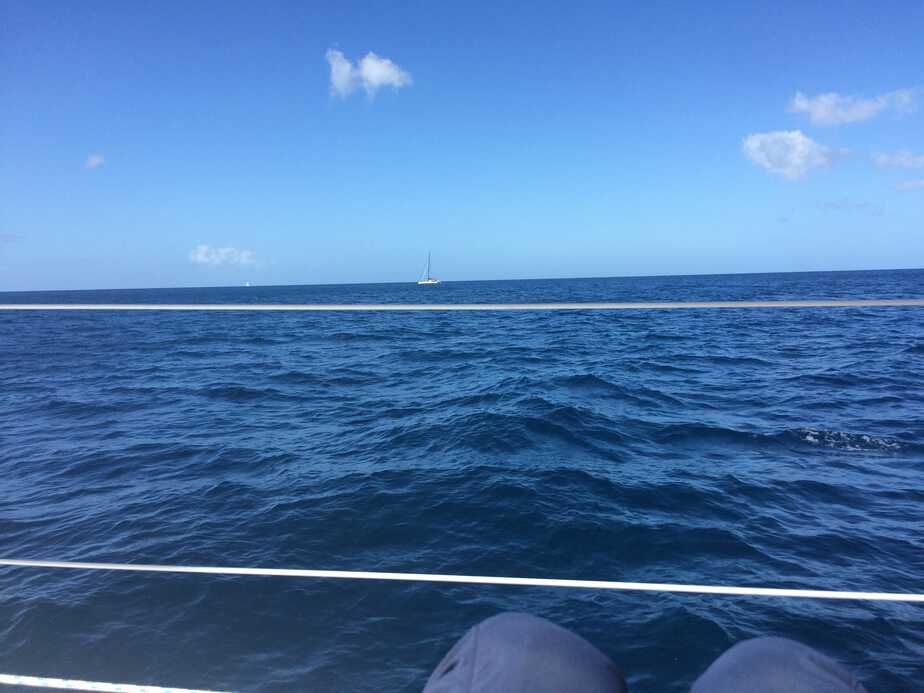 Thanks for reading!
Watch the Video: Cruising St Lucia
Social Share