We arrived from the Saints into Prince Rupert Bay at about 6 pm. The sun set shortly after we arrived. When we were about a mile out, we were approached by one of the PAYS guides.
About Dominica
This is the most we have seen of any one island in the Caribean. If you don't know much about Dominica, you should know it's tiny! Not just size, but it is the most undeveloped country in the Carib. Unfortunately, I think Dominica has to deal with a lot of issues within the country. We saw many buildings which were "donated" by larger countries (China, Japan, and Venezuela), apparently to gain votes for UN policy development. However, the infrastructure of Dominica is a real problem. Tropical storm Erika last year destroyed many bridges on the west coast and we encountered many washed out and damaged roads. The lack of development means that getting running water and electricity is difficult. To top it off, freedom of speech and women's equality lag behind most Caribbean countries.
BUT, it's a beautiful country and we found it an excellent home for two weeks. It's not well touristed, which we love, and has a lot of rugged beauty. We did see a few cruise ships making the most of their one day in Dominica, including some sailing cruise ships.
Portsmouth Area Yacht Services (PAYS)
Dominica used to have a really bad reputation amung cruisers for security and for the "boat boys" – men in small boats that would provide services. It was very disorganized, but a few years ago they started an organization called PAYS, or Portsmouth Area Yacht Services (or Securities). They have arranged for security and patrols in the anchorage so crime has dropped significantly.
Unless you have a specific guy waiting for you, the PAYS guys are first-come-first-serve. Pretty much every visiting yacht gets one. Ours was Titus from Lawrence of Arabia Yacht Services. The guides welcome you to Dominica and help you with any thing you need.
Clearing in to Dominica
Since we got into Portsmouth so late, we missed the regular hours for customs, so we had dinner and planned to check in the next morning. In retrospect, since it was Friday night, we were paying for special hours regardless of going Friday night or Saturday morning, so maybe we should have just gone that night. And, FYI, clearing in on a Saturday morning only cost us $13 EC. David took LD to customs and unfortunately it took him quite a long time since we were arriving with Sarah but leaving without her.
Portsmouth Market
When he got back Sarah and I took a quick trip to the Saturday morning market. We saw all kinds of produce (christophines, rosellas, plantains, etc) and one boat was offloading its fishing catch. The catch was separated; lobster and Lionfish in the front for the restaurants, and then everything else ready to be sold to the locals at the dock. The everything else side was a wild hodgepodge of fish!
Saying Goodbye to Sarah
Titus arranged for a taxi for Sarah to go to the airport. She left at 11 for a 2:30 flight. She said the drive was very scenic and like a tour.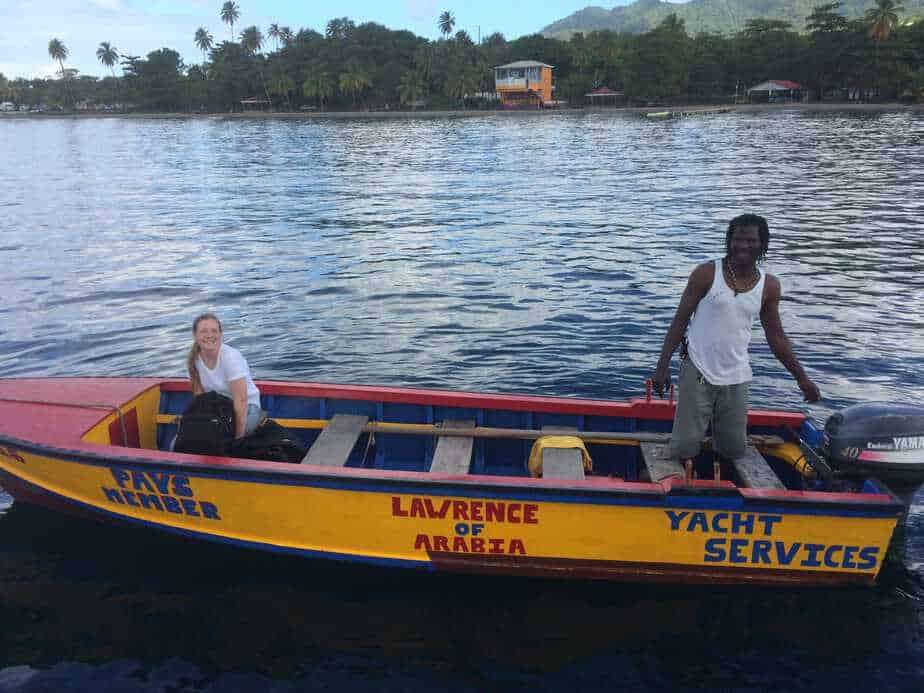 Internet in Dominica
In the meantime, I was trying to get internet to work out on the boat. The week of HotHotHotSpot that we paid for was not working at all. I went to the Purple Turtle bar to try to sort it out. The Purple Turtle has amazing wifi – I was able to make several calls to family and catch up on all the internets! By the end of the day, HotHotHot was working, and with our Bad Boy Wifi extender we could get the Purple Turtle wifi on the boat, and then PAYS offers a wifi too. None of them are fast on the boat, so we ended up paying for the Winet wifi (2.5 Mb/s) but if we really need fast internet we would go to Purple Turtle again (12 Mb/s).
The Macario Advantage
During the day we met Clair and Magoe, from a boat named Macario. We were actually familiar with Macario, a Leopard 46 that is from Waterford right near home. We had seen the boat at the dock for two years while the owners were living in Malaysia, but now Clair and Magoe live aboard and have started a nonprofit for social initiatives in Dominica. They kindly invited us over for drinks that night, and we enjoyed the view of Starry Horizons from Macario.
Sunday was a quieter day for us. After having had guests on the boat for three straight weeks we were ready for quiet! David and I read, napped, and David even got a boat project done – fixing our door lock.
Indian River Tour
We had arranged with Titus to take the Indian River Tour. This is the main attraction here in Portsmouth. It is a national park, so you have to have a certified guide. Our guide's name was Marcus. He was extremely knowledgeable about the flora and fauna. The tour was a one-mile row ending at the Bush Bar for a drink and then back down. It's a beautiful jungle. The tour was $5USD per person for the park fee and then $20 USD to Marcus, plus we tipped him.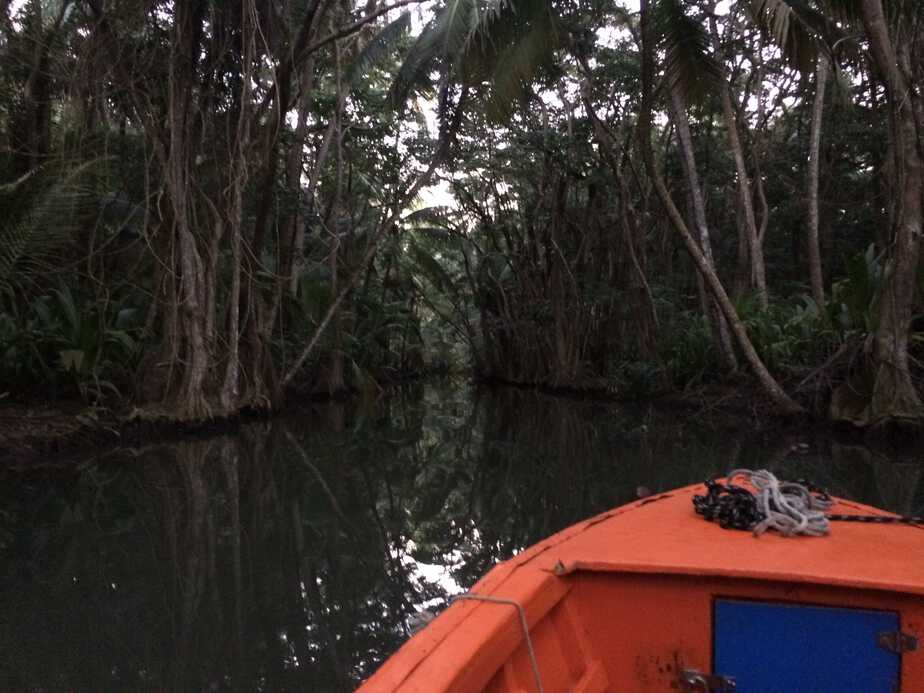 Weekly PAYS BBQ
That night, it was the PAYS BBQ. This is one of their big fundraisers, which they do every Sunday night. There is a DJ, and for $20 USD each it's unlimited rum punch and juice, and a buffet with mahi mahi, chicken, salad, and rice. It seemed like all the cruisers in the anchorage were there – probably 100 people, plus some locals and most of the guides (Titus and Marcus included).
Helping Out a Yacht
Monday I split off for a bit. As I was heading to the dock, there was a guy trying to flag down (I think) one of the PAYS guys for a ride back to his boat. I asked if he needed a ride (I'm always down for a deposit into the boat karma bank). He accepted and I turned off to find his boat. Turns out he was on a very large and beautiful monohull way at the edge of the anchorage.
I am a little embarrassed by what happened next. The rest of the crew was coming to the rail to talk to me and their accents were so thick. I did get that they invited me up for a beer, which I waved off, and that the owner was ashore so essentially it was crew playtime on the boat. Embarrassed by my inability to understand their accents, I shrugged it all off and waved goodbye.
Looking back, I really regret that I shied away from an opportunity to make new friends. I always have a hard time with accents, and it's especially bad when you throw in talking to someone on the VHF. David understands things so much better. However, I definitely don't want to be someone who only socializes with Americans or native English speakers. Plus, I so wanted to try to rope swing they had set up off the stern of the boat! Unfortunately, I didn't get the name of the boat and they left the next morning. Oh well, a missed opportunity.
Farm Hike
Back to my scheduled plans. There's a short farm hike that goes from the PAYS building to up the hill. The hike itself was on a dirt road with not a lot of shade, but then the view at the farm was obstructed by vegetation.
Back down at the beach I stopped by the Purple Turtle to make some phone calls to catch up with friends, then headed back to Starry Horizons. The whole day was beautifully clear, and we had a stunning sunset.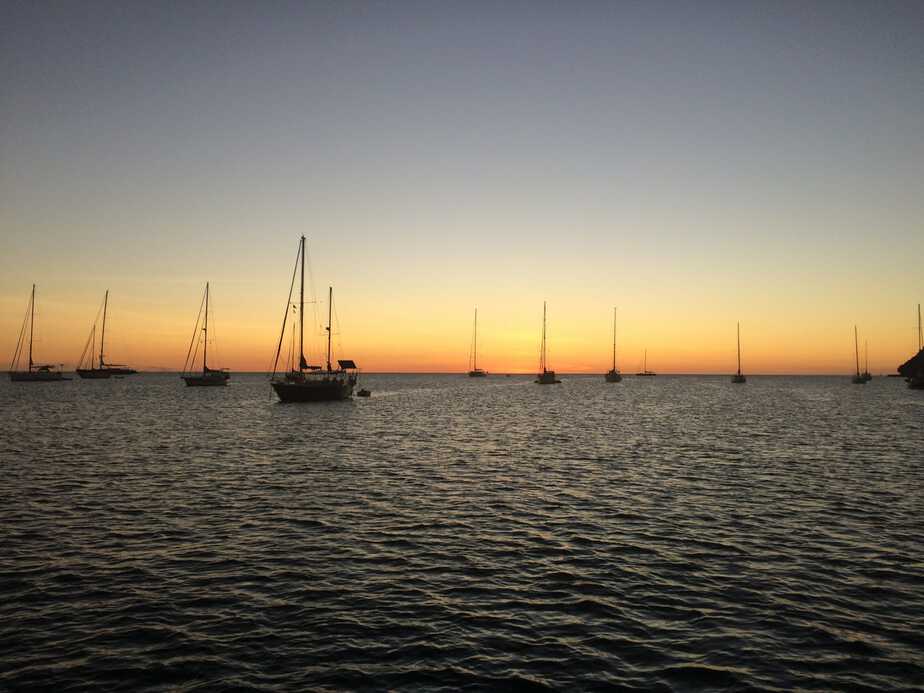 Tuesday was gray all day. I relaxed and started (and finished) a new book. David retensioning the cap shroud in our rigging.
Island Tour
Wednesday we arranged through Titus a tour around the island. We were picked up at 8:30 and met our tour guide, Dylan. We were in the van with four other people, two French-Canadian cruisers and a couple in a charter, a German woman, and man from the east coast of Africa. Everyone except us spoke French and the man from Africa didn't speak much English, so Dylan did the tour bilingually.
We headed north and then east in the tour, making our way around to the east coast of the island. We got to see some spectacular views of the Atlantic Ocean, saw the Red Rocks, which were like a little patch of Mars on earth, walked through an abandoned sugar mill, drove through the Caribe Indian Reserve, drive past black sand beaches, and then swam in the Emerald Pool. To top it all off, early in the tour Dylan would stop along the road and pick stuff for us; Job's Beads, bay leaves, cinnamon bark, citronella leaves and more. He also provided us with snacks; local bananas and grapefruit. The Indian Reserve was disappointing, we hardly saw any of the native Caribs and the reserve is very modern (and by modern I mean houses that are the standard in Domincia, but sub-standard in the US). The Emerald Pool was my favorite; the water was cool and refreshing. We also stopped for lunch at The Island View to sample some local cuisine. We didn't get back to the boat until 7 pm!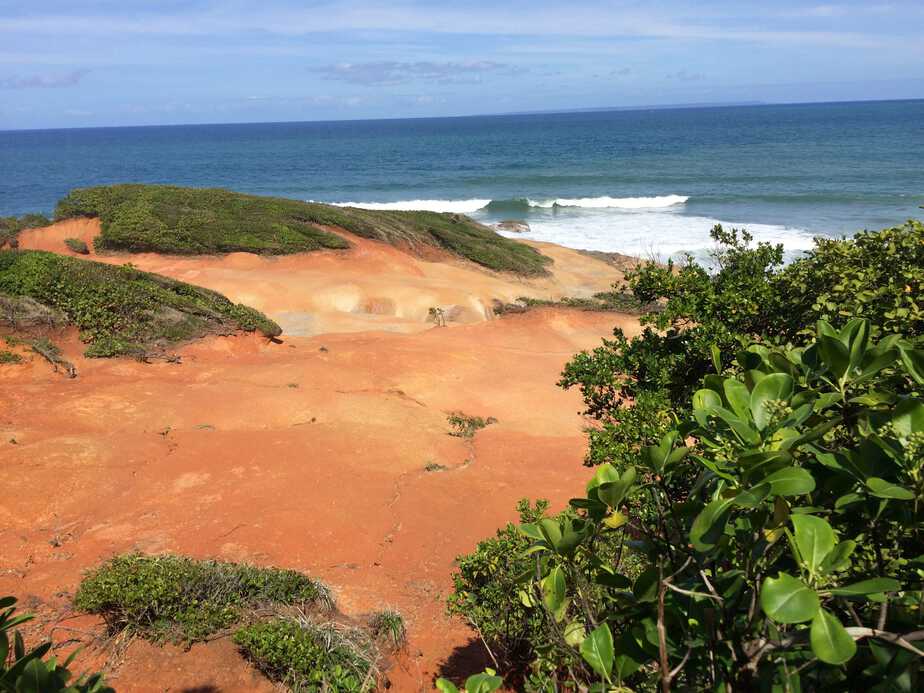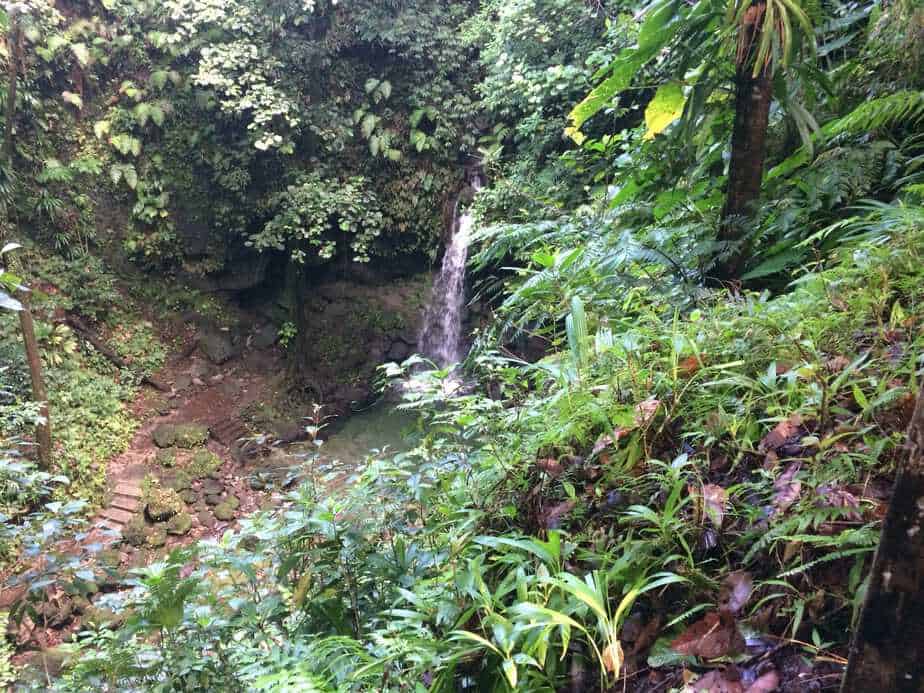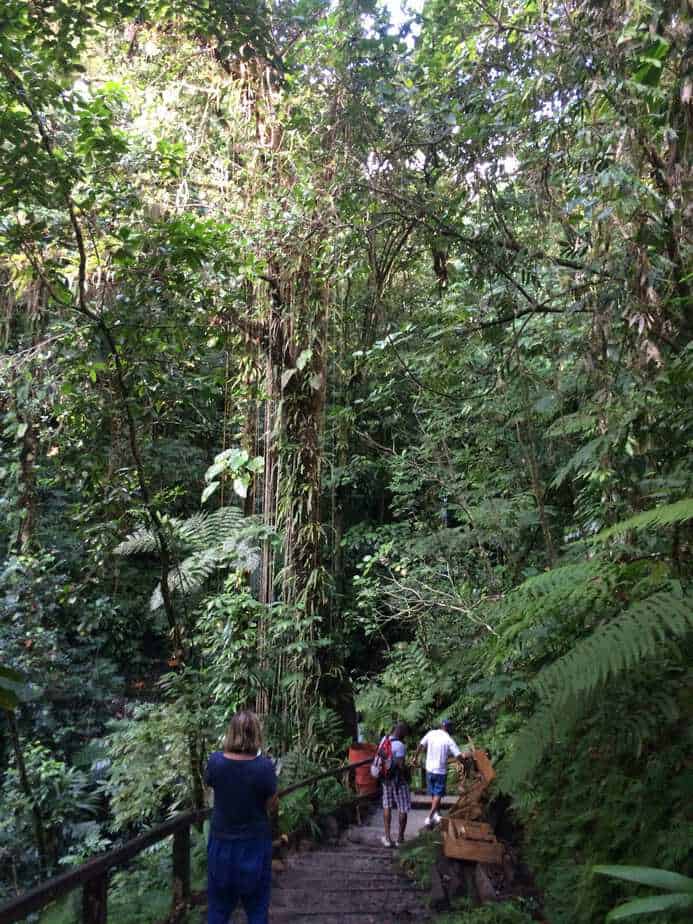 Bus to Picard for Provisioning
After cleaning up the mess, David dropped me off at the fishing dock for a chance to experience more of Portsmouth and do some shopping. I walked from the fishing dock south of town. I walked to the bus stop and then turned around. In retrospect, I wouldn't walk that far again. It was recommended to us to take a bus to Picard, but the recommending person was an older male. Walking through as a woman in her 30s was quite a different experience. The bus drives were very aggressive and even a bit lewd. If I wanted to go to Picard, now I know to arrange something through Titus.
The appeal of Picard is the larger grocery store (called IGA) and the university, which attracts international students and therefore is a bit more modernized. In fact, we drove past the college on the bus tour, and it's a beautiful new building. In Portsmouth, I was able to find enough food to last us 8 more meals. There is a store called Tonge Meat Market, to purchase meats (chicken, rabbit, goat, pigs feet, and cows liver). Posse Bakery had sliced bread, cupcakes and meat pies. There are many small shops with dry goods, mostly canned food. David's cereal options were pretty limited; the most popular items seem to be Wheatabix and corn flakes. Produce is easy, at the market you can find plenty of fruits and vegetables. Passion fruit is particularly prolific right now. There is also the fish market. I purchased some Mahi Mahi ($8 EC/lb) and albacore tuna ($6 EC/lb). They charged an extra dollar for filleting. ($2.67EC = $1 USD).
We Get Recognized
While walking back to get picked up, I ran into Magoe, and we talked shopping tips. Then, I ran into a couple on the beach, Geoff and Belinda. They knew me from the blog! I invited them over for sundowners that night. They are Australians here cruising with Allan as kind of a test run to see how they like the lifestyle before buying their own boat. In the afternoon I did yoga and cleaned up around here before Allan, Geoff, and Belinda came over. They very generously brought beers and cheese and crackers. We chatted about the Helia and videography.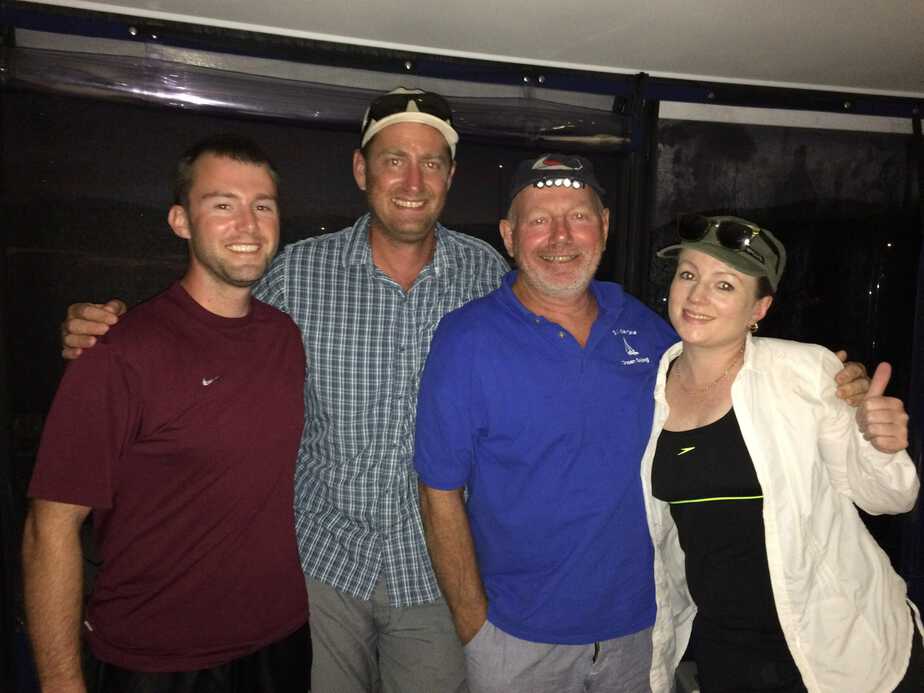 Sorrel Juice
I served Sorrel juice, which is a local drink made from sorrel buds, also known as rosellas or wild hibiscus. I had bought sorrels at the market on Saturday. It was easy to make; boil with some spices (I used ginger) then strain and sweeten to taste.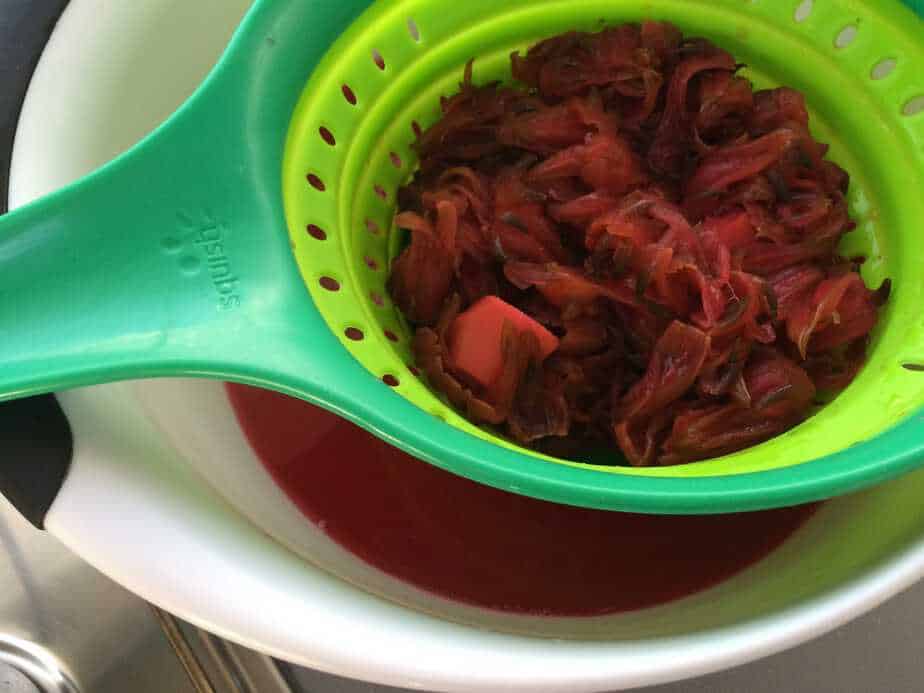 Friday David fixed our head, while I got to read and clean. Geoff, unnoticed by us, took his drone out and snapped some footage of Starry Horizons!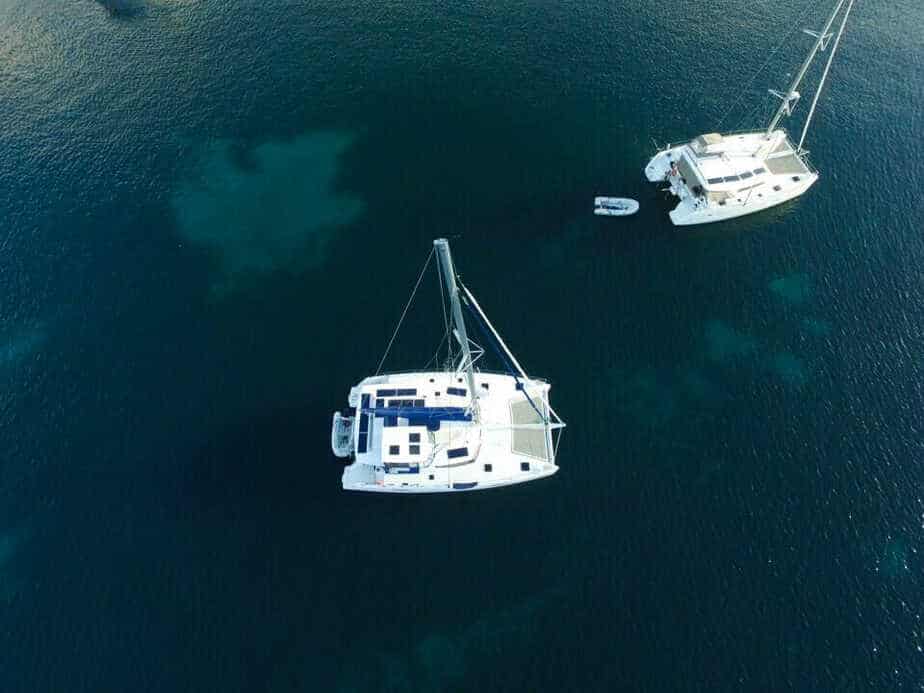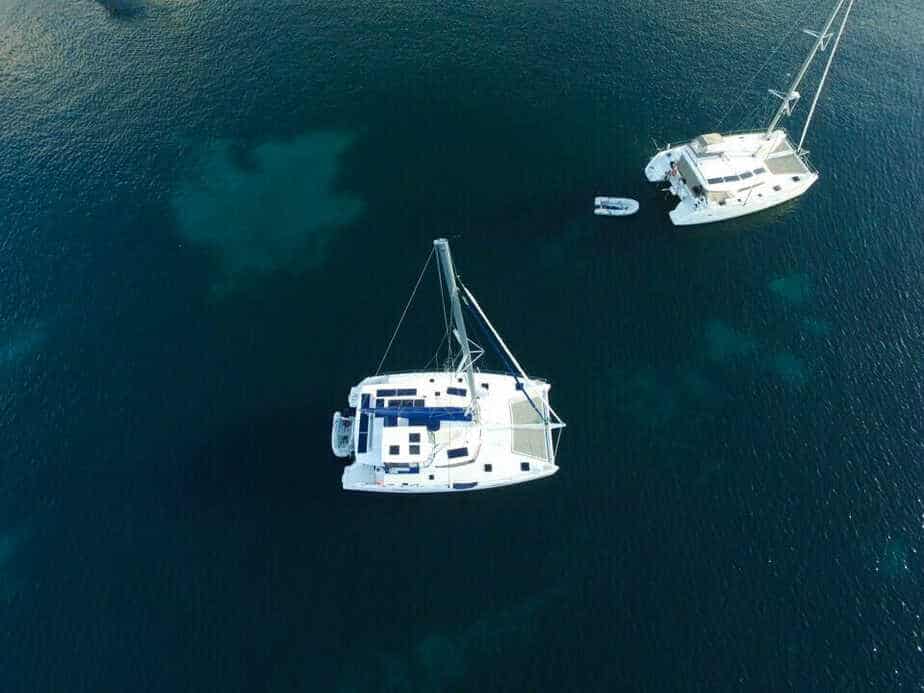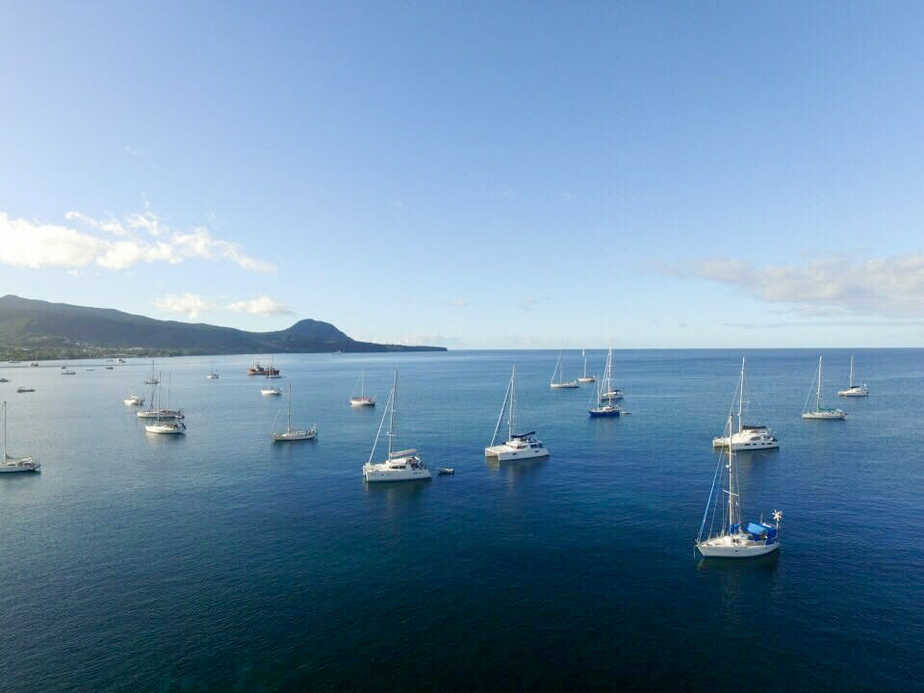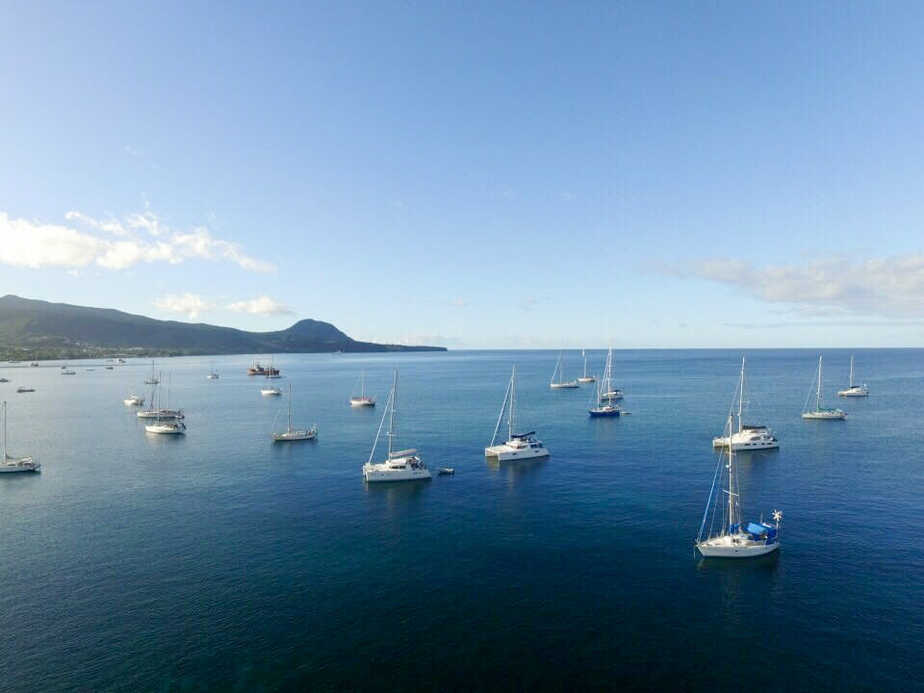 Next thing we know it's Saturday morning again and we've been here a week! We don't have any plans to leave yet, since we have until the 26th to get to St Lucia (90 miles away) and we are enjoying fast wifi and quiet time. The sunsets have been exceptional, and the night times have too. Sometimes it is very still, and some nights there is a small sailing cruise ship in port, all lit up!
Dominica Cruising Guide
Out Chasing Stars is a participant in the Amazon Services LLC Associates Program, an affiliate advertising program designed to provide a means for sites to earn advertising fees by advertising and linking to amazon.com
Watch the Video: Dominica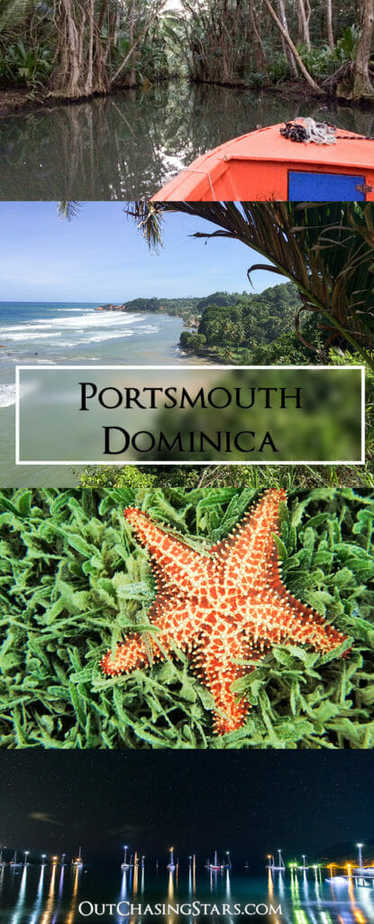 Social Share