THIS POST MAY CONTAIN AFFILIATE LINKS. PLEASE READ OUR DISCLOSURE FOR MORE INFO.
We sailed our boat up from Halifax through the St Peter's lock and the Bras d'Or lakes before arriving in Baddeck. Our plan was to get out and see some of Canada's scenic views – from a car and our tent by driving the Cabot Trail!
Flying in
Flying into Sydney (YQY) is a little easier than starting in Baddeck. It's only a 40 minute drive to the trail and there are a few car rental facilities in Sydney.
Renting a Car
On Tuesday the 11th we were able to pick up our rental car. That sounds easier than it is, seeing as how there is no rental car company in Baddeck. However, a week prior I had called the Avis in North Sydney to inquire and they said that they may have a car in Baddeck in the time frame I'm looking for. I told them I was really flexible with the dates – if you have a car there, call me. Otherwise we would have had to get to North Sydney, which is at least an hour away, with the only possibility being a twice daily bus or a very expensive taxi.
So why rent a car in the first place? The Cabot Trail is a loop around the coast of Cape Breton Island. Hypothetically we could travel via our boat, but there aren't many popular cruising grounds in the trail, and in fact, there aren't many marinas and definitely no protected anchorages. Our cruising guides have very little to say about many of the areas along the Cabot Trail.
In addition, this is a beautiful scenic area, and David and I have never been camping together. As we sorted through our worldly possessions prior to moving aboard, we found we had three tents – three! – so we sold two and kept one, along with the rest of the items needed for basic camping. The Cabot Trail would give us an opportunity to test our gear out.
So we picked up our car from Avis' Baddeck area representative (definitely not a full time job) and dubbed our car Fornax the Ford. After loading up with our supplies for the trip, which included a grocery trip, off we went!
Night 1 – Chéticamp Campground
We got a late start Tuesday, so we headed straight on the Cabot Trail to the first camp to check in. We were staying at the Chéticamp Campground in the Highlands National Park, which is just north of the entrance to the park in the south west side. The campsite was a drive in, with about 100 spaces.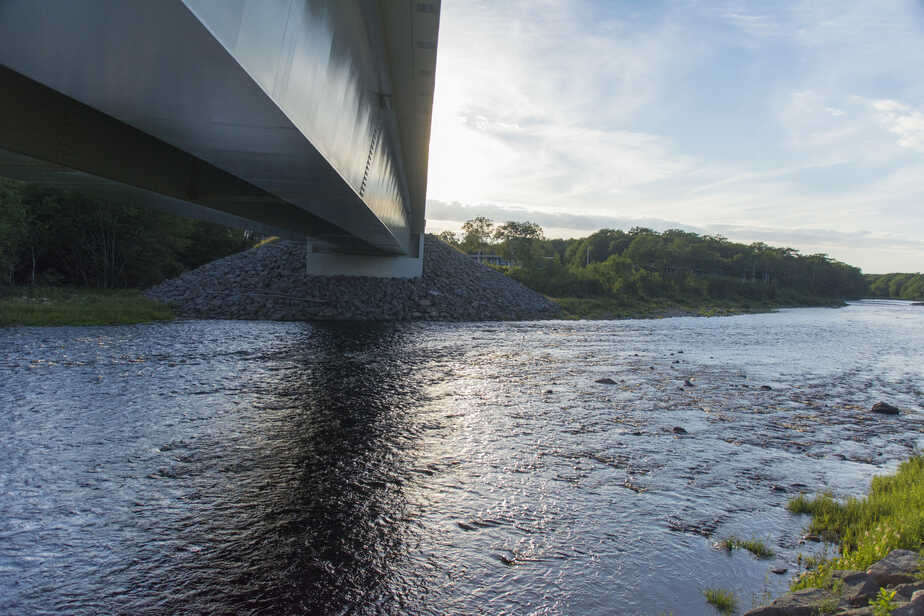 For food, we kept it very basic with sandwiches and other non perishable goods – David had pop tarts and I had homemade granola for breakfast. However, we spared no expense on dessert – s'mores! That meant we had to buy firewood and actually start a fire. Let's just say we need some practice in that department.
Day 1
Wednesday we drove the small trip back to Chéticamp proper, to stop at the Cape Breton Photography Gallery and St Peters church. Both were nice, but nothing to write home about.
In the afternoon we went to the Skyline Trail, a beautiful hike up the hills to an overlook. The area is home to moose, although unfortunately we didn't see any. The very top of the hole was EXTREMELY windy. The view stretched for miles out over the ocean, and thankfully it was fairly clear at the time.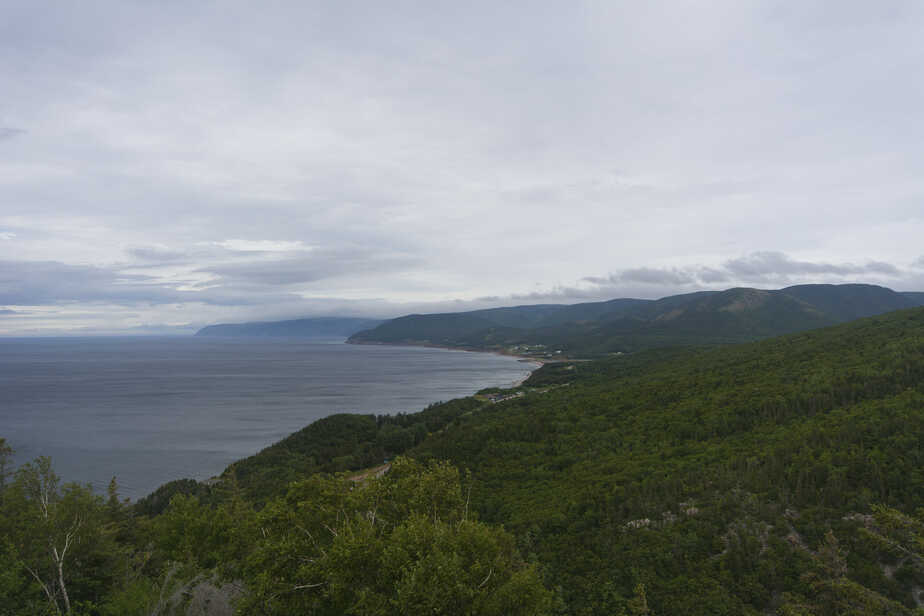 Our last stop of the day was the Whale Interpretation Center, in Pleasant Bay. Very informative stop with a lot of information about whales in general, but specific to this region as well.
Night 2 – Wilderness Camping on Pollett's Cove Trail
Our campsite for the night was not a campground. We were going wilderness camping on the Cabot Trail! I'd read about how the Canadian government has various levels of wild properties, and although wilderness areas have no facilities, camping is allowed on them. Then I found a few blogs and reviews on hiking sites about the Pollett's Cove trail, a hike north bound from Red River on the western coast. We drove this tiny dirt road to the trail head, passing a Buddhist monastery and shrine along the way, and set out to find a spot to camp. While the trail goes for 7 km, we barely went a quarter of a mile before finding our site. There was obvious signs of previous campers being here, so we pitched our tent and enjoyed the view. In fact, I set up my chair just off the edge of the cliff and watched the sea birds and seals hunt.
Day 2 on the Cabot Trail
Sadly the night was rainy and overcast, so we didn't get to see the meteor shower. Thursday we packed up and headed on our way. We stopped at MacIntosh Brook, Mary Ann Falls, and Warren Lake. The last two were places we wish we'd brought a bathing suit!
Night 3 – Broad Cove Campground
Our last night was at the Broad Cove campground, another drive in site, this time with 200 campsites. One can follow the trails to an Atlantic Ocean beach, and freshwater brook. The view was beautiful.
Returning to Baddeck
Friday morning we returned to Baddeck, checked on Starry Horizons and grocery shopped before we returned the car. We were very relieved that Starry Horizons was ok – we were nervous to be leaving her all alone on the hook for three days. Fortunately the people at Baddeck Marine were very patient with my daily calls, assuring me that Starry Horizons was fine.
Watch the Video: 6 Weeks Cruising Nova Scotia
Map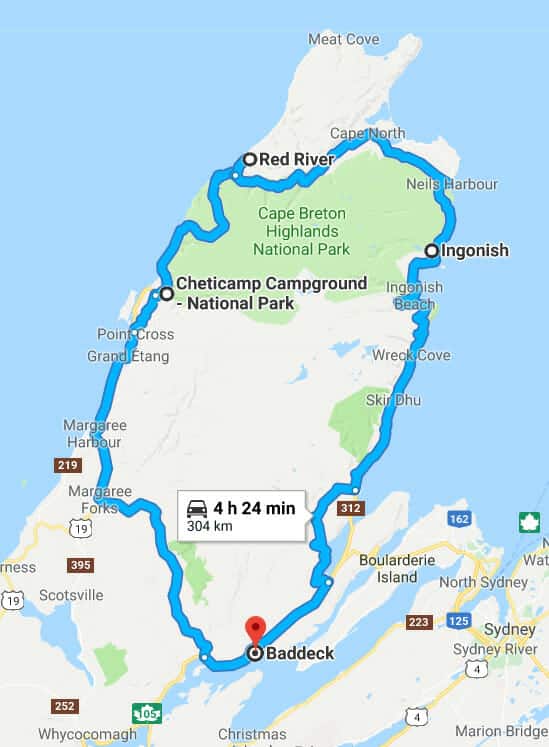 Pin it!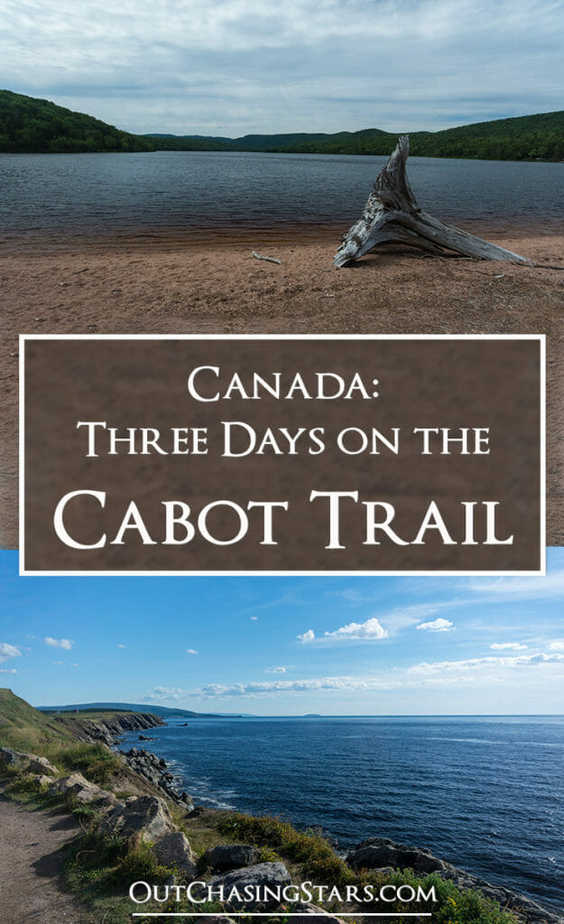 More Resources for the Cabot Trail
Social Share