THIS POST MAY CONTAIN AFFILIATE LINKS. PLEASE READ OUR DISCLOSURE FOR MORE INFO.
When deciding where to go for hurricane season 2015, we opted for an unusual solution: head up north to the Maritimes of Canada. Cruising Nova Scotia ended up being one of the highlights of our cruising career so far. Forgiving the cold weather, Nova Scotia is a relatively untouched cruising destination, with few boats and beautiful sceneries.
Six-Weeks of Cruising Nova Scotia
Sailing from the Bahamas to Nova Scotia
Leaving from Marsh Harbour, Bahamas, we covered 1431 nautical miles in almost exactly 9 days, averaging over 6.625 knots. We experienced thick fog, heavy rain showers, and some rough seas.
We caught our beautiful tuna and had a school of about a dozen common dolphins join us on the bow. The tuna was an Albacore, so not a dark red meat like the bluefin or ahi, but still delicious meat. After processing, we have about 10 lbs of meat. I pan seared some steaks yesterday for dinner and they were very good!
Thomas was such a trooper during the trip. Unfortunately, he left the day after we arrived, flying back home.
Arriving by Boat and Clearing into RNSYS
We arrived Wednesday to the Royal Nova Scotia Yacht Squadron, got cleared in (C&I came and did a very thorough check of our boat) and checked the internet. Our dock neighbors immediately welcomed us. People offered us rides or even to lend us their car if we needed one. Thankfully, someone offered us a ride to the bank to get some Canadian dollars (we are very sad that no one around here seems to call them loonies). Then we took off for dinner to the North End of Halifax and had some good pizza at Salvatore's Pizzaiolo Trattoria. From the RNSYS, it's about a $20 CAD cab ride. It was nice to go out and have some fun on Thomas' last night with us.
Tidying Up After 9 Days at Sea
Thursday morning we relaxed on the boat before sending Thomas off after lunch. David got to work giving Starry Horizon's port side a good scrubbing. The docks here are floating and extremely low to the water. So low, that our fenders sit in the water to protect us. Not so good for our fenders, but from the dock we have access to most of our freeboard, so David took care of some stains that needed attention. While he did that, I cleaned up inside. It's amazing how much stuff we pull out and never put away when on passage. Three people aboard for 9 days means Starry Horizons is overdue for a general cleaning.
After David finished the port side, we moved over to a different dock to have a 50 Amp shore power connection. Once plugged in, I started laundry (and did 4 loads) and David scrubbed the starboard side. That night, we made a new friend, Louise, who I met on the Facebook group, Women Who Sail. Louise is a member at RNSYS and stopped by to discuss our cruising plans. She also, very kindly, brought us a cruising guide of Cape Brenton. We talked for two hours, while she showed us locations she'd been to and what she thought was worth stopping at and what wasn't. We've got plenty of waypoints on our charts now for us to explore.
The Binnacle: Marine Chandlery
The next morning, David did the general deck cleaning, which was desperately needed. Then, we went to the bus stop to catch a ride up to the Binnacle, which is a local chandlery. We didn't realize you need exact change to ride the bus. All we had was twenty dollar bills, but the driver took us on anyway, thankfully. The Binnacle is very well stocked, and we were surprised to find everything we were looking for. We bought the proper sealant to rebed the windows in our hardtop (which despite David rebedding them are still leaking) and replacement lines for our main and genoa sheets (the factory lines are not the highest quality and are slightly too big for the stoppers). In fact, the Binnacle even drove us back to RNSYS!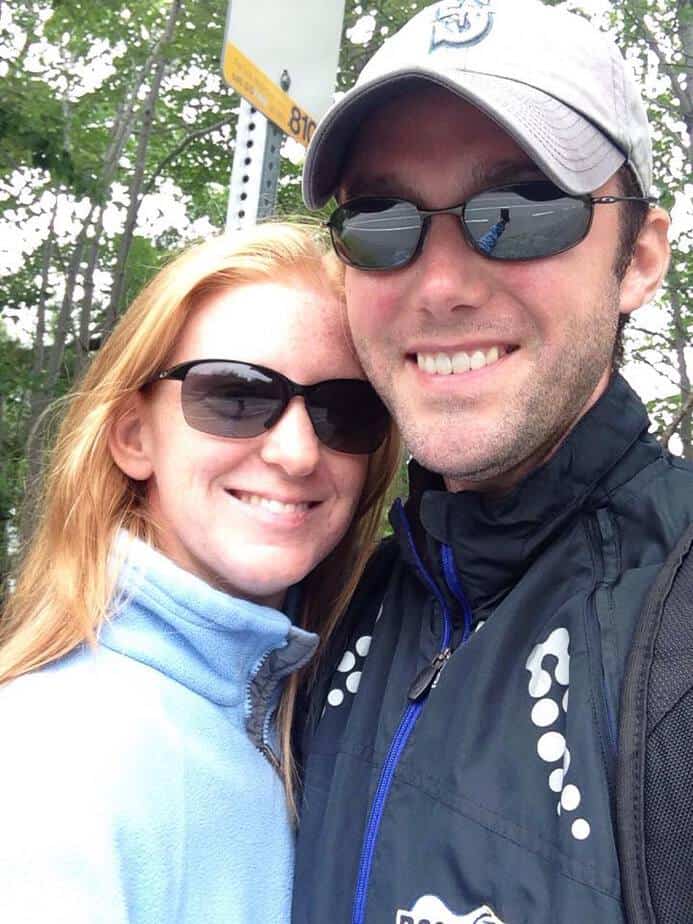 At the squadron, we changed the lines and then moved over to the fuel dock to refuel. It's always a big cringe when we do that – it usually runs us $500! After refueling, we paid our dockage ($2.05CAD/foot = $90CAD/night) and departed for downtown Halifax.
Docking in Downtown Halifax
We called ahead to reserve the dock, which we easily found following the landmarks and coordinates the staff gave me over the phone. WOW! We are right in the heart of Halifax, which is an amazingly quaint big city. Halifax has a beautifully developed waterfront with dock space up and down the length. In fact, you can reserve a dock for the daytime for free, and the evening rate is reasonable ($1.75CAD/foot = $77CAD/night). Our dock is in Bishop's Landing, also home to several high-end restaurants and apartments. Going north, we are a few blocks away from the Maritime Museum, plus shops, restaurants, and outdoor venues. Southbound, we have the Seaport Area, with the Seaport Farmer's Market every day and the Pier 21 immigration museum. Leaving the waterfront, there is a short walk to the citadel. And of course….free wifi.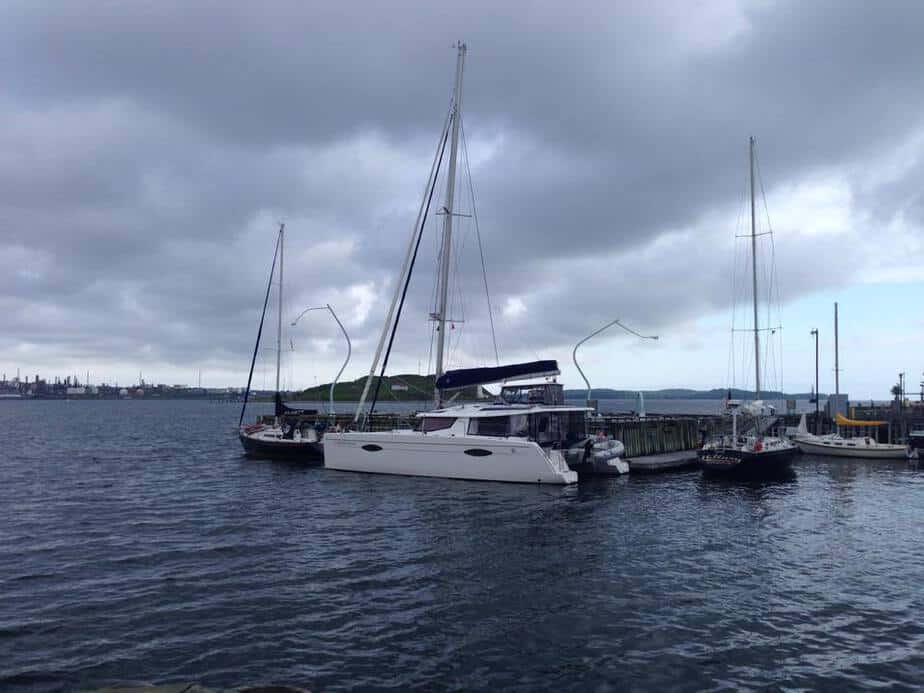 Being right downtown has its disadvantages. We've brought everything inside from the boat, just to be safe, and always lock up. Especially being a boat our size, we get a fair number of lookie-loos, many even stopping to take pictures of our girl. What they don't realize is that with our window screens, they can't see in, but we can see out! However, everyone has been nice, there are security guards patrolling, and we've met a few neighbors. In fact, we learned about the plans of an FP Orana, named 44 North, which is sailing from Breton on Monday to arrive in Halifax Tuesday. We will be sure to keep an eye out, as we should be passing them!
We've had a few neighbors come and go here, or had people stop and talk to us about our boat. We also made some new friends, Jessica and Craig and their adorable 3-month-old lab mix named Miller. Craig and Jessica sail 29′ Rouge, and are members at RNSYS. I think it's awesome that they can just hop in their boat and putter to downtown to have a date night! They gave us a tour of their cute little boat in exchange for a tour of ours. Again, just like all the Haligonians we've met they were super nice and told us if we make it to Prospect on our travels we can anchor just off their backyard.
Watch the Video: Sailing from the Bahamas to Halifax
Pin it!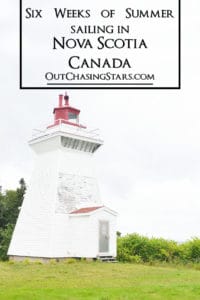 Social Share