THIS POST MAY CONTAIN AFFILIATE LINKS. PLEASE READ OUR DISCLOSURE FOR MORE INFO.
Since our last post, we are still holding! Nothing to terribly exciting, but I'll catch you up on what we have done!
After the homes tour in Key Biscayne, we swung by West Marine to USCG-ify our boat! Of course we had safety systems on board, but they were French, and thus not Coast Guard approved. So we had to buy new things like fire extinguishers, lifejackets, and flares to meet regulations. Fortunately the French items are above and beyond required, so we just had to meet the minimum requirements of the CG.
Sunday the 8th we started with lunch at Tropical Chinese Dim Sum and then went to the Fairchild Tropical Garden for a nice walk around. They have a Chihuly exhibit as well as a permanent collection. I think the traveling exhibit was the one we have seen before in Dallas, but it was still nice to see it in a new setting.
During the week we hung out and twiddled our thumbs on the boat. On the 9th, the Lipari behind us met it's owners for the first time, as Ed and Linda, with their captain John, came aboard. They were unable to leave when they wanted, but they eventually did leave Miami on Friday. They headed to the Bahamas, where their boat will go into charter.
On the 11th, we met up with Gerhard, who lives in Miami and is considering the Helia. We gave him a tour, and then he was nice enough to take us out to dinner! Gerhard is an impressive guy, and we enjoyed discussing our boat with him!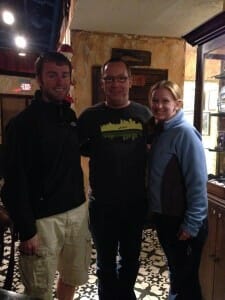 Fortunately after a bummer week on the boat, we had the Miami Boat Show to look forward to! That merits a whole post on it's own, so I'l skip a head a bit. While the work is being done on Starry Horizons, David is staying aboard in Miami, but I arrived in Houston yesterday, so spend time with friends and family and take care of a few things here. I leave Houston on the 26th, to fly to Nassau for a bachelorette party, and then will be back in Miami on the 1st. Hopefully, the work will be done by then and as soon as we have a weather window we can leave for Tampa.
My parents have been collecting our mail for us, so now, I get to go back to this pile:
Fair winds!
Social Share