THIS POST MAY CONTAIN AFFILIATE LINKS. PLEASE READ OUR DISCLOSURE FOR MORE INFO.
One of my biggest jobs on the boat is to make sure we have enough food, and food that will keep us happy and healthy. As you can imagine, we needed to buy a lot of food in Las Palmas!
Where I Shopped
There were two main places I shopped. One was the Central Mercado, and the other was El Corte Ingles.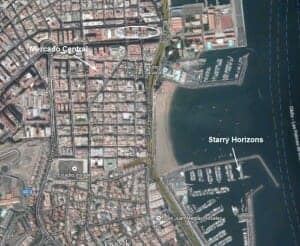 The Mercado Central was a mall with stalls set up for different vendors. Mostly the vendors were meat and produce. I stumbled along in my Spanish, and became loyal to the vendors who remembered me. There are separate vendors for chicken, seafood and other meats. The meat quality was all very good, and much cheaper than the El Corte Ingles. I priced out chicken thighs and the price at Mercado Central were €4.50/kg versus over €8/kg in El Corte Ingles. There were also more misc vendors for things such as local products and wholesale items. I spend about €75 at the wholesale nut and dried fruit vendor, buying snacks. There was very good chorizo from the pork vendor, I bought a lot of it and froze it for later. The chicken vendor will slice your chicken breasts for you. Also, there is a second floor and a ATM available.
El Corte Ingles is a giant department store with a grocery store in the basement. The grocery store was very good, with all kinds of products and gourmet items. The prices were high, so I didn't buy much meat or produce there. When you enter the El Corte Ingles, you want to be in the section that sells perfumes and cosmetics, and then go down one floor. You need to check your bags in the locker (for a refundable €1) or seal them in a plastic bag, which they provide for you at the entrance. You can also lock stroller or carts in the locker room for another €1. Shopping carts require a €.50, €1, or €2 coin, refundable. The best part of El Corte Ingles is that it delivers. Do your shopping for non-perishable items, and at checkout ask for delivery. They will be delivered next day, boxed, complete with paper stuffing. They even taped up the face wash and q-tips so that they wouldn't spill all over the place!
David and I went to El Corte Ingles together and filled two shopping carts full of non-perishable items that we would need. It got delivered the next day, even though it was super late – make sure you are very clear on the instructions. Our Dock was T 23-25, but the dock sign says T18 for some reason, so they couldn't find us.
I made several trips back to the Mercado Central and El Corte Ingles, each item filling my cart
before heading back. I kept one of the boxes from the delivery and brought it with me, which was very handy – I filled it with the meats and frozen foods to keep them cold. Everything else I bagged in reusable grocery bags, and put them into my cart
.
What I Bought
Back at the boat, I pre-made 28 meals (14 x 2) and froze them. They were all pork or chicken with a sauce, something I could easily throw in the skillet later and prepare sides. My sauces were apricot soy glaze, picatta, and raspberry or strawberry balsamic. Sounds yummy right?
Some more highlights of provisioning:
140 servings of meat on board – including frozen raw meats (salmon and chicken quarters), frozen cooked chicken (breast and rotisserie), and canned (tuna, chicken, salmon, ham, meatballs with sauce, Bolognese sauce, and sardines).
Peanut Butter – Very hard to find, we bought the store out of chunky peanut butter and peanut spread.
19 L of UHT Milk – we have about 12 L leftover! We bought too much, but it will last a long time.
Cabbage – I have read a lot about how cabbage is the best fresh produce for long term storage. Sure enough, the green cabbage I bought in Las Palmas is still with us today, and is still in good shape!
GORP – Stands for Good Ole Raisins and Peanuts from The Boat Galley. Our version was equal parts M&Ms, raisins, peanuts and cashews. I made 4 gallon bags full.
Pringles – I did not run out of Pringles this trip! I bought 12 cans and also supplemented with Doritos and kettle chips.
Additional snacks – we each picked out some chocolate bars (2 for me, 6 for David). We had a large tub of Nutella, as well as 2 rolls of Oreos, and we each picked out a holiday-type treat.
Bread
Sandwiches are pretty popular, but sandwich bread only lasted two weeks on the boat before it went stale and/or moldy. Fortunately I planned on baking bread and had done a few practice runs on earlier passages. Here is the recipe I used, adapted from Artisan Bread in 5 Minutes a Day:
1 1/2

cups

lukewarm water

3/4

tablespoons

granulated yeast or

7 1/4 g

granulated yeast or 1 1/2 of the packets of yeast I got in France

3/4

tablespoons

fresh ground salt
3 1/4

cups

all-purpose flour

Container with lid, but not air-tight. The larger hotel pan that comes with the Helia's fridge is perfect for this
Put yeast and water in container for a few moments. Don't worry about stirring, just sprinkle the yeast on top of the water. Then add the salt and flour. I found using a silicone spatula worked best because the dough didn't stick to it as much. Mix thoroughly, and then cover with film or foil and let sit for 2 hours at room temperature, being sure to keep the bowl out of sunlight. After sitting, either refrigerate, or sprinkle extra flour generously over the dough and pick it up and start to work the dough into a ball. Anywhere the dough sticks, add more flour. Keep pulling the dough out and then back together at the bottom. Eventually you want it to be a bun with a seam on the bottom. If you are using a loaf pan, shape it more into a log. Pop it in the oven (I didn't pre-heat most of the time).
If you are using the bread for sandwiches, omit this steaming part. For a crusty bread to serve alongside a hearty Italian meal, for example, put a container (I used a metal can) of water into the oven with it. The steam creates the crust.
If you are using a fancy pants oven, bake at 350 degrees F. If you are using my oven, just turn it on. Back about one hour until the bread is thoroughly cooked. For sandwiches, cool completely before slicing.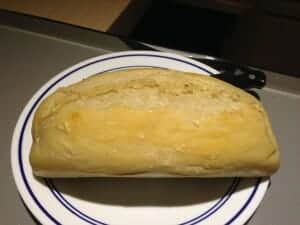 The bread was SUPER popular.
Food Storage
Our fridge and freezer provided plenty of room for everything we needed. We kept most of our fruits in a hammock outside in the cockpit. For pantry storage, we used the cabinet above the fridge, as well as all three storage areas under the floor of the galley. Finally, we put light snack items in the drawer under the aft guest bed, and put bottled water and milk in the aft guest closet. A few milks and beers went in the cockpit fridge, which was not turned on. It was a good thing to store the food items in the guest cabin, which prevented it getting filled with other stuff. Most of the time we wont have much food on board so the guest cabin storage will be empty.
What We Ate
Most mornings we ate breakfast separate, but had lunch and dinner together. David mostly ate cereal for breakfast, while I had precooked and frozen some chorizo with onions and peppers, and made egg scrambles out of that. I did have some cereal in case I didn't feel like cooking, which I ate a few times.
Lunch was often tuna salad, but I also made chicken salad (from the frozen rotisserie chicken) or egg salad. I try to eat a low-carb diet, so I favored apple slices or cabbage wraps to hold my protein, versus David who enjoyed the homemade bread! He also ate chips with his lunch.
Dinner was usually one of my pre-made meals, or if I felt like really cooking one of the frozen raw meats. I always served with a carb (pasta or rice) and one veggie. If I really didn't feel like cooking, I made pasta with either the canned meatballs or the bolognese sauce.
Snacks were fruit (fresh while we had it and canned when we didn't), GORP, and a mix of other misc stuff. I had a designated "snack bag" in the pantry that was full of things to eat. I often found at night that I needed a bit of a bigger snack unless I wanted to go to bed hungry at 2 am.
Overall, I was very happy with the quality of food we ate and we had plenty of food leftover, so we weren't in any danger of going hungry had we taken longer than expected. David was just excited not to eat canned foods all day every day!
**ALSO NOTE: I updated this blog post about Provisioning in La Rochelle, now that I know better about what is available in Las Palmas.
Social Share