THIS POST MAY CONTAIN AFFILIATE LINKS. PLEASE READ OUR DISCLOSURE FOR MORE INFO.
Cruising catamaran sail trim can be a fairly technical issue with differing opinions about how to best trim the sails to optimize boat speed and balance. I most certainly will not profess to be an expert in the subject, but I do feel I've come a long ways from when I first learned how to sail on our Maine Cat 30. This topic appeals to my technical side, and I wanted to put together a guide that people joining us on Starry Horizons might find helpful, and hopefully others will as well. This post assumes a basic knowledge on the sail trim systems used on a catamaran, but I've tried to keep everything at a pretty general level.
Angle of Attack and Sail Twist
These are the two primary concerns when considering catamaran sail trim. Here's how I break them down:
Angle of Attack (AOA)
Definition: The angle between the sail's chord and the direction of the wind.
Key Question: Is the sail trimmed to maximize power and attached airflow?
How to Answer: Look at your telltales. Along the leech of the mainsail, the telltales should be streaming straight aft. Your genoa will likely have tell tales on each side of the sail, and these should be streaming aft in parallel.
How to Control: You can use both your traveller and sheets to adjust your angle of attack, or you can adjust your point of sail (change from close hauled to a close reach).
Tips and Tricks: "When in doubt, let it out" is a good phrase. On a catamaran, I would suggest that you play with the traveller before adjusting the sheet. I've found it's far too easy to over trim the sail, in essence stalling the boat. You may be sailing, but it won't be as efficient as possible. The exception to this rule is sailing close hauled, where having the traveller slightly to windward seems to do the trick.
For the genoa, whatever side of the sail has the telltale that isn't flowing straight, adjust the sail (modifying the angle of attack) towards that side. For example, if you are on a starboard tack and the leeward (port side) telltales are not streaming aft, let out the sheet or try moving the genoa cars forward.
Sail Twist
Definition: The difference in AOA from the head to the foot of a sail.
Key Question: How much twist should I have in the sails for the current conditions?
How to Answer: This one you're just going to have to know. The general rule of thumb is you want more twist in light winds, less twist in moderate winds and back to more twist in heavy wind.
How to Control: You can use both the sheet and traveller to adjust sail twist. Moving the traveller to windward and letting out the main sheet to keep the boom in place will increase the twist of the main sail. For the Genoa, rigging a barber hauler can provide a significantly increased amount of control over twist, as well as opening up the AOA on deeper sail angles.
Tips and Tricks: Increasing twist in a sail in heavy air can be a quick way to slightly depower if necessary, just let out the sheet. If you get to this point though, you should probably be thinking about putting in a reef!
Traveller Out, Sheet On
If you remember nothing else, this is the thing to remember. As a general rule, to trim the main on a cruising catamaran, you should let out the traveller first, while keeping the main sheet pretty tight. This seems to work fairly well for the length of the traveller, and then you can start letting out the main sheet. Don't be afraid to experiment, especially with adding some twist to the main if the telltales aren't flying just right.
Move Your Jib/Genoa Cars
This can be an easy thing to forget, but the closer to the wind your sailing, the further aft your genoa cars should be. This helps to reduce twist and get the most power out of the sail. As you sail deeper angles, you need to move those cars forward. Eventually, a barber hauler will prove incredibly useful on everything from a close reach and deeper.
Diagrams
I've put this big diagram together to be a handy guide aboard our boat and a "cheat sheet" to basic sail trim. I welcome any feedback and will constantly try to be improving it. Also included are diagrams for our Doyle Screecher and Asymmetric Spinnaker. These diagrams are a bit more general and are included because I wanted a handy place to keep track of the apparent wind angles (AWA) and apparent wind speed (AWS) that Doyle has suggested for these sails. If you have these type of sails on board, I highly recommend that you listen to the manufacturer's recommendations, rather than using these numbers.
You can also download this file in pdf format here: Sail Trim for a Cruising Catamaran.
Hopefully this is helpful and please don't hesitate to provide feedback. I'd love to hear your suggestions on ways to improve and make the boat go faster!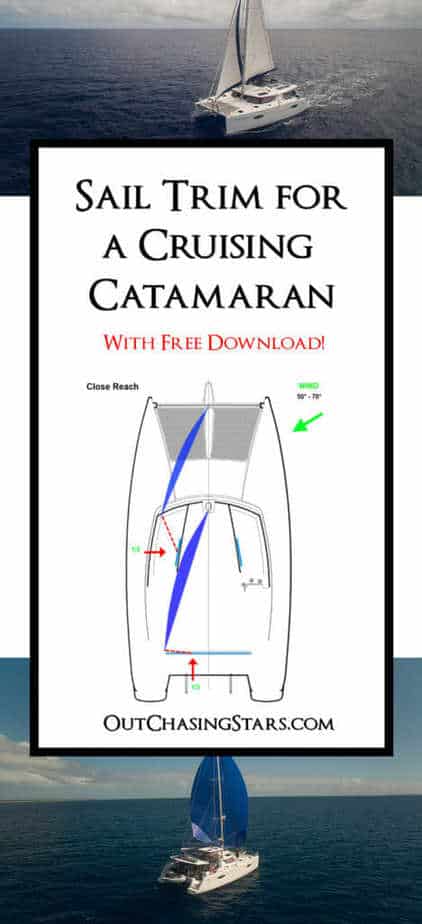 Social Share