In Grenada we contacted several agents for Panama, and we decided on Roy Bravo. We kept in touch with Roy on our passage over to Panama, and he met us a few days after we arrived.
It is not required that you use an agent, but there are a lot of difficulties that the agent will help you with. For example, we didn't have to go into Colon to clear into the country, Roy took care of that for us. We also didn't have to post a bond, which saved us from spending I think $800, which we would get back in Panama City but might have to wait to receive it. Roy also saved us from a trip to the bank to post that bond. Also, Roy arranged our fumigation certificate, which is required to enter the Galapagos. Our friends on S/V Blanchette didn't use an agent, and it sounded a lot more complicated. Over all, we paid Roy about $2K for his services. The toll itself was $800. It was great to work with Roy, we highly recommend him. You can reach him at roybravo67 at yahoo dot com.
We had hoped to meet with Roy, clear in, get measured, and then leave to spend some time in either the San Blas or the Chagres River. However, we decided to make a few trips to Panama City instead, so we kept the boat in Shelter Bay Marina.
When we met with Roy, he walked us through the process, gave us advice, and scheduled the measurement. A few days later our admeasurer, Hiro, came. He went through all the paperwork with us for the canal, inspected the boat, and of course, measured. Starry Horizons came in at just over 45′, including the bow sprit. If you are over 50′ there is an additional fee.
There are four options for how a small boat can go through the canal:
Center solo: you are in the center of the canal behind/infront of a ship, and tied to the wall by four lines, one on each corner.
Against the wall: you are tied to the wall with two lines, with your fenders between you and the wall.
Side tie: a boat (usually commercial) ties to the wall, and then one or two small boats stack up next to the tug.
Rafted: two or three small boats tie up together in the center of the canal behind or in front of a ship. The two outside boats have two lines each going to the wall.
When you are filling out the paperwork with your admeasurer, they will ask you which options you are willing to do. We said all except for against the wall.
At this time of year, after your measurement the soonest you can transit is 3-4 days later. We opted to wait until the 9th so that all of our friends could make it for the transit. During the slow season you can transit the next day if you want.
The day before our transit, Roy came by with our rented lines and fenders. Each boat is required to have four 100-foot lines and sufficient fenders. If you don't use an agent, there are people around the marina who will rent supplies to you. Some people use tires for their fenders. Fortunately our fenders were enormous white balls!
The day of the transit we departed Shelter Bay at 3:20 pm to head over to the Flatts Anchorage. While small boats can anchor here anytime, most chose not to due to safety concerns and lack of amenities. As soon as we anchored I started to get dinner ready. I cooked a chicken curry, and when our adviser, Carlos, arrived at 5:15, we all sat down to have dinner. Carlos has been an adviser for a long time, and he advised Honeymoon when they went through!
After dinner we waited for our large ship to come through the channel, and discussed our arrangements to get through. Our configuration and timing changed about 4 times! As soon as our ship passed we upped our anchor and headed to follow our buddy boat, Plane to Sea.
At the first lock, we spent quite a bit of time holding, waiting for the tanker to get settled. Then, one of the tugs for that boat tied up to the wall on their port side. Plane to Sea motored in and tied up to the tug, and then we tied up to Plane to Sea. There is a lot of discussion about who should go where. Generally, we have more maneuverability and horsepower than other sailboats, so that factors into the equation.
We were the last boat in, so as soon as we passed through the gates they started closing. We had to wait a little while for the water to start to rise, so we all just kind of hung out on deck. The best part about this configuration is that the tug does all the work adjusting their lines on the wall – once we were attached we didn't do a thing!
The Gatún locks are three locks, one after another. After the water went up, the ship in front started up and moved forward. Once they were secured in the next lock, we detached from Plane to Sea and moved backwards. Plane to Sea then detached from the tug, and moved back as well. It was a tight fit, but this allowed the tug to move forward and secure on the next lock, followed by Plane to Sea and then Starry Horizons.
After we went up three times, we detached for the last time and instead of moving back, we took off towards the anchorage. We anchored for the night just off of the small yacht club, where we were able to find wifi. After we anchored, Carlos was picked up by the pilot boat, and we all quickly went to sleep.
On March 9, 2016 we transited the Panama Canal's Gatún locks. We transited with a cargo ship, Chemtrans Havel, a tug, and another sailboat, a monohull named Plane to Sea.

Posted by Out Chasing Stars on Friday, March 11, 2016
On the 10th, we woke up at 7 am and got ready for our day with a big breakfast. Our adviser, Edgar, arrived at 8 am and immediately we took off. I made breakfast for him underway (sausage, eggs, and bread). It's a 28 mile motor to the next lock, so the rest of us settled in for the long haul by busting out the playing cards. When we transited with Blanchette, we saw several crocodiles, but unfortunately we didn't see any this time.
We arrived at the Pedro Miguel lock at about 11 am. It's just one lock, and we ended up waiting a long time for our buddy boats to catch up with us. Again, we had no idea what the arrangement was going to be until these boats arrived. For these next three locks, we ended up having a small cruise ship names Discovery against the wall. We tied up to them, and then another catamaran, a Lagoon 410 named Pavo Real, tied up to us. Once the ship was behind us, the water level dropped and then we detached and traveled the mile to the Mora Flores locks. These two locks have a visitors center and high quality web cam. At the visitor's center, people can watch the traffic coming and going through the canal.
If we were to do it again, it's a great idea to have your website or email address on the boat. That way, anyone on the visitor's center viewing area can send you pictures they take.
After dropping down twice, the gates opened up to the Pacific! It was a mile motor to Balboa Yacht Club, where Roy came out with the launch boat and picked up our fenders and lines. From there, we motored to the La Playita anchorage and settled down. We all took cold showers, toasted some sparkling wine, and got the drone out to take some pictures and video.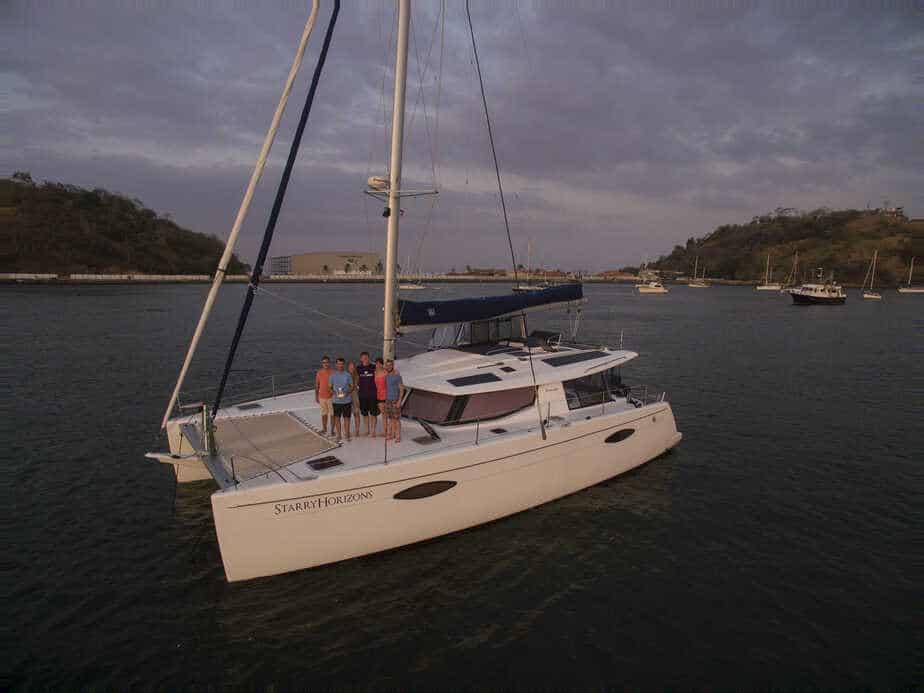 S/V Blanchette
We were very glad to transit with or friends first because we really knew what to expect, but because our configuration was different, it was a very different experience. Blanchette went through all the locks rafted up. That meant that the two boats tied up to each other before entering the locks. Once rafted, the boats got close to one wall, where two people would throw monkey's fists down onto the trampoline with lead lines attached. We would tie those leads into our large lines, and they were pulled up to the top of the wall and the eye in the large lines were slipped around a bollard. The opposite end of those lines were cleared off on the boat, and those two lines (on the outside boats, so four lines total) were adjusted to keep the raft in the center. This configuration is a lot more work on the line handler's part. If one line handler let out too much or too little line, the whole raft would shift too far one way and be in danger of hitting the wall.
Mira Flores Visitor's Center
On Friday we took a taxi to the Mira Flores Visitor's Center. We walked through the small museum, watched the 10 minute, slightly-cheesy but informative video, and then watched the boats come and go through the locks. We actually had great timing – we saw our friends Lanny and Ginger on Swiftsure go through!
Next Up
David and I are leaving the La Playita Anchorage to head towards Tabago Island, a short motor away. We need to clean the bottom of our hull and do other passage prep work. By the end of the week, we will be on our way to the Galapagos! We will spend less than 3 weeks there and then head towards French Polynesia.
PS. We have a ton more photos to share, but our wifi here is super slow, so it'll have to wait. Keep an eye on our FB page for more photos.
Social Share