THIS POST MAY CONTAIN AFFILIATE LINKS. PLEASE READ OUR DISCLOSURE FOR MORE INFO.
We've been tracking our expenses for many years before we started cruising, and we have continued to track our cruising costs as we sail.
Read our previous posts about our first year of cruising expenses, second year of cruising expenses, and third year cruising expenses.
Here's a summary of our fourth year, covering from July 1st, 2018 to June 30th, 2019.
Tracking
We are still tracking using Mint, and all prices are USD.
The locations
July 1st of 2018 found us in Cairns, Australia, getting ready to join the rally and depart for Southeast Asia. We cruised through Indonesia, Malaysia, and Thailand, all of which are very inexpensive places to visit. We had a short stay in Singapore and Sri Lanka, and then two months in the Maldives, the most expensive cruising ground we've been to. We ended the year in Seychelles.
Cruising Costs & Boat Expenses
Repair and Maintenance – $16,000
Well, if we are anything….we are consistent! Our first two years of cruising, our R&M cost was just over $16,000 – this year it's almost exactly that number. This includes two haul outs in Thailand, one at G&T Ship Yard and one at PSS. The haul-out at G&T included a bottom job.
Vessel insurance – $9,500
We are still covered by Jackline for the Indo-Pacific region. Read about our vessel insurance.
Customs – $2,660
Half of our customs cost for the year was the Maldives. It is a very expensive place to cruise (and a bureaucratic mess). Most of the other countries were a few hundred dollars each.
Docking – $4,100
Our docking expenses were unusually high this year because we made three visits back to the states (two being for family memorial services). Starry Horizons stayed on a mooring in Lombok (the only dockage we paid for in 100 days cruising Indonesia). In Thailand, we left her at Royal Phuket Marina, and in Seychelles at Eden Island Marina.
Our most expensive marina was One 15 Marina in Singapore for roughly $120 a night, which we absolutely loved. Looking at the cost of hotels on Sentosa Island with comparable amenities, clearing into Singapore and staying at the marina was the right call for us. We did pay for docking a few times in Malaysia and the Maldives at the town wharf for roughly $25 a night. Royal Phuket Marina was overpriced for the amenities and location at nearly $100 a night.
In total, we paid for docking/mooring 70 nights (19%).
Diesel, Petrol, and Propane – $5,200
As expected, crossing the Indian Ocean and cruising around the equator so much blew a lot of diesel. We filled up three times in the Maldives alone (at over $500 a pop), plus big fills in Singapore and Seychelles.
Communications – $2,700
This covers our expenses for our satellite phone, our InReach tracker, and running our website and email for Out Chasing Stars. For a more in-depth look at communications expenses, check out our blog post Communications. This year our expenses went up as we have had to upgrade our website hosting service (good problems to have!).
Total Cruising Costs: $40,160
What About the Rest?
We don't share costs outside of this perspective. The remaining costs – like health insurance, food, travel – are 100% based on personal preferences. In this lifestyle, you can eat out as much as you want, or as little as you want. You can travel home three times a year, or not at all. You can take outside, land-based trips, or not. Health costs are going to be very dependant on an individual's age and health.
Looking to the 5th Year
I'm not sure if I will post the 5th year costs – it depends on how the year shapes out for us. You can read about our 2020 plans. I hope that this information is helpful to you!
Pint it!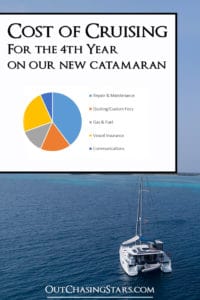 Social Share