THIS POST MAY CONTAIN AFFILIATE LINKS. PLEASE READ OUR DISCLOSURE FOR MORE INFO.
We've been tracking our expenses for many years before we started cruising, and we have continued to track our cruising costs as we sail. Last year, we posted about our first year of cruising expenses. Here's a summary of our second year, covering from July 1st, 2016 to June 30th, 2017.
Tracking
We are still tracking using Mint, and all prices are USD.
The locations
July 1st of 2016 we were in French Polynesia. We made our way through the South Pacific and spent cyclone season in New Zealand. We took a trip back home and then did a 35 day road trip in New Zealand. This year also includes the time we spent away from Starry Horizons crewing on S/V Julia, about 35 days where our expenses were covered.
Cruising Costs & Boat Expenses
Repair and Maintenance – $16,500
As expected, the repair & maintenance section is the largest part of our cruising costs. The difference between R&M this year and R&M our first year is a mere $88! This includes 2 haul outs – one in New Zealand where we did a ton of projects including a bottom job and one in Tonga to fix a leaking thruhull and corrosion on our sail drives. Again, half the money ($7,950) is smaller charges of less than $400.
Vessel insurance – $8,300
We are still covered by Jackline for the Pacific region. Read about our vessel insurance.
Customs – $370
The fees for entering countries this year were small – $25 for New Zealand, $50 for Niue, $100 for Tonga, and the most expensive, Fiji, was $160. A big change from our cruising costs last year!
Docking – $2,900
Most of this category is docking in New Zealand. We paid usually about $30 USD for a dock in New Zealand, which is pretty amazingly cheap. Starry Horizons was docked at the Bay of Islands Marina in Opua, at the Whangarei Town Basin, and part of our storage in Norsand falls into this category as well.
We did not pay for any docking in French Polynesia during this year (but the previous year we paid for docking in Tahiti). We did pay for a mooring in Niue, and also paid for moorings in Tonga. The Beluga Dive moorings in Neiafu are $15 TOP ($6.75 USD) a night in the peak season, and $12 TOP ($5.40) a night in the off season. This made Neiafu an incredibly cheap place to leave our boat for 7 weeks while we crewed on Julia ($330 USD for all 7 weeks).
Diesel, Petrol and Propane – $2,300
Starry Horizons didn't move as much this year as she did in our first year. She was sedentary for over 4 months, so as expected our diesel costs were significantly lower than the previous year.
Communications – $2,350
This covers our expenses for our satellite phone, our InReach tracker, and running our website and email for Out Chasing Stars. For a more in-depth look at communications expenses, check out our blog post Communications.
Total Cruising Costs: $32,720
Looking to the 3rd Year
We are in the process of planning out our time in Australia. Our application for a year long visa has been completed. We plan on leaving Starry Horizons for about 2 months while we roam the country. Australia will be pretty expensive, but we have no plans to haul Starry Horizons out, as we are hoping our bottom paint will last 2 years this time.
We hope this helps you get an idea of what you would spend if you decide to follow in our footsteps. Feel free to ask questions and I'll try to answer the best I can!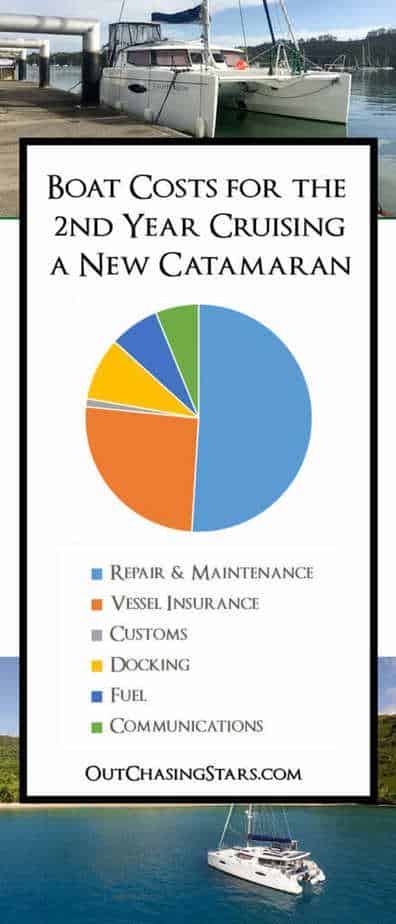 Social Share