See Tongan Paradise for Part 1 of our Ha'apai adventures.
Tatafa
We anchored on the southwest side of Tatafa island for three nights, although it was unprotected from the southern swell we were getting. That first afternoon, at low tide, I kayaked ashore and took a walk on the sandbar that's exposed. Afterwards, I walked along the rocks on the east side and spotted at least half a dozen eels living in the tide pools! Many of them came fully out of their burrows to swim around in the shallows. Of course, when I came back with my camera they were much more shy.
On the west side beach, I found lots of really interesting shells. The beach had a few nearly full sea urchin shells and a few decomposing sea urchins. There were three species of sea urchins – the smallest one had a white shell, the middle one had a green shell, and the largest had a purple shell. I brought the cleanest green one back (no meat left on the inside) and convinced David to let me wash it off and let it finish rotting on the boat.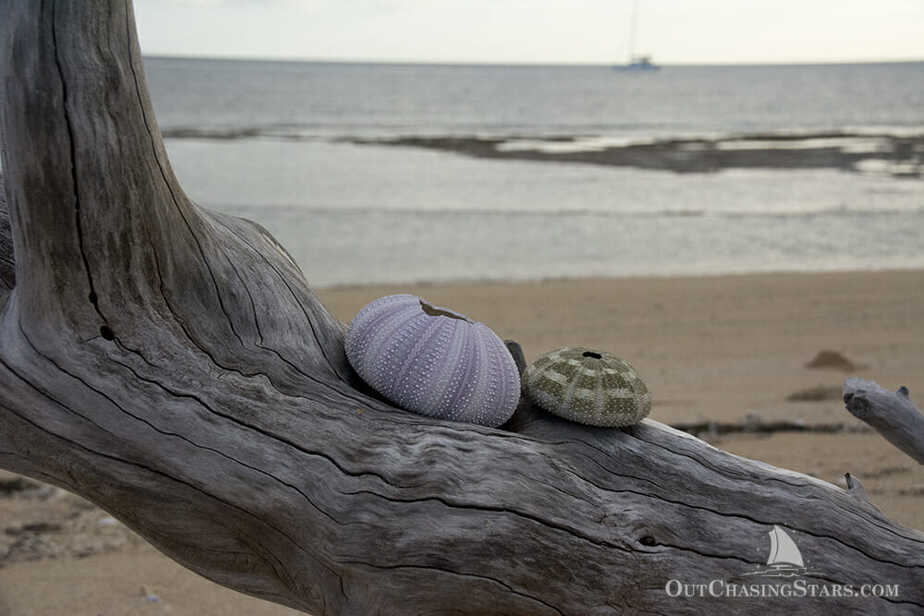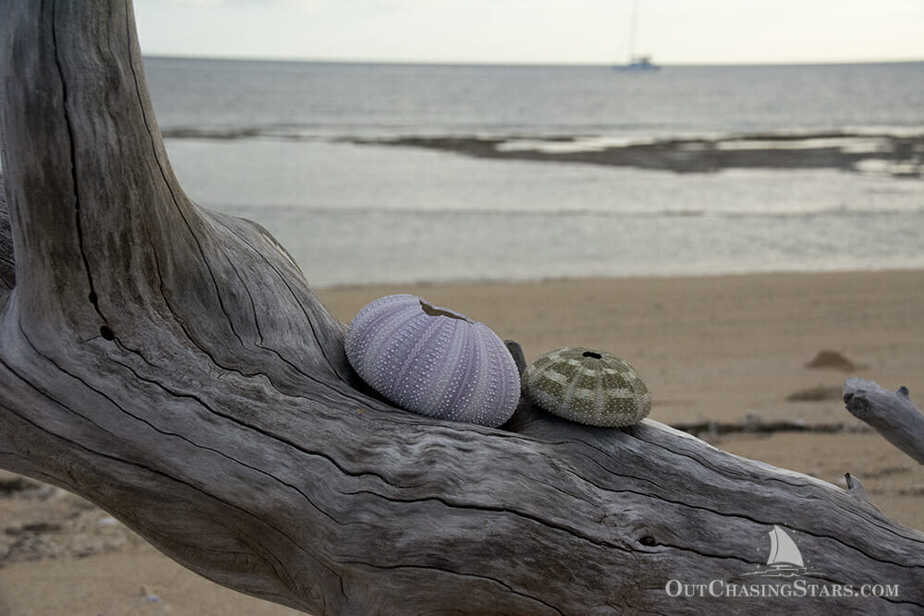 I also brought a green coconut back, as there are enough small trees for me to reach up and twist one off. Back on SH I chopped off the top and the bottom and drilled a hole for drinking. Afterwards I tried to open it for the meat but I mostly just ended up with fibers in my coconut and pretty much everywhere else on the boat. Next time, I'll husk the coconut properly onshore.
One night, we got a spectacular sunset behind Koa, the dormant volcano. We can't always see Koa due to humidity in the air, but when we do it's pretty awesome.
The swell was still pretty southerly and we were getting rocked quite a bit, but it's hard to leave a nice spot where we are all alone. There were at most two sailboats in sight, but they were at least a mile away. A few times a day a local long boat passed by, we think it's a ferry from Pangai to the main village on Uiha, the large island to the south of Tatafa. It was even harder to leave after our last night, where we fell asleep listening to whalesong through our hulls.
Uonukuhahaki and Uonukuhihifo
On our way to our next stop, we got our spinnaker up! It had been repaired in New Zealand and just bagged up (as most lofts do), so we hoisted it to get the sail straightened, check out the patch work, and properly furl it for storage.
We dropped anchor all alone, just north of the sand bar between Uonukuhahaki and Uonukuhihifo. These two islands are joined by the sand bar even at high tide, so I'm not sure how these can be called two islands instead of one. "Nuku" means island and "uo" is lobster. "Hahaki" means east and "hihifo" means west, so these islands are, in English, East Lobster Island and West Lobster Island. We didn't see any lobsters.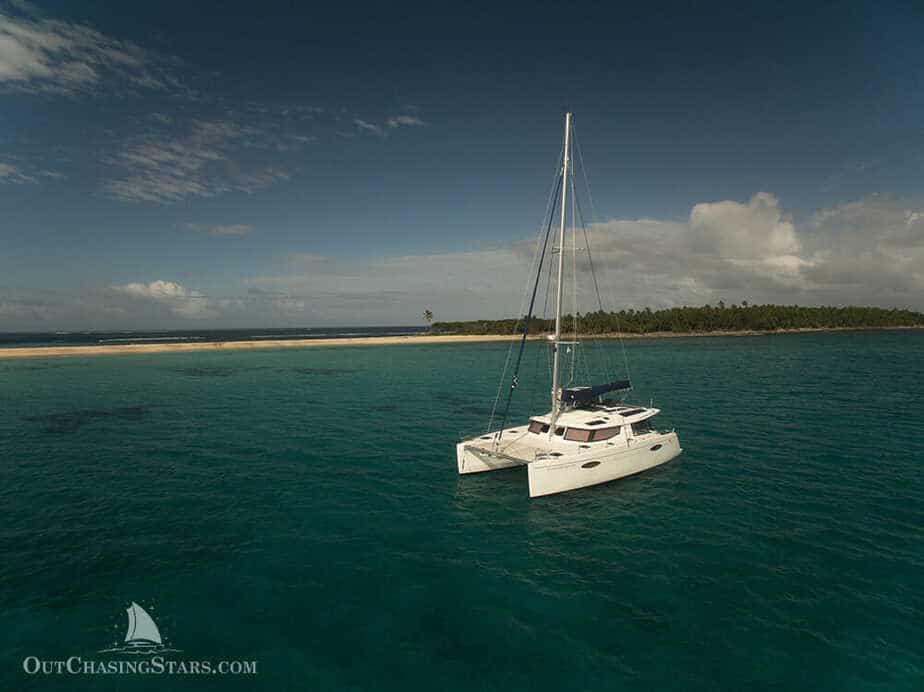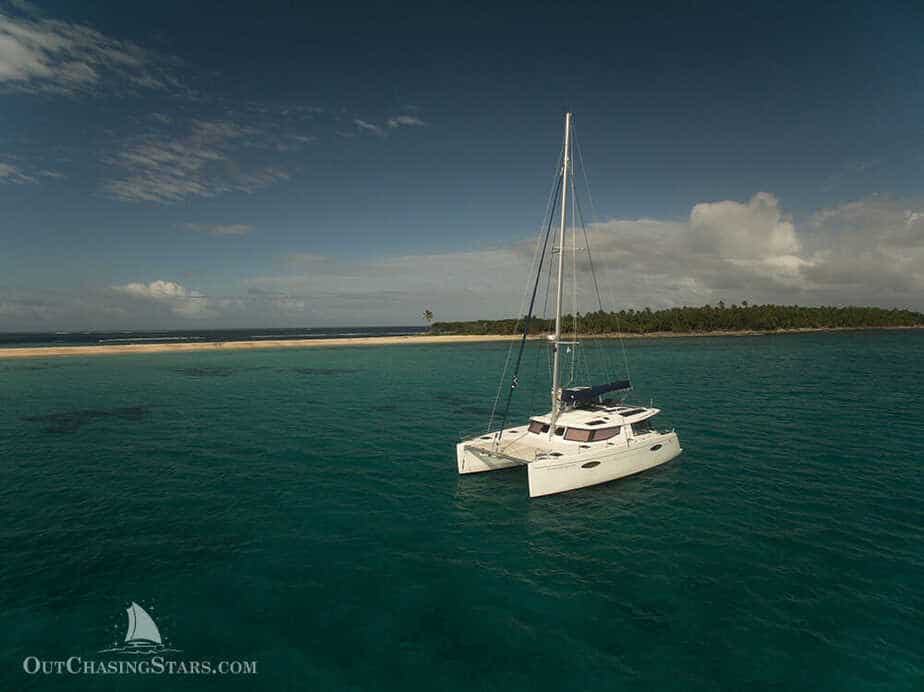 Another boat joined us for a few hours in the afternoon, and I said hi after I snorkeled to check out our anchor and the surrounding coral heads. Our neighbors were Kiwis who've been cruising for over 30 years in the South Pacific. Amazingly, we meet a lot of people like this. I could still hear whales singing as I swam, but mostly the noise was blocked out by my own breathing.
We could see two cruising boats further down the island group, at least a half a mile away from us. The winds picked up a bit and even shifted a bit from the north, so once again we were unprotected from the swell. Surprisingly, one of the boats dingied over to say hello – John and Wendy from Midnight Sun. We had a mutual friend in common – Whistler – so we had heard that John and Wendy spend three months of the year on a sailing yacht, boat sitting and doing R&M for the owners over the holidays. They've also built their own cruising boat, and have been sailing the South Pacific for nearly 20 years. It's not too often that strangers dinghy by to say hello, and we were especially pleased that they dingied so far to say hello. We held them up chatting for a bit before they went to shore.
Monday (July 31st) was gloriously sunny again, so I went to shore in Aquila and went for a walk. I picked up all kinds of interesting things – a sand dollar, cuttle bones, and a variety of beautiful and shiny cowries. I brought back a cuttle bone about 10 inches long to show David. I also brought back a coconut, and instead of husking it, drilled it open and collected the water to chill and drink later. Delicious!
Every day we've seen whales off in the distance – spouting, tail slapping, breaching, basically just doing their whale thing. At around 2 pm that day we noticed a whale sitting calmly in the water on the inside of the reef – in the shallow water. We kept an eye on it for a little while and eventually I decided to paddle out in Aquila to check on things. As I approached, I got a special treat; this was a momma whale, who had just given birth to a calf. I kept a carefully distance away (I'm not sure if they even noticed me, since kayaking is pretty quiet and calves are pretty noisey). The momma whale was holding the baby up in the water, helping it breathe. We don't know for sure how recently the baby was born, but I can't imagine it would have been born in the deep waters. Actually, the baby's fin was still curled up from it's time in the womb and the birth process. I'd say the baby was born within an hour of me getting out there. David flew Phoenix over, and we got a few amazing shots!
This is one of our big highlights in the Ha'apai our circumnavigation. We knew that it's a big whale birthing grounds in August and September, and our friends last year had witnessed some newborn calves too. However, this is not really a common or well studied event, and scientists don't really know much about the birthing of a humpback whale. For us to get to see it is….amazing.
Back on SH we watched for the next few hours as the calf and mom moved around. We'd been keeping an eye on the weather and took an opportunity to duck out and head a bit further north.
Tofanga
We moved just a half a mile away (where Midnight Sun had been anchored). This spot afforded just slightly better northly protection, but also got us a bit better cell phone signal and strong easterly protection. The forecast for Tuesday August 1st was that the wind was going to pick up to 20-30 knots from the east, so we tucked into a big sandy spot.
On the way over, we saw another mother-and-calf pair in the shallows. The next morning, we saw them again, and it was fun to witness the calf getting lessons on how to be a whale. At one point, momma whale was on her side, slapping the water with her fin, her fluke half way out of the water and the baby calf poking his nose out!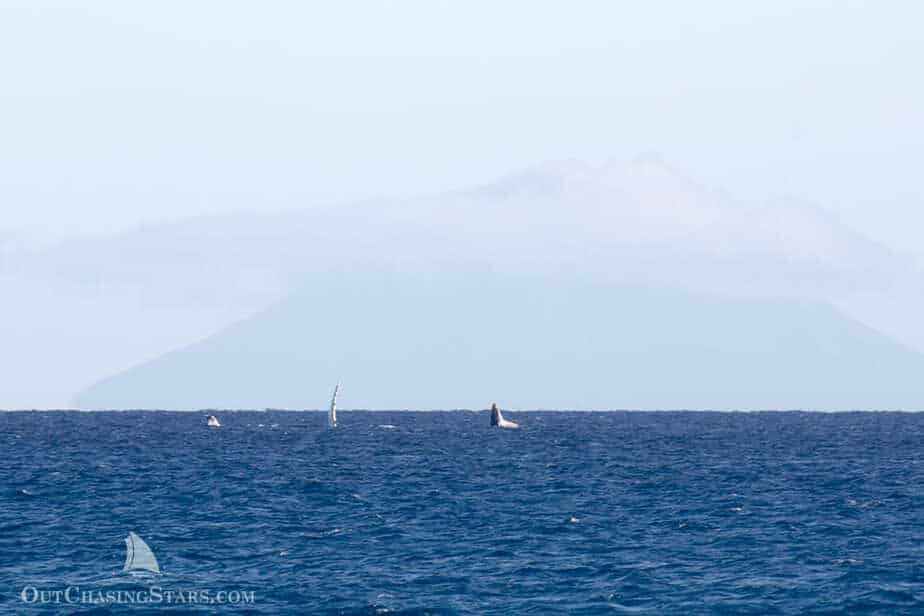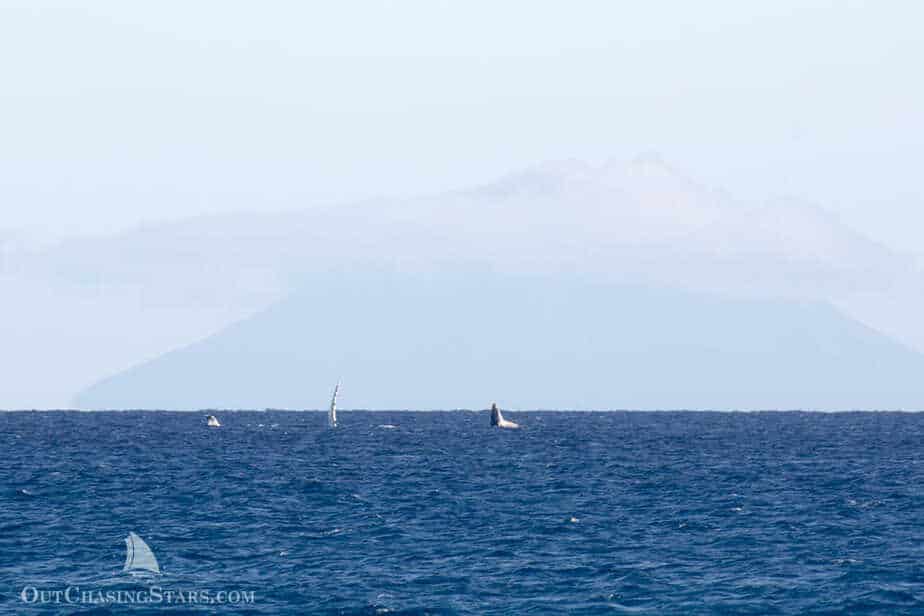 Although the day remained sunny, the wind did pick up, so we stayed tucked inside most of the day. At this point, we were running out of fresh food – we were down to onions and apples, plus one can of beets for veggies. Next stop, Pangai for some provisioning!
Pangai
We finally brought Starry Horizons into Pangai, just for a one-night provisioning stop. I went to the market and was able to get papayas, bananas, bok choy, cucumbers, cabbage, and carrots. I stopped at the Chinese grocery store to pick up a few nonperishable items, and we were all good! In fact, prices were very cheap and the quality was good.
Just when I got back to the boat, the ferry/cargo ship was coming into Pangai. That was interesting to watch, and this ship goes all around Tonga.
Ha'afeva
Our next stop was twenty miles south to Ha'afeva. We even got the spinnaker up for a bit AND Phoenix out!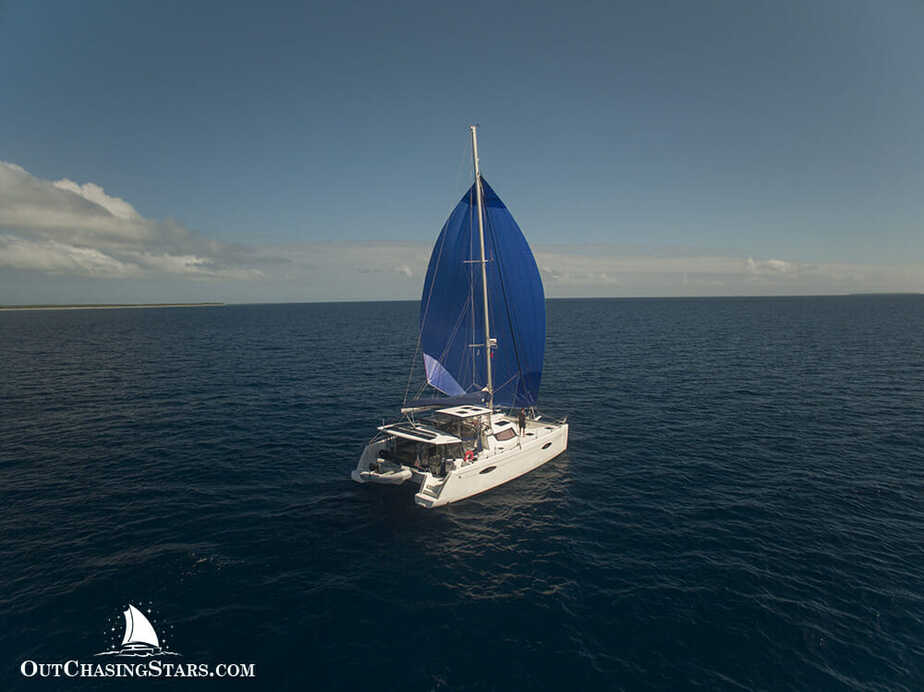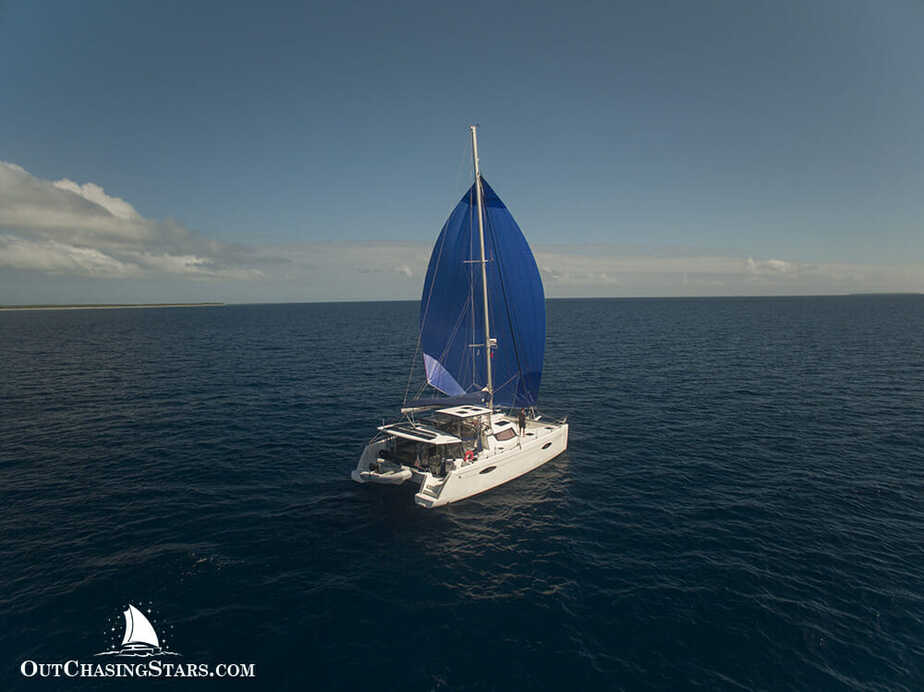 This island has a village on it, but the best anchorage is on the opposite side of the island, where the dock is. We didn't walk the road between the dock and the town, but I did walk along half the beach. We also had the very nice pleasure of a totally windless morning, so kayaking was like being in an aquarium; all the coral was visible through the flat and clear water. We enjoyed meeting Tregoning over sundowners, and I did a solo snorkel on a ship wreck that was AMAZING. I didn't take any cameras with me, but my friend Lynne on Amarula has generously allowed me to show her photos from the snorkel:
Bound to Fiji
And that's it on our time in the Ha'apai! We absolutely loved it, and as always, wish we had more time.
We left Tonga on Monday the 7th and arrived in Fiji three days later. The winds were high and behind us. We aren't using our main sail right now (battens are gone – long story). So sailing with head sails only in 20-30 knots of wind, we came in just under 6 knots average. We did a lot of gybing, and used our outboard jib lead all the time. We did sail our screecher for most of the last night, and even popped our spinnaker up a bit approaching Savusavu.
Watch the Video: We Witnessed the First Breaths of a Humpback Calf!
Social Share