THIS POST MAY CONTAIN AFFILIATE LINKS. PLEASE READ OUR DISCLOSURE FOR MORE INFO.
After launching Starry Horizons from the Boat Yard, we spent a few nights on our friend's mooring, doing some smaller projects and cleaning the boatyard off our boat. We socialized with friend boats Whistler (Margy and Monty) and Mustang Sally (Mark and Di) and the couple that own Faleleu Deli, celebrating Canada Day with Bloody Caesars and dinner at Mango Cafe. We didn't have a window yet to get to the Ha'apai, our next destination, so we decided to head out to some anchorages and enjoy Vava'u.
Return to Port Maurelle
Our favorite anchorage in Vava'u is Port Maurelle on Kapa Island. It's well protected, hardly has a building in sight, and is fairly easy to anchor in. While there are bommies (coral heads) all over the sea floor, they are low to the ground and the water is so clear you can pick out a patch of sand to drop your anchor. If you are so inclined, there are four free mooring balls. Plus the water gets a stunning electric blue color when it's sunny out. Friends on Privateer, Kaia, and Milla were there, so we had them over for sundowners one night. That was three kiddos onboard – 4-year-old Christian, 1-year-old Joshua, and 4-month-old Chance.
I went snorkeling and kayaking, and even managed to get a walk in! Running perpendicular to the beach is a road (path?), which can take you to a few different villages. I walked to one of the southern villages last year, so this year I walked north. I didn't go that far. The road is very overgrown, and really the beach is much more interesting. I even saw a small black tip reef shark feeding in the shallows!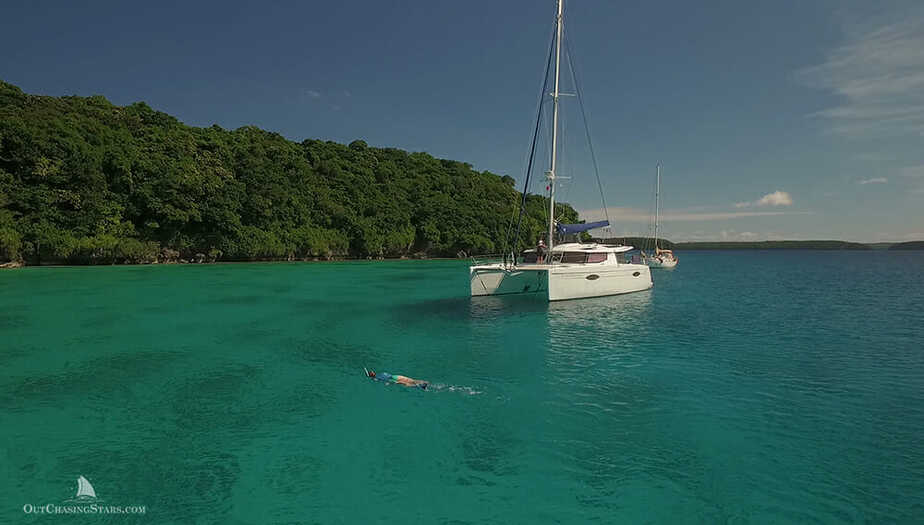 Then the rain came. We had about 3 straight days of rain and boredom on board the boat. Ok, not total boredom, because there's always books. Finally, on Saturday, July 8th the rain stopped and we decided to take off for a new anchorage – Kenutu.
Kenutu
It came well recommended by our friends on Whistler, but the entrance is tricky. Thankfully we had some waypoints to follow and our new SAS Planet to guide us in. A piece of cake!
About an hour after we anchored, it started raining again. By Monday afternoon, the rain had stopped, and we made it ashore just after lunch to enjoy the tide pools that low tide brings. During low tide, you can actually walk from Kenutu to either of the two neighboring islands. The tide pools look a bit like rice paddy fields, and there are tons of interesting critters living in them! I picked up a lot of shells, and even though I very carefully inspected them, I put them in salt water once I got back to the boat and kept an eye on them. Sure enough, each of the four shells had tiny hermit crabs living in them, so I had to put them back. There is also a trail over the ridge of the island, so you can walk to a cliff on the ocean side and look out over the waves crashing into Kenutu. If you are lucky (which we weren't) you can see whales.
Back to Neiafu
Tuesday we departed to head back to Neiafu. We enjoyed a great dinner at Bella Vista with Kjell and Adriana (from Milla and Mystic Sands). They have been so helpful to us during our stay, and we look forward to seeing them out sailing sometime.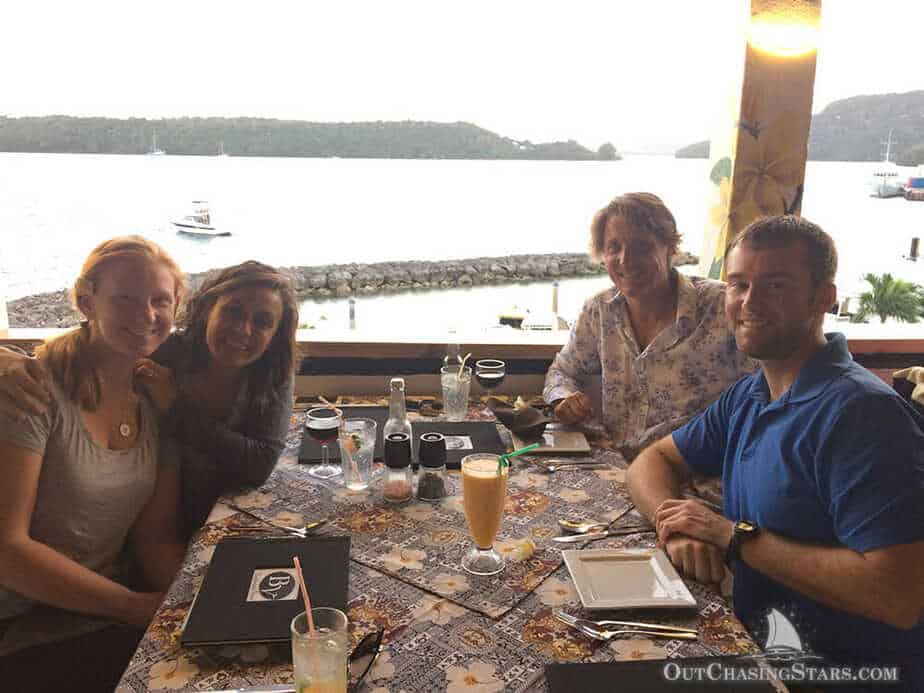 Watch the Video: Adventure on Kenutu Island
Social Share