THIS POST MAY CONTAIN AFFILIATE LINKS. PLEASE READ OUR DISCLOSURE FOR MORE INFO.
While we typically don't work and don't deviate from our cruising plans, I've been keeping my eyes and ears open for something different that just might work out for us…and I found it!
I found a couple that were looking for crew with blue water experience to help them sail across the Pacific – on a Helia! We emailed, Skyped, asked tons of questions, chatted all about new Helias, and then decided we liked Susan and Tom enough to join them for about one month sailing their beautiful Helia Evolution, S/V Julia, from Portland, Oregon to San Francisco and then to Hawaii!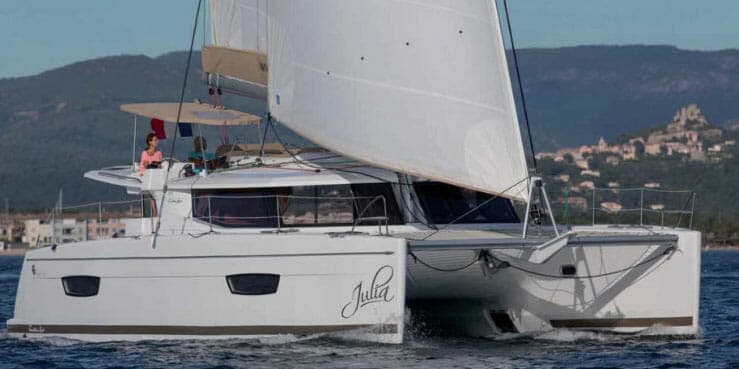 We are thrilled to have our first crewing positions be aboard a boat we know so well. We are getting an opportunity to visit some family when we fly in to the states, including visiting David's recently widowed grandmother. We will also get to visit two places we've never been to before; San Francisco (aside from our surprise 7-hour layover last month) and Hawaii. It's exciting to us to be imparting some of the wealth of knowledge that we have learned to a pair of beginner cruisers.
We will be leaving Starry Horizons and arriving in Seattle April 25th, then taking the train down to Portland April 28th, and arriving for duty on S/V Julia May 1st. As soon as we get a window we head down to San Francisco and then off across the Pacific! We expect to be back on Starry Horizons around mid-June. We will continue to blog and post videos while aboard S/V Julia. You can also follow Susan and Tom along at Julia Sails the World.
While we certainly don't anticipate doing something like this often, we will continue to be open to opportunities that hit the trifecta – good pay, good boat & people, and good adventures! David and I both have our 100-ton USCG license, so if you would like more information about hiring us for a delivery or crewing position, drop us a line.
This is a great opportunity for us to introduce a new page on our blog – Work With Us! Click the link or find it under the About Us menu to find out what services we offer.
Also, if you are going to be in Seattle, Portland, San Francisco, or Hawaii at the same time as us, drop us a line and maybe we can meet up!
Social Share