THIS POST MAY CONTAIN AFFILIATE LINKS. PLEASE READ OUR DISCLOSURE FOR MORE INFO.
Throughout our coconut milk run, we've met tons of cruisers, and many of them made their way to New Zealand for cyclone season. I'd estimate at least 70% have come to NZ to wait out the season, while some carried on to Australia (like Beachhouse, Balikcil and Red Thread), a few stayed in cyclone areas (like Nauti-Nauti and Enchanter in Fiji) and a tiny percentage went up north of 8 degrees to where cyclones don't come (like Field Trip and Swiftsure in the Solomons).
For a large number of cruisers in New Zealand this is the end of the road. New Zealand is the best place for someone to sell their boat since…well…probably the Caribbean, and many cruisers take advantage of that. Some cruisers who are born Kiwis have been sailing along with the goal in mind of moving back home. We have seen a few friends list/sell their boat; My Dream, Blue Raven, and Gypsea Heart, to name a few.
As for the rest of us in New Zealand, we wait out cyclone season and then are faced with choices: where to go? There are a lot of cruisers (like Gypsy Heart) who cruise the South Pacific year after year. Others will carry on over to the Indian Ocean, like our original plan.
David and I found ourselves often discussing how much we loved the South Pacific and how sad we were that we didn't get to spend more time in the really remote locations. We only spent two weeks in the Tuamotus, and we didn't spend any time in the Ha'apai group of Tonga or the Lau group of Fiji. The likely hood of coming back to these places after moving on from New Zealand is pretty slim. It's difficult to travel to the main islands of these groups, nevermind trying to travel to the small, remote atolls we grew to love. And the timeframe for returning to the South Pacific on a boat again would be years away (if ever).
We've decided to spend another year cruising in the South Pacific. While we don't want to postpone the completion of our circumnavigation by too much, we feel like adding on an extra year here will be worth it. This pushes our goal date to early 2020 for finishing our circumnavigation by crossing into the Caribbean.
As much as we would love to go all the way back to the Marquesas and start the season over again, the run from New Zealand to French Polynesia is just…ridiculous. It's 3,500 as the crow flies, but to take advantage of the wind you'd drop down to roughly 40 degrees and sail past the latitude of the Marquesas and then turn northwest….yeah, not a fun trip.
But, Tonga and Fiji are well within range. Our plan now is to depart from New Zealand as soon as we get a good weather window and head for Tonga. From Tonga we can travel west again, stopping in Fiji (for quite some time), and possibly visit the countries of Vanuatu and New Caledonia. Finally, for hurricane season, a likely stop is Australia.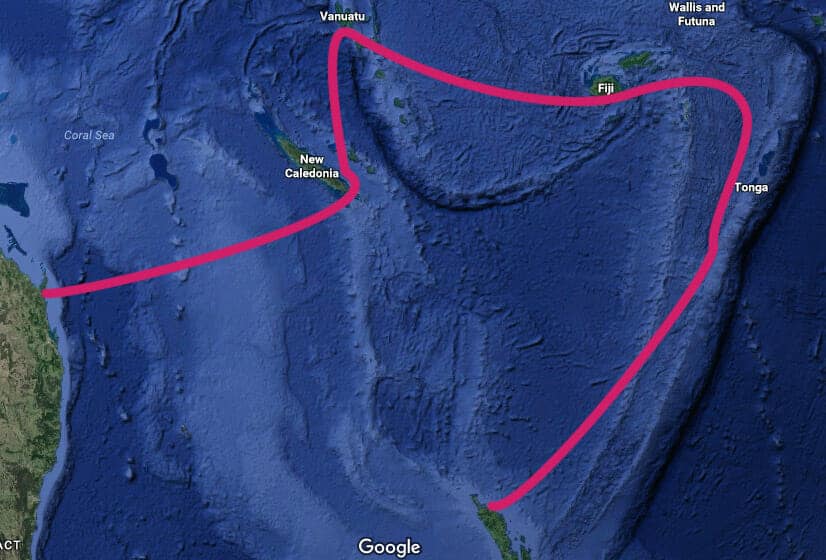 As for visiting the Tuamotus again, maybe one of you future cruisers reading this will invite us along to join them!
Social Share