THIS POST MAY CONTAIN AFFILIATE LINKS. PLEASE READ OUR DISCLOSURE FOR MORE INFO.
We've had such a fantastic year, and are so grateful to be back in Texas, spending time with friends and family, while at the same time getting to share with our loyal followers. It's hard to believe that two years ago, we left Las Palmas bound for Miami, crossing the Atlantic.
We don't keep a lot of knick-knacks on Starry Horizons, but I have been collecting shells as we move along. I found the shells in the South Pacific to be way more interesting than the Caribbean. You can only collect so much, though, so I thought it would be good to share some of our best beach finds.
As we went, I collected and cleaned only my favorite shells from the beach. I NEVER picked up a shell in the water; only from the beach, and only shells that were empty. While I did soak the shells and check them to make sure they were empty, I never picked up a live one on accident.
It is also important to note that there is a deadly cone shell in the South Pacific whose toxin can kill humans. Be wary! (See Nat Geo video)
Once they were clean and dry I put them in jars packed with cotton balls and labeled the jars with the location. I tucked the jars away, but I did pull them out for any customs officials that asked. New Zealand asked but once they saw that all the jars were small, they told me not to bother opening the jars. I think they were looking for large coral or larger endangered species.
In the States I laid the shells out on a table and got to work. I had bought shadow boxes and patterned backgrounds to display the shells. I also bought spray on acrylic, hoping to make some of the shells shiny. While it did as more luster to a few of the cowries, nothing beats the natural shine. Cowries that recently died haven't been worn by waves and sand, and therefore have a beautiful polish.
I spent some time arranging the shells and glued them down with craft glue. Then I tried my best to investigate what type of shells each one was and created labels for the back of the frames.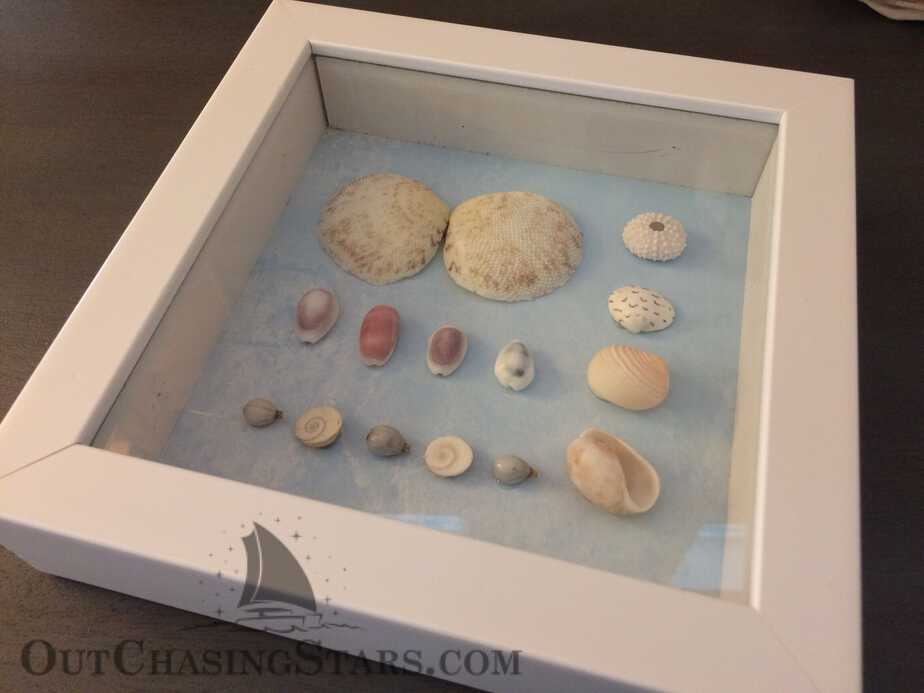 We loved being able to give out a physical reminder of our trip, hand-picked by us!
Social Share