THIS POST MAY CONTAIN AFFILIATE LINKS. PLEASE READ OUR DISCLOSURE FOR MORE INFO.
If you've been following us, odds are you've heard of or seen pictures of our lounge deck. Cruising friends "Oooo" and "Ahh" over it. It sure comes up in Fountaine Pajot's marketing pictures. Who doesn't love the idea of the lounge deck?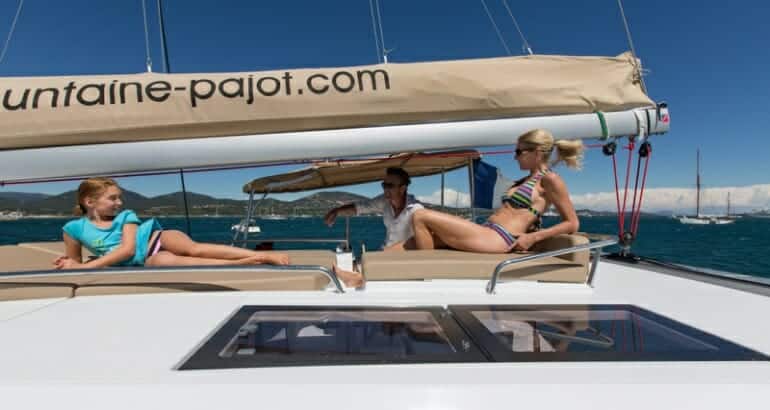 As we toured boats at the Annapolis Boat show way back in 2013 (can you believe it was three years ago??) we looked at the lounge deck, thought it was gorgeous, but wondered "how often would we actually use it?"
While we are cruising, the answer is EVERY DAY. Looking at other catamarans, there's no reason why they couldn't have a lounge deck, as long as they have access. For the most part, it's wasted space up on their coach roof.
Our guests love sitting up there. They don't have the 24/7/365 sun exposure we worry about, so the lounge deck becomes very popular.
There's the beautiful time of day in cruising called "sundowners". Hopefully your projects for the day are done, you've got a cocktail in hand. If it's typically hot out where we are, the weather starts to cool off as the sun sets. Stepping on top of the lounge deck gives us a pretty wonderful view of the horizon.
We do have two words of caution.
One: The aft portion (the proper seat) hardly ever faces sunset. Prevailing winds go from east to west, and therefore, sunset is typically directly behind us. If I really want to face sunset, I sit on the top of our helm station or without a backrest on the lounge part (Go-Anywhere Chair optional)
Two: Fountaine Pajot has been gradually increasing the height of the back rest towards the stern of the boat. It used to be just a few inches (see top photo). Then ours is mid back. It looks like the Helia Evolution has been raised a few inches again. But, I am super impressed with our friends on Let It Be's solution. They replaced their cushions and had a cushion with a built in support installed to the height they wanted.
Social Share