We left Hunga lagoon Monday the 12th and arrived back in Neiafu in the afternoon.
Wednesday evening we attended a presentation given by two guys who have been in Tonga on a trimaran for the past few months. Craig is with the Floating Foundation, which travels to the outer islands of Vava'u and provides medical training to the medics of the villages. Lorenzo is with UAT, University of Auckland Technologies, and he presented on tracking whales via drone for research purposes. Lorenzo had some amazing drone videos he played for us of whales breaching and feeding.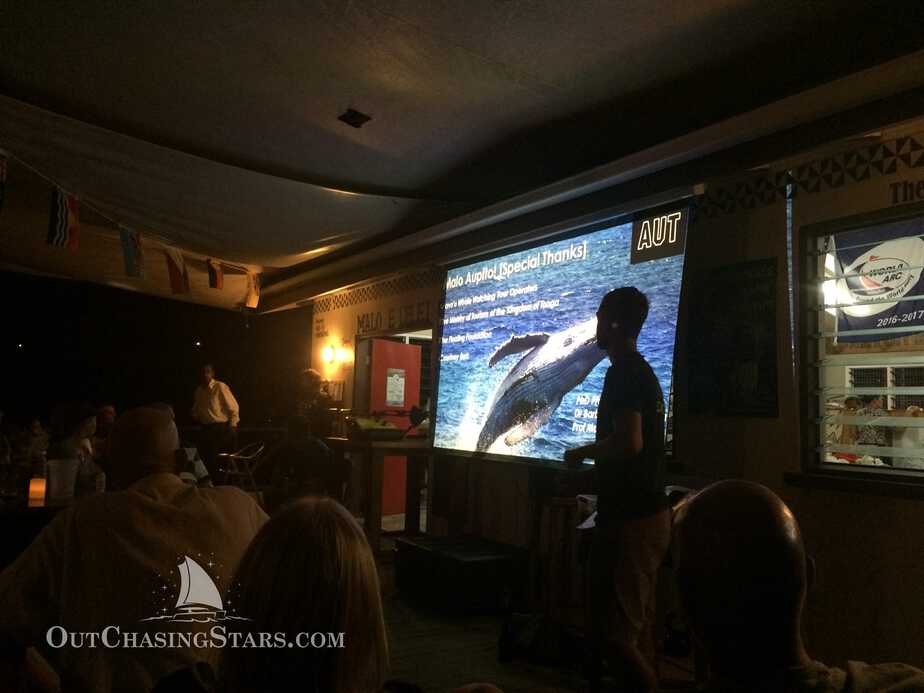 Thursday we met up with Simon and Marg from Margansie and Ray from Lionheart to hike up Mount Talau. Mount Talau is the highest spot in Vava'u and is about 3 km away from the town center. After that steep walk is about 175 steps up the mountain. Talau is flat topped, and there are four viewpoints to look down over Vava'u, and with the perfect weather we we having it was gorgeous.
That night we got to catch up with our awesome friends Jose and Gina from Carthago (of Couch Sailors). They came over for a potluck at 5 and we had a blast chatting with them until the very late hour of 11 pm! It was fun to catch up since we hadn't seen them since Moorea.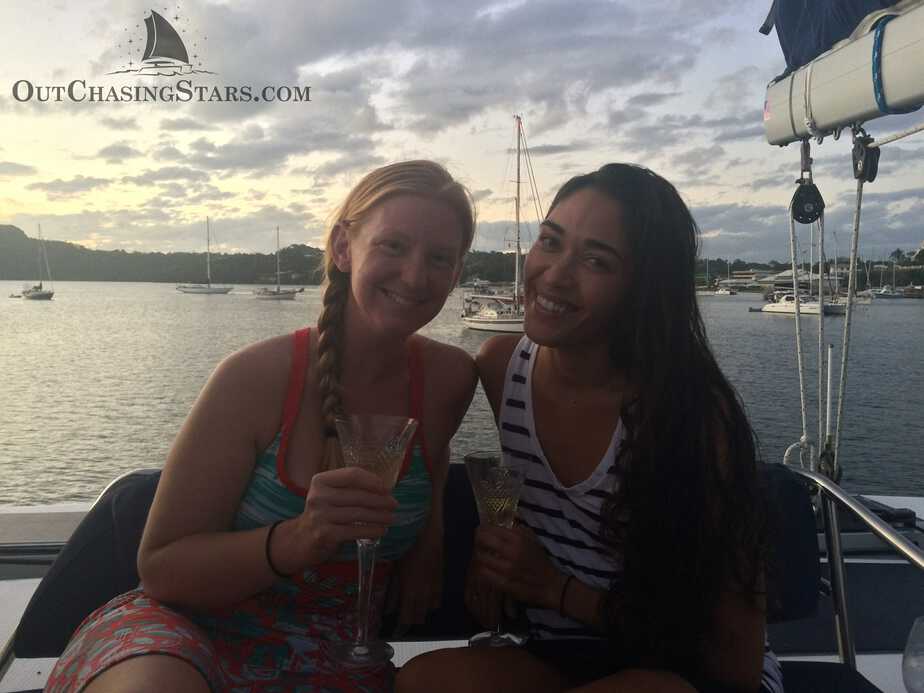 We were able to book a last minute whale snorkeling trip for Friday which ended up being one of the most amazing things we have ever done.
Saturday Gina came over a worked out with me and stayed for some girl chat (notice it doesn't get a mention in the blog when David works out with me – poor guy gets no credit!)
That night we buddies up with Gina and Jose to head over to Utalay: My Tongan Home, a house across the bay that holds a traditional Tongan feast twice a week. On the way over we met another young couple, Colin and Katie, Canadians who are currently living in New Zealand. The six of us joined Riley and Elayna from La Vagabond at a table. We were entertained by Tupo, our hostess, who grew up in Tonga just a few houses down, but moved to Boston to attend school and lived all over the world for her work.
Another local family sang and danced for us. Many of the dances asked for audience participation, so you'll get to see video of us participating in the dances.
Lastly, we had our first kava circle. Kava is a root with seditive properties, commonly drank like beer in these parts. Visiting Fiji will require us to participate in many kava circles, so it was good to see it in a more touristy setting first.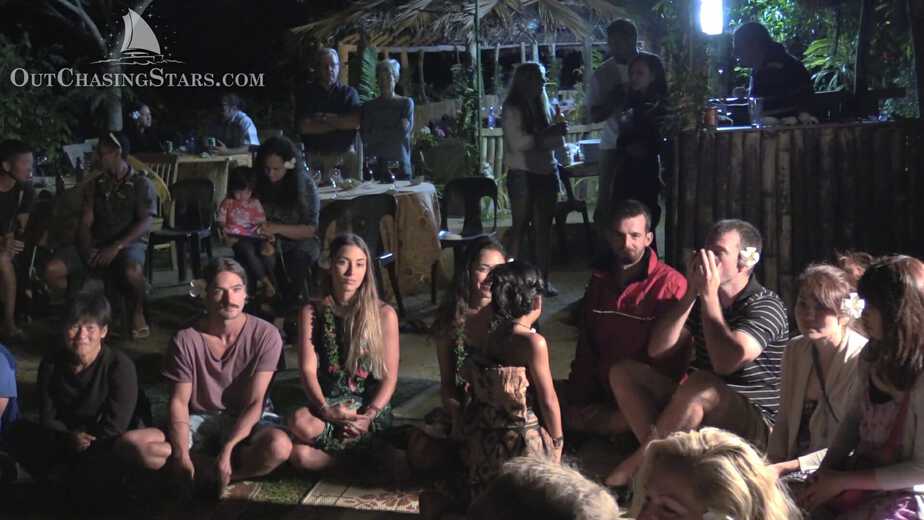 Finally, dinner was served. The buffet was a huge spread of food. Roast suckling pig, seafood marinated in coconut, roast sweet potatoes, salted beef, whole fish, etc. I took a little bit of everything, and although I enjoyed all the dishes, it was tough to remember what everything was and when I went back for seconds, I again just took small portions of whatever they had left.
The eight of us shared drinks and laughs and poor Tupo had to kick us out! Riley and Elayna left us and the remaining six of us headed to Bounty Bar back in town to watch the last half of the All Blacks (NZ) versus Springboks (SA) rugby game. Lionheart, Margansie, and Kinabalu were there cheering (mostly) for the All Blacks, who won in a sweep. We even picked up some rugby lessons!
After the game the bar converted to a dance hall, with loud music and flashing lights. We finished our drinks and split ways for the night.
Monday night Jose and Gina came over for cocktails, which led to Riley and Julian from La Vagabond joining us. While there is no age limit to party on Starry Horizons, it's nice to get to hang out with people our own age.
Tuesday we extended our visa another 3 weeks, just in case our weather window doesn't arrive by the 31st.
Wednesday we departed Neiafu to move back to Port Muerelle with Carthago. We wanted an anchorage that was more conducive to water sports but was near Neiafu so that when a weather window opens up we can head into port to clear out. Our goal is to simply enjoy our friends and nature.
Watch the Video: Hiking in Tonga with Mischevious Spirits
Social Share