THIS POST MAY CONTAIN AFFILIATE LINKS. PLEASE READ OUR DISCLOSURE FOR MORE INFO.
We're cruising Vava'u, Tonga, spending a month exploring this cruiser's playground. Vava'u is full of interestign anchorages like Port Maurelle, Kenutu, and the town of Neiafu.
Anchoring in Vaka Eitu
Sunday, we arrived into anchorage #16, on Vaka Eitu island, and it took us three tries to get settled in. The first our anchor didn't set, and the second we realized we were too close to another boat.
Meet the Neighbors
Once we were set I took a good look around the crowded anchorage and noticed a boat named Gypsea Heart. Something in my mind clicked, and I realized that this boat was connected by three degrees to us – my uncle's friend's friends. I had been told that they cruise between the South Pacific and NZ and I should keep a lookout for them. What are the odds??
We also had two dingies stop by and say hello – kind of unusual. One of them was S/V Cowabunga, whose crew consists of Ron, from Oregon (like David was born) and Shannon, who lived in Plano (where David went to high school in Texas). So in this tiny anchorage on Tonga, we've got 5 Texans!
The anchorage thinned after our first night, with new people coming and going every day.
Vaka Eitu's Shore
The shoreline increases greatly at low tide, with a lot of land drying up. This is perfect for taking Aquila, our kayak, out. Her draft is so low I can glide over the reef at high tide. I also went snorkeling along the shore, and while most of the reef is dead, occasionally there will be a large colony of soft coral to enjoy. There are also very large collections of black long spine sea urchins, as well as frequent sightings of granular sea stars, cushion stars, and blue sea stars. My favorite sighting was a golden phase guineafowl puffer (really, anything in the Odd-Shaped Swimmers category is fun to find).
David actually hadn't left the boat since we arrived. He banged his foot up in Niue, and after all the excitement of diving in Port Muerelle, he's trying to let the scab finish healing. He's been working on videos.
Snorkeling Vaka Eitu
Friday, we felt like David's foot had healed enough. We finally got our butts in gear and did the one thing we wanted to do here: snorkeling the coral gardens. Just north of our anchorage, there is a "pass" out to sea. It's not really much of a pass. At low tide, some coral or rocks break the surface. At high tide, there are a few feet of water. All the time, the swell from the ocean rolls in and breaks over the reef. We'd talked to people about getting over to the ocean and it's a bit tricky. I approached via kayak and decided it was too rough, so David and I took the dinghy. We used a combination of lifting our outboard up and paddling to get out.
Once we were on the west side, we put our gear on. Out in the deep water, a was whale breaching, slapping, and fluking not far from us. Once we had our gear on, we dove in and pulled LD behind us. It's easy to see the edge of the shelf, and there is a fairly gentle slope that runs down to about 25 feet or so. While the coral wasn't 100% live, it was still pretty dang good. There wasn't a lot of fish, definitely not a lot of large fish, but we did also see a turtle and a barracuda.
We swam almost the entire length of the reef, for about an hour. We did see a boat do like what we had done at Mariner's Cave; at least one person stayed onboard while the boat drifted and another group went in for the swim. If you've got more than 2 people, that's a pretty good idea. In fact, this reef was just down the same island as Mariner's cave, so it would be a perfect two tank dive off a boat.
Socializing
We got plenty of socializing into our schedule while we were there. We had the crew of Gypsea Heart (Rankin and Sandra) over for cocktails one night, and then Bob and Judy from Kinabalu another night (we met them in Bora Bora), and our last night Margansie sailed in and invited us over for sundowners.
In chatting with Kinabalu, we realized we were both in Nova Scotia last summer but our paths didn't (that we know of) cross. It was fun the reminisce over that cruising time. And it was sad to realize it was over a year and approximately 100 anchorages ago, and our memory is starting to get fuzzy…
Internet Service at Vaka Eitu
While we didn't have cell phone service in Port Muerelle, we have good service at anchorage 16. Not only that, but a few days ago there was a wide scale upgrade to the 3G cellular service system in Vavau. We heard about it on the net, but before that noticed a nice increase in the data speed. Yay!
Flying the Drone
Of course, we got Pheonix up when the weather was good.
Watch the Video: How Many Cruisers Does it Take to Light a Bonfire?
Pin it!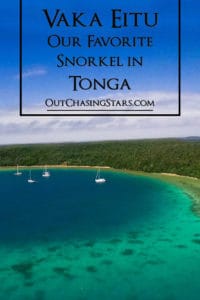 Social Share