While I was very excited in advance of Niue, I was having a hard time getting excited about Tonga. We've been to so many fantastic places lately and as I read over the compendium, nothing just jumped out at me sounding exciting.
Like most of the island nations out here, Tonga consists of groups: Niuas, Vavau, Haapai, and Tongatapu. We've cleared into Nuiefa in the group of Vavau. This seems to be the main cruising port, as there are easily 50 boats here. In addition to the compendium, there is a cruising guide put out by the Tongan government. Both documents include a map of Vavau, and each anchorage is labeled with a number. A few anchorages have common names that are used, but many of them are just refer to by the number. Neiafu is 1-3.
My favorite after the whales has been the cruising community. Something unique here is that the whole island group is supplied with repeaters for channel 26, so channel 26 is the main chatter channel and you can talk to anyone here on this channel. It's great for keeping in touch with all our friends, and there is a morning net everyday at 8:30. There's a check in, so everyone listening introduces themselves. There's also hello and goodbyes, for recently arrived cruisers to introduce themselves or departing cruisers to say goodbye. And of course, events and ads.
There's a lot going on with channel 26 most of the time. Whale watching boats check in and share sightings, people chatter about the weather, we even learned what to do when you find a crown of thorn (an invasive species here – the answer is don't touch, and carefully put it in a bag to bring ashore for burial). If we are doing anything like reading or watching tv where we don't want an interruption, we have to turn the VHF off.
We cleared in Monday morning, which took a while. Several boats cleared out and then had to wait on the customs dock to receive their duty free fuel. The dock only fits 3 boats, and the built-in fenders are designed for boats with much higher freeboard. At low tide, the fenders would be pressing against our lifelines – that's no good!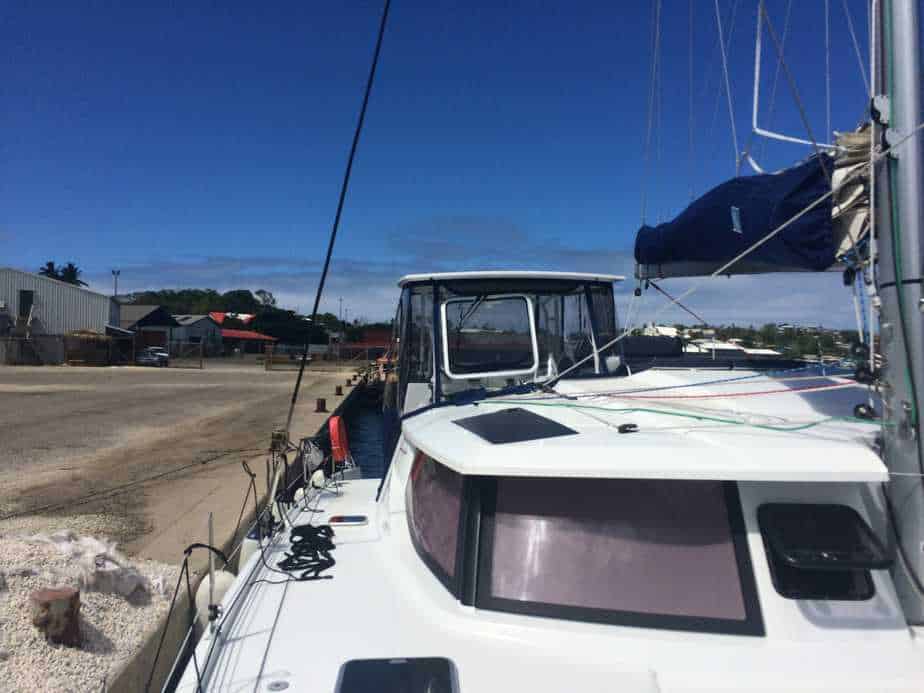 We got our clear in done in about an hour and a half, with four officials visiting our boat. They do insist on coming aboard although no one looked around at all. Maybe because we have a new, clean boat?
After going back to our mooring I took a walk around town. There are a few restaurants here, churches, and no-name grocery stores. Cruisers refer to the grocery store by the color of the building. Groceries are challenging here, especially for meats, so I am glad that I stocked our freezer full in Niue, even if it was expensive. One thing I wish I was better at is figuring out the meat situation in foreign countries. In places like Panama or France, when the meat is fresh and high quality, they don't use cuts the standard American is familiar with, and even if something is labeled one way the standards might be different. I've bought meat labeled "ribeye" before but found it was a different cut than I expected. Here, the meats aren't labeled often and are all frozen. However, the produce market here is fantastic. Bananas, papayas, limes, tomatoes, cucumbers, watermelon, gourds, lettuce, bok choy, ginger, peppers, etc! Fantastic!
I had trouble finding bread, until I realized what I was looking for. I kept expecting to find bread on the shelves, but then I realized the bread is whole, fresh baked loafs, in plastic bags and then in large plastic bins. Ta-da!
(I kind of miss baguettes!)
I was also shocked to find three bottles of Bundaberg Ginger Beer!!! Holy cow! I haven't seen ginger beer in a store since Antigua (I'm glad I bought two cases back then). While I have made my own ginger beer, it's just not the same.
Walking through town in the afternoon gives you a wonderful introduction to the people of Tonga. While the adults tended to be quieter, but friendly, the children would always say hello and goodbye, waving and even shouting from passing cars. The afternoon is full of school children, in their uniforms. The girls wear pinafore-style dresses, while the boys wear what is called a tupenu, a knee length skirt.
For adults, it seems more of the men dress in traditional formal wear, but maybe that's just because it's unusual for us to see men in skirts. The women wear longer tupenu, with a belt called a kiekie, which is a narrow band with decorative material dangling off of it. Men wear a taovala over their tupenu , a woven mat wrapped around their waist and tied with rope. Maybe I'll get up the courage to ask some locals to pose with me so you can see the traditional wear!
Tuesday was an exciting day – a Ladies Luncheon was planned through the net. It was held at Mango's cafe, and about 46 women attended. Most were cruisers but there were also some of the local women attending. The lunch was a three course fixed menu for $20 TOP (roughly $12 USD). I got to sit and catch up with Marg (Margansie), Elif (Balikcil), Shelley (Blowin' Bubbles) and make new friends too; Malia (Macha), Lisa (Sirius) and Jean (Meridian Passage).
Wednesday we went ashore to run a few errands to allow us to escape port for a few days – bought a SIM card ($36 TOP for 2 GB), used internet, and shopped for a few things. It had been gray and drizzly all day but decided to really open up once we got in the dinghy, and of course I misplaced our red cord and had to panic for a bit and get us extra soaked. We ended up thoroughly drenched by the time we got back to Starry Horizons.
We debated about moving harbors, but the crappy weather kept us tucked in. It started to clear just before sunset, so I got to use my new ginger beer and make a Moscow mule to enjoy on the lounge deck.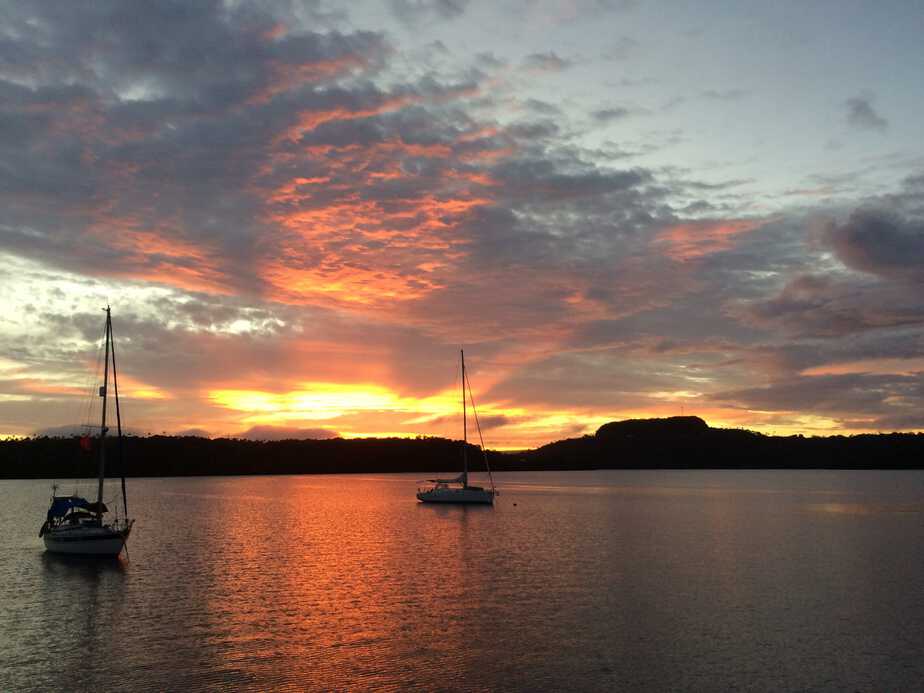 Thursday was rainy again, but we wanted to get out and about so David paid our mooring fee ($15 TOP a night, roughly $9USD, our cheapest mooring ever) and we took off once the weather cleared in the afternoon. We motor sailed through some drizzle to an anchorage called Port Muerelle, or anchorage number 7!
We anchored on the north side of Port Muerelle, in 60′ of water. I hopped in to check our anchor, which was a little silly because with no sun and 60′ feet, I couldn't see anything! But, I snorkeled our swing area to make sure we wouldn't find any bommies if the wind shifted. The sides of Port Muerelle are cliffs, covered in vegetation. In the water I found coral, but after the small reef there was an immediate drop to at least 7′ of depth – no problems.
I also snorkeled over to the moorings. When we arrived a boat (S/V Privateer, Americans) was leaving and told us they had just replaced the line on one of the moorings. Sure enough, I checked out 2 of the 3 moorings and the lines looked good, with chains running down and around a huge concrete block.
I didn't see too much that was interesting on the snorkel – star fish, sea cushions, usual small reef fish. I did see a jellyfish – not a box or blue bottle.
Friday was mostly a project day. We worked on things while we watched the anchorage fill up – from 7 boats to 14, including our friends Blowin Bubbles and Red Thread. Port Muerelle had a beach at the head of the bay, and Kyle suggested it would be perfect for a beach get together. Neil dinghied around to all the boats to invite them. Someone built a bonfire and by 5:30 dinghies were rolling onto the beach. About 25 people joined us for the bonfire and drinks. This even included a family from one of the Moorings charter boats, who were visiting from NZ and invited us to a party when we get there!
The crowd dwindled to about 10 and those of us that brough food (me, Jessie, and Jill from Romano) pulled out and shared. It worked out perfectly – pasta salad, rice salad and sausage and cabbage. We retired at 8:30, a late night for cruisers!
The next morning we had Jessie and Neil from Red Thread over for brunch – French toast. Jessie and I had both gotten up early to bake bread and neither loaf rose! The flat, dense bread still made pretty great French toast though.
Our next plans after Neil and Jessie left were to gather up Kyle and Shelley from Blowin Bubbles and head over to Swallow's Cave. It was about a 1 mile dinghy ride, and you dinghy into the cave, tie up, and swim. Upon entrance, we spotted a very small Portuguese man o water in the water (David panicked). There is a small path going up the cave, and we spotted a sea snake slithering up the path (Shelley panicked). We all made Kyle get in first to scope things out.
The big attraction here is the school of fish that live in the cave. They swim in a very tight school, reminiscent of the school of fish in Finding Nemo that make the shapes! Unfortunately, the cave was full of graffiti and the sun was hidden behind clouds. Shelley and I also climbed into the cave to see a large cavern where ceremonial meals were held, with the food being lowered into the cave via the hole in the roof. On the way back, there was a fish caught in a tide pool, and the fish was flipping out! In fact, he launched himself out of the water, only to get caught in a teeny tiny tide pool barely big enough for him. He was out of reach for us so we couldn't rescue him, and hopefully he survived despite his stupidity – he should have just hung on waiting for the tide to rise!
During the dinghy ride back, the wind and swell had picked up, so we sat in LD shivering and debating our next move – Mariner's Cave. A 3-mile dinghy ride with dive gear weighing us down didn't sound so good. So we changed plans. Kyle and Shelley are dive instructors and carry 10 sets of gear on board. We loaded up four sets of gear on Starry Horizons. Neil and Jessie brought their own dive gear aboard and we upped our anchor and took off for Mariner's cave.
We knew the approximate location for the underwater cave, which is in a sharp cliff, with no where to anchor or tie up. Kyle got his gear on and did an exploratory look. He found the entrance about 2 meters down, under some orange striping on the cliff that may have been graffiti. Neil and David dove in, while us ladies held down the fort on Starry Horizons. I was able to turn off our engines and let the current carry us slowly away.
The guys dove for about 40 minutes, then we switched off. Shelley led us ladies and we easily found the cave and went in. Once inside the cave, you can come up to a large, round cavern and pop the surface of the water. Enough light comes in from the entrance to create a soft blue glow – almost like lights in a pool.
The other crazy cool things about Mariner's cave is that as the swell rolls in, the air in the cave pressurizes, popping our ears and creating a mist over the surface of the water. The mist instantly disappears as the swell rolls back. I loved it!
We came back out and continued our dive along the wall running south west from Mariner's cave. The coral and other cnidarians were really stunning, but the best part was that for the ENTIRE dive we could hear whale songs! It made me want to stop breathing so I could hear better!
It was David and I's 10th dive, and our first time to dive separately other than our classes. We are so glad that we have such good friends here to have fun with. As a side note, it's funny to find things you have onboard to give to others. We didn't stop in the Cook Islands, but Blowing Bubbles did. They didn't have a Cook Islands flag and wanted one for a keepsake so we gave them ours. Neil and Jessie were running dangerously low on peanut butter (if you didn't know, peanut butter is probably the most American food ever, no one else eats it), so we traded a jar of peanut butter for some sprouts that I'm going to attempt to grow!
That was a pretty awesome Saturday. We were all exhausted, and once we got Starry Horizons anchored on the south side of the bay in 20′ of water, it was 5:30 and everyone eagerly went home for an early bedtime.



The next morning, Sunday the 4th, we took off for our next stop; anchorage 16, Vaka Eitu island.
Watch the Video: How Many Cruisers Does it Take to Light a Bonfire?
Social Share