THIS POST MAY CONTAIN AFFILIATE LINKS. PLEASE READ OUR DISCLOSURE FOR MORE INFO.
We weren't the only boats leaving Kauehi. We agreed to be up with Blue Raven at sunrise and head out of the pass. We didn't realize our clocks were wrong! It's tough to know when you don't have internet, but Kauehi is in the same time zone as Tahiti….so we were up a half hour earlier than necessary. David and I sat on the lounge deck and watched the sunrise. Two other boats were leaving Kauehi from the village, and one of them, Belviene, also from New Zealand, was headed to Fakarava as well.
The three of us had a great time making the passage over. It's only 30 NM, and conditions were good for sailing. It was nice to team up and talk our way through the pass and the current.
While going through the pass, we sent Phoenix up to get some video footage. Brian on Blue Raven climbed up into his rigging and got some additional video. On the VHF I joked with Nichole that the men were being demoted to cameramen and we were getting promoted to captains!
Unfortunately the Kiwis all beat us to the anchorage. Anchoring in the village of Rotoava was nothing like expected. There were many moorings with boats tied up, but our SOP is to come between the moorings and the land (where it's shallower), find a sandy patch and drop anchor. None of our guide books were very helpful with information, because we soon learned through radio chat with the local dive shop that there is no anchoring between the moorings and land, but the moorings are free.
There were two lines of moorings, one was in front of the dive shop to the south of the wharf, and the other was north of the wharf. Unfortunately all the mooring balls were full, so we (SH and BR) went to the north section and dropped anchor outside the mooring balls in 60 feet of water.
Once settled in we headed to town. It hadn't escaped our notice that aside from a walk on the beach in Kauehi we hadn't stepped foot ashore. NONE of the boats in the mooring field had dinghies attached – that means everyone was ashore. However, the obvious tie up spot, the wharf, only had one dinghy. We tied up with it and went ashore.
Rotoava actually has a nice paved road! We followed the road along the waterside and poked our head into the two grocery stores. Guidebooks warn; if you see something you want, especially in the produce or baked goods department, buy it right away because it may not be there when you circle back. I was pleased to find Gala apples in the main grocery store. Apples are a staple in my diet – an apple with peanut butter is the breakfast of champions in my opinion. We only bought two (at roughly 75 cents each). The other grocery store is called a bakery, but it is well stocked with dry goods too. As with the other towns we've been to in French Polynesia, the stores are better stocked than we expected, with a nice Asian section.
It also became apparent where all the dinghies were. Sometimes there would be a gap between the buildings with a little beach, and a handful of dinghies pulled up to shore or anchored. There's no swell, so leaving your dinghy there is easy, but you do need to keep an eye out for bommies (coral heads) on your way in. A popular spot is where the paved road curves to the left and the dirt road goes ahead. It's only a few blocks from the Fakarava Yacht Services office.
On our wandering we found the FYS office. Jose and Gina from Carthago were there taking advantage of internet. The internet is free for customers, and buying a $2.50 glass of juice qualifies you – and the juice is good! Jose and Gina were working to buy tickets back to the states next month, and in comparing notes, we quickly discovered I got a great deal on our flights. I booked back in February to fly us from Tahiti to LAX for Liz's wedding, and paid $750 each for round trip. Jose and Gina were looking at flights in the several thousand dollar range, so I'm glad we booked early.
Apparently, there is an airline strike here. There are technically two Air Tahiti airlines, one is international and one is local. The local one is on strike, and that is supposedly hampering the outlying islands supply shipments, although we haven't noticed any shortages.
FYS shuts their wifi down at 5 pm, so we were kicked out. Back at the wharf, we bumped into BR and they invited us over for drinks. Emily showed us her videos she makes…she's got great skills with the video editing and has made a bunch of fun videos using green screens or stop motion animation.
Blue Raven told us that there is a pearl farm that picks cruisers up from FYS and takes them to the farm for a tour, so we agreed to meet at FYS in time for the tour. We went early to use the internet, and then were picked up by Gunther from Hinano Pearls at 11. BR and Belviene (Amanda and Mark) also joined us.
The pearl farm was a small building out over the water. On the workbench, Gunther showed us how the pearls are made. The oysters are cracked open just a bit, and a nucleus, a small round ball made from the shell of an oyster, is placed in the reproductive tissue (much to Brian's consternation). Also placed is a graft of the mantle of an oyster, which (if I understand correctly) is the part that produces the pearl material. The pearls are checked and harvested at 18 months. The oysters that produce high quality pearls are then implanted with a new nucleus the size of the pearl that was just removed. These oysters can live years making pearls….it's pretty amazing. There used to be 50 pearl farms in Fakarava, but now there are only four.
Next Gunther took us to the retail shop that is set up on site. We browsed the pearls, and I had NO IDEA how expensive black pearls can be. I held a pearl that cost $700! Fortunately, there were a variety of pearl qualities available, including pearls with minor imperfections, already drilled for jewelry, available for $20 each. I bought three, and hopefully they will inspire me to put the jewelry making kit I have aboard to good use.
After being dropped back off at FYS, Blue Raven came with us to Paillotte, a cute café overlooking the water. We picked a table for six under a large tree. The view was stunning. Our waitress (possibly the owner?) said the restaurant had been open for only 4 months, and she had moved down from Paris. The menu was ice cream, crepes, and paninis. David and I split two paninis, a L of water, and a Nutella crepe, which was all very good (and a total of $22.50). The café also had wifi, but we didn't really need it after our binge that morning. While we ate, several boats (including Carthago) left the moorings, and when we returned to our boats, BR moved to a mooring ball.
Saturday night was a quiet movie night on SH, and Sunday morning we got a special invitation for breakfast on Blue Raven at 8 am. Sundays are pancake day (or as Americans would call them….crepes). David and I brought some jams, juice, and a bottle of sparkling wine over. Nichole presented us with a stunning watercolor she made for us of Starry Horizons at anchor in Kauehi. You can see a photo of it on our facebook page. Nichole is a stunning artist, and she's shown us some digitalized works she has done, as well as the art around Blue Raven's walls. The painting is so beautiful and I know it's something we are going to treasure for a long time.
Crepes were delicious, and we stayed until 11 am chatting in the cockpit. Brian is an engineer and entrepreneur, so we have lots in common and much to talk about! We also asked about things in New Zealand. Eventually, BR will leave us behind as their aim is to be in New Zealand by October. They will be settling in somewhere around the Auckland area, which we will be visiting early next year. There's lots of talk about what we can do together when we come visit, and we are very much looking forward to having some locals around to hang out with.
I went ashore to do some last minute internet. When I walked up to FYS, the family that owns it was having lunch on the patio. I was the only cruiser there, so I checked to make sure it was ok and I wasn't interrupting. I needed to download the map that Marina Taina in Tahiti provides, so that we know where we are going!
On my way back to the wharf, I stopped to hide from rain in a local church. I think it was Catholic, but a beautiful blend with Polynesian. The ceiling was painting a soft blue. The chandeliers were ornate shell patterns, and ropes of shells were strung connecting all the alcoves and the nave. Every statue was wearing a shell necklace. Pictures are on our facebook page!
We decided to leave Monday morning to head south…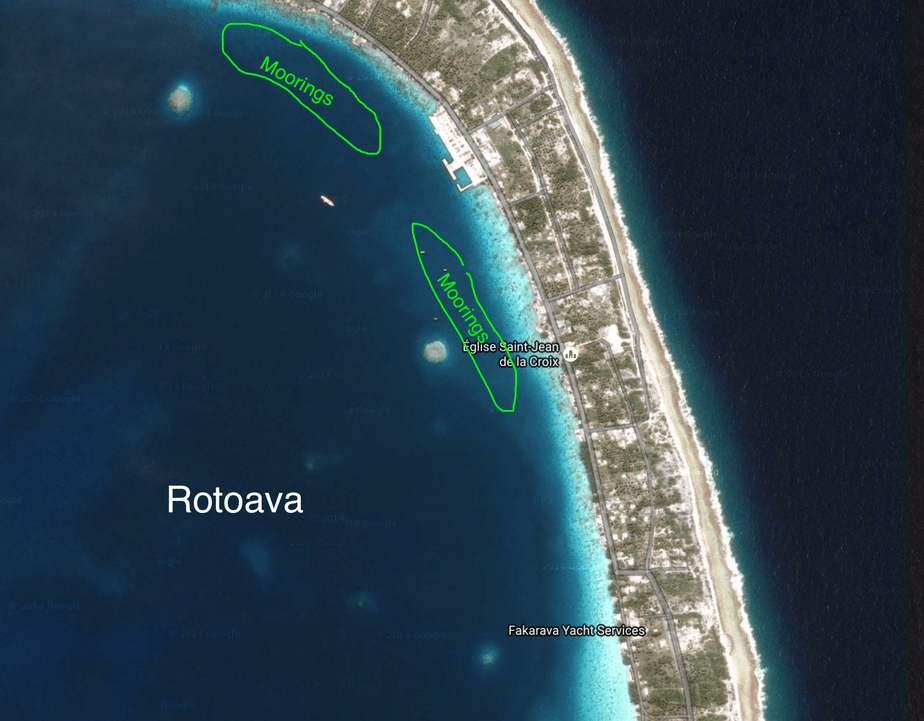 Watch the Video: The Race is on to Fakarava
Social Share