THIS POST MAY CONTAIN AFFILIATE LINKS. PLEASE READ OUR DISCLOSURE FOR MORE INFO.
We made it! We dropped our anchor in Fatu Hiva this afternoon, and we settled in now. We left Santa Cruz, Galapagos on April 7th. That makes our passage 18.99 days long (David would be upset if I rounded up!). We averaged 6.84 knots and covered 3,142 nautical miles. Here's our posts from the passage:
A mixed bag – a look at all the weather conditions we saw in our first 36 hours.
Route planning – not finding the conditions we expected.
Attack of the flying fish – an unwelcome guest in our main salon.
Halfway Baby – some statistics at our halfway point.
Now Comes the Hard Part – the wind shifts to come from behind.
Ode to Spreadsheets Part 2 – David talks about calculating passage numbers.
West Bound Milestones – We sail past the furthest west point of the continental US.
Decsions, Decisions – deciding when to arrive.
There are 10 boats here in the Bay of Virgins, and we plan on staying for two nights only. Tomorrow we will hike to the waterfall, and then on Thursday we will leave to sail to Hiva Oa.
Thanks for everyone's comments while we've been out at sea and especially thanks to Julie for passing all those comments along.
Glad to sleep in the same bed with David tonight, glad to be setting foot on land tomorrow.
Watch Our Video of Sailing Across the Pacific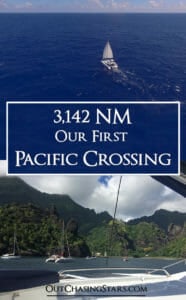 Social Share